This page may contain affiliate links. As an Amazon associate I earn from qualifying purchases. Please read our
disclosure
for more info.
This mochi cake is a healthier, vegan twist on Hawaiian butter mochi. Made with sweet potato, coconut milk, and black sesame. No eggs or butter needed!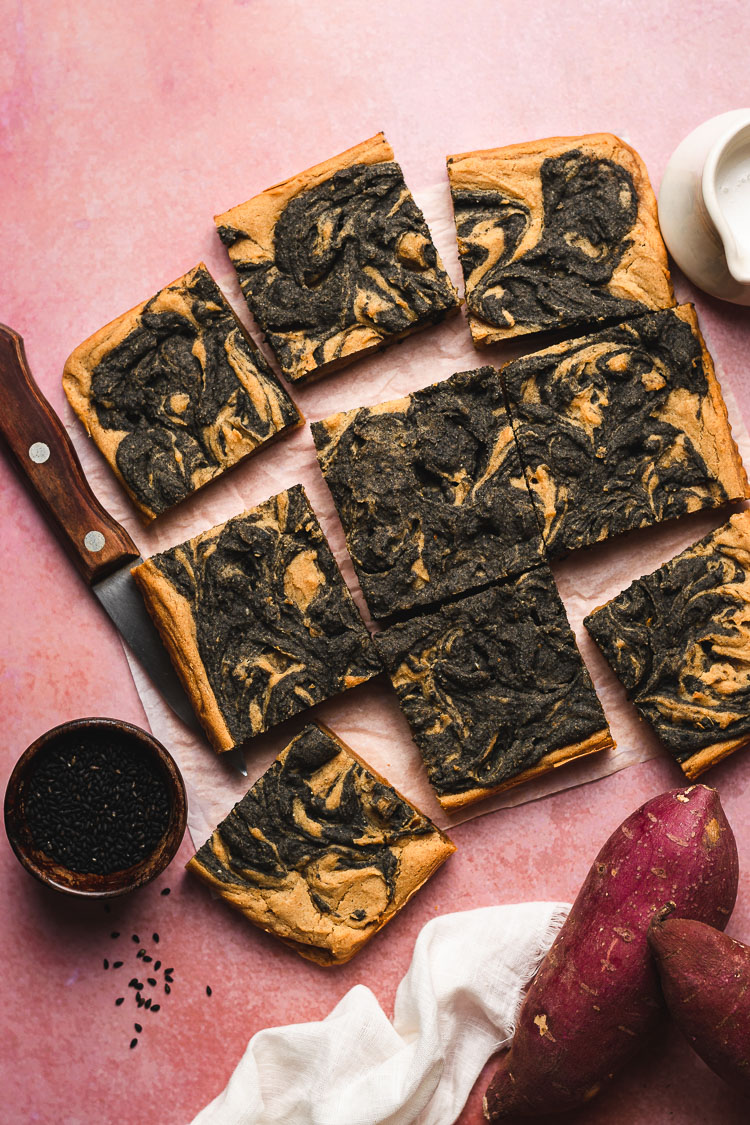 I've been really sad about not being able to travel to Japan this year due to COVID, so I've been trying to recreate some of Japan in my kitchen. As a result, I've been buying lots of satsumaimo (Japanese sweet potatoes) since it's one of my favorite foods to get in Japan. During the fall/winter, you can often find yaki imo (roasted satsumaimo) sold at stores, hot and ready to be eaten. I love eating a baked/roasted satsumaimo with dinner or for a midday snack, sometimes with some nut butter or tahini. But I've also been baking with it recently and I love the flavor it adds to cakes, cookies, and frostings! I have so many ideas for baking with it, but I'm starting with my current obsession — sweet potato mochi cake. So simple but so good!!
Key Ingredients
Sweet Potato ⟶ Any variety will work, but Japanese satsumaimo are my favorite! You can bake or steam them, then mash into a puree. You can also use canned puree, but fresh has the best flavor.
Sugar ⟶ coconut sugar, regular granulated sugar, brown sugar, or a combination

Sugar Free: In my opinion, monkfruit* is the best tasting sugar alternative, but of course it doesn't taste 100% like sugar. Sometimes I do half sugar and half monkfruit.

Full-Fat Coconut milk ⟶ Do not replace with other milks or lite coconut milk! You need all the fat to create a rich mochi cake.
Mochiko*⟶ Japanese sweet rice flour. I don't recommend using other types of sweet/glutinous rice flour as they likely won't be as chewy as mochiko.
Black Sesame Seeds ⟶ Optional but it pairs wonderfully with Japanese sweet potato! You can grind your own black sesame seeds, buy them pre-ground, or buy black sesame paste (often sold at Asian grocers)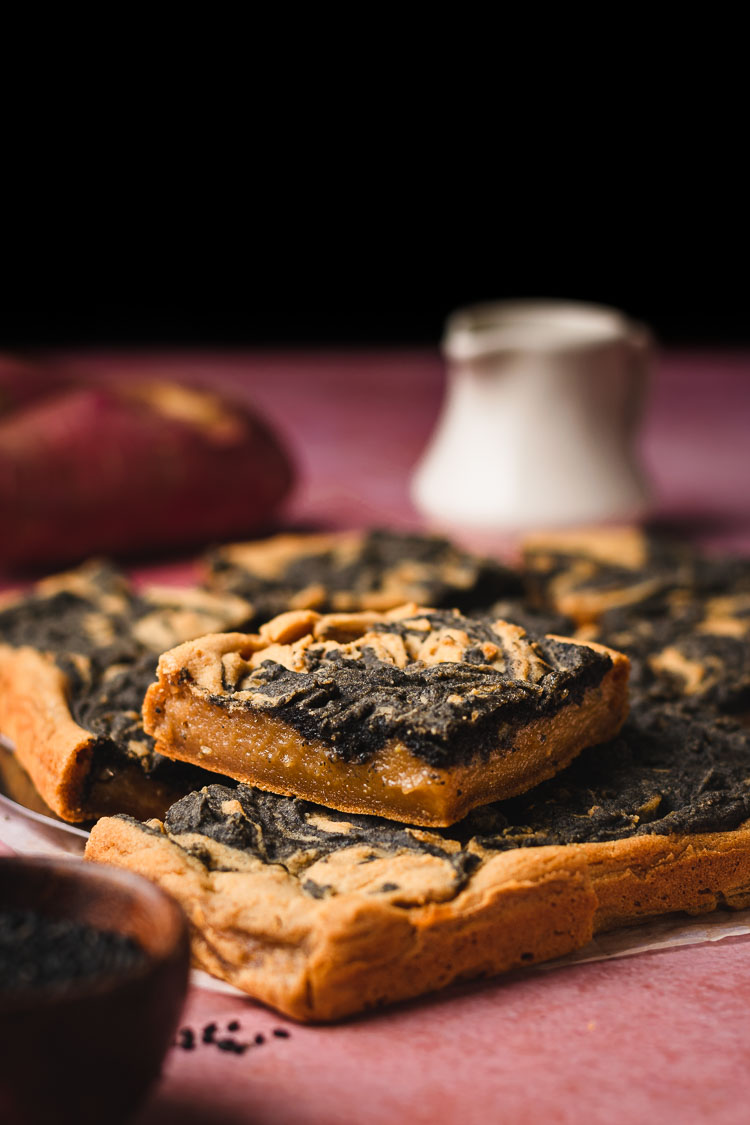 Vegan Mochi Cake Tips
Add plant milk as needed if your sweet potato puree is dry.
Moisture content varies by potato so you may need to add some milk if your batter is dry. You don't need a very thin batter, but it should fall off a spoon easily. Add milk a tablespoon at a time if needed.

Make sure your batter is smooth.
Mochiko has a tendency to clump together once added to liquid, so make sure you whisk constantly until smooth, or use a sieve to smooth out the clumps. I like to pour my batter through a sieve and use a spatula to press down and smooth out the clumps.

Cool completely before slicing.
As tempting as it is, if you cut into the cake before it's cooled, you'll end up with a sticky, gooey mess. The mochi cake will set and firm up as it cools.

Shake the can of coconut milk and do NOT refrigerate.
You want to have one coherent mixture. You do not need to separate the fatty cream from the liquid, you will use all of it.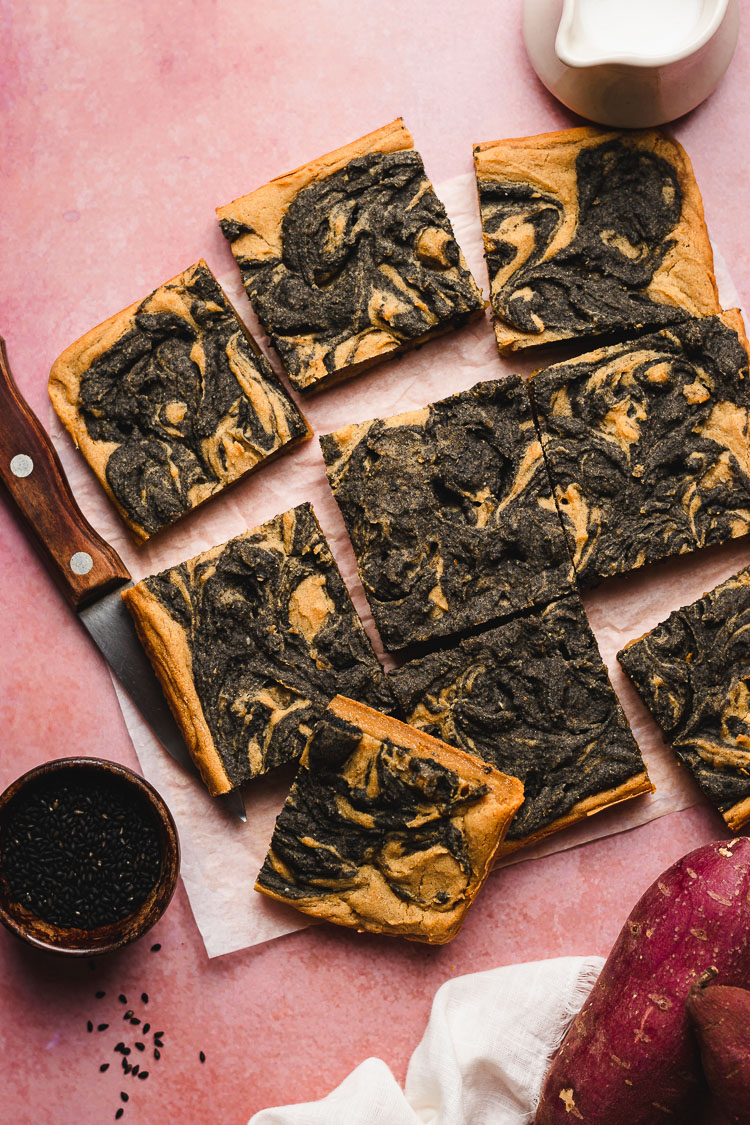 Mochi Cake FAQ
How do I store mochi cake?
Mochi cake will usually keep at room temperature for up to 3 days. However, if you live in a very moist environment, I recommend refrigerating or freezing after the first day. The mochi cake in my house always gets gobbled up within 2-3 days, so I've never tried refrigerating or freezing them. But if you decide to go this route, keep in mind the mochi cake will dry out in the fridge/freezer, so I recommend microwaving, toasting, or baking them to reheat.

How do I know when mochi cake is done cooking?
The top should start to crack and the edges should be browned and caramelized. You can also check with a toothpick inserted in the center of the cake — if it comes out mostly clean or with just a few crumbs (but not gooey batter) then it's done. The texture is of course different from a normal cake, but the inside should be set before you remove it from the oven.

Is this mochi cake gluten-free?
Yes! Despite being called glutinous rice flour (or sweet rice flour/mochiko), there is no gluten in it.

Where can I buy sweet rice flour?
Mochiko can be found at Japanese markets and other Asian markets, or on Amazon*. Other brands of sweet rice flour can be found at Asian markets as well, or check your grocery store's "Asian Foods" isle if available. Bob's Red Mill also makes sweet rice flour, though I haven't tried it yet.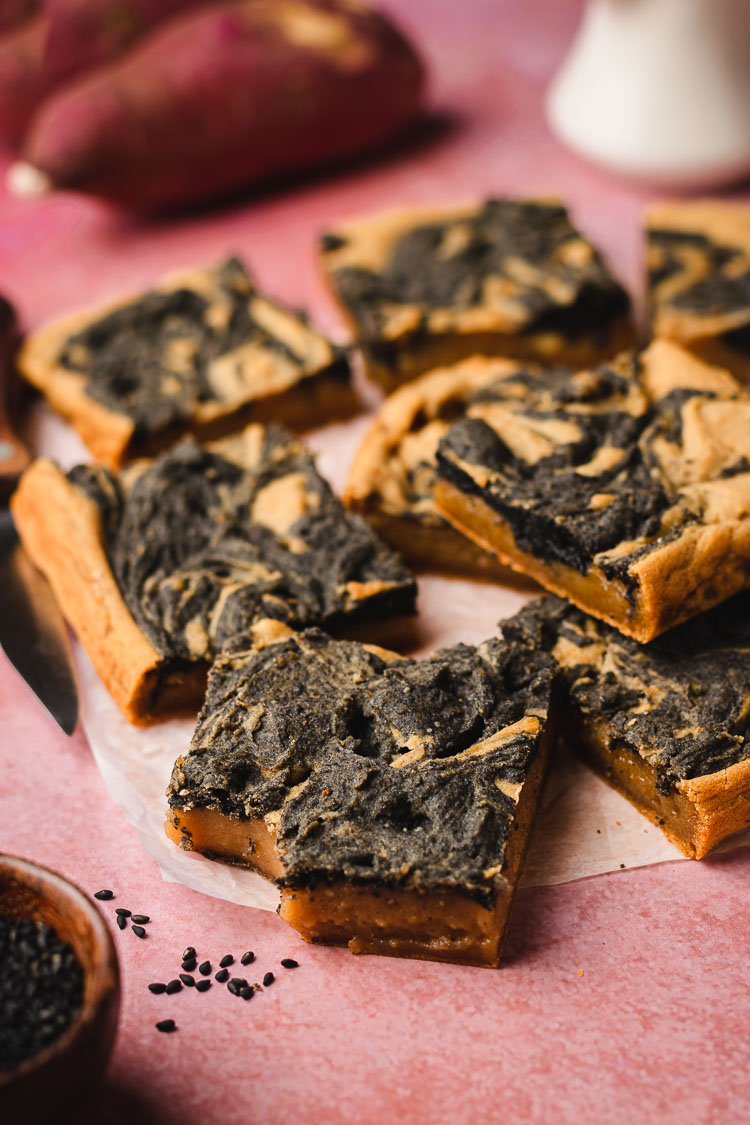 More Delicious Plant-Based Desserts!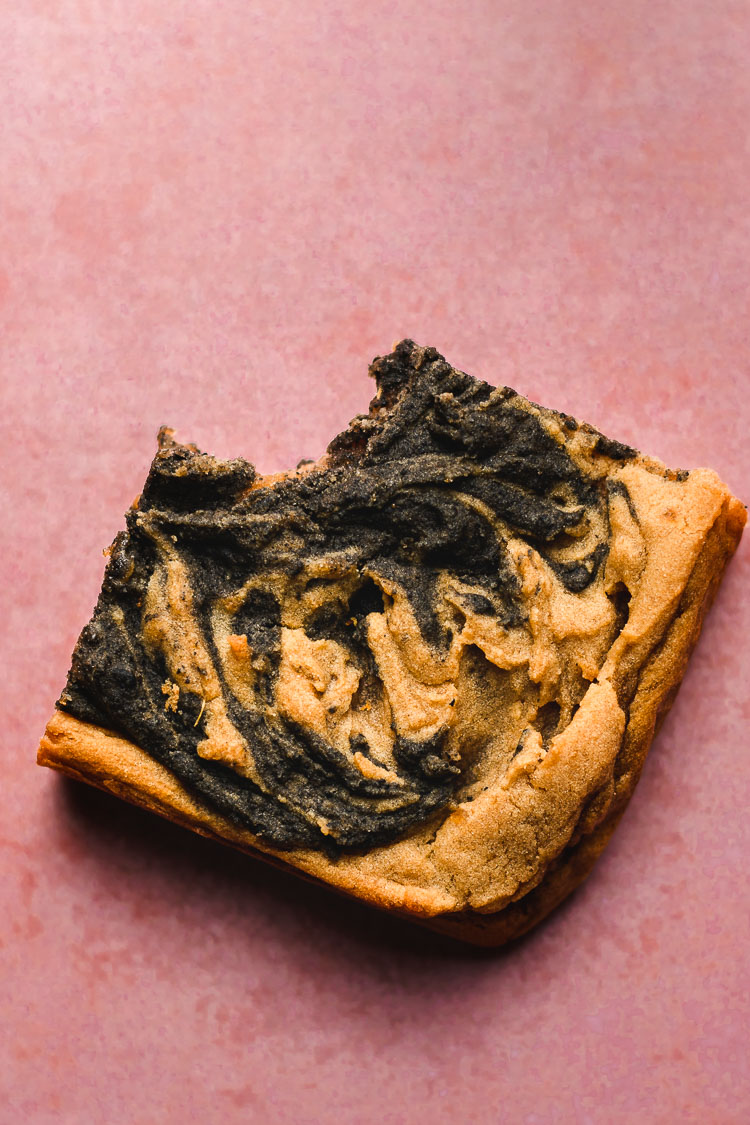 I hope I've inspired you to make this sweet potato mochi cake with black sesame swirl! If you try it out, don't forget to tag me in your photos on instagram @ellielikes.cooking, leave a comment/rating down below, and let me know how you liked it! I love seeing all of your tasty recreations 🙂 Happy baking! ♡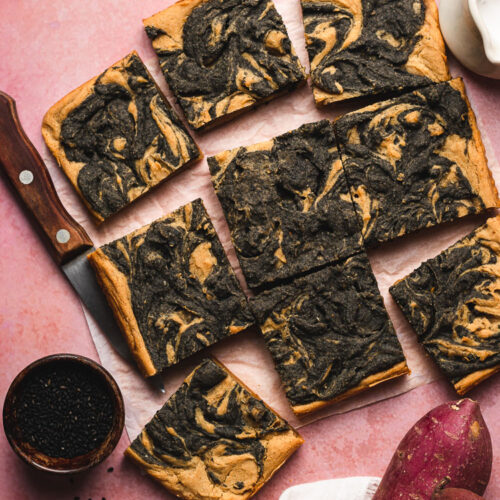 Sweet Potato Mochi Cake with Black Sesame Swirl (Vegan, Gluten-Free)
Ingredients
½

cup (120g)

Japanese sweet potato puree**

½

cup (90g)

granulated sugar

1

cup + 2 tbsp (270ml)

full-fat coconut milk

¾

tsp

vanilla extract

1 ½

cups (240g)

mochiko*/sweet rice flour

1

tsp

baking powder
Black Sesame Swirl
2

tbsp

ground black sesame seeds

¼

cup

coconut or soy milk
Instructions
Preheat oven to 350°F. Grease an 8×8" baking dish and set aside.

Combine sweet potato puree, sugar, coconut milk, and vanilla in a large bowl. Add a splash of thin plant-based milk (not coconut milk) or water if your sweet potato is very dry (see notes).

Use a sieve to sift in the flour and baking powder, then whisk until smooth.

Scoop out about ¼ cup of batter and mix with ground black sesame seeds and ¼ cup plant-based milk.

Mochiko has a tendency to clump together, so if your batter has lumps of flour in it, arrange a sieve over your baking dish or a bowl. Pour some batter in the sieve and use a spatula to press the batter down, smoothing out any clumps. Repeat with remaining batter. OR if your batter is fairly smooth, just transfer to the prepared baking dish.

Dollop the black sesame mixture on top of the batter and use a toothpick or knife to make swirls in the batter.

Tap the dish on the countertop a few times to release air bubbles from the batter. Bake for 45-60 minutes, until the top begins to crack and the edges are slightly brown.

Let the mochi cake cool completely to room temperature before slicing. Store leftovers in an airtight container at room temperature for up to 3 days.
**Notes
Sweet Potato: I recommend Japanese or Korean sweet potatoes (the ones with purple skin and yellow flesh) if you can find them, but any variety should work. 
Moisture content varies by potato so you may need to add some milk if your batter is dry. You don't need a very thin batter, but it should fall off a spoon easily. Add milk a tablespoon at a time if needed.


*Disclosure: This page may contain affiliate links. As an Amazon Associate I earn from qualifying purchases, but the price remains the same to you. Thank you for supporting Ellie Likes Cooking!
Save for later!