This page may contain affiliate links. As an Amazon associate I earn from qualifying purchases. Please read our
disclosure
for more info.
These cabbage rolls are filled with a tasty tofu veggie filling, pan-fried till golden brown, and served with a sweet & savory peanut sauce.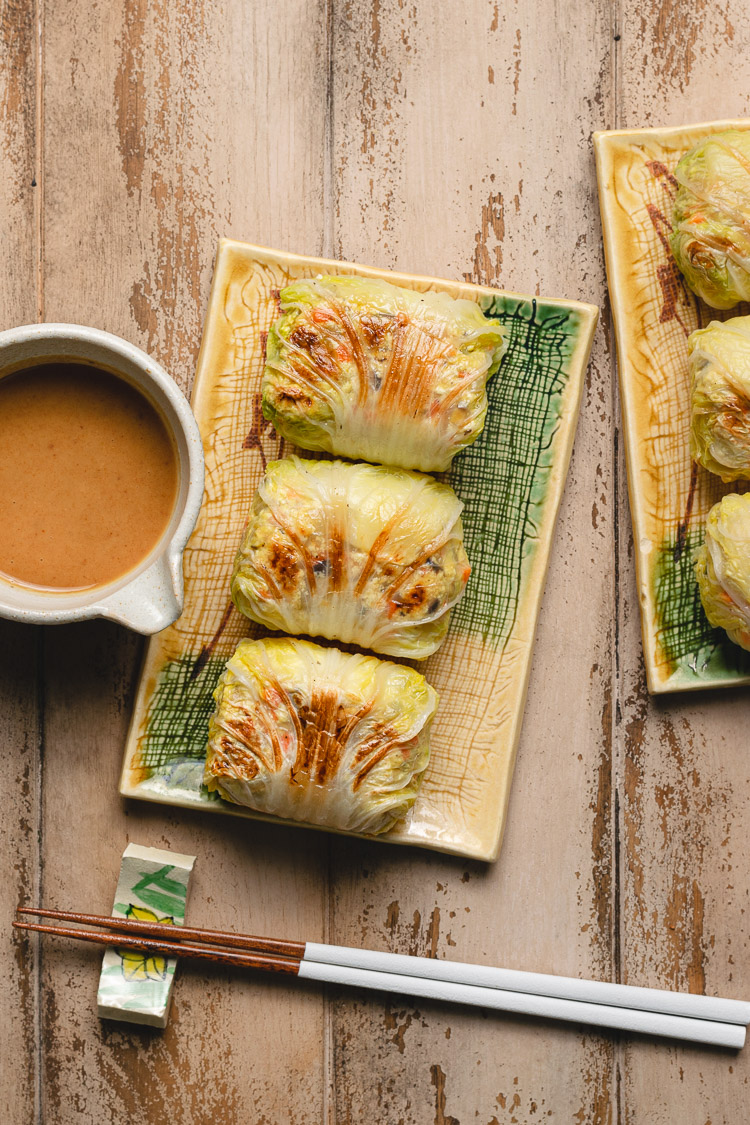 Cabbage rolls are one of my favorite foods ever! There's something so comforting about a simple tofu filling wrapped in a tender cabbage leaf. Unlike my Japanese Cabbage Rolls, which are simmered in a light tomato broth, these tofu cabbage rolls are like a cross between dumplings and spring rolls. The filling reminds me of tofu gyoza while the peanut sauce gives spring roll vibes. They're hearty, nourishing, and so fun to make and eat!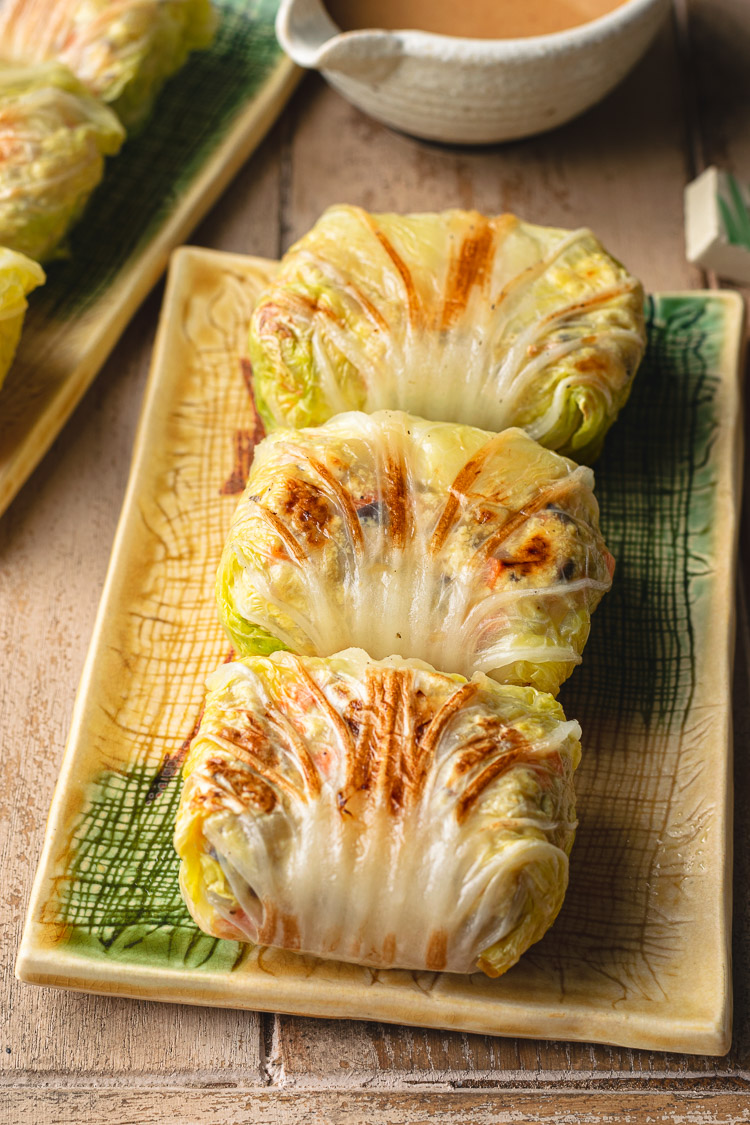 How to Make
Check out my Japanese Cabbage Rolls for photos detailing rolling up the cabbage rolls, or watch the video in the recipe card. Think of them as mini burritos. Place the filling a few inches from the bottom, fold the bottom over the filling, fold the sides of the leaf over the filling, then roll up like a burrito. After that you simply pan fry to give them a beautiful charred look, and they're ready to eat!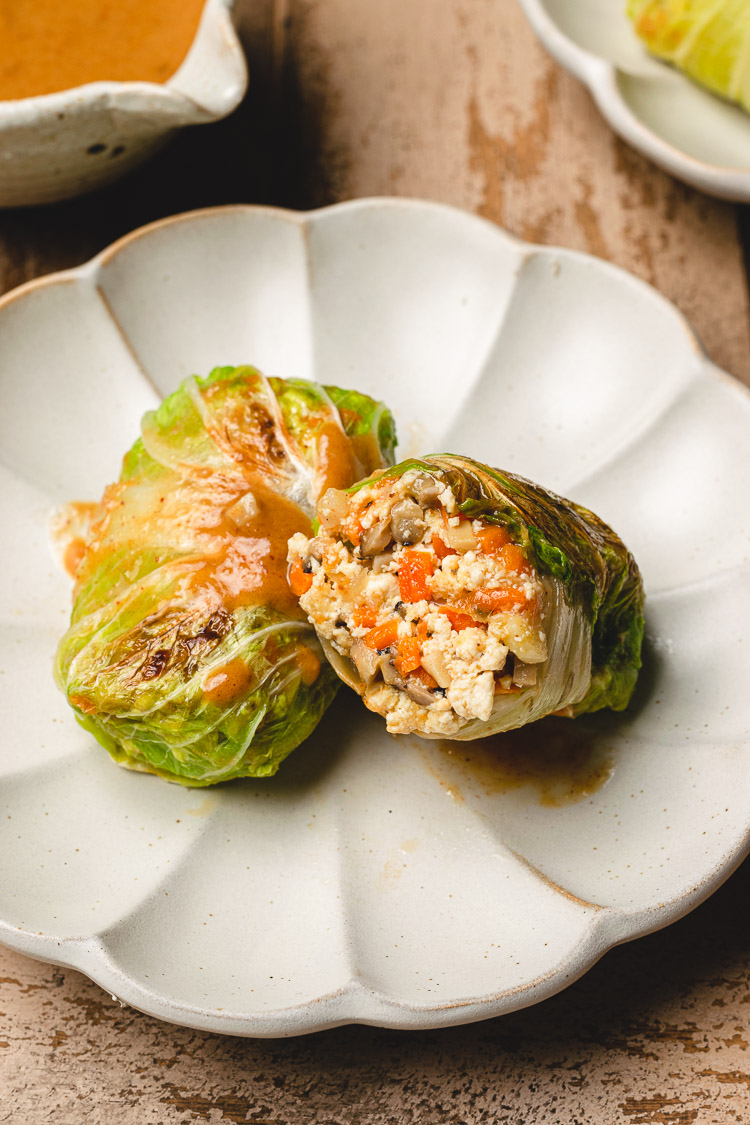 Cabbage Rolls FAQ
Can I omit the five spice powder?
Yes, these cabbage rolls will still be delicious without five spice powder!

Can I use a different starch?
I've only tested this recipe with potato starch, but I believe any starch should work. Cornstarch, tapioca starch, arrowroot starch, or even all purpose flour are all viable options. The starch is there to help the mixture hold together, so add more as needed.
Tips for Success
Finely dice the veggies for the filling ⟶ If the veggies are too big, the filling won't hold together as well and it will be a much messier process.

Use napa cabbage ⟶ Most recipes call for green cabbage, but green cabbage leaves are harder to separate so you have to boil the head of cabbage first. With napa cabbage you still have to boil the leaves, but you can peel the leaves that you need first, and then boil. So you won't be left with unused cooked cabbage or broken leaves.

Use the large outer leaves ⟶ Make sure you pick a cabbage with big leaves so you can pack all the filling in. Start with the outer leaves of the cabbage since the leaves get smaller towards the center. If you need to use your napa cabbage for a different dish before you make cabbage rolls, just save the large outer leaves.

Roll tightly ⟶ Roll the filling up tightly in the cabbage leaves so it doesn't spill out.

Serve with your favorite sauce ⟶ I love serving these with a peanut sauce (what doesn't taste good with peanut sauce?) but feel free to use any sauce you like! I think it would be delicious with chili oil, teriyaki sauce, sesame sauce, miso sauce…

Cut the cabbage roll to make them easier to eat ⟶ Serve them whole as they are beautiful this way, but napa cabbage leaves can be a bit stringy, so make sure you have a sharp knife to cut them into pieces. It's tempting to just bite into it whole, but it's hard to get a clean bite – trust me, I've tried.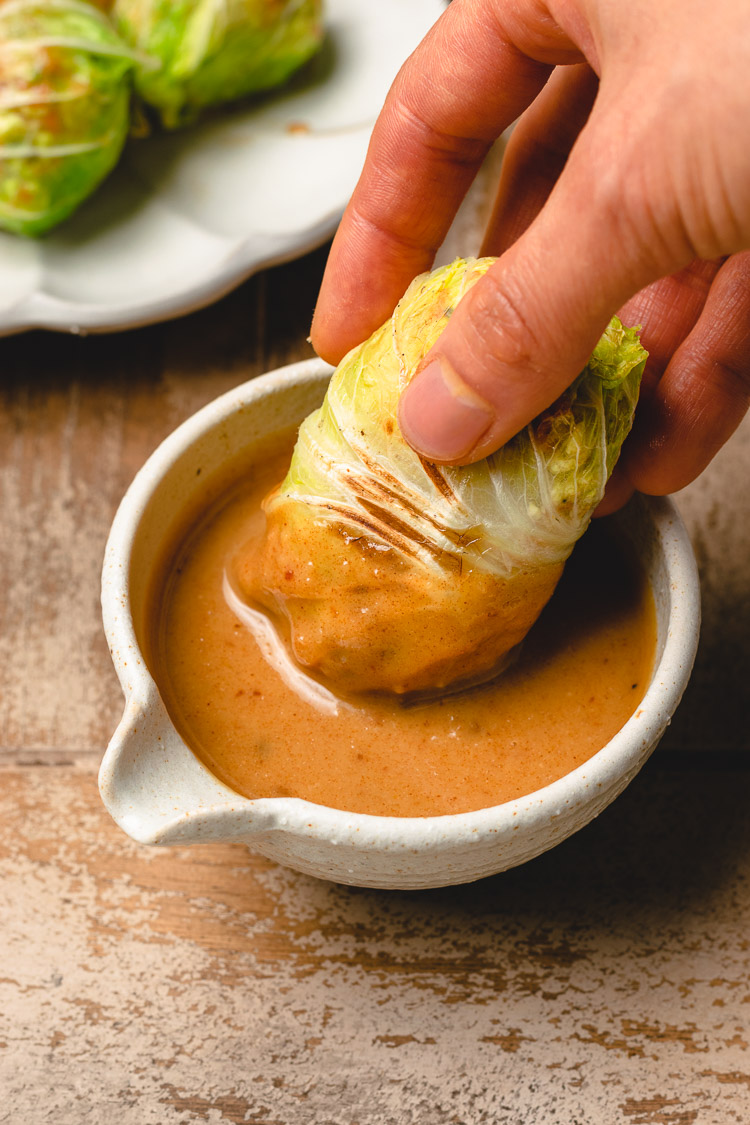 More Comforting Dishes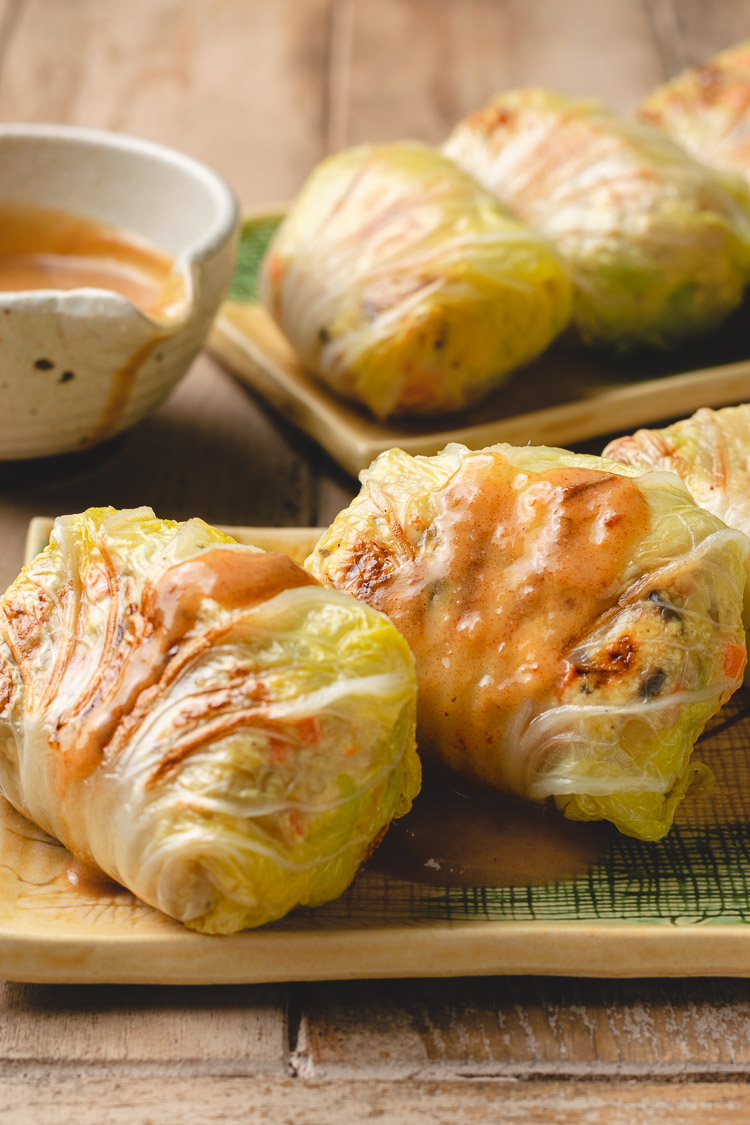 If you try out these tofu cabbage rolls, don't forget to leave a comment/rating down below and tag me in your photos on instagram @ellielikes.cooking. I love seeing all of your tasty recreations!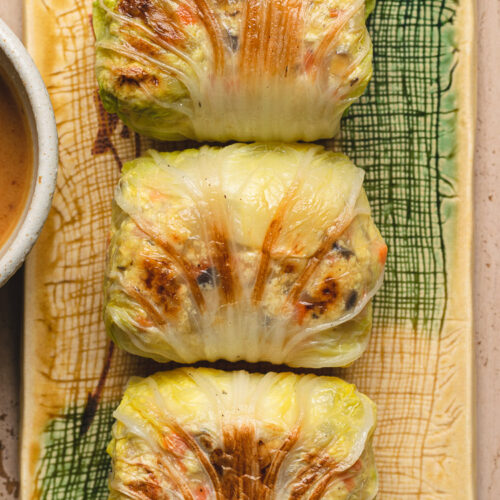 Tofu Cabbage Rolls with Peanut Sauce
These cabbage rolls are filled with a tasty tofu veggie filling, pan-fried till golden brown, and served with a sweet & savory peanut sauce.
Ingredients
Cabbage Rolls
12

large napa cabbage leaves**

2

tbsp

olive oil

divided

1

small onion

diced

1

carrot

diced

4

shiitake mushrooms

diced

1

lb

firm tofu

drained and crumbled

¼

cup

lotus root

diced, optional for crunch

½

tsp

salt

¼

tsp

pepper

¼

tsp

five spice powder*

3

tbsp

potato starch*
Peanut Sauce
2

medjool dates*

soaked in hot water for 10 minutes

2

tbsp

peanut butter

2

tbsp

coconut aminos*

2

tbsp

rice vinegar

⅛

tsp

garlic powder

6

tbsp

water
Instructions
Cook napa cabbage leaves: Carefully peel the large outer leaves of the cabbage. Rinse the leaves well to remove dirt.

Bring a large pot of water to a boil. Add 3-4 leaves to the water and boil for 2 minutes to soften. Remove the leaves and place over a strainer to drain the water. Repeat with remaining cabbage leaves. Set aside to cool.

Make peanut sauce: Add medjool dates to a bowl and mash with a fork. Add peanut butter, coconut aminos, rice vinegar, garlic powder, and water. Mix until well combined, adding extra water if needed.

Make filling: Heat 1 tbsp of oil in a pan over medium heat. Add onion, carrots, shiitake mushrooms, and half the salt. Cook about 2 minutes until onions turn translucent. You want the veggies to still have some bite, so be wary not to overcook them.

Add tofu and lotus root (if using) and sprinkle with remaining salt, pepper, and five spice. Cook and stir frequently for 1 minute to cook off some of the liquid.

Cool filling: Transfer filling to a heat-safe bowl and set aside to cool for 10 minutes.

Add potato starch: Once the filling has cooled, add potato starch and mix well (it's easiest to use your hands). The filling should be slightly sticky and hold together when you squeeze a handful of it. If it's falling apart too easily, add more starch.

Shape filling: Divide the mixture into 12 equal parts. Form each into a cylindrical patty so they're easy to roll up in the cabbage leaves. Gently toss the patty back and forth between your hands a few times to remove air bubbles.

Make cabbage rolls: Place one cabbage leaf down on a large work surface/cutting board. Place a patty about 2 inches from the bottom of the leaf. Fold the bottom of the leaf over the patty. Tuck the sides of the leaf in and tightly roll up, making sure all the filling is covered and doesn't spill out (the technique is similar to rolling a burrito). Repeat with remaining leaves and filling.

Cook cabbage rolls: Heat remaining 1 tbsp of oil in a large pan over medium heat. Add cabbage rolls seam side down and cook 3-5 minutes on each side to brown.

Serve with peanut sauce and enjoy while still warm! Depending on your cabbage, the leaves may be stringy inside so I recommend cutting them into pieces to eat (as opposed to just biting the whole thing).
**Notes
Napa Cabbage: Try to pick a big napa cabbage with large leaves. Use the outer leaves of the napa cabbage since the leaves get smaller as you move towards the center. If your cabbage leaves seem small, prepare 16 leaves instead.


*Disclosure: This page may contain affiliate links. As an Amazon Associate I earn from qualifying purchases, but the price remains the same to you. Thank you for supporting Ellie Likes Cooking!
Save for later!