This page may contain affiliate links. As an Amazon associate I earn from qualifying purchases. Please read our
disclosure
for more info.
A fluffy, moist crumb studded with sweet, juicy blueberries. Oil-free & vegan, these muffins make the perfect healthy breakfast or snack any time of day.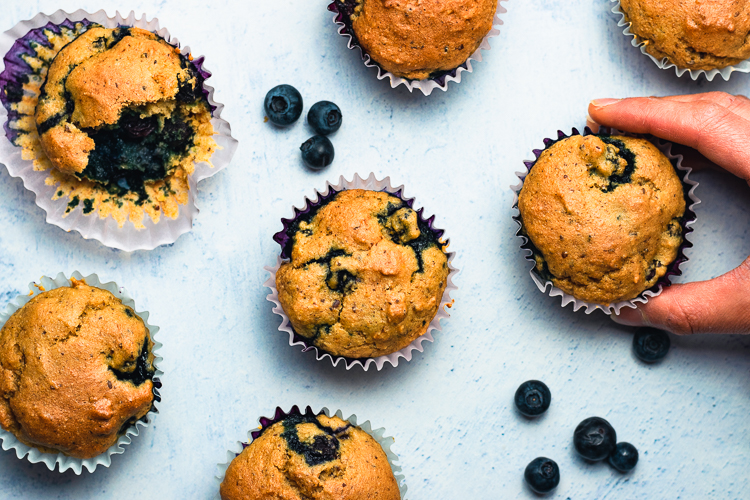 Have you ever had a Costco muffin? You know those overly-sweet, buttery, definitely-not-healthy-but-so-addicting ginormous muffins that come in packs of 6 or 12 even though the serving size should probably only be like 1/4 of one? My mom used to buy those for us occasionally when we were little and I thought they were the best things ever. I mean a double chocolate muffin the size of my head? What kid wouldn't want that for breakfast? This was back before I had any notion of health or nutrition. Of course, as soon as I started to learn about nutrition and eating a healthy diet, the days of Costco muffin breakfasts were gone. (Also my family realized we couldn't eat all 12 muffins before they expired.)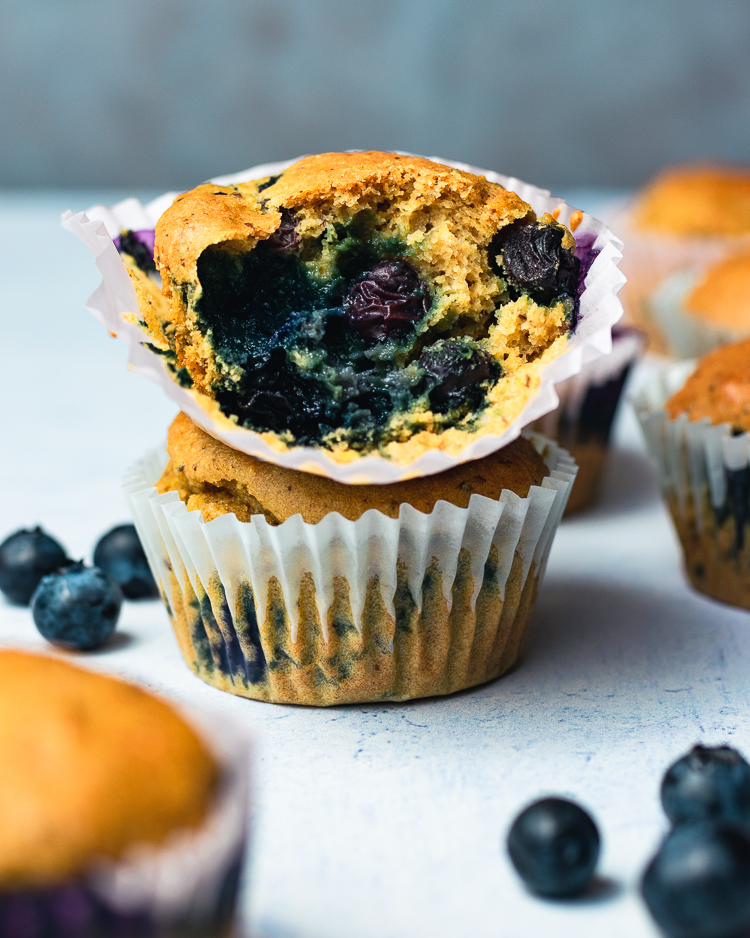 However, that didn't mean that all muffins were off limits. Instead I set about making my own muffins, originally from recipes my mom had or ones I found online. In the last few years, after switching to a mostly plant-based diet, I've been creating my own recipes, or just throwing ingredients into a bowl and hoping for the best (usually the latter). This was one of those "throw everything together on a whim and pray it's edible" moments. But to my happy surprise, it turned out so much better than I could have imagined!
INGREDIENTS
These healthy blueberry muffins require just 13 plant-based ingredients:
Whole Wheat Pastry Flour ⟶ can sub all purpose flour, white whole wheat flour, or a gluten-free all purpose flour
Ground Flaxseed ⟶ the main binding agent
Soy Milk ⟶ can sub other plant-based milks, but soy is the creamiest and therefore my go-to for baking
Applesauce, Tahini, Almond Flour ⟶ add moisture and structure
Maple Syrup ⟶ can sub another liquid sweetener
Baking Powder & Baking Soda ⟶ give the muffins their rise
Cinnamon & Vanilla Extract ⟶ for additional flavor
Blueberries ⟶ feel free to try other fruits like strawberries, raspberries, apples, etc!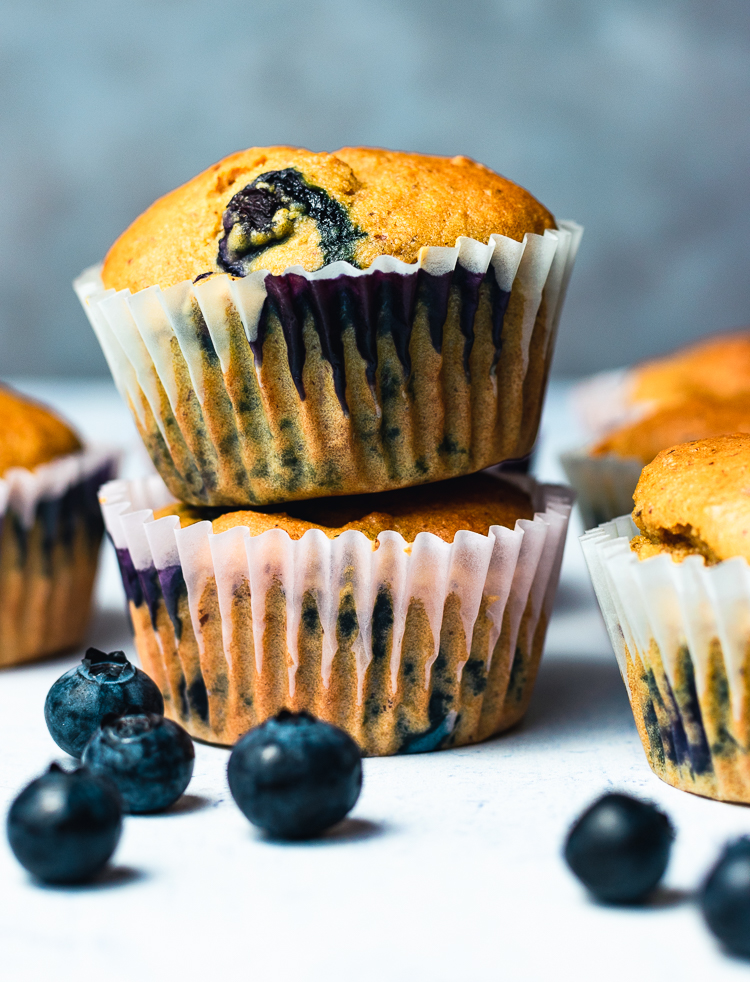 STILL HUNGRY?
Check out these other plant-based sweet treats!
I hope I've inspired you to make these healthy blueberry muffins! If you try them out, don't forget to tag me in your photos on instagram @ellielikes.cooking, leave a comment/rating down below, and let me know how you liked it! I love seeing all of your tasty recreations 🙂 Happy baking! ♡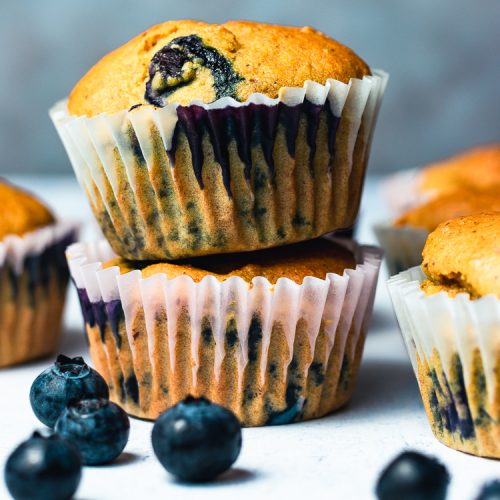 Vegan Blueberry Muffins
A fluffy, moist crumb studded with sweet, juicy blueberries. Oil-free & vegan, these muffins make a healthy breakfast or snack any time of day. 
Ingredients
1

tbsp

ground flaxseed

3

tbsp

water

1

tbsp

lemon juice

1/4

cup

soy milk

1/2

cup

applesauce

1/4

cup

tahini

1/4

cup

maple syrup

1

tsp

vanilla

1

cup

whole wheat pastry flour

1/4

cup

almond flour

1/2

tsp

baking soda

1/2

tsp

baking powder

1/2

tsp

cinnamon

1/2

cup

blueberries
Instructions
Preheat the oven to 350°F. Line a muffin tray with muffin liners, or grease muffin tin to prevent sticking.

Mix together flax and water and set aside.

Combine lemon juice and soy milk and set aside. The milk will curdle as it sits but this is okay.

In a large bowl, combine apple sauce, tahini, maple syrup, and vanilla.

Sift whole wheat pastry flour, almond flour, baking soda, baking powder, and cinnamon, making sure there are no chunks of flour/baking powder.

Add dry ingredients to wet and mix until just combined. Add in the blueberries and stir gently.

Fill up each muffin liner about 3/4 full, keeping in mind that they will rise while they bake. Bake for 30 minutes, or until a toothpick inserted in the center comes out clean. Remove from muffin tray to a cooling rack until completely cooled.
Save for later!