This page may contain affiliate links. As an Amazon associate I earn from qualifying purchases. Please read our
disclosure
for more info.
The best homemade curry udon made completely from scratch with 100% plant-based ingredients. Packed with fiber, protein, and chewy noodles for a healthy & comforting Japanese classic.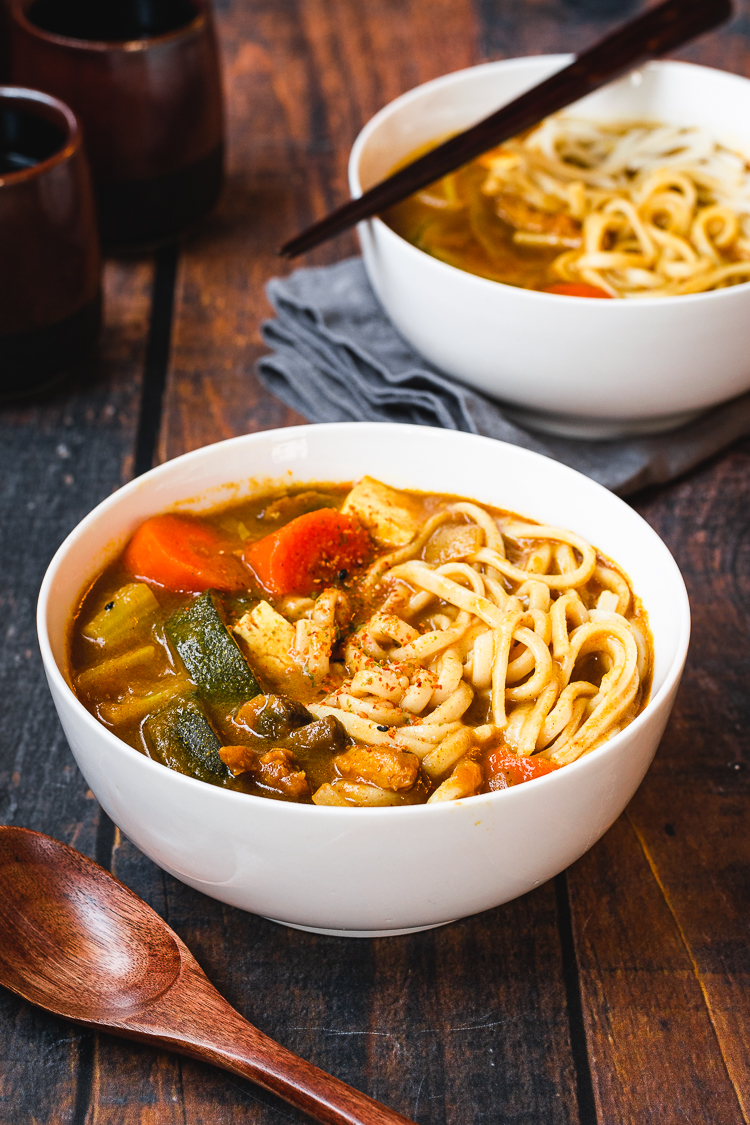 If you've never had curry udon before, it's basically the best of both worlds — chewy udon noodles meet a deliciously rich Japanese curry broth. It's basically Japanese curry rice, but with a soup-like curry perfect for soaking noodles in. I'm a huge soup noodle fan, and this is hands-down my favorite way to enjoy noodles (although this spicy miso ramen is a close runner-up). And probably my favorite way to enjoy curry. (But if you're in the mood for rice, this Japanese Curry or Jackfruit Curry are great options too).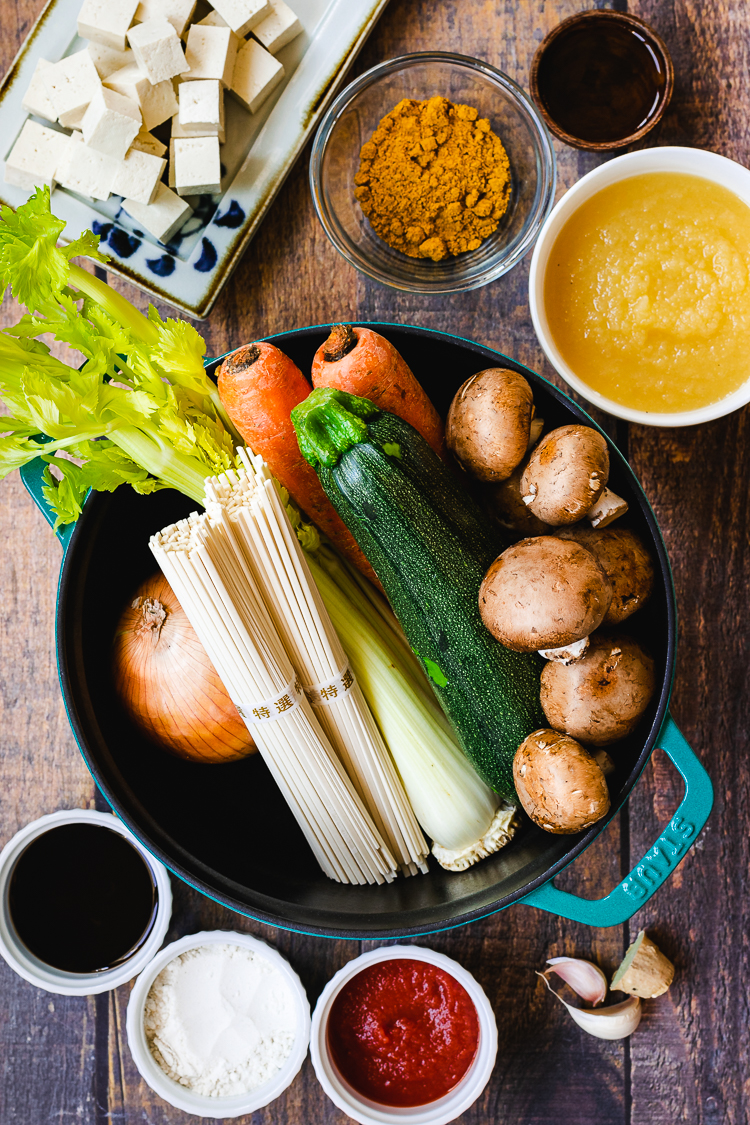 INGREDIENTS TO MAKE CURRY UDON FROM SCRATCH
While this may look like a lot of ingredients, don't be intimidated! There are 11 necessary ingredients, and the rest of the add-ins (i.e. veggies and protein) are up to you:
These are the basic ingredients you need to make the curry sauce, and now you can throw in any additional veggies/protein that you want! I like using carrots, celery, zucchini, mushrooms, and tofu or soy curls, but you can also add potatoes, eggplant, tofu katsu, or anything else you think would taste good 🙂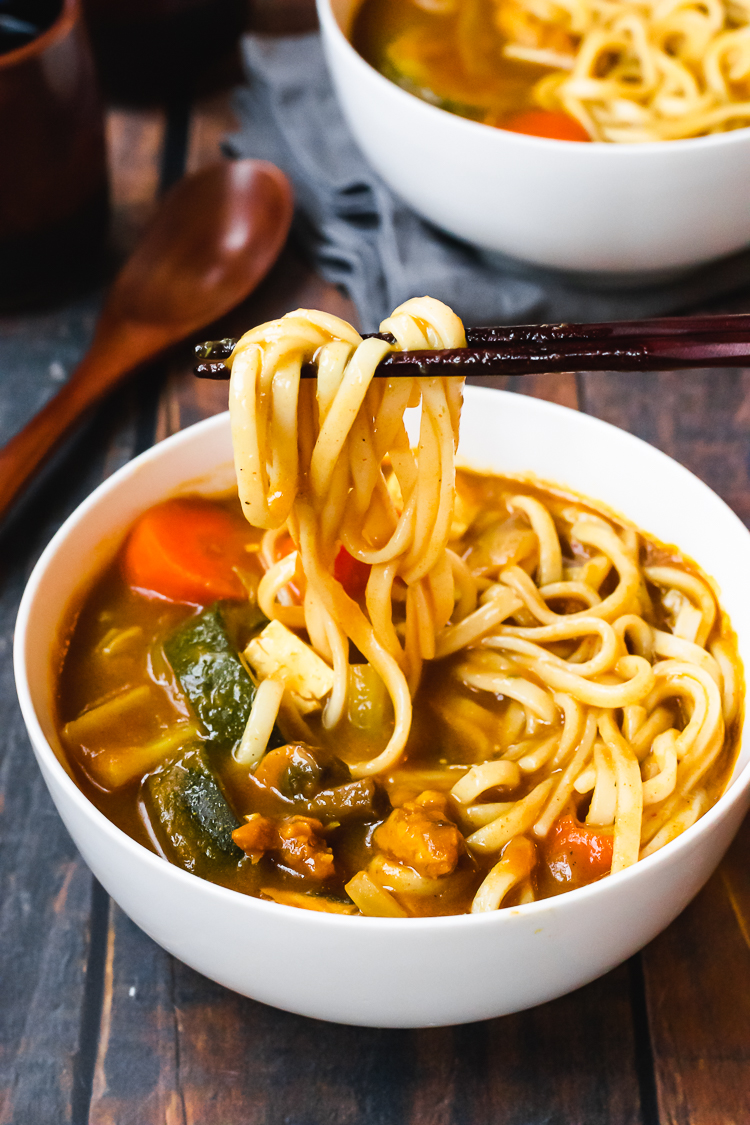 TIPS & TRICKS FOR HOMEMADE CURRY UDON
stir constantly ⟶ and don't turn the heat up too high (medium low heat is best) as roux burns very easily. This is a time-consuming step but essential to build the rich flavor of the curry.
cook until the roux turns light brown ⟶ The roux changes color as it cooks, from white to blond to brown. Darker roux has better flavor but doesn't have as much thickening power. For Japanese curry, cook the roux to a light brown color (about 15 minutes of cook time).
the roux will solidify as it cools ⟶ The roux will be quite runny when you take it off the heat, but it firms up as it cools.
make sure the roux is fully dissolved ⟶ While I usually just add the roux into the pot and let the heat dissolve it, if you want to ensure even blending of the roux you can take some of the liquid from the pot out into a bowl and mix the roux into the liquid, then add the roux mixture back to the pot.
add more or less broth as desired ⟶ This recipe makes a fairly thick curry (it thickens as it cools), so feel free to add more vegetable broth if you want a soupier curry.
veggies will melt if they overcook! ⟶ As a general rule, add in veggies in order of their cooking times: for example, add onions, carrots, celery, and potatoes first, and once they're tender add in zucchini and mushrooms. Add leafy greens like kale and spinach at the end. Tofu can be added at the end as-is, or you can pan fry tofu cubes/slices and top the curry with them.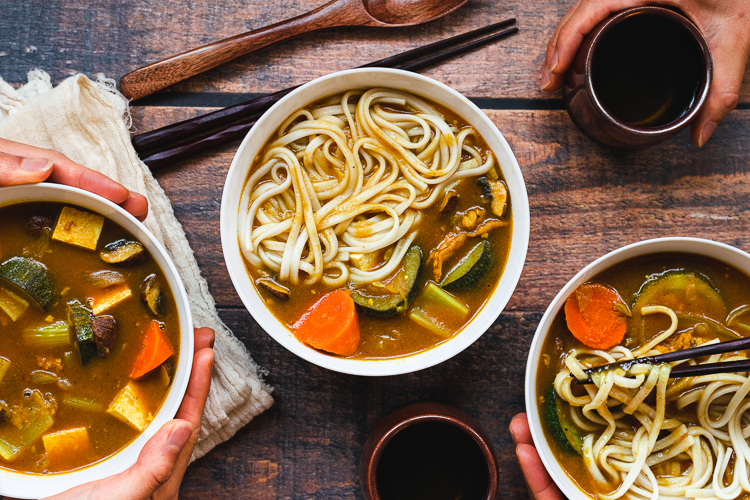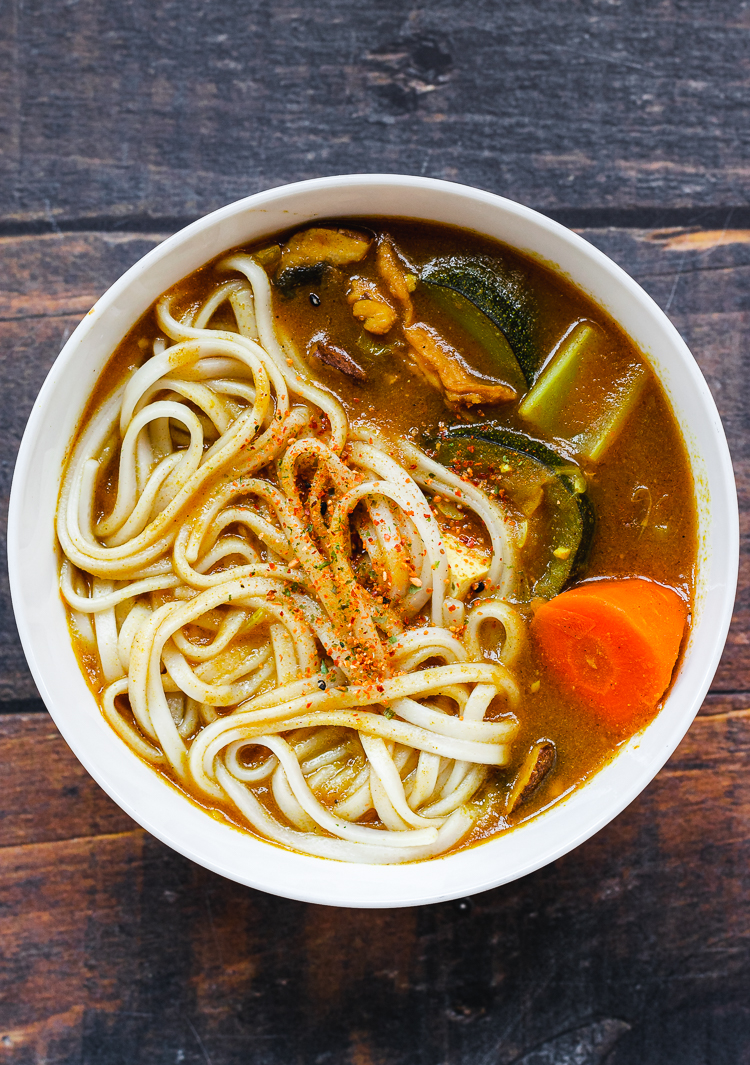 If you like a little extra spice, you can top your curry udon with shichimi togarashi, a Japanese chili pepper blend.
SUBSTITUTIONS
For optimal results, I recommend following the recipe as written, but I understand that some of you may not have access to certain ingredients or have specific dietary restrictions. These are my suggestions if you need to substitute anything, but please report back with any other changes you try!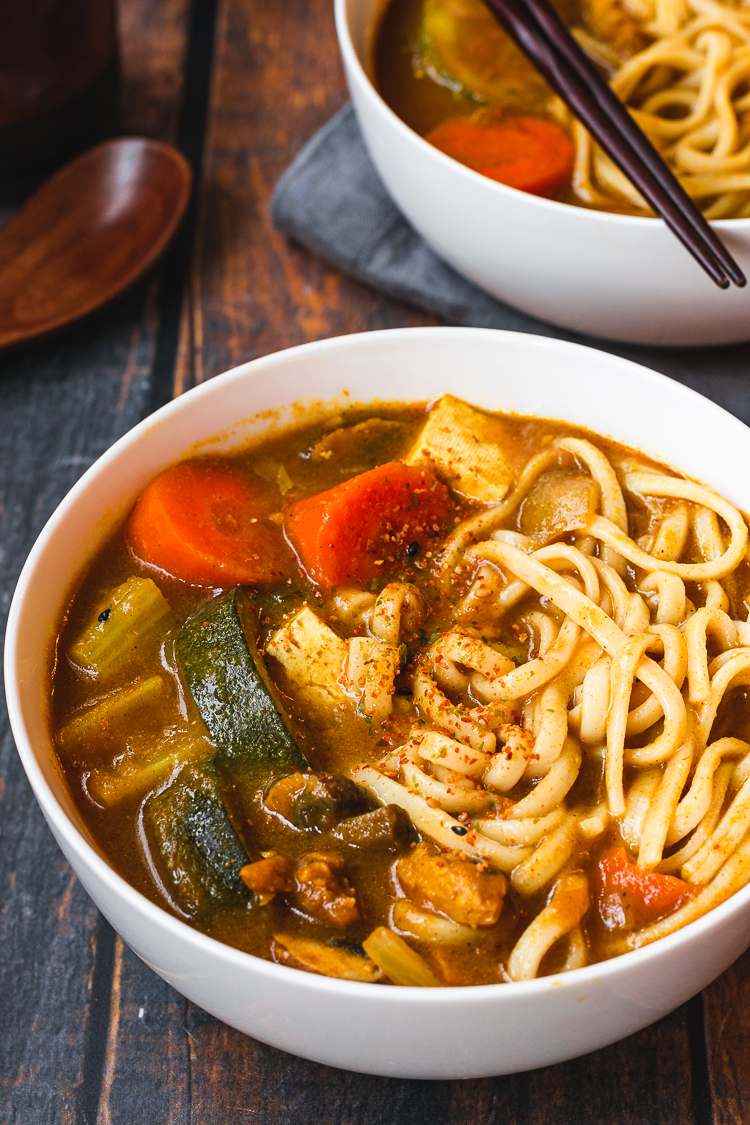 HELPFUL COOKING TOOLS
STILL HUNGRY?
Check out these other delicious curry dishes!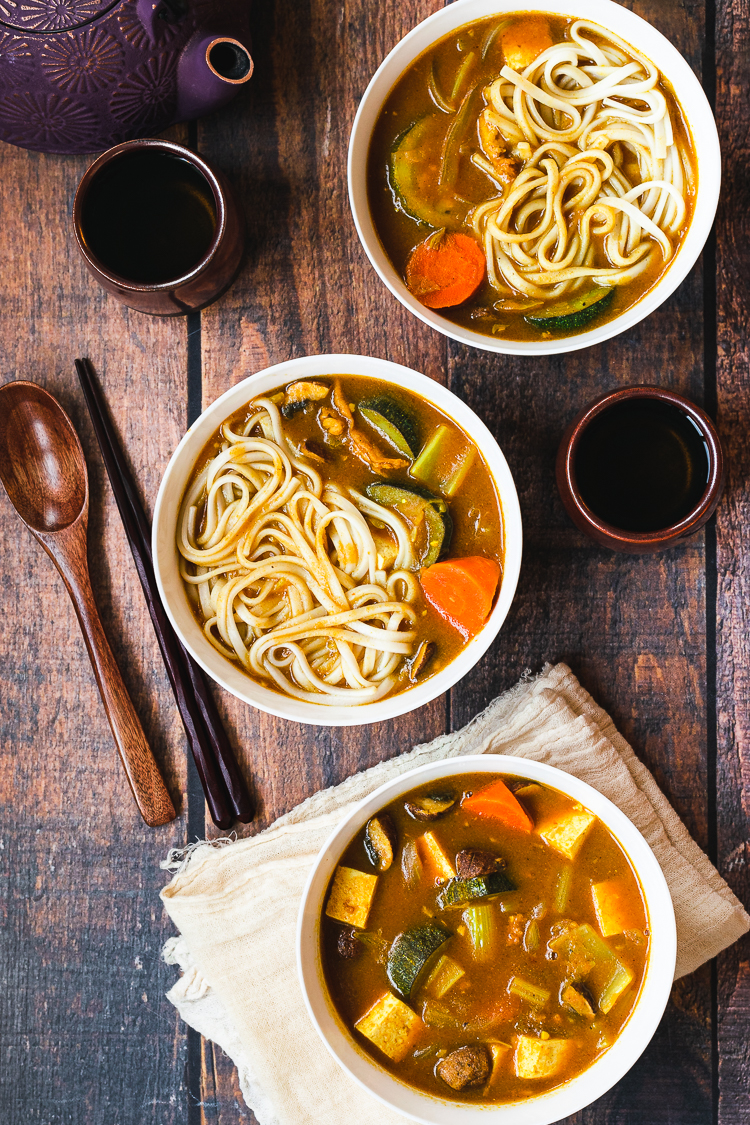 If you try out this Vegan Curry Udon, don't forget to tag me in your photos on instagram @ellielikes.cooking and/or leave a comment down below and let me know how you liked it! It always makes my day to see you recreate my recipes 🙂 Happy cooking!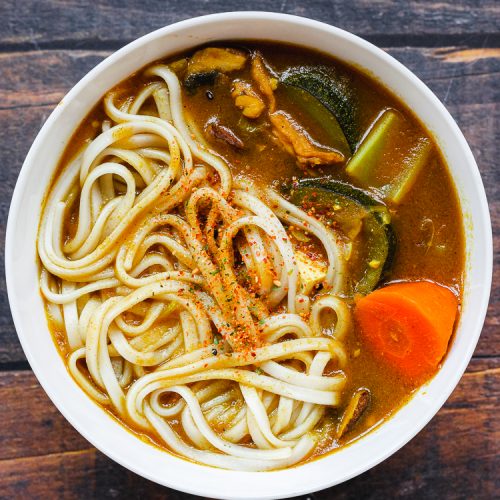 Vegan Curry Udon
The best homemade curry udon made completely from scratch with 100% plant-based ingredients. A healthy, hearty, and comforting Japanese classic!
Ingredients
2

tbsp

oil

(vegetable, canola, olive, avocado, etc)

3

tbsp

all purpose flour

2

tbsp

curry powder

½

onion

sliced

2

garlic cloves

minced

1

tbsp

ginger

minced

2

carrots

roughly chopped

2

celery stalks

roughly chopped

3

cups

vegetable broth

½

cup

applesauce

2

tbsp

tomato paste

1

zucchini

sliced 1" thick

4

oz

mushrooms

quartered

14

oz

block of tofu

cubed

4

servings

udon noodles

shichimi togarashi

optional for garnish

salt & pepper

to taste
Instructions
Heat oil in a pan over medium low heat. When hot, add in flour and stir constantly until it turns light brown, about 15-20 minutes.

Once brown, add in curry powder and mix briefly, about 30 seconds. Take off from the heat and set aside the roux. 

Add garlic, ginger, onions, carrots, and celery to a large pot with oil or a splash of water. Cook until onions turn translucent.

Add veg broth, applesauce, tomato paste, and Worcestershire sauce. Bring to a boil, add roux, then lower heat and simmer for 5-10 minutes, stirring occasionally to dissolve the roux.

Add zucchini and mushrooms and continue to cook until tender. Taste and add salt/pepper as needed.

In the meantime, prepare the udon noodles according to the package instructions. Rinse and drain, then set aside.

Make sure the roux has completely dissolved in the soup, then add tofu and gently mix. Turn off heat.

Divide noodles into bowls and spoon curry mixture over top. Sprinkle with shichimi togarashi for a spicier flavor. Enjoy!
**Notes
*For substitution suggestions, refer to the above paragraph in the post titled "Substitutions".
Disclosure: This page may contain affiliate links. As an Amazon Associate I earn from qualifying purchases, but the price remains the same to you. Thank you for supporting Ellie Likes Cooking!
Save for later!