This page may contain affiliate links. As an Amazon associate we earn from qualifying purchases. Please read our
disclosure
for more info.
Soft, tender, and flaky vegan biscuits made with pumpkin puree! Perfect for holiday gatherings or any cozy meal.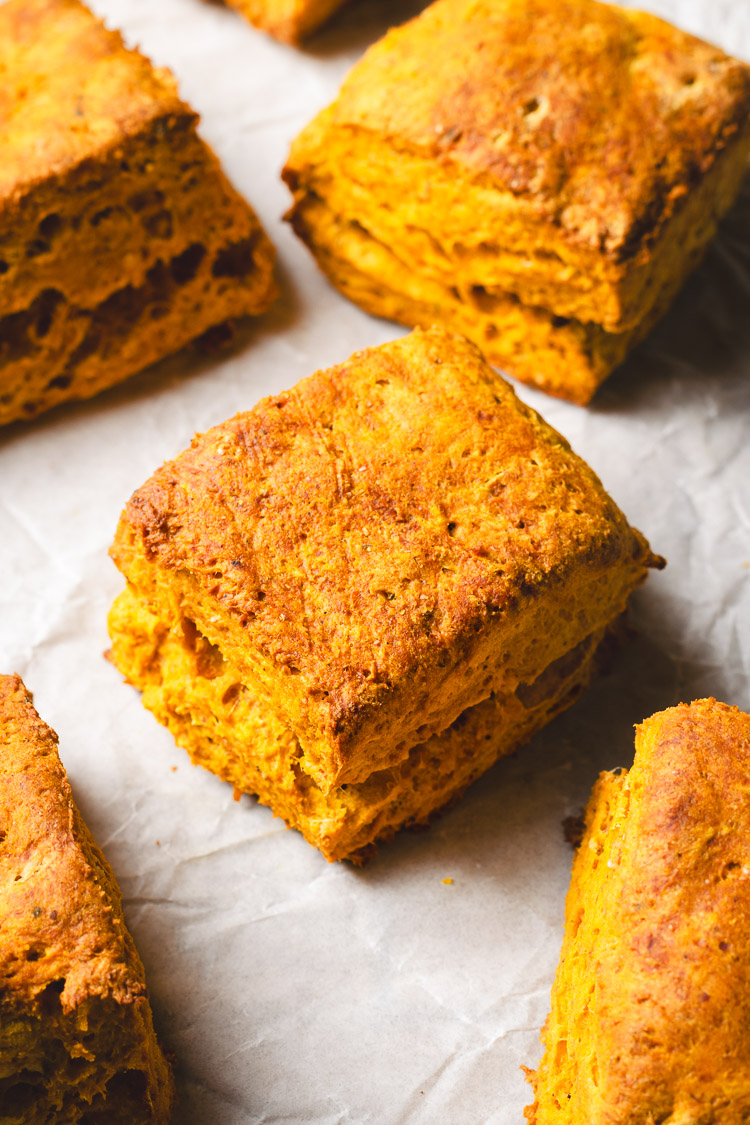 Have excess pumpkin puree from all the cans you've been hoarding for the holidays? Make these pumpkin biscuits! Serve with butter, gravy, or at your holiday dinner table for a fun and tasty fall spin on biscuits. These are egg-free and dairy-free, so vegans and non-vegans can enjoy them!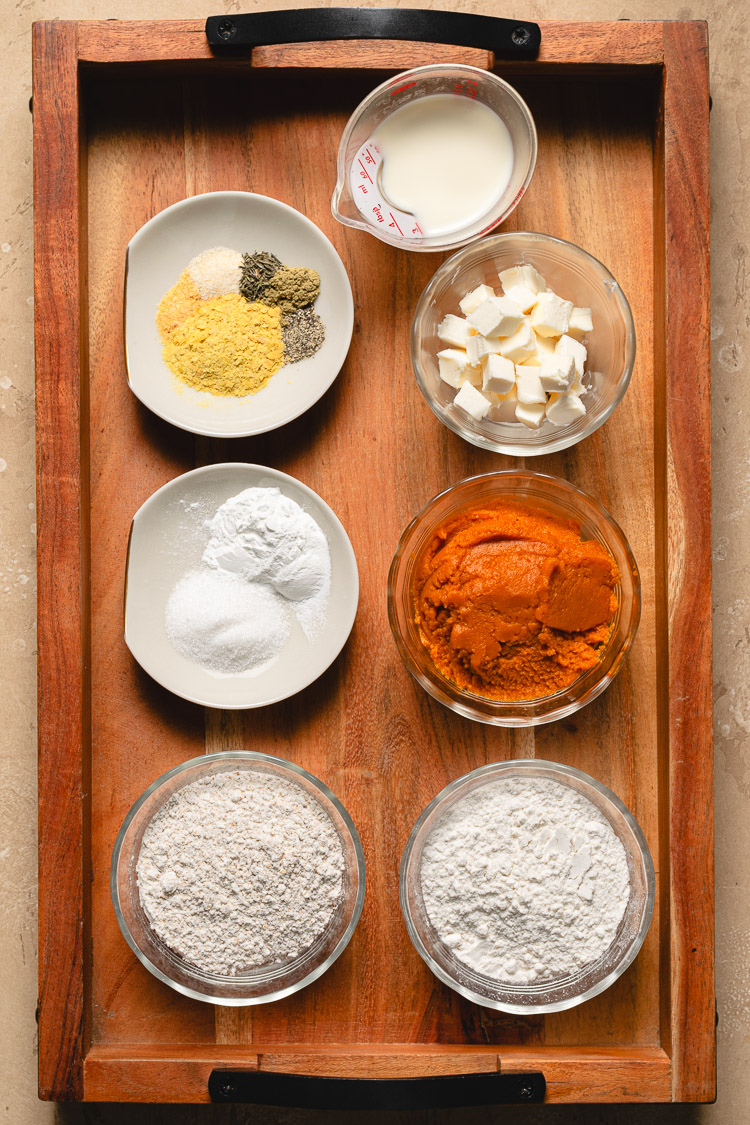 Key Ingredients
Pumpkin Puree ⟶ Use a good quality pumpkin puree for best flavor and texture. I recommend Libby's. Your pumpkin puree should not be very watery – if it is, blot it with a paper towel to remove some of the excess moisture.
All Purpose Flour + Whole Wheat Flour ⟶ I like to use half and half since using all whole wheat flour would be too dense. If you're adding the seasonings, you don't taste the wheat flavor very much. However, you can just use all purpose flour if you prefer.
Baking Powder ⟶ This makes the biscuits rise, so make sure your baking powder isn't expired!
Vegan Butter ⟶ Use a vegan block butter, NOT the spread type (this has too much water). I typically use Country Crock Plant Butter or Earth Balance Buttery Sticks.
Tips for Success
Use cold butter! ⟶ The butter needs to be cold when you are making biscuit dough so that it's suspended in the batter and not blended in. You should be able to see specs of butter in your dough. They melt during baking and create those desired flaky layers.

Laminate the dough ⟶ This helps create tall, distinct layers. You can either roll the dough out into a rectangle and fold into thirds (repeat 1-2 more times) or roll into a square, cut into four, and stack the pieces (and repeat).

Chill dough ⟶ Depending on how warm your kitchen is and how quickly you work, you may find your dough getting too warm and the butter starting to melt. It's important to keep everything cold, so chill your dough between steps as needed.

Dough is more wet/sticky than regular biscuit dough ⟶ We are packing in a full cup of pumpkin puree in these biscuits, so keep in mind that the dough will be more wet and sticky than normal biscuit dough. The baked biscuits are also a bit more soft and moist.
Vegan Pumpkin Biscuit FAQ
How do I store pumpkin biscuits?
These biscuits can be stored in an airtight container at room temperature for up to 3 days, in the fridge for a week, or in the freezer for 3 months.

How do I reheat pumpkin biscuits?
If frozen, thaw in the fridge overnight or at room temperature for a couple hours. Then you can bake them at 350°F for about 5 minutes, or wrap in a damp paper towel and microwave for 30-60 seconds.

Can I make them gluten-free?
I haven't tested these with a gluten-free flour so I can't say for sure, but I usually have success with Bob's Red Mill* and King Arthur* gluten-free flours.

Why did my biscuits turn out dense?
This can be caused by a variety of factors, so it's hard to say for sure. But you can look at these areas:
–Overmixing which causes excess gluten formation, resulting a tough, dense dough.
–Butter/dough too warm, causing the butter to melt into the dough before baking. You want the butter to be cold and suspended in the batter, not blended in, so that it can form those flaky layers between flour when it bakes.
–Expired baking powder can also result in dense biscuits since the baking powder is what makes the biscuits rise.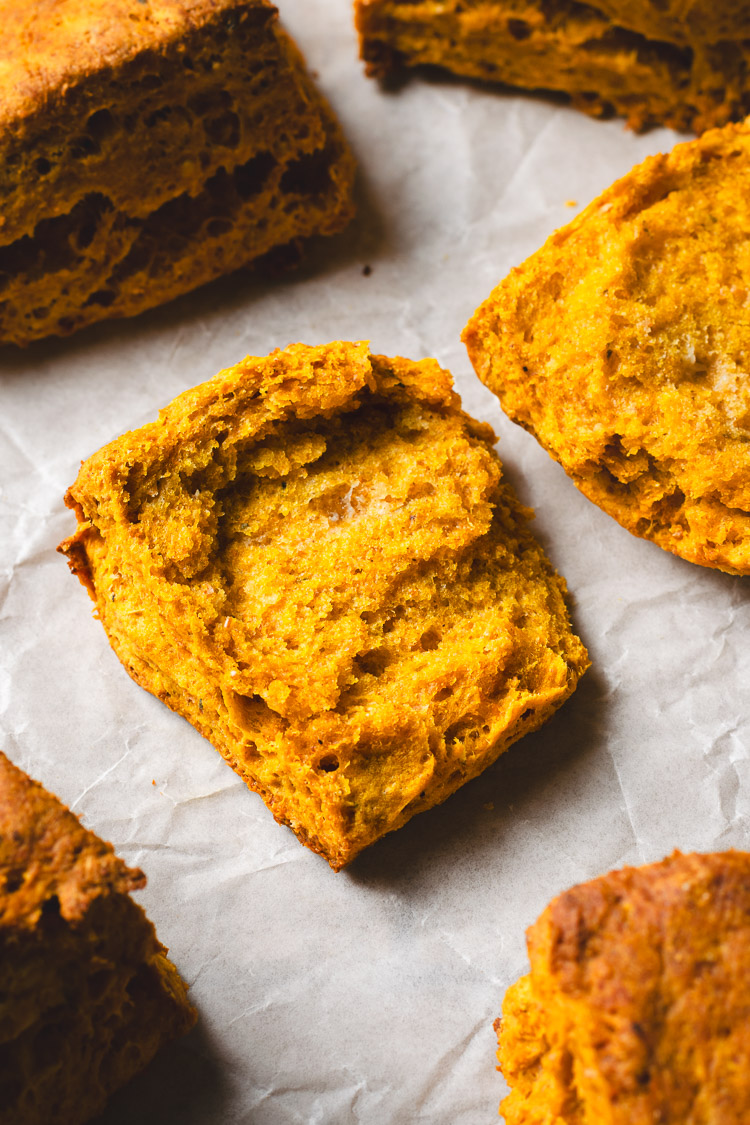 What to Pair with Pumpkin Biscuits
If you make these pumpkin biscuits, don't forget to leave a comment/rating down below and tag me in your photos on instagram @ellielikes.cooking. I love seeing all of your tasty recreations!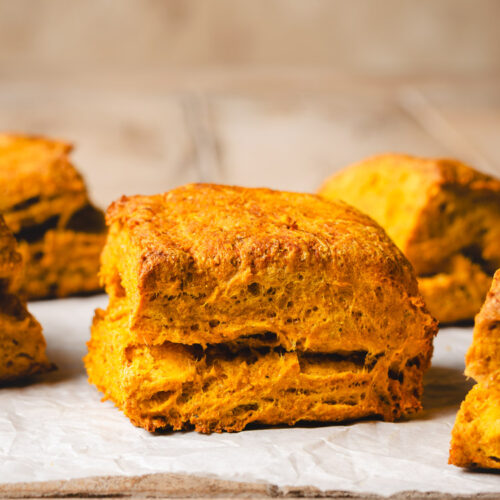 Vegan Pumpkin Biscuits
Soft, tender, and flaky vegan biscuits made with pumpkin puree! Perfect for holiday gatherings or any cozy meal.
Ingredients
1

cup (120 grams)

all purpose flour

1

cup (120 grams)

whole wheat flour

or more all purpose flour

1

tbsp (12 grams)

sugar

1

tbsp (14 grams)

baking powder

¼

tsp

salt if butter is unsalted

6

tbsp (78 grams)

vegan butter*

cut into small cubes and chilled

1

cup (240 grams)

pumpkin puree

80

ml

soy milk
Seasonings (Optional)
¼

tsp

garlic powder

¼

tsp

onion powder

¼

tsp

dried thyme

¼

tsp

dried sage

⅛

tsp

black pepper

2

tsp

nutritional yeast*
Instructions
Place the cubed vegan butter in a bowl in the freezer for 10 minutes.

Whisk dry ingredients: In a large mixing bowl, whisk together all purpose flour, whole wheat flour, sugar, baking powder, and salt (if using).

Cut in butter: Add chilled butter and cut into the flour mixture with a pastry cutter or fork until they form pea-sized pieces. You can also do this in a food processor.

Make biscuit dough: Add pumpkin puree and soy milk and stir just until the mixture comes together and there is no dry flour left. The dough will be just slightly sticky, but if you find it too wet you can add a bit more flour.

Chill dough: Place biscuit dough on plastic wrap and cover tightly. Chill in the fridge for 20-30 minutes.

Laminate dough: Lightly flour a work surface and roll/press dough out into a square about ¾ inch thick. Cut into 4 pieces and stack them on top of each other. Press out into a square again and repeat the process 1-2 more times (this helps create flaky layers).

Cut out biscuits: Roll/press dough out into a rectangle about 1 inch thick. Cut into 12 pieces for small biscuits or 8 for regular sized biscuits. Place on a lined baking sheet.

Chill biscuits before baking: Place the baking sheet with the biscuits into the fridge to chill while you preheat the oven to 425°F.

Bake: Transfer baking sheet to the oven and bake the biscuits for about 20 minutes until deep golden brown on top.
Nutrition per serving: 135 kcal | 6g fat | 2g sat fat | 20g carbs | 1g added sugar | 2g fiber | 3g protein | 180mg sodium
Hide


*Disclosure: This page may contain affiliate links. As an Amazon Associate I earn from qualifying purchases, but the price remains the same to you. Thank you for supporting Ellie Likes Cooking!
Save for later!