This page may contain affiliate links. As an Amazon associate I earn from qualifying purchases. Please read our
disclosure
for more info.
These sesame banana oat muffins are fluffy, moist, and perfect for a healthy breakfast. Plus they're vegan, gluten-free, and so easy to make!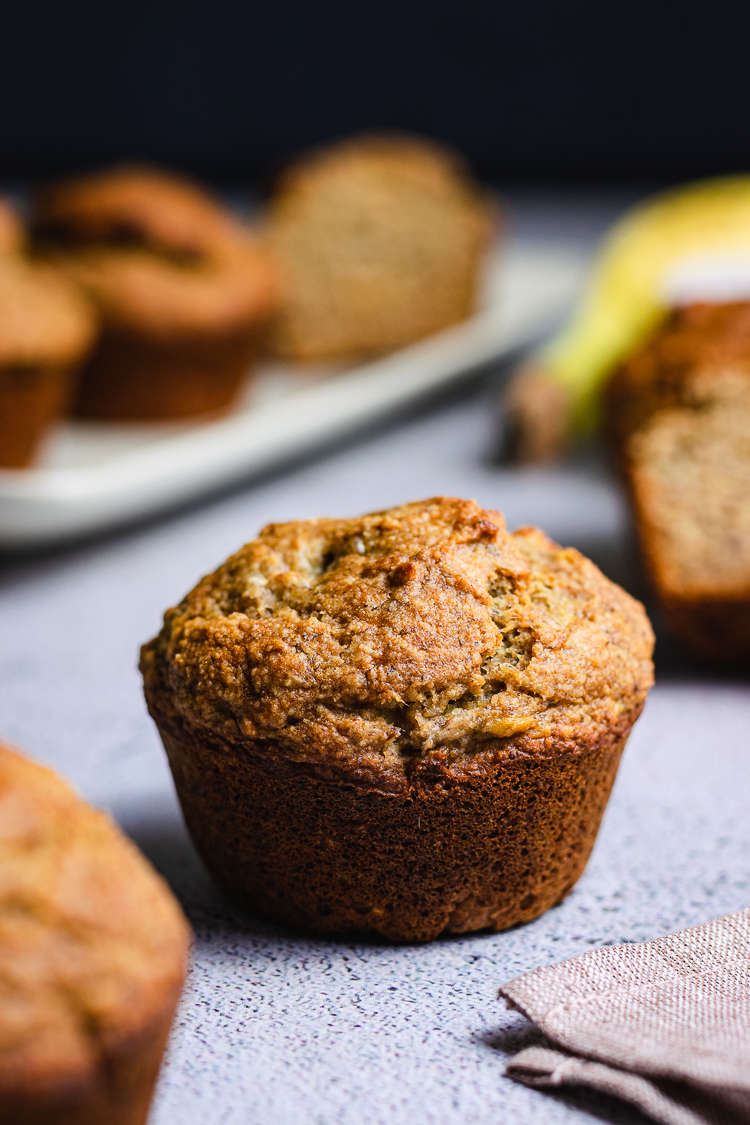 Banana muffins or banana bread? The ultimate baking dilemma I run into every time I have a bunch of overripe bananas. I love eating banana bread more than muffins, but muffins are so much easier to bake (and they bake up much more quickly, so I can eat them a lot sooner). Also, my oven is weird and doesn't bake breads fully — the center is always underbaked — but muffins bake up perfectly! So, in the end I decided on banana muffins. But not just any banana muffin. Toasted sesame banana muffins, made with oat flour and naturally sweetened with a little bit of maple syrup. Totally acceptable for breakfast!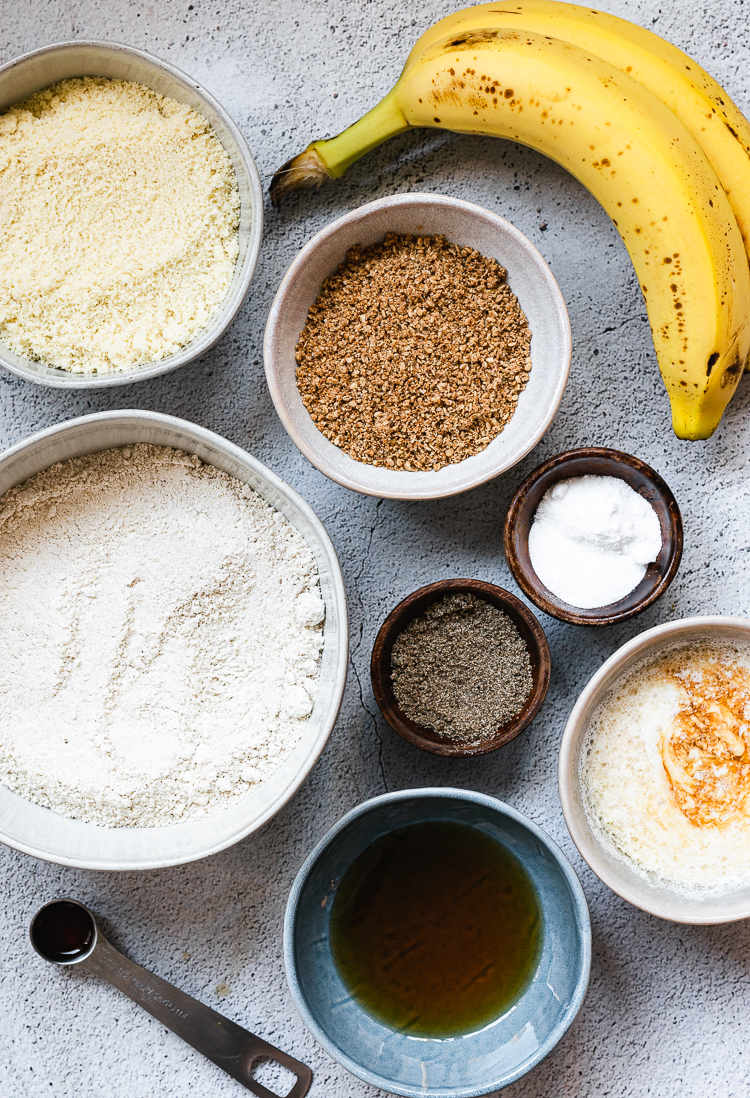 INGREDIENTS FOR SESAME BANANA MUFFINS
These vegan sesame banana muffins are made with 11 plant-based ingredients:
oat flour ⟶ creates a chewier, hearty muffin. Make your own by blending oats until they reach a fine flour consistency, or buy it pre-made.
toasted sesame seeds ⟶ add a wonderful nutty flavor
almond flour ⟶ adds moisture and tenderness to balance out the oat flour
maple syrup ⟶ adds sweetness and moisture
ground chia seeds ⟶ bind the ingredients together. Ground flax seeds will work as well.
bananas ⟶ the riper they are, the sweeter the muffins will be. To ripen bananas more quickly, place them in a closed paper bag for a few days. Use bananas that have at least a few brown spots, and completely brown bananas will work well too.
soy milk ⟶ adds moisture. I prefer soy milk as it has a closer nutrient profile to regular milk, as opposed to almond milk or cashew milk which are low in protein and often watered down.
apple cider vinegar ⟶ makes the muffins fluffy. Any vinegar or lemon juice will work.
pantry staples ⟶ vanilla extract, baking powder, and baking soda
HOW TO MAKE SESAME BANANA MUFFINS
Grind the sesame seeds using a blender or mortar and pestle. The milling blade on my NutriBullet is perfect for this!
Mash bananas in a large bowl, then add remaining wet ingredients and ground chia seeds.
Whisk dry ingredients, then combine with wet ingredients.
Divide batter evenly among muffin cups, filling almost to the top.
Bake! and let the oven do its magic.
Cool in the pan for 5 minutes, then transfer to a cooling rack to cool completely.
Really, try to let them finish cooling before eating. This is important to allow the crumb to set and maintain perfect texture.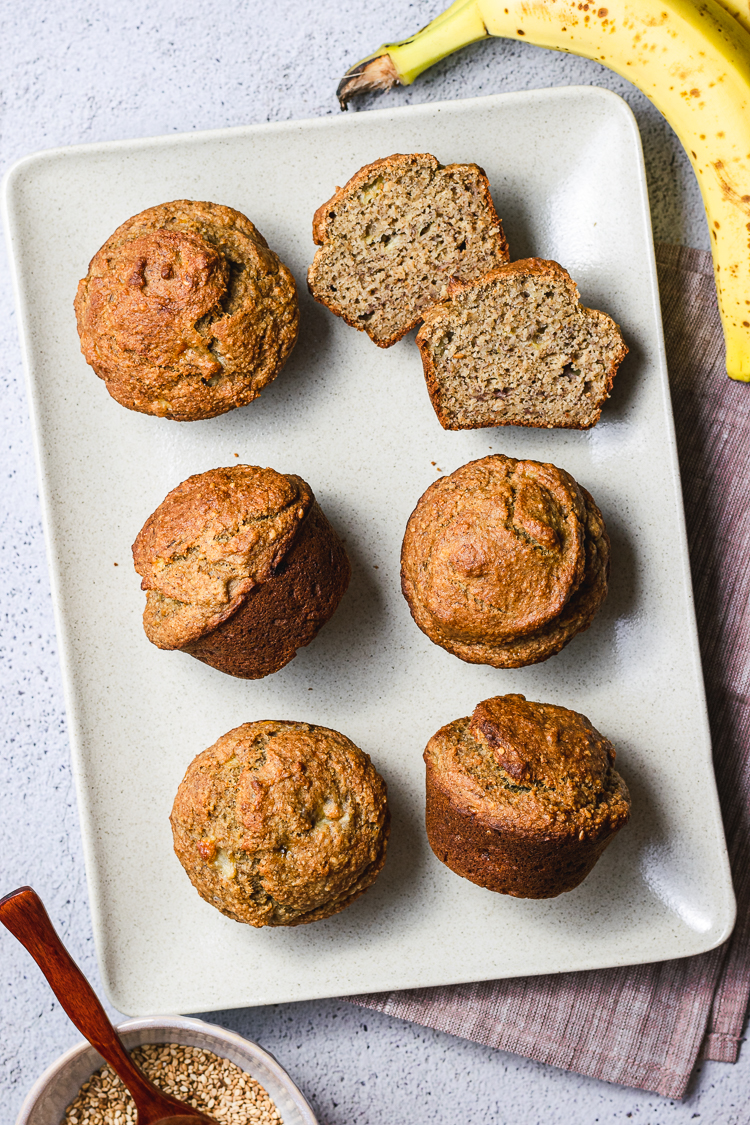 HOW TO STORE VEGAN BANANA MUFFINS
Short Term Storage (2-4 days)
Muffins tend to become soggy over time, as their moisture migrates to the surface and evaporates, only to be trapped by the container and fall right back on the muffins. To prevent this from happening, line the bottom of your container or ziplock bag with a paper towel. Arrange the muffins on top but do not stack them. (You may need to use multiple containers.) Place another paper towel on top of the muffins, then cover the container. Store them at room temperature.
Long Term Storage (up to 3 months)
To store muffins longer than four days, place them in a freezer bag or wrap tightly in foil and store in the freezer up to 3 months. To reheat them, place a slightly damp paper towel on top and microwave for 30-45 seconds. Or, let them thaw at room temperature the day/night before eating.
Whichever storage method you use, make sure the muffins are completely cooled first.
SESAME BANANA MUFFIN BAKING TIPS
use a kitchen scale ⟶ this is the most accurate way to measure your ingredients and is how I measure all dry ingredients
work quickly once the wet and dry ingredients are combined ⟶ the leavening agents (baking soda and baking powder) are activated as soon as liquid hits them, so we want to get the batter in the oven as soon as possible
want a stronger sesame flavor? ⟶ replace some of the almond flour with more ground sesame seeds. The recipe as written yields muffins with a subtle nutty sesame flavor that isn't overpowering, but some may prefer a more pronounced sesame flavor.
using silicone baking cups? ⟶ you may have to adjust baking time and/or the number of muffins made. For the photos I just greased a muffin pan, but I do love baking with my silicone baking cups since it's easy to remove the muffins after baking. However, they can vary in size and I've found mine to be smaller than my muffin pan, yet they require a few extra minutes to bake.
how do you know if your muffins are done? ⟶ the toothpick test! Insert a toothpick in the center of a muffin, making sure you poke all the way through. If the toothpick comes back out clean then your muffins are done. Otherwise, place them back in the oven for another 2 minutes and check again. Make sure to test a few different muffins.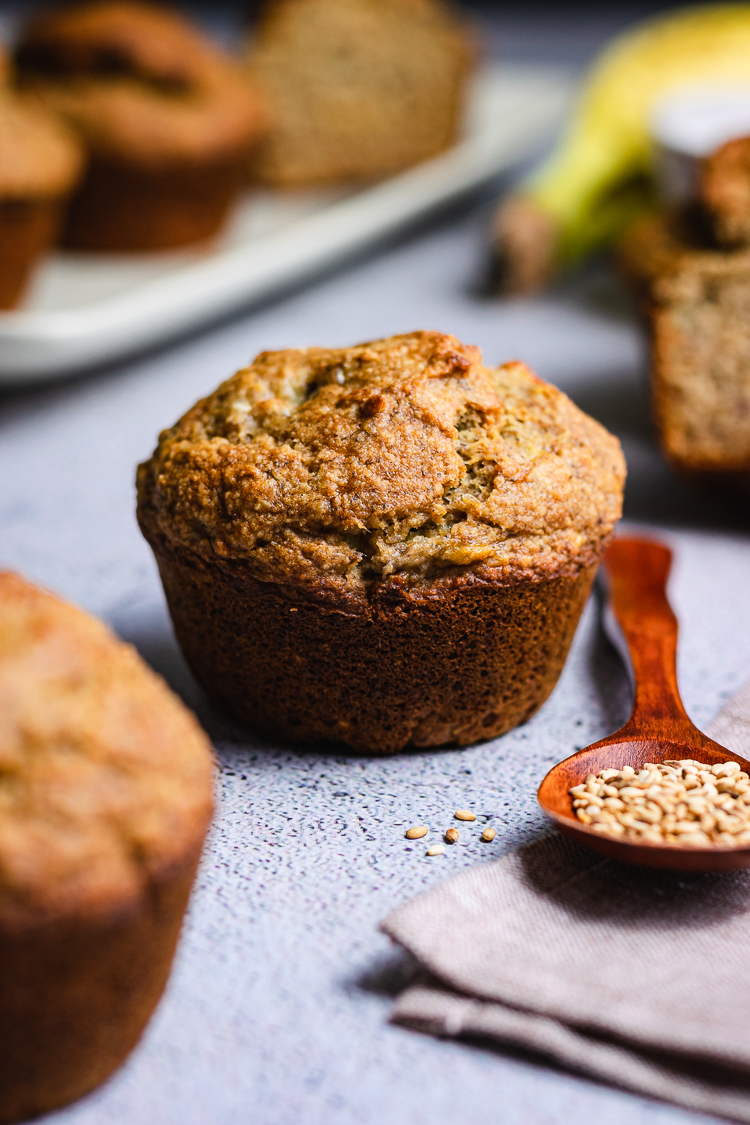 HELPFUL BAKING TOOLS
STILL HUNGRY?
Check out these other healthy vegan muffins!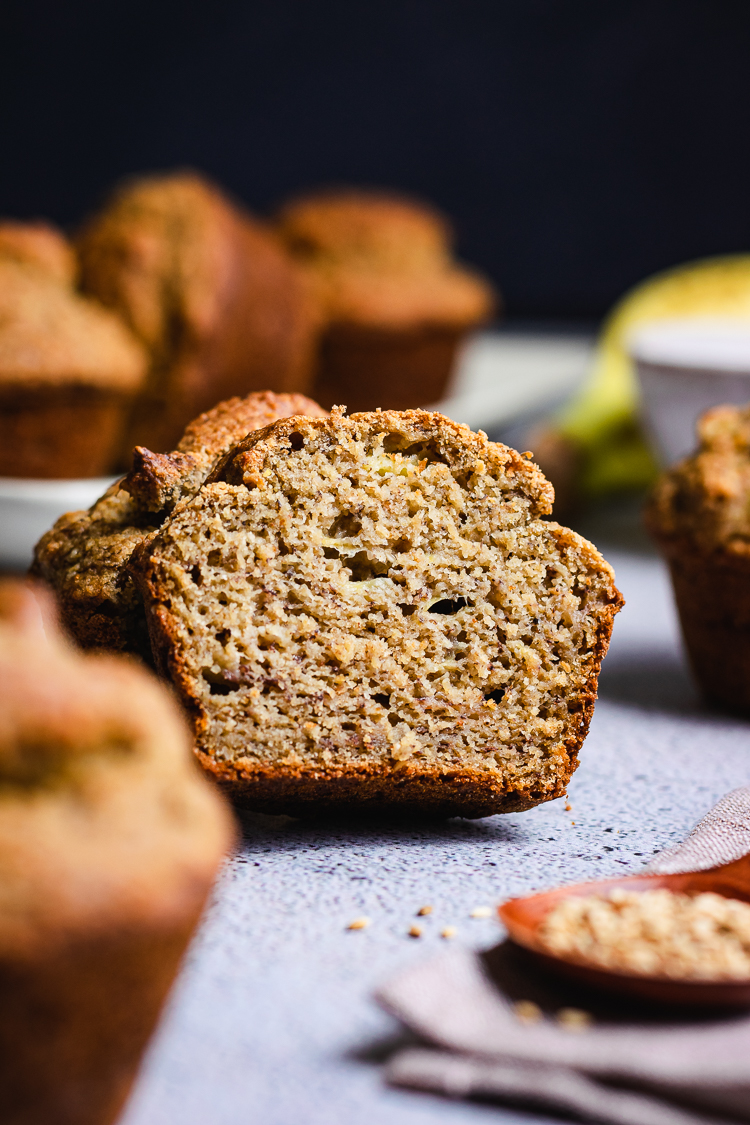 I hope I've inspired you to give these oat flour sesame banana muffins a try! If you do bake them, don't forget to tag me in your photos on instagram @ellielikes.cooking and/or leave a comment down below and let me know how you liked them! I love seeing my recipes recreated in your own kitchen 🙂 Happy baking!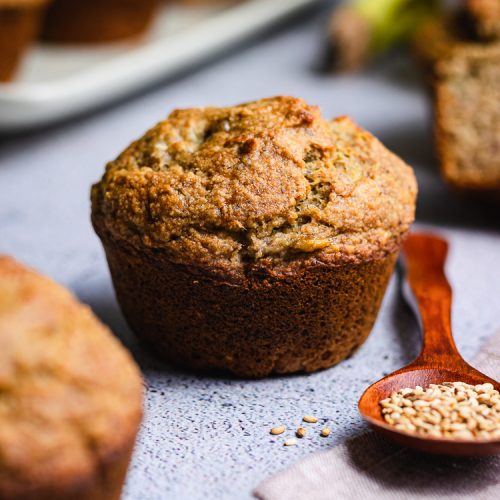 Oat Flour Sesame Banana Muffins (Vegan, GF)
These sesame banana oat muffins are fluffy, moist, and perfect for a healthy breakfast. Plus they're vegan, gluten-free, and so easy to make!
Instructions
Preheat oven to 350°F. Line or grease 6 cups of a muffin pan and set aside.

Grind sesame seeds using a blender or mortar and pestle. You should achieve a flour-like consistency, but it's ok if there are a few whole sesame seeds.

Mash bananas in a large bowl. Add in maple syrup, ground chia/flax seeds, milk, vinegar, and vanilla extract. Stir until well combined.

In a separate bowl, whisk together oat flour, almond flour, ground sesame seeds, baking powder, and baking soda.

Add flour mixture into wet ingredients and stir to combine. Divide batter evenly among muffin cups, filling almost to the top. Bake for 25-27 minutes, or until a toothpick inserted in the center comes out clean. Let muffins cool for 5 minutes in the pan, then transfer to a cooling rack and let them cool completely.
**Notes
*Refer to post above for storage directions.
Disclosure: This page may contain affiliate links. As an Amazon Associate I earn from qualifying purchases, but the price remains the same to you. Thank you for supporting Ellie Likes Cooking!
Save for later!