Hearty and packed with plant-based protein, this smoky tempeh sandwich is perfect for a quick lunch or lazy dinner. Vegan, oil-free, and so satisfying!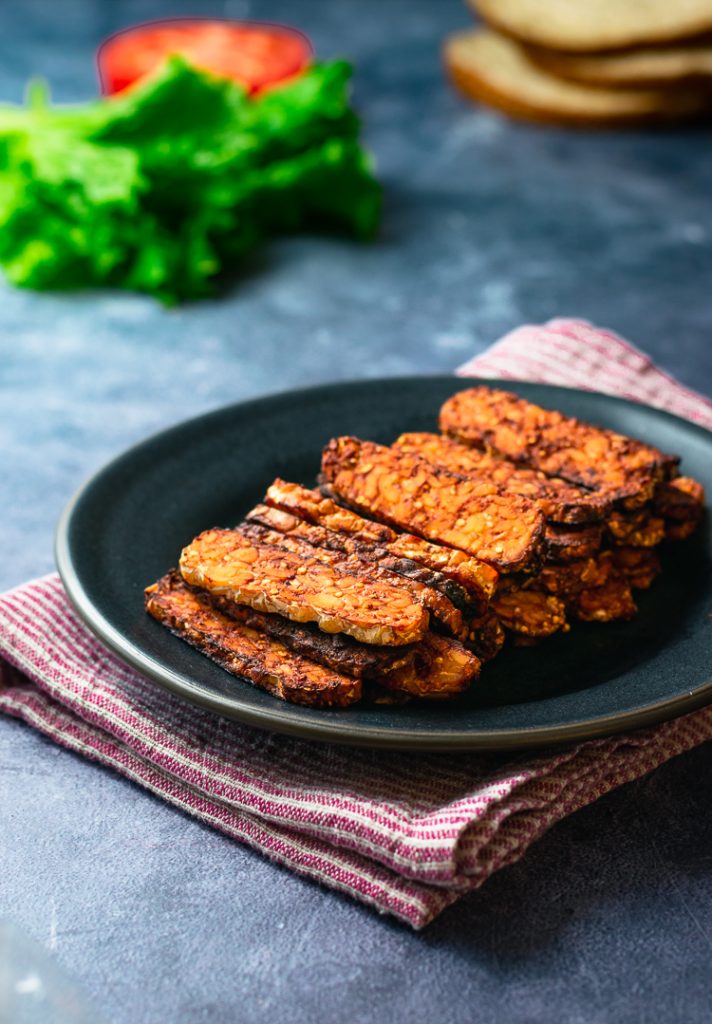 This is my new favorite sandwich filling. To be honest, I haven't eaten many sandwiches after switching to a plant-based diet. I was always at a loss as to what to put in my sandwich. I love my veggies but know that without a good amount of protein I'll be hungry again in an hour. Tofu always seemed too soft, like it would just get smushed if I wanted to take it on the go. Beans have to be mashed otherwise they'll fall out all over the place — but chickpea salad sandwiches are always an easy go-to, maybe I'll make that next 😛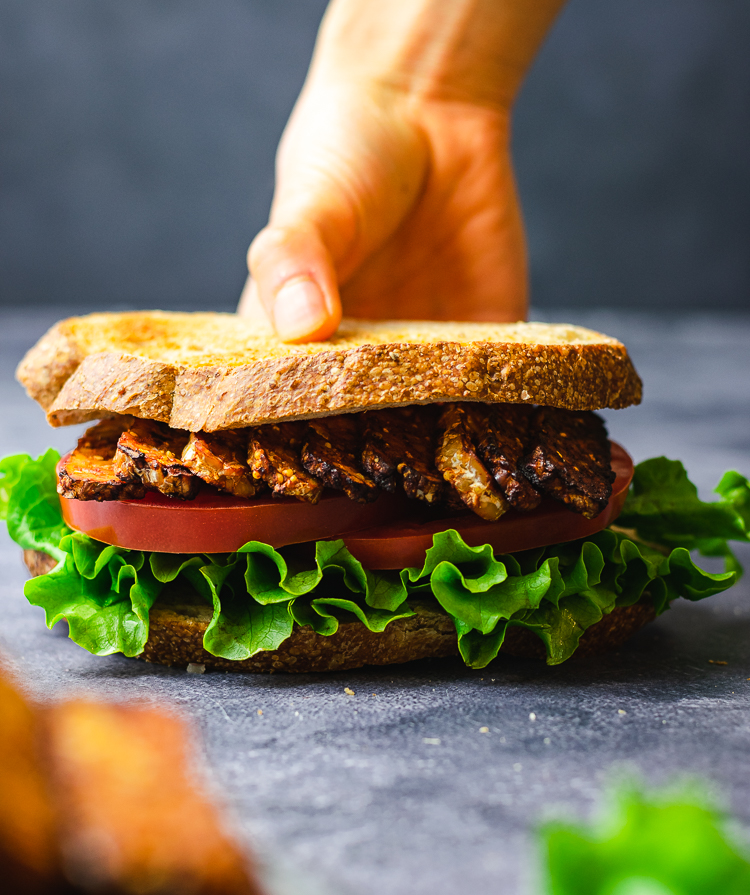 Tempeh though, if you cook it right, it can be a deliciously wonderful plant-based protein. If you find it has a sour, bitter sort of taste, you're not cooking it right! Now, I don't claim myself to be a tempeh queen. I still struggle cooking with tempeh. However, this smoky tempeh turned out delicious! Smoky and savory instead of bitter, crispy on the outside and chewy on the inside, mmm.
It can be a little dry if you overcook it though, so watch out. However, coating it in additional sauce after cooking will fix that right away! So if you have leftover marinade, don't throw it out! And if you don't have any/enough left for coating, you can use your favorite bbq sauce. Or add some additional condiments/sauces to your sandwich. Play around with different fillings for your sandwich and have fun!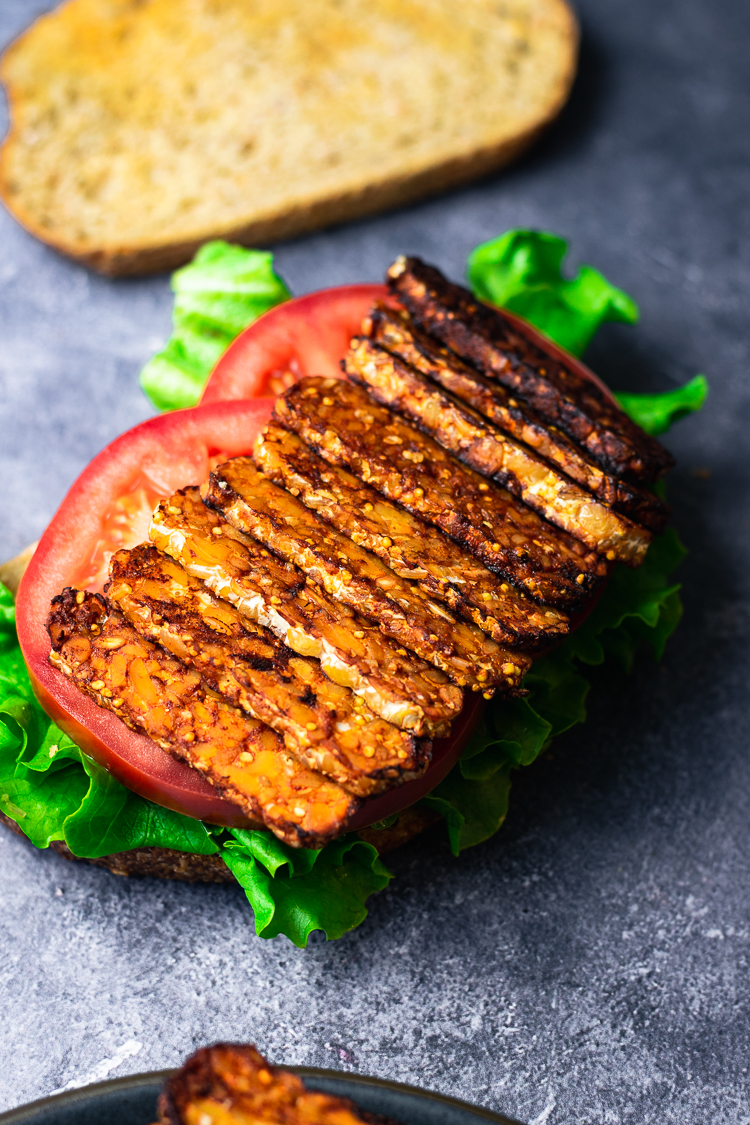 Ingredients
The smoky tempeh requires just 7 ingredients:
And then of course you'll need your sandwich fix-ins. I kept mine pretty basic and used sourdough, lettuce, and tomato. But avocado, mayo, mustard, and pickles are all great options too!
I decided to air-fry the tempeh, (I air-fry everything because it's so convenient and quick!) but you can also bake or even pan-fry. However, I've only tested it with an air-fryer so I can't give exact instructions for other cooking methods.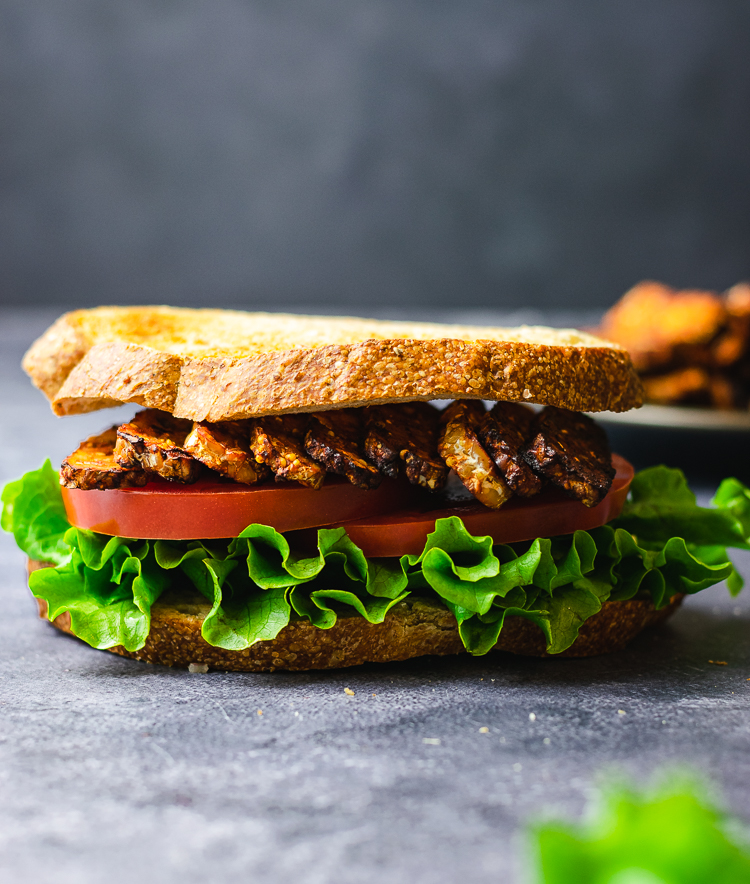 Still hungry?
Check out these other tasty vegan protein options!
If you try out this recipe, don't forget to leave a comment down below or tag me on instagram @ellielikes.cooking and let me know what you think! I'm always thankful for any feedback. Happy cooking! And don't forget to peep the quick and fun video below 🙂

Print Recipe
Smoky Tempeh Sandwich
Make this smoky tempeh the star of your next sandwich or wrap. Hearty and packed with plant-based protein, this sandwich will leave you feeling satiated but still full of energy.
Ingredients
Smoky Tempeh
2

tbsp

soy sauce or tamari (for gluten-free)

1

tbsp

rice vinegar

1

tbsp

ketchup

1/2

tsp

garlic powder

1/2

tsp

paprika

1/2

tsp

liquid smoke

1

8oz block

tempeh
Sandwich
4

slices

whole grain bread

4

tomato slices

4

lettuce leaves

1

avocado

condiments of your choice (mustard, mayo, salt & pepper, etc.)
Instructions
Smoky Tempeh
Mix together soy sauce, rice vinegar, ketchup, garlic powder, paprika, and liquid smoke in a large bowl or dish for marinating. Set aside.

Thinly slice tempeh into strips. Place in marinade and let sit for at least 30 minutes, the longer the better. Save any leftover marinade.

Once the tempeh has marinated, air fry at 325°F for 10-15 minutes, checking to make sure it's not burning. Baking will take longer, probably 10-15 minutes on each side.

If you have leftover marinade, you can coat the tempeh strips in this for extra flavor.
Sandwich
Toast bread slices if desired. Slice or mash avocado and assemble each sandwich with 1/2 the avocado.

Place lettuce, tomatoes, and tempeh slices on top. Add any additional condiments as desired, then top with bread slice. Enjoy!
Save for later!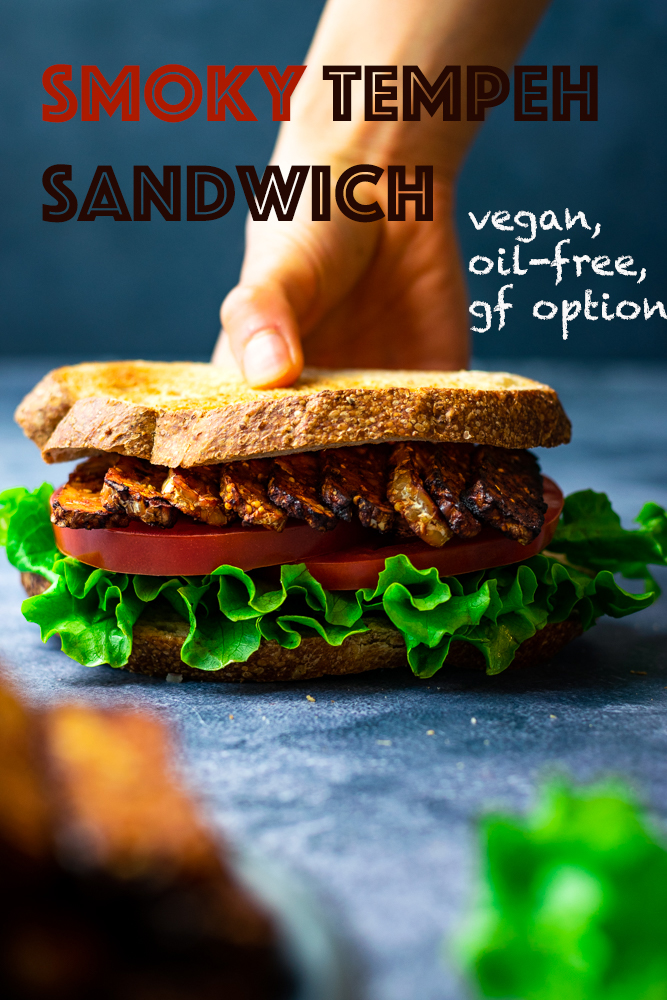 Disclaimer: This page may contain affiliate links. As an Amazon Associate I earn a small commission if you purchase something through one of my links, but the price remains the same to you. Thank you for supporting Ellie Likes Cooking!