This page may contain affiliate links. As an Amazon associate I earn from qualifying purchases. Please read our
disclosure
for more info.
These sesame tempeh crumbles are the perfect protein-packed salad topping or buddha bowl filling. They're vegan, gluten-free, oil-free, and made with just 7 simple ingredients!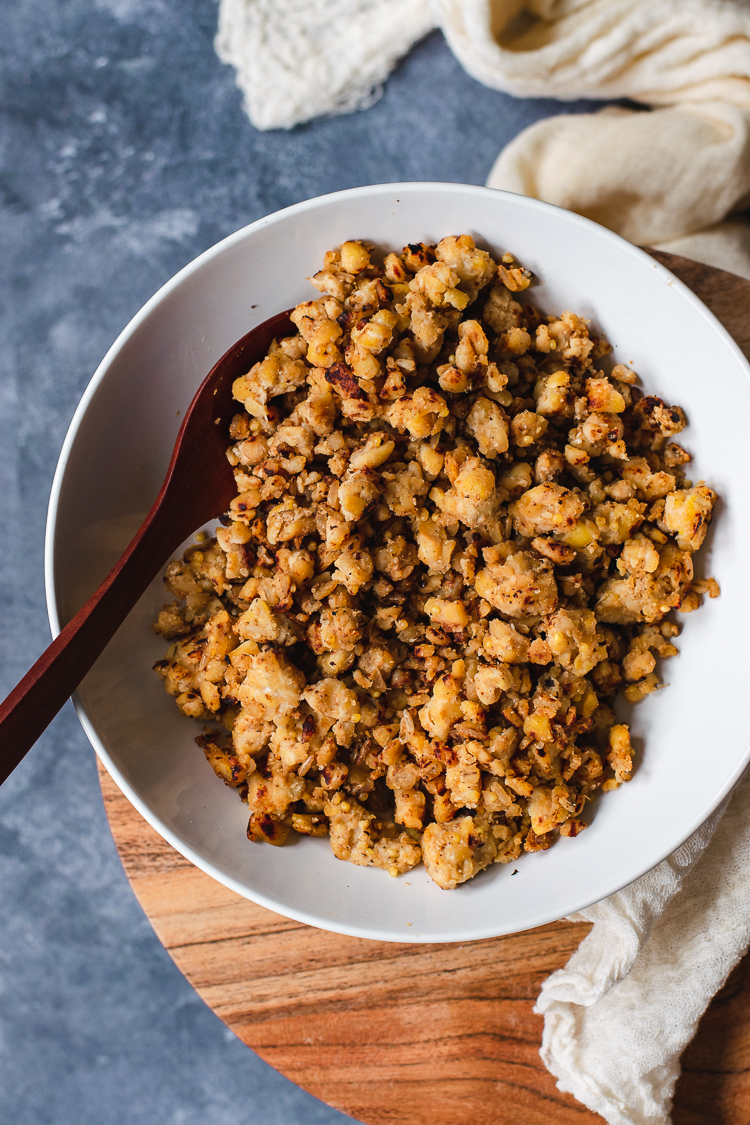 I love tempeh but I don't eat it nearly as much as I wish I did. I've been trying to diversify my meals and make more interesting dishes, but I don't really have a staple tempeh recipe that I love. In college I would just throw it into simple stir-fries in place of tofu, but I always found the slightly bitter taste to it off-putting. Then I started marinating my tofu and tempeh in this miso marinade, and everything suddenly tasted 10x more satisfying and delicious! That's when I realized the key to good tempeh is marinating it in lots of flavor, and cutting the bitter flavor with a little bit of sake or mirin in the marinade. Steaming the tempeh first also helps.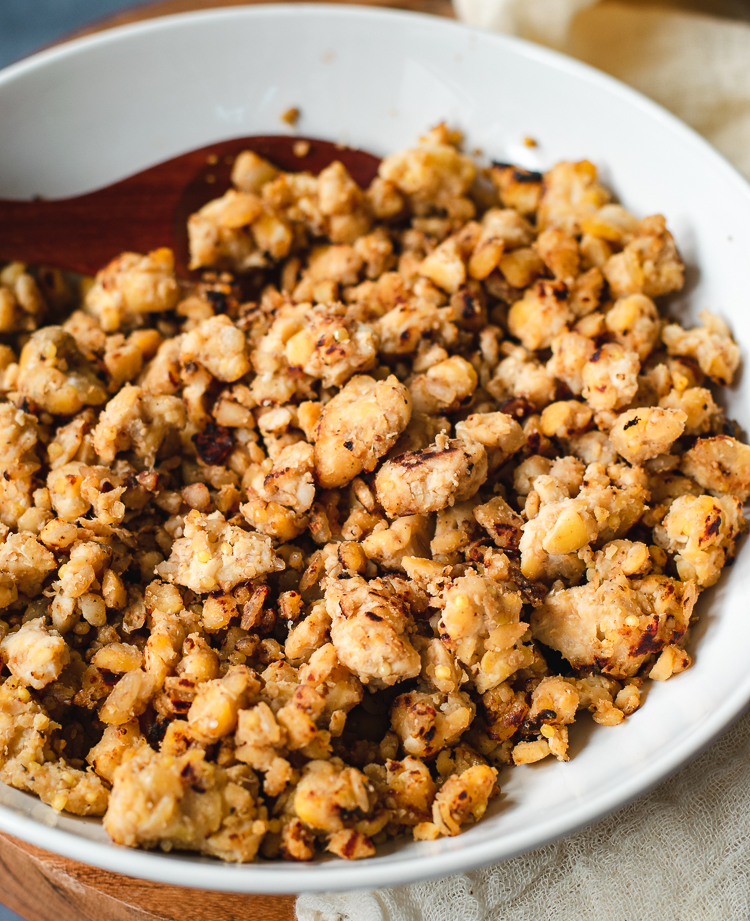 I usually prefer to just slice my tempeh or cut them into cubes, but they're also really great for crumbling and it's fun to switch things up now and then. However, you could just marinate the tempeh in slices and it will turn out just as delicious. It's up to you, but I like the crumbles with salads or stir-fried green beans. I think they would also make a delicious Asian-style taco filling or Asian-style pasta ?? So much to experiment with! But for now I'll just leave you with this basic recipe and you can add it to whatever dish you like 🙂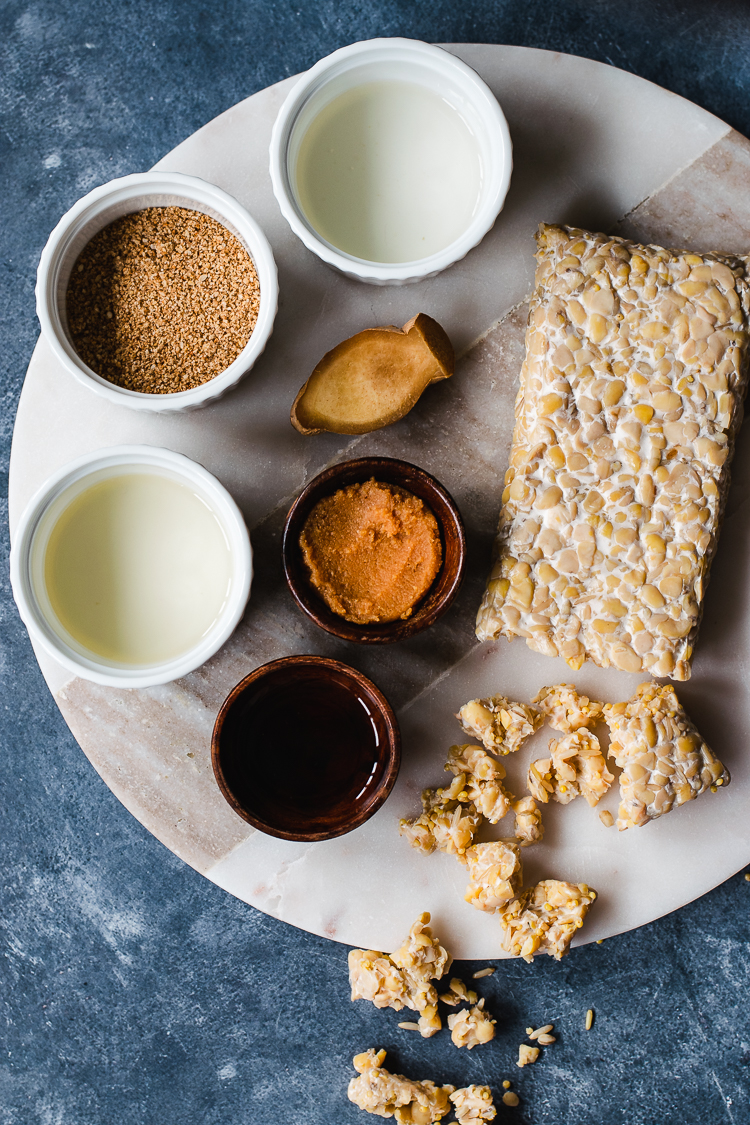 Ingredients
To make these sesame tempeh crumbles you need 7 basic ingredients:
tempeh (I get mine from Trader Joe's as I find it most affordable at $1.99 per block)
ground toasted sesame seeds, known as surigoma in Japanese, you can find them pre-ground at some Asian supermarkets, or just toast and grind up whole sesame seeds in blender
mirin, sweet rice wine, this helps cut some of the bitterness of tempeh
red miso, for that savory, umami flavor
rice vinegar, to add a little acidity
maple syrup, to balance the acidity of the vinegar and the saltiness of the miso
ginger, to add that distinctive zesty, spicy flavor
The longer the tempeh sits in the marinade, the better the flavor will develop. Let it marinate for at least 30 minutes, and up to one day ahead.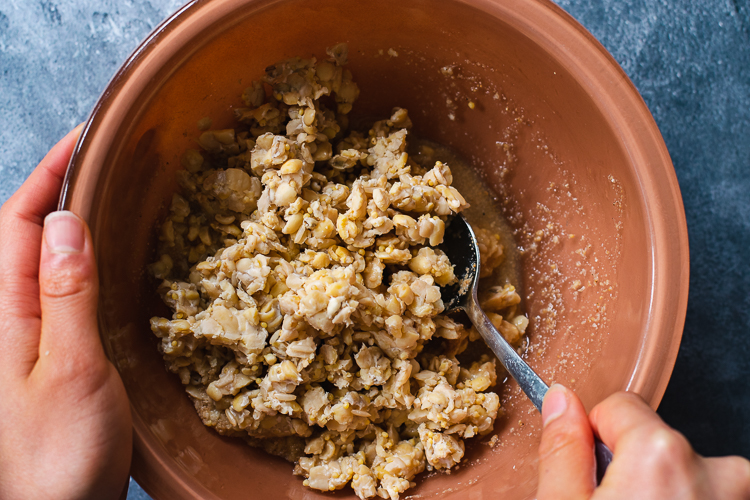 These sesame tempeh crumbles are:
nutty
savory
protein-packed
deliciously addicting
easy
versatile
100% plant-based
gluten-free
oil-free
& perfect for meal prepping!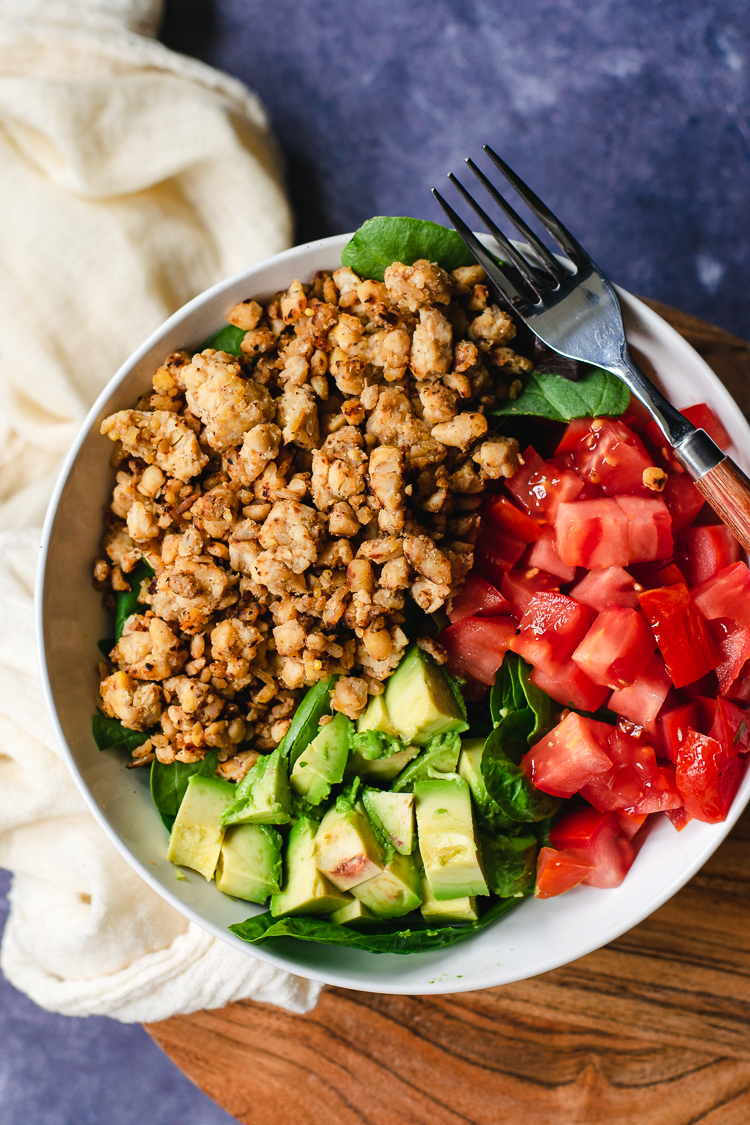 Still hungry?
Check out these other tasty ways to prepare some plant-based protein!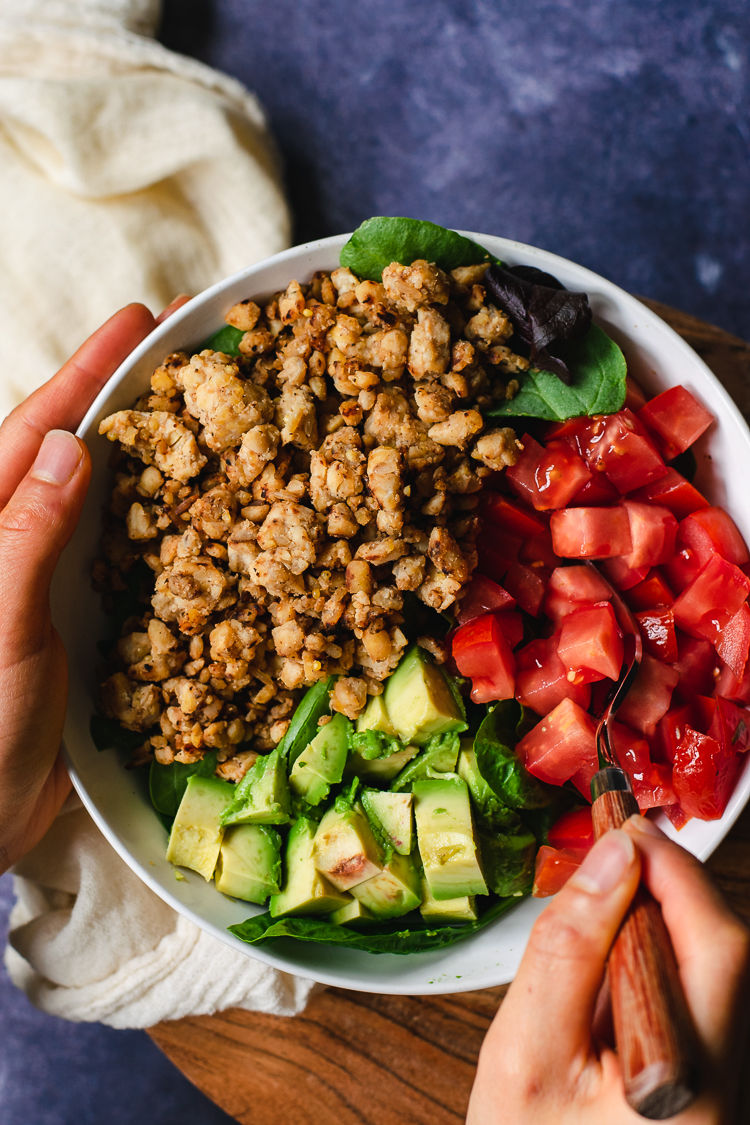 If you do give this recipe a try, don't forget to tag me in your recreations on instagram @ellielikes.cooking and/or leave a comment down below letting me know how you liked it! I love connecting with my readers and am always eager for feedback 🙂 Happy cooking!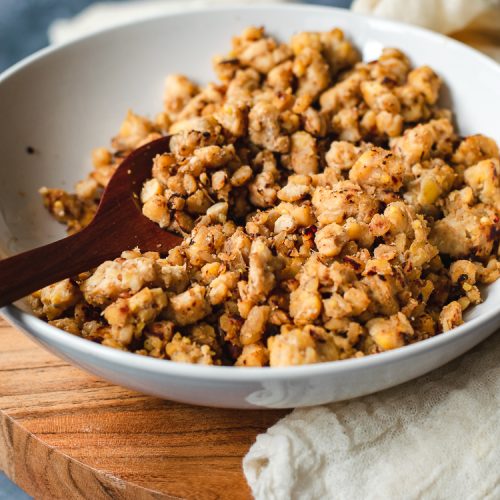 Sesame Tempeh Crumbles
These sesame tempeh crumbles are the perfect protein-packed salad topping or buddha bowl filling. They're vegan, gluten-free, oil-free, and made with just 7 simple ingredients!
Ingredients
1

block

tempeh

2

tbsp

ground toasted sesame seeds

1

tbsp

mirin

1

tbsp

red miso

1

tbsp

rice vinegar

1

tbsp

maple syrup

1

tsp

grated ginger

1/4

cup

water
Instructions
Mix together all ingredients except tempeh in a big bowl. Crumble tempeh into the marinade and let sit for at least 30 minutes.

When ready to cook, heat a wide pan over medium-low heat and add tempeh crumbles and marinade. Add a few splashes of water if the tempeh soaked up all the liquid. Cover pan and steam tempeh for 10 minutes.

Uncover pan and let the liquid cook off, stirring frequently to prevent burning. Once the tempeh turns a darker golden brown and starts to char, turn off heat and tempeh is ready to serve.
Save for later!


Disclaimer: This page may contain affiliate links. As an Amazon Associate I earn a small commission if you purchase something through one of my links, but the price remains the same to you. Thank you for supporting Ellie Likes Cooking!