This page may contain affiliate links. As an Amazon associate I earn from qualifying purchases. Please read our
disclosure
for more info.
Learn how to make this tasty Japanese side dish with fresh, crisp cucumbers. Deliciously crunchy, fun to make, and quick to prepare!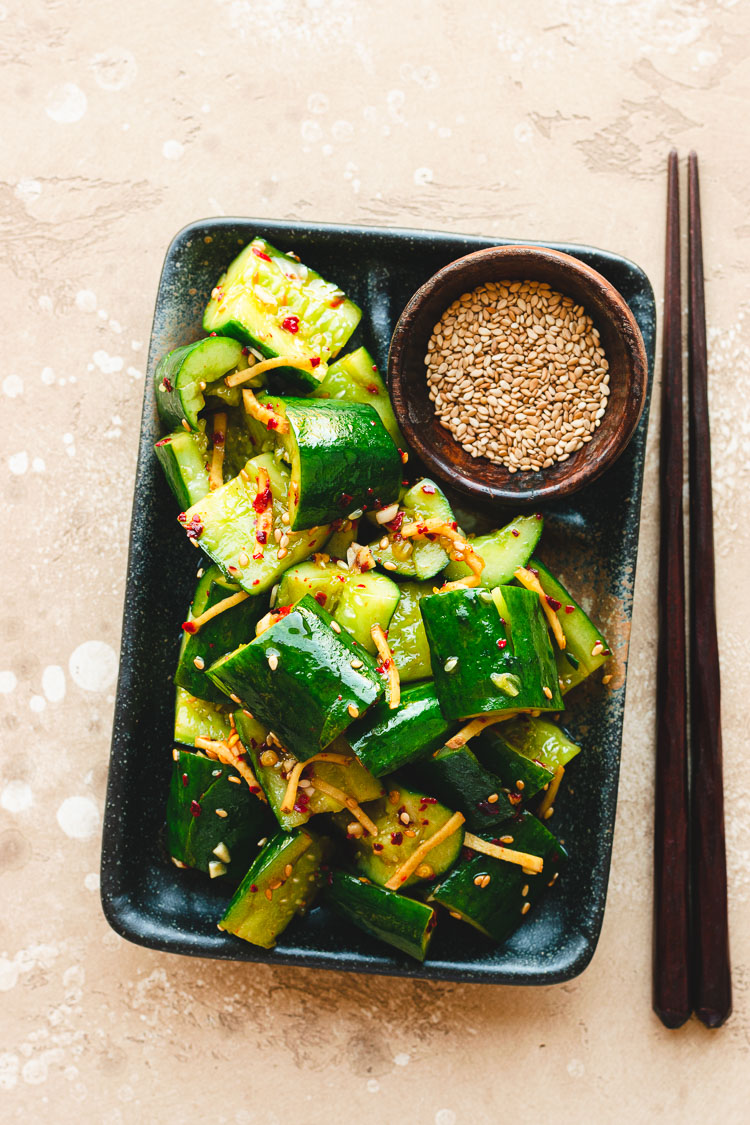 What is Tataki Kyuri?
Tataki kyuri is a Japanese side dish of smashed cucumbers often seasoned with soy sauce, ginger, sesame oil, and/or vinegar. In Japanese, tataki (叩き) means to smash and kyuri (きゅうり) means cucumber. Eaten cold like a salad, it's especially refreshing in the hot summer months.
Why Smash Cucumbers?
Smashing the cucumbers splits the skin and allows the dressing to seep into the flesh better. It also creates different textures — some of the flesh gets separated from the skin, making it tender and easier to soak up the sauce, while the chunks with skin are crisp and refreshing to bite into. And of course, it's just more fun to prepare cucumbers this way!
Ingredients
Tataki kyuri is super simple to make! All you need are 7 basic ingredients:
Cucumbers ⟶ Use Japanese cucumbers if available. Otherwise opt for another thin cucumber like Persian cucumbers. Avoid the fatter American cucumbers since they contain a lot more seeds and aren't very flavorful.
Garlic & Ginger ⟶ Feel free to adjust the amount of these as it really depends on your preference. I love the ginger flavor so I tend to add a lot.
Soy Sauce & Toasted Sesame Oil ⟶ Use tamari if gluten-free.
Toasted Sesame Seeds & Red Pepper Flakes ⟶ To garnish at the end and add a little extra oomph.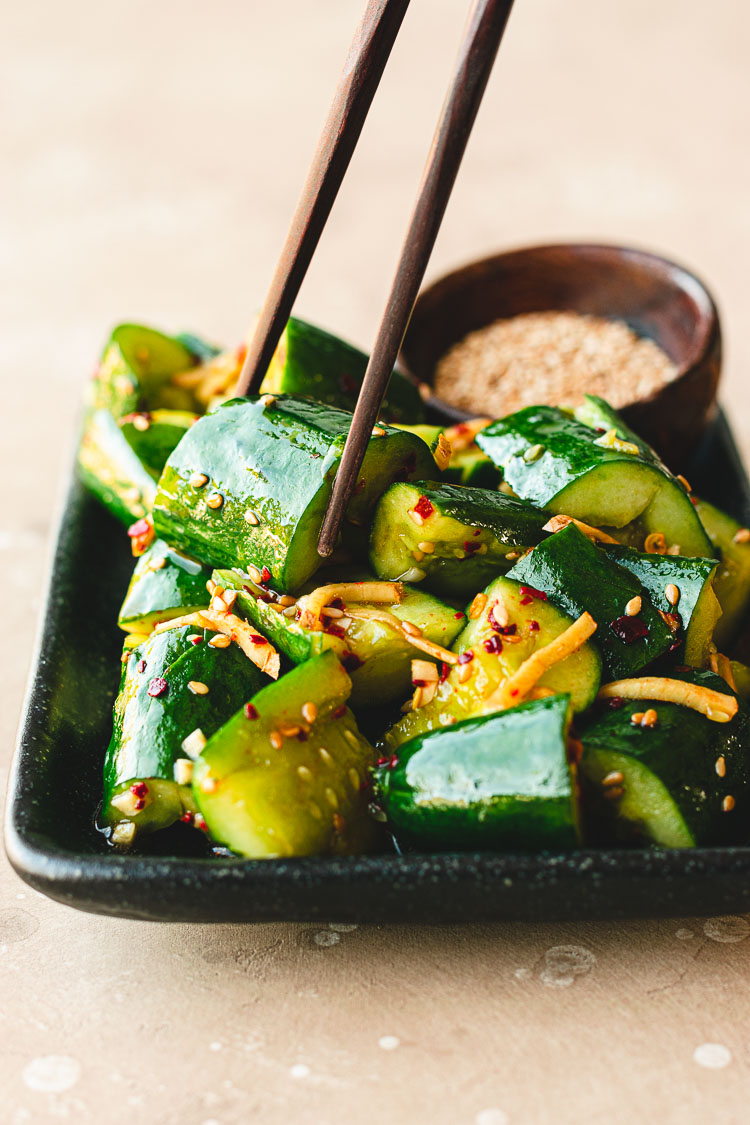 Tips for Making Smashed Cucumbers
Lightly smash the cucumbers. ⟶ If you hit the cucumbers too hard, they will go flying everywhere and you will break more of it than you want. You just want to create cracks and cut into some of the flesh, but you don't have to completely break the cucumber.

Place cucumbers in a bag (optional). ⟶ If you're afraid of the cucumbers flying around your kitchen when you hit them, place them in a ziplock bag first. However, I just place them on my cutting board and hit lightly.

Let the cucumbers marinate in the sauce for 1-2 hours before serving. ⟶ You can eat the cucumbers right away, but I find that if you let them marinate for a little bit the cucumbers soak up more of the sauce. However, if you leave them for too long, the cucumbers start releasing water which dilutes the flavor.

Serve cold! ⟶ If you're going to serve right away, make sure you use cold cucumbers from the fridge. Room temperature cucumbers will not have the same refreshing, crisp taste. You can also let the cucumbers sit in the fridge for 1-2 hours before serving.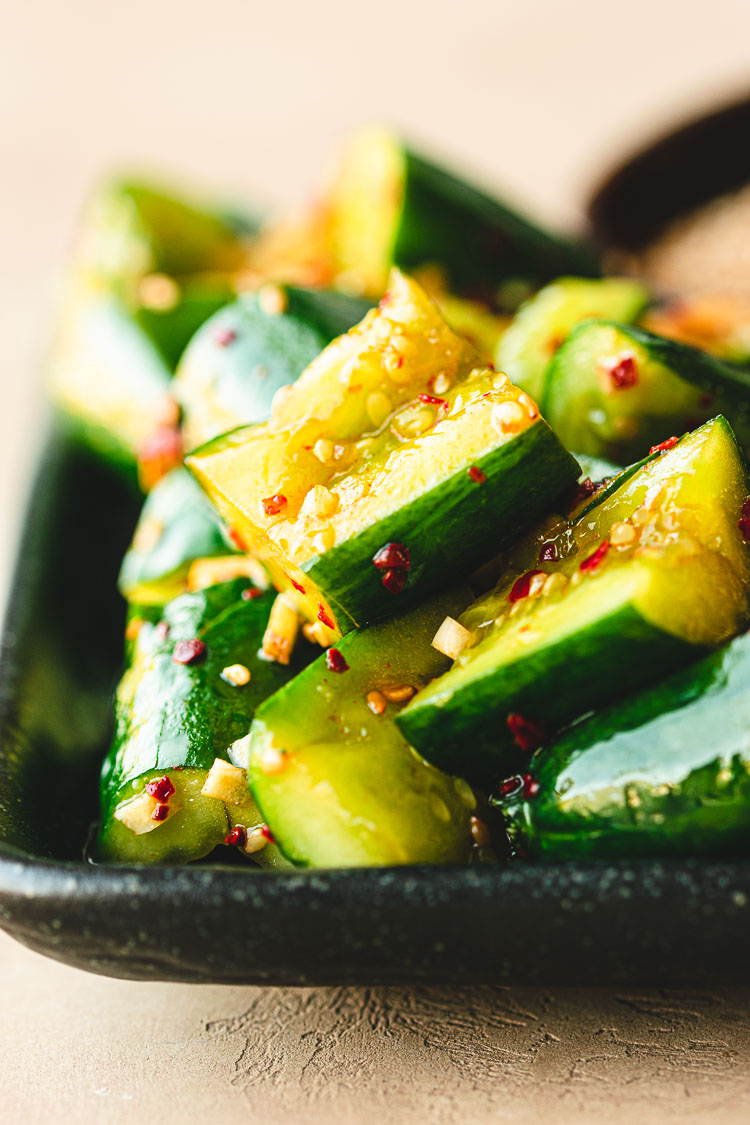 More Easy Japanese Sides!
If you try out these Japanese smashed cucumbers, don't forget to leave a comment/rating down below and tag me in your photos on instagram @ellielikes.cooking. I love seeing all of your tasty recreations!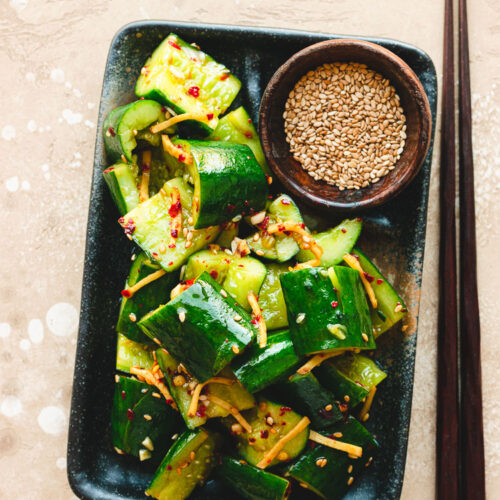 Tataki Kyuri (Japanese Smashed Cucumbers) | たたききゅうり
Learn how to make this easy Japanese side dish with fresh, crisp cucumbers. Deliciously crunchy and fun to make!
Ingredients
2

Japanese cucumbers

refrigerated

2-3

tsp

soy sauce or tamari

adjust to taste

2

tsp

toasted sesame oil*

½

tsp

garlic

minced

½

tsp

ginger

thinly sliced

1

tsp

toasted sesame seeds

1

pinch

red pepper flakes

optional
Instructions
Place cucumbers on a cutting board and use a large pestle or rolling pin to gently smash the cucumbers. Rotate the cucumbers as you hit them. If you're afraid of cucumber pieces flying everywhere, you can place the cucumbers in a ziplock bag first.

When there are cracks all over the cucumbers, chop into pieces or use your hands to separate into pieces.

Add cucumbers to a bowl with the remaining ingredients and combine.

For better flavor, marinate for 1-2 hours in the fridge.


*Disclosure: This page may contain affiliate links. As an Amazon Associate I earn from qualifying purchases, but the price remains the same to you. Thank you for supporting Ellie Likes Cooking!
Save for later!