This page may contain affiliate links. As an Amazon associate I earn from qualifying purchases. Please read our
disclosure
for more info.
Red lentils and kabocha blend together to make a creamy, satisfying, and high protein soup. Plant-based, gluten-free, and nut-free!
This creamy, dreamy red lentil kabocha soup is the perfect dish to satisfy your cozy soup cravings. Top with crunchy nuts or seeds and serve with crusty bread for a well balanced, satiating meal.
Why You Should Make This Kabocha Soup
High protein ⟶ Thanks to the sneaky addition of red lentils, this soup is high in plant protein, making it extra satiating.
Dairy-free ⟶ Smooth and creamy without the dairy! You don't even need non-dairy milk 🙂
No nuts or coconut ⟶ Cashews and coconut milk are common plant-based alternatives to heavy cream, replicating that rich, creamy taste and mouthfeel. But cashews can be expensive and won't work for those with nut allergies. Coconut milk is affordable and not a common allergen, however it does have a strong flavor. So for this soup we aren't using either!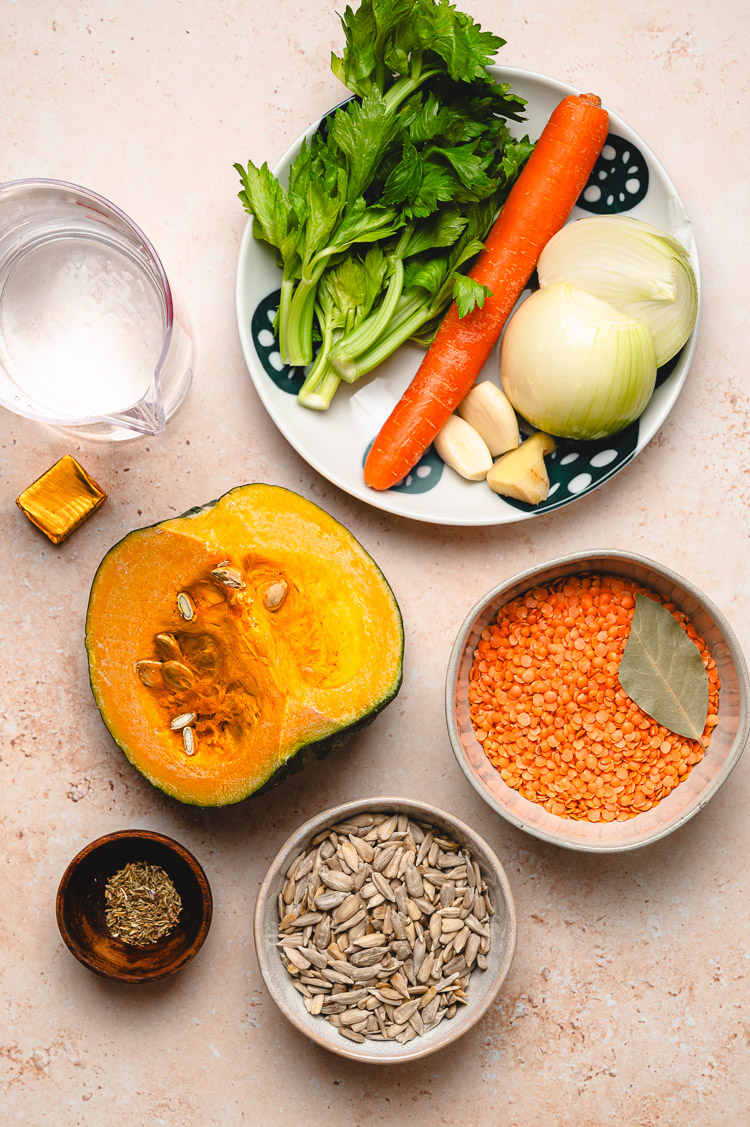 Key Ingredients
Kabocha Squash ⟶ This is the bulk of the soup so try to pick a good one (tips below!). I buy mine from Japanese or Korean markets if possible.
Red Lentils ⟶ This is the protein source and what makes the soup extra filling and satisfying. It also contributes to the smooth, creamy texture.
Sunflower Seeds ⟶ Our nut and coconut alternative to make the soup rich and creamy! Much more affordable than cashews and doesn't leave an aftertaste like coconut milk.

That being said, you can swap the sunflower seeds for cashews or 3/4 cup coconut milk (reduce vegetable broth by 3/4 cup).
Red Lentil Kabocha Soup FAQ
Should I peel the kabocha?
I peel some of the skin off the kabocha, but not all since the skin does contain nutrients. Be sure to thoroughly clean the kabocha skin if you are leaving some of it on. Keep in mind that leaving some of the skin on will make the soup a darker color.

Can I use other beans/lentils?
Technically yes, but keep in mind that the color of the soup will change depending on the color of the bean used. Red lentils are great since they are the color of kabocha, but white beans or chickpeas would probably work well. I wouldn't use green lentils since the color will probably turn out more brown, not very appetizing. If you want to use white beans, be sure to use cooked white beans, not dry.
How to Choose a Ripe Kabocha
Dark green skin ⟶ The kabocha skin should be dark green and glossy. It should also be hard so that when you press on it it doesn't sink in.

Thick, dry stem ⟶ The stem should be thick and dried out, almost like a cork. The area around the stem should also be sunken in a little. This means it's been a while since the kabocha was harvested, so it's had ample time to ripen.

Dark orange flesh ⟶ For precut kabocha, look for ones with dark orange flesh and tighly packed, plump seeds.
More Satisfying Soups!
If you try out this red lentil kabocha soup, don't forget to leave a comment/rating down below and tag me in your photos on instagram @ellielikes.cooking. I love seeing all of your tasty recreations!
Red Lentil Kabocha Soup
Red lentils and kabocha blend together to make a creamy, satisfying, and high protein soup. Plant-based, gluten-free, and nut-free!
Ingredients
1½

lb

kabocha squash

1

tbsp

vegan butter or olive oil

2

cloves

garlic

minced

2

tsp

ginger

minced

1

small onion

chopped

handful of

celery leaves or 1 celery

chopped

1

carrot

chopped

1

tsp

dried thyme

1

bay leaf

½

cup

dry red lentils

rinsed

½

cup

raw sunflower seeds

3

cups

vegetable broth

salt and pepper

to taste
Instructions
Prep kabocha: Use a peeler to peel some of the green skin off the kabocha. I like to leave some of the skin on for nutrients, but this will make the soup a darker color. Cut kabocha in half and scoop out the seeds, then chop into chunks.

Heat butter or oil in a large pot over medium heat. Once butter melts (or oil is hot), add garlic and ginger and stir for 30-60 seconds until fragrant.

Add onion and celery and cook, stirring frequently, for 3-5 minutes until softened.

Add kabocha and carrots. Cook, stirring frequently, for 2-3 minutes.

Add thyme and bay leaf and stir for 30 seconds.

Add rinsed lentils, sunflower seeds, and broth. Stir to combine, then bring to a boil.

Skim off the white foam that appears on top, ideally using a mesh sieve but a spoon will work too. Reduce heat if the soup is boiling too aggressively – you want to maintain a simmer.

Once you've removed the foam, cover the pot and simmer until kabocha is soft, about 15 minutes. A fork should easily pierce through the kabocha. Turn off heat and remove bay leaf.

Transfer soup to a blender and blend until smooth (you may need to do this in batches). Taste soup and add salt/pepper as desired.
Nutrition per serving: 300 kcal | 12g fat | 1.5g sat fat | 40g carbs | 8g fiber | 12g protein | 433mg sodium
Hide


*Disclosure: This page may contain affiliate links. As an Amazon Associate I earn from qualifying purchases, but the price remains the same to you. Thank you for supporting Ellie Likes Cooking!
Save for later!