This page may contain affiliate links. As an Amazon associate I earn from qualifying purchases. Please read our
disclosure
for more info.
Creamy, comforting vegan split pea soup made in one pot with 11 ingredients. Serve it with bread, quinoa, or rice for a simple, healthy, and delicious meal!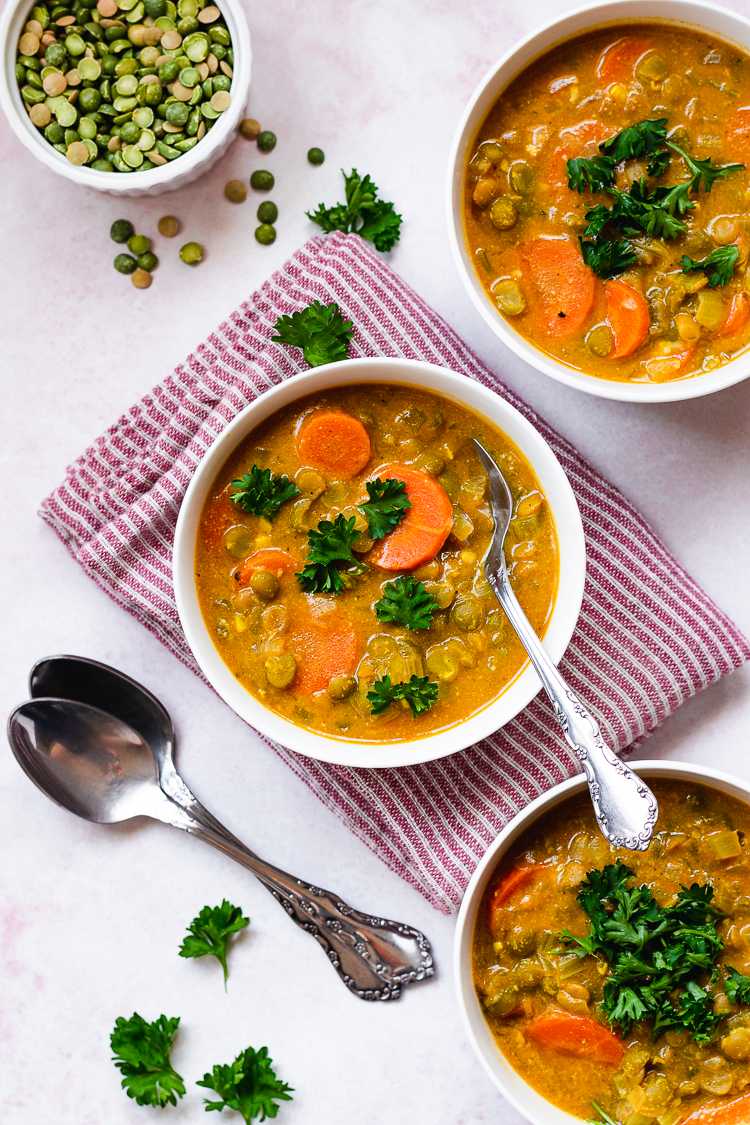 Although we don't really have seasons over here in California, it's still been pretty chilly in the evenings and some nights all I crave are warm, cozy soups and stews. And maybe you've noticed that I really like curry. My boyfriend, however, is a huge split pea soup fan. Now, I'll be honest and admit that I don't think I've ever actually eaten split pea soup, and my only knowledge of it is Pea Soup Anderson's on I-5. Nevertheless, I bought a bag of split peas at the store and decided to give it a shot. And guess what? This soup is now on my weekly rotation and split peas are a must-have in the pantry. Hello creamy, cozy, curried split peas.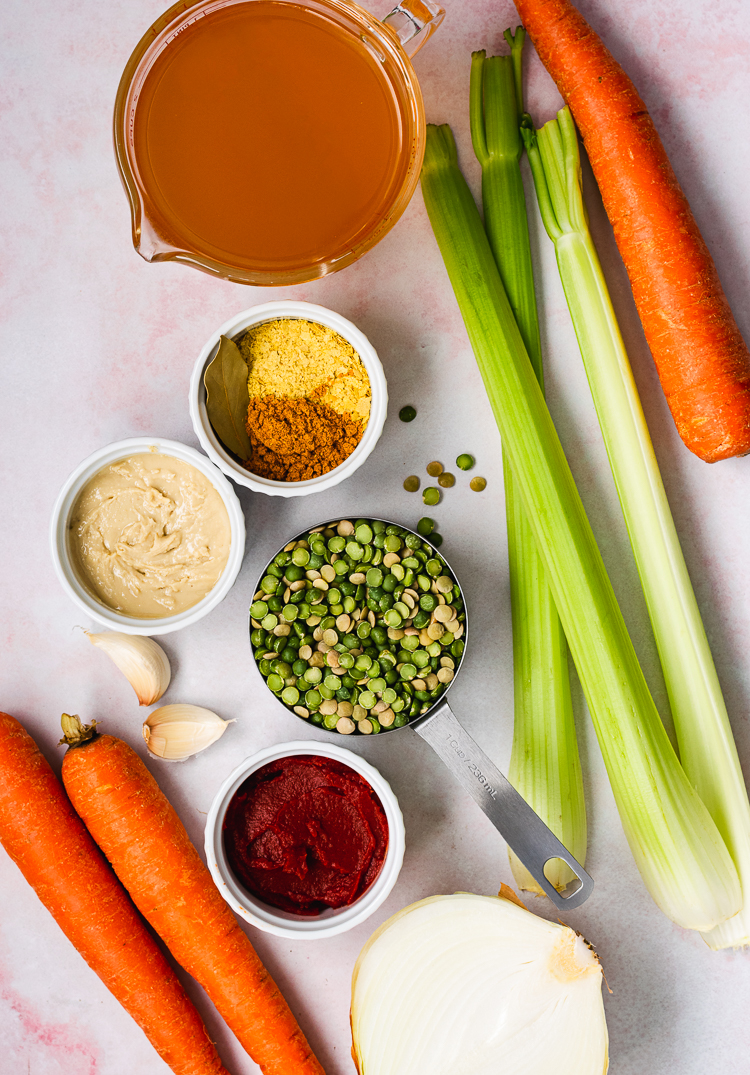 SPLIT PEA SOUP INGREDIENTS
This vegan curried split pea soup requires 11 main ingredients:
split peas ⟶ I used green split peas but I imagine other kinds will work, too.
curry powder ⟶ The main flavor in this soup, so use any brand/blend that you like.
unsweetened cashew butter ⟶ makes the soup creamy and thick. You can substitute with coconut cream if necessary.
tomato paste & nutritional yeast ⟶ add umami and enhance the flavor
onion, carrots, celery, garlic ⟶ These are the aromatics and essential for adding depth and flavor to the soup. For optimal flavor, cook them in a bit of olive oil (about 1 tbsp).
bay leaf ⟶ another flavor enhancer. Make sure you take it out at the end before serving as it's too tough to eat.
vegetable broth ⟶ to bring it all together and cook the split peas. You can use water if you don't have veg broth, but it will be less flavorful. I use Better Than Bouillon, a vegetable base that you mix with water to create vegetable broth. One jar makes 19 quarts of veg broth and it lasts a long time in the fridge!
I added some parsley on top to garnish, but this is totally optional.
COOKING TIPS
olive oil ⟶ If you're not strict about oil, I recommend cooking the vegetables in about a tablespoon of olive oil. The oil helps bring out their flavors more.
bay leaf ⟶ Simmer the bay leaf for 30-60 minutes. After an hour most of the flavor is released, so at this point you can take out the bay leaf (it's too tough to eat).
do I need to soak split peas? ⟶ nope! Though you can soak them to speed up cooking time, unsoaked split peas will cook in about 30-60 minutes.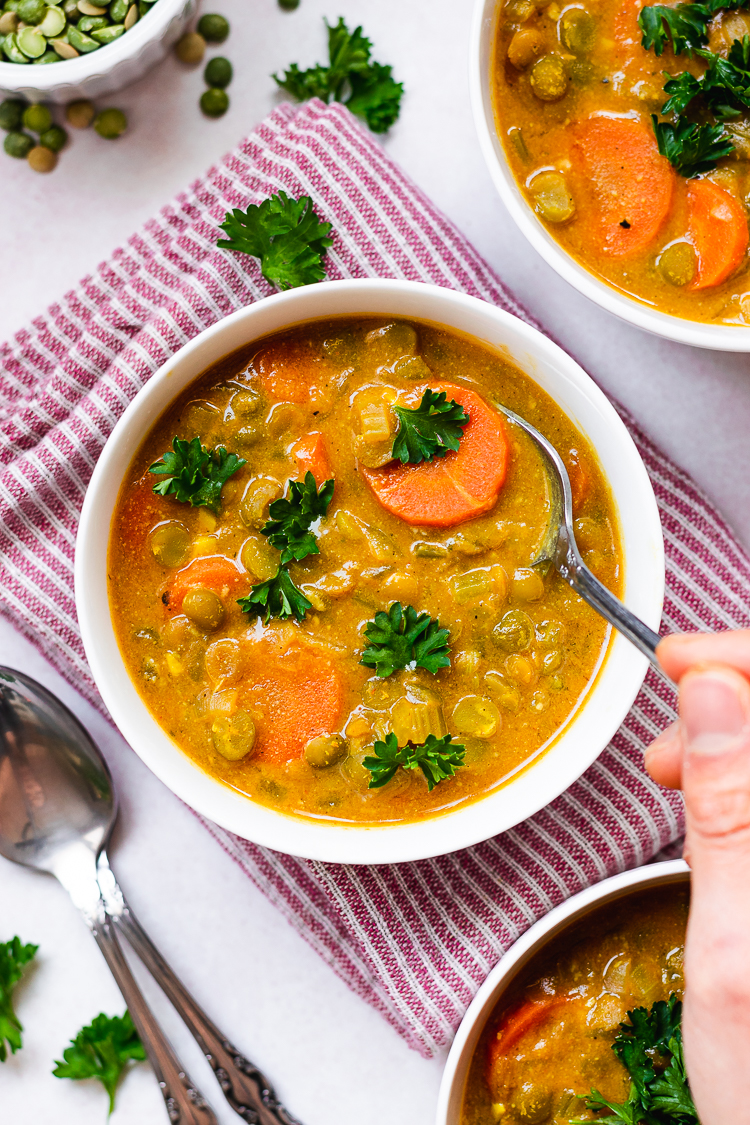 HOW TO SERVE SPLIT PEA SOUP
This split pea soup is a great source of plant-based protein and fat. To round out your meal, serve this soup with:
complex carbs ⟶ try whole grain bread, quinoa, or brown rice!
vegetables ⟶ salad, steamed broccoli, roasted asparagus, stir fried spinach, or any other veggies you like
healthy fat ⟶ avocado in salad or on toast, nuts (walnuts, pecans, pumpkin seeds, almonds) in salad, or you can even try dolloping some vegan yogurt on the soup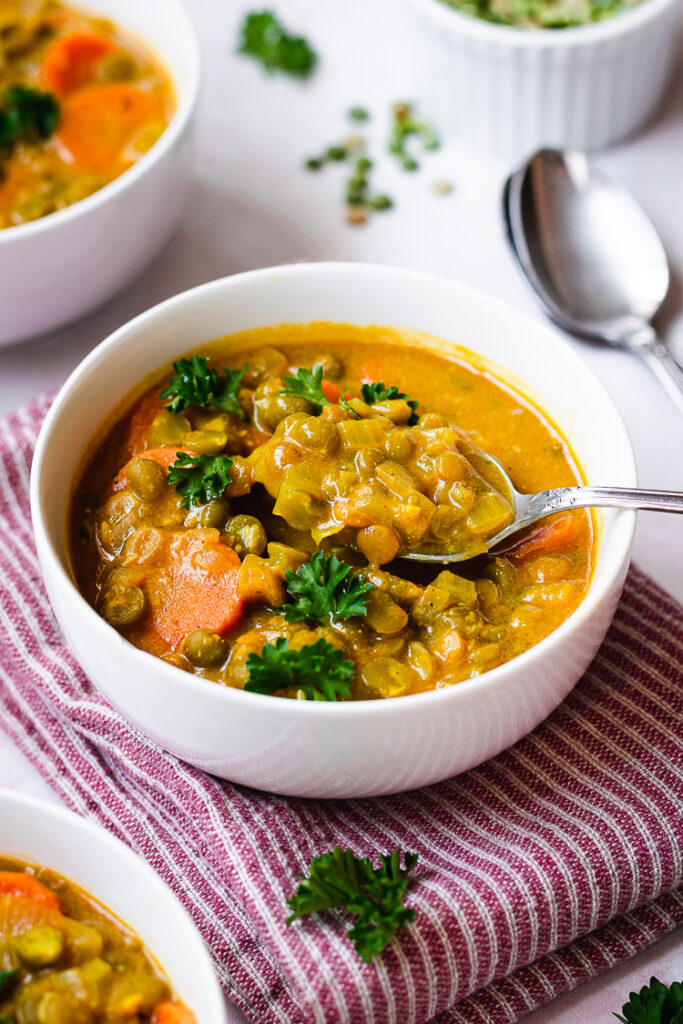 STILL HUNGRY?
Check out these other comforting soups & stews:
I hope I've inspired you to try out this curried split pea soup! If you do try it out, don't forget to tag me in your recreations on instagram @ellielikes.cooking and/or leave a comment down below and let me know how you liked it! I love seeing you recreate my recipes in your own kitchen 🙂 Happy cooking!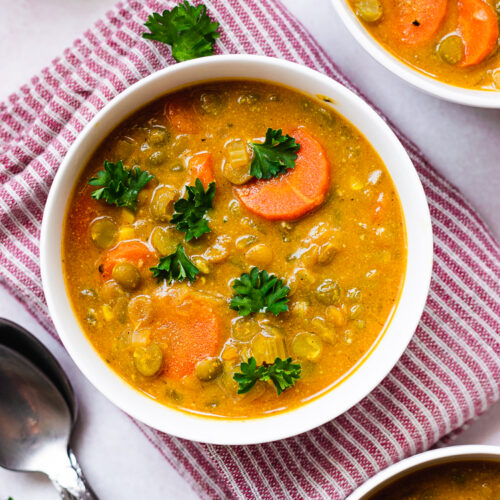 Curried Split Pea Soup (Vegan, Gluten-Free, Oil-Free)
Creamy, comforting vegan split pea soup made in one pot with 11 ingredients. Serve it with bread, quinoa, or rice for a simple, healthy, and delicious meal!
Ingredients
1

cup

green split peas

rinsed

½

onion

chopped

3

carrots

sliced

3

ribs of

celery

chopped

2

cloves of garlic

minced

1

tbsp

curry powder

1

tbsp

nutritional yeast

4

cups

vegetable broth

2

tbsp

tomato paste

1

bay leaf

3

tbsp

cashew butter

1

tbsp

olive oil

optional

salt & pepper

to taste

optional garnishes: parsley, smoked paprika, vegan yogurt
Instructions
Add olive oil or a splash of water to a large pot over medium high heat. Add onion and a pinch of salt and pepper and sauté about 3 minutes, until onions turn translucent. Add carrots, celery, and garlic and sauté another 2 minutes. Stir frequently to prevent burning.

Stir in split peas, curry powder, and nutritional yeast and cook 30 seconds, then add vegetable broth. Stir in tomato paste until well combined, then add bay leaf. Bring soup to a boil then lower to simmer for 45-60 minutes, until split peas are soft.

When the split peas are cooked, remove bay leaf and stir in cashew butter until dissolved, then turn off the heat. Taste and add salt/pepper as needed. Garnish as desired and serve warm.
Disclosure: This page may contain affiliate links. As an Amazon Associate I earn from qualifying purchases, but the price remains the same to you. Thank you for supporting Ellie Likes Cooking!
Save for later!