This page may contain affiliate links. As an Amazon associate I earn from qualifying purchases. Please read our
disclosure
for more info.
This Korean-style bean sprout salad is a crunchy, spicy, salty side dish that pairs perfectly with a plain bowl of rice.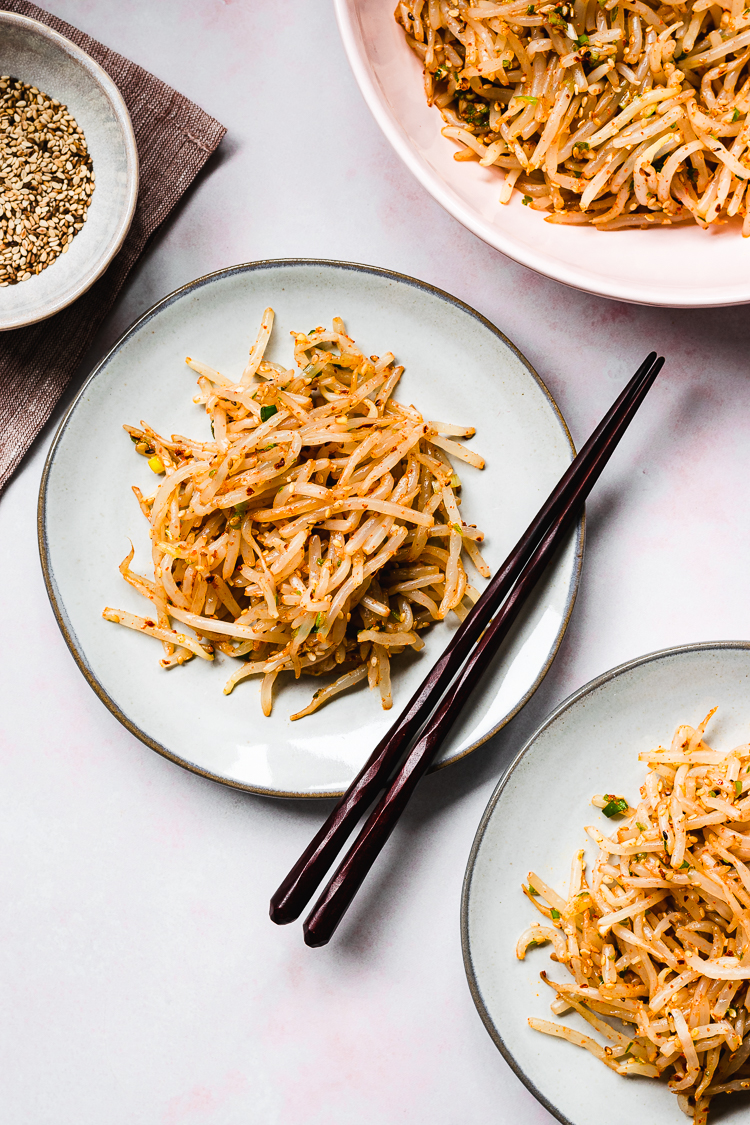 If you've ever been to a Korean restaurant, you probably know the excitement of sitting down and having 5+ different side dishes (banchan) brought to your table. I love Korean food, but I especially love eating out at Korean restaurants because I can always count on unlimited side dishes to help fill me up! Some common dishes include kimchi, cucumber kimchi, wakame salad, nori, seasoned broccoli, braised potatoes, and my favorite — bean sprout salad! Soybean sprouts are very commonly used — and I love them because they're higher in protein and have a nice bite to them — but I can't get them where I am, so I settled for mung bean sprouts. I can eat so many bowls of bean sprout salad — the crunchy texture and salty, nutty flavor is so addicting! Luckily it's also really easy to make at home, and because I love all things spicy, I just couldn't resist adding in some heat.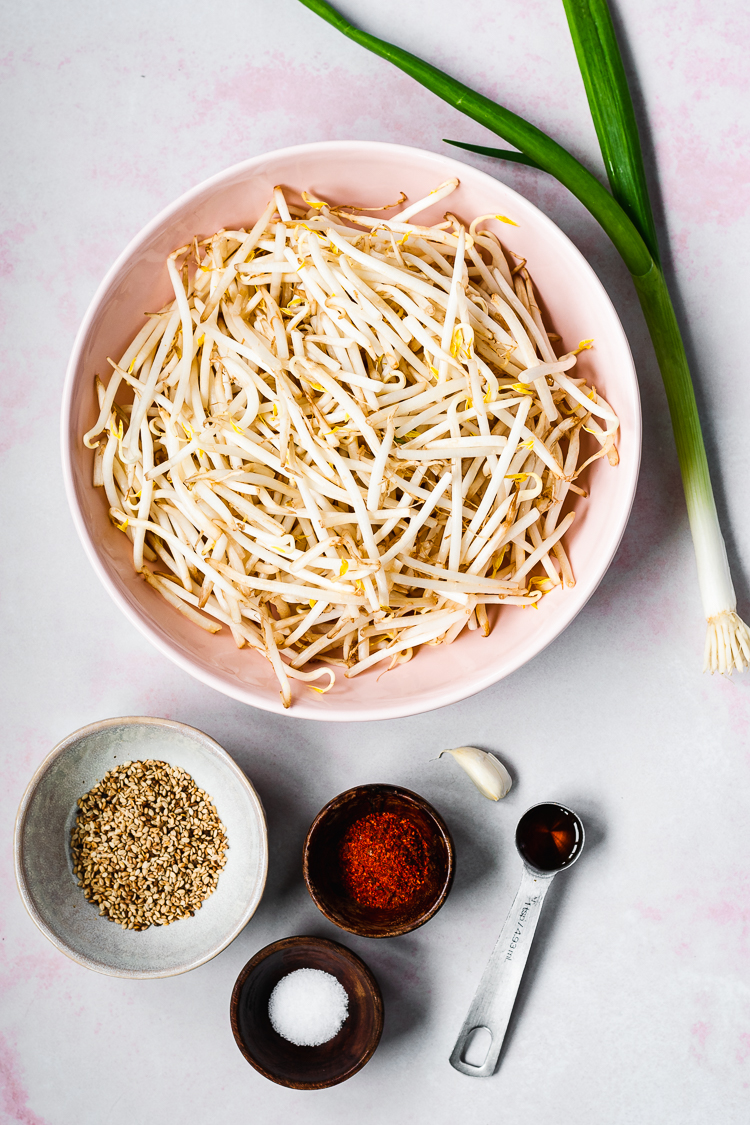 Ingredients
Bean Sprouts ⟶ Sort through them and discard any rotten sprouts before cooking. I also like to remove any long brown, stringy roots.
Gochugaru ⟶ Korean red pepper flakes add a good spicy kick, but if you're sensitive to spice you can reduce the amount or omit completely.
Garlic ⟶ Just a little since raw garlic is very potent.
Green Onions ⟶ If you don't want an intense onion flavor, only use the green part.
Salt ⟶ Essential to bring out all the flavors.
Sesame Oil ⟶ Feel free to add more as you like.
Sesame Seeds ⟶ Use toasted sesame seeds for that delicious nutty flavor. If your sesame seeds are raw, toast them in a pan over low heat for a few minutes until fragrant.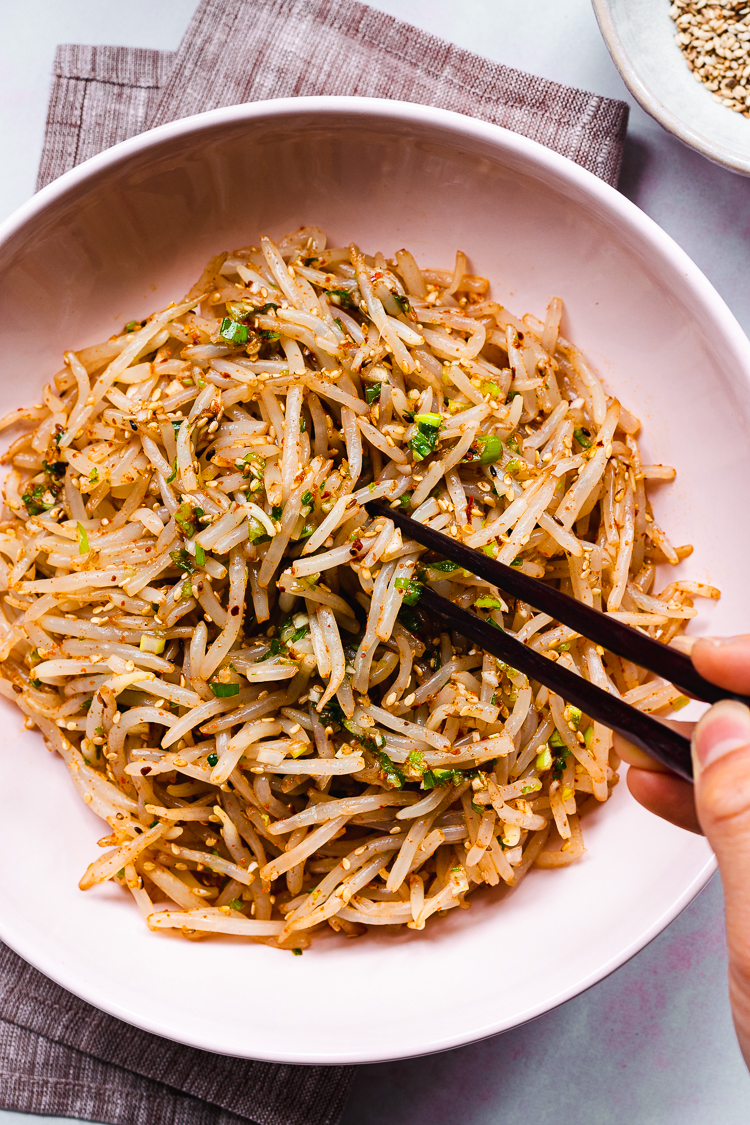 How to Make
Sort & Discard ⟶ If your bean sprouts are a few days old, do not skip this step! Bean sprouts don't last very long, so you'll likely have a few bad sprouts in the bag. Discard any that are rotten, brown, and slimy. I also remove the long stringy roots. You don't have to be perfect about cleaning all the bean sprouts, but sort through them quickly and remove obvious rotten sprouts.
Blanch ⟶ Blanch bean sprouts in boiling water for 2 minutes. You want to cook them just enough that they're tender but still crisp.
Rinse with cold water ⟶ to prevent the bean sprouts from cooking more after boiling
Squeeze out excess water ⟶ When the bean sprouts are cool enough to handle, take a handful of sprouts and gently squeeze out as much water as possible. This will make the bean sprouts crunchy instead of soggy.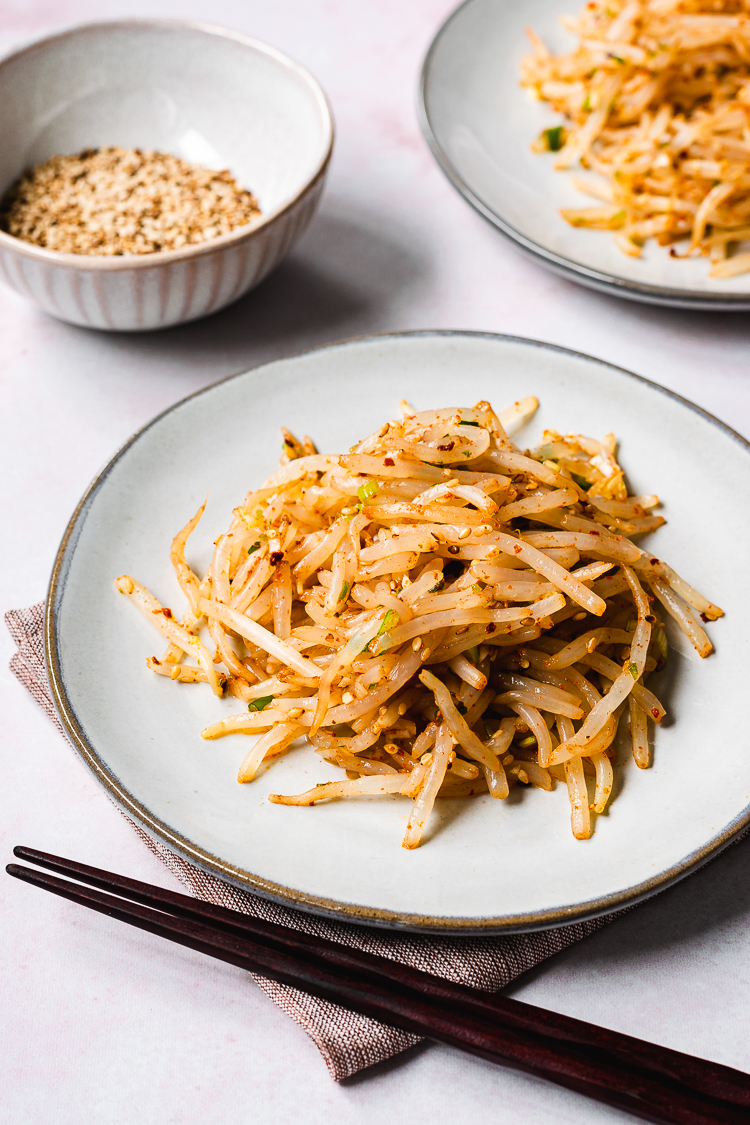 How to Serve Bean Sprout Salad
I love serving these spicy bean sprouts with a bowl of plain rice, a main protein, and some other veggie sides. They are also delicious in bibimbap! I think they would also be good in a noodle salad. Just keep in mind that they are salty and spicy on their own, so they should be paired with a plain or mild flavored dish.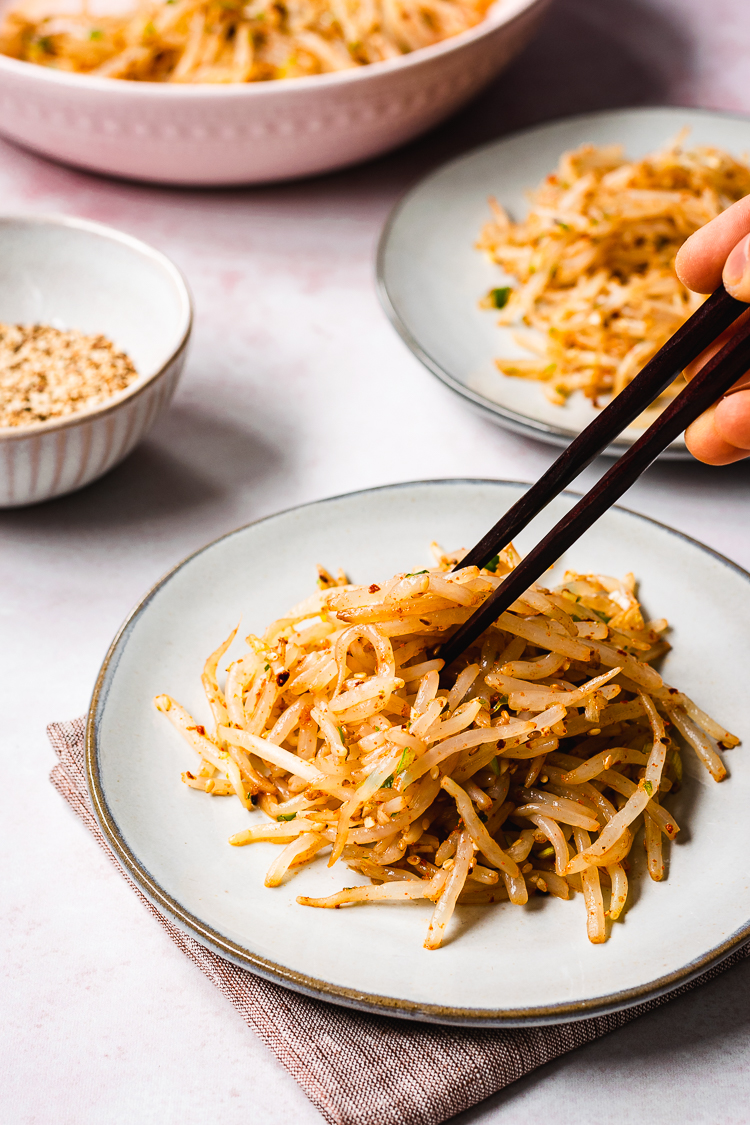 More Tasty Asian Sides!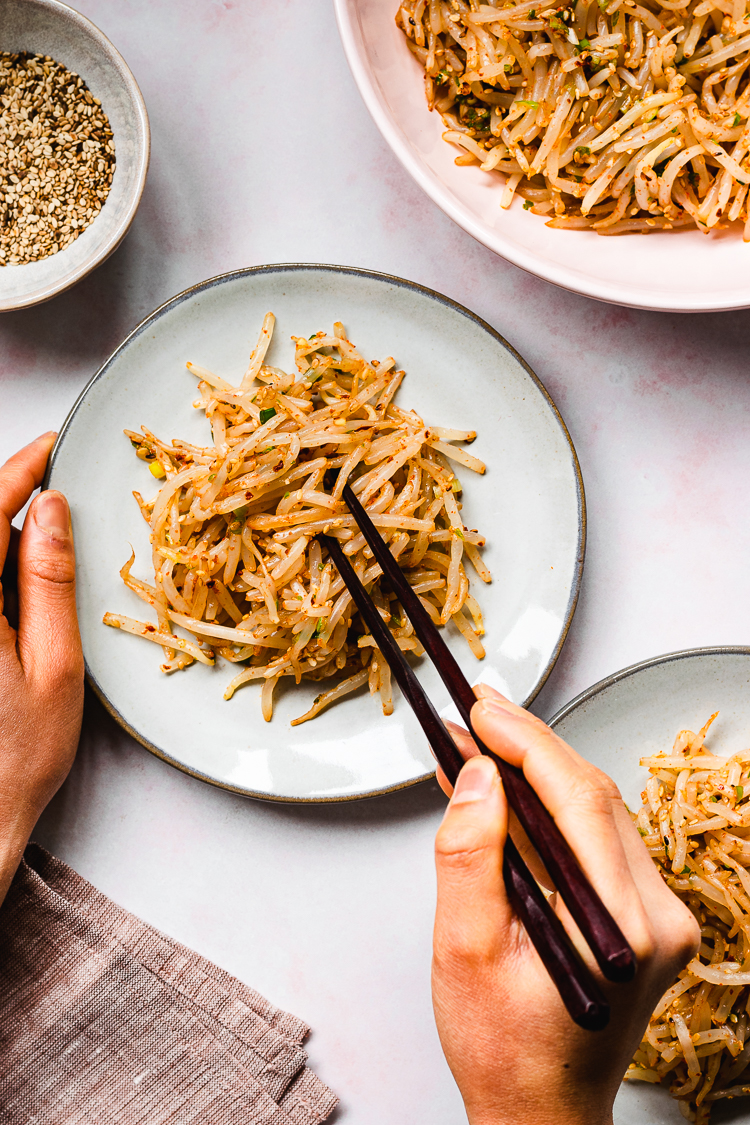 I hope I've inspired you to make this spicy bean sprout salad! If you do try it out, don't forget to tag me in your photos on instagram @ellielikes.cooking, leave a comment/rating down below, and let me know how you liked it! I love seeing all of your tasty recreations 🙂 Happy cooking ♡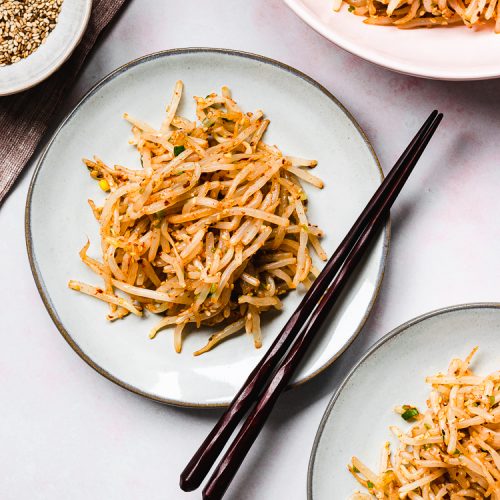 Spicy Bean Sprout Salad
This Korean-style bean sprout salad is a crunchy, spicy, salty side dish that pairs perfectly with a plain bowl of rice. Vegan, gluten-free, and 7 ingredients!
Instructions
Add bean sprouts to a bowl. Sort through and discard any rotten sprouts. Rinse with water and drain.

Bring a pot of water to boil. Add bean sprouts and cook for 2 minutes. Drain and rinse under cold water to prevent further cooking.

Mix together remaining ingredients in a large bowl.

Take a handful of bean sprouts and squeeze out excess water. Place bean sprouts into the bowl with the other ingredients. Repeat with the rest of the bean sprouts.

Mix bean sprouts and seasonings together until well combined. Serve immediately or store in the fridge.
**Notes
Gochugaru: In place of gochugaru you can add 1/4 – 1/2 tsp ground black pepper, depending on how spicy you want it.
Disclosure: This page may contain affiliate links. As an Amazon Associate I earn from qualifying purchases, but the price remains the same to you. Thank you for supporting Ellie Likes Cooking!
Save for later!