This page may contain affiliate links. As an Amazon associate I earn from qualifying purchases. Please read our
disclosure
for more info.
Soft, tender eggplant generously coated with an umami-packed miso glaze. A healthy, delicious side dish ready in under 20 minutes!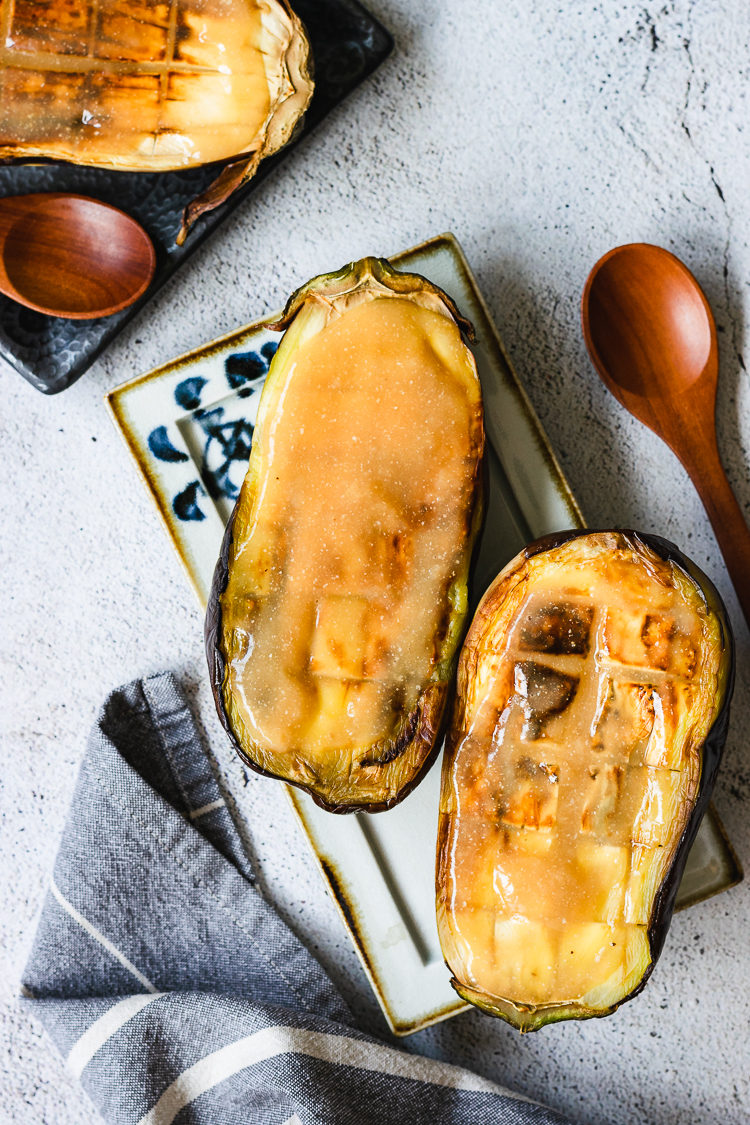 Eggplant is and always has been one of my favorite vegetables. It's used a lot in Japanese cooking, so I grew up eating it stir-fried, grilled, broiled, fried, and in miso soup. However, my first attempts at cooking eggplant myself were just sad, dry, and tasteless. Over the years though, I've learned that eggplant is one of those vegetables that you really have to know how to cook in order for it to taste good. Unlike zucchini, which you can just throw in a stir fry, soup, stew, curry, etc., eggplant won't taste good if you don't learn how to properly cook it so it becomes tender and moist. Luckily, I'm about to share with you these secrets (don't worry, it's actually quite simple)!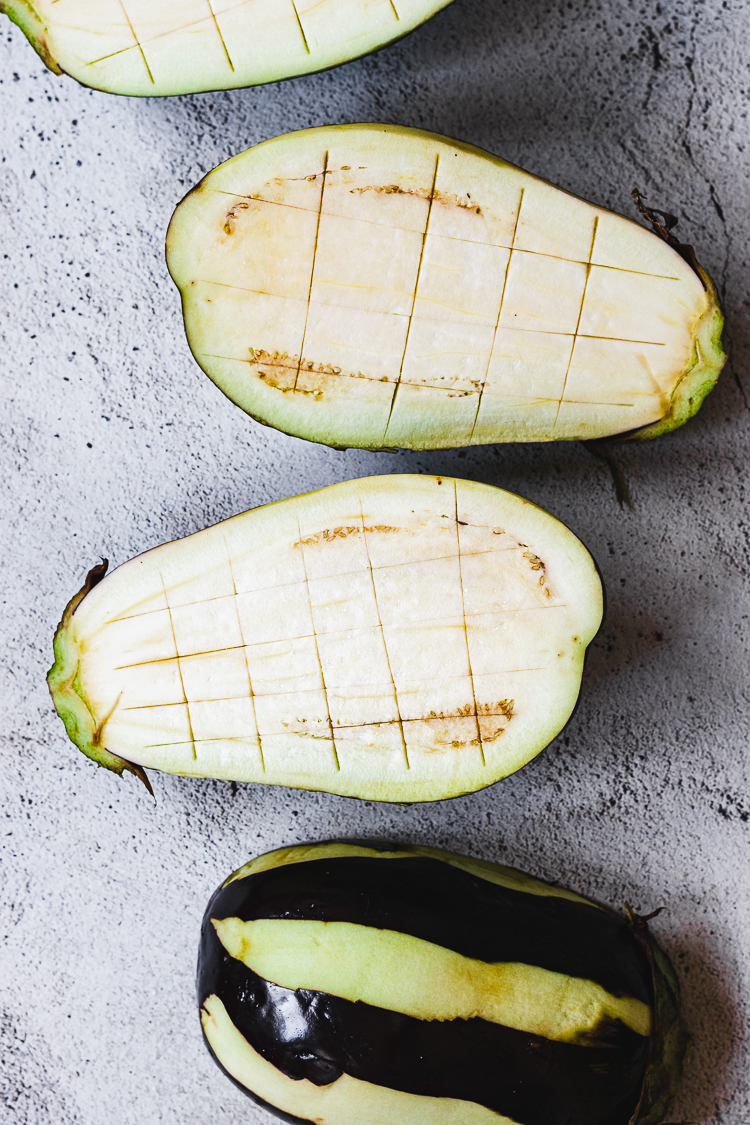 INGREDIENTS TO MAKE MISO GLAZED EGGPLANT
This simple eggplant dish is made with 8 ingredients:
eggplant (duh)
red miso (for that umami goodness)
sake (Japanese rice wine)
mirin (Japanese sweet rice wine)
kombu dashi (you can make your own with kombu, or buy kombu dashi powder) ⟶ if you can't find dashi, you can omit and just use water, add soy sauce to taste or add a little extra miso
maple syrup (I love the combo of miso and maple, salty and sweet)
corn starch (necessary for thickening the glaze)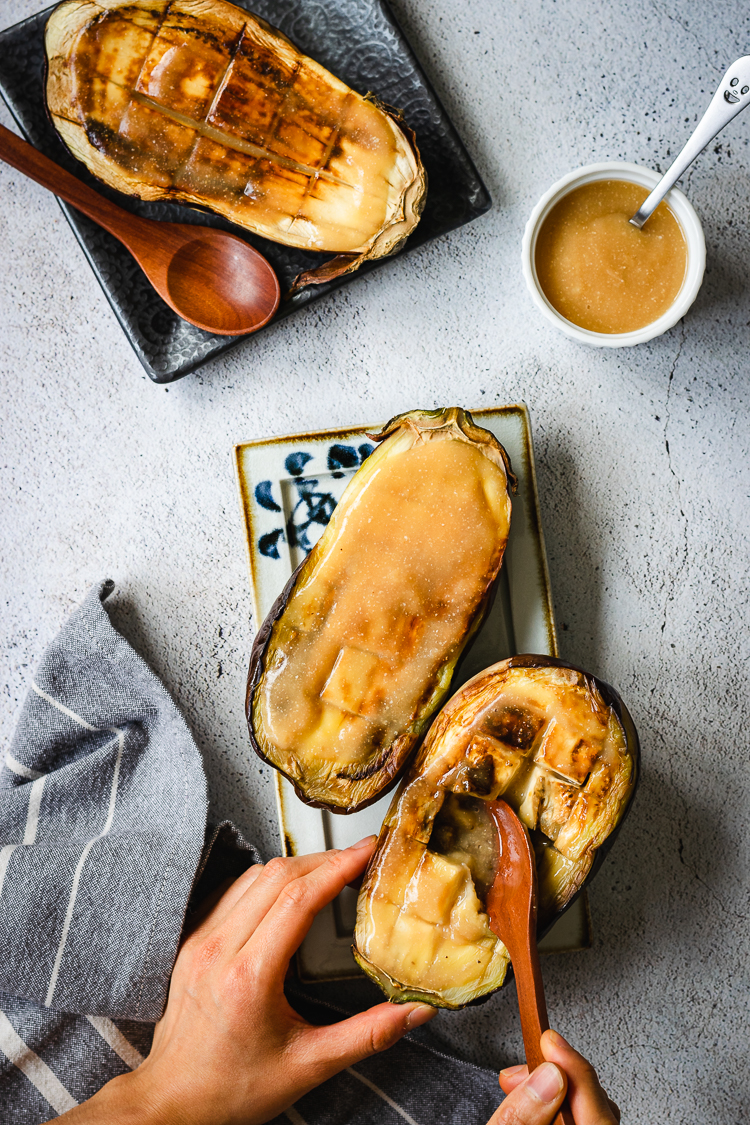 THE SECRET TO MAKING EGGPLANT TASTE GOOD
Oil (or some kind of liquid)! If you've ever tried cooking an oil-free eggplant dish, you probably understand what I mean when I say dry, tasteless eggplant. Eggplant is full of tiny air pockets that are quick to absorb oil and liquids. However, if you're cooking without oil or liquids, then there's nothing to fill these air pockets in the eggplant. Think of eggplant as a sponge — it will quickly absorb liquid around it, but if there's nothing to absorb it stays hard and dry. Now I know some of you are probably thinking that if you have to use so much oil, is it even healthy anymore? Following some of these tricks will help tenderize the eggplant without needing so much oil.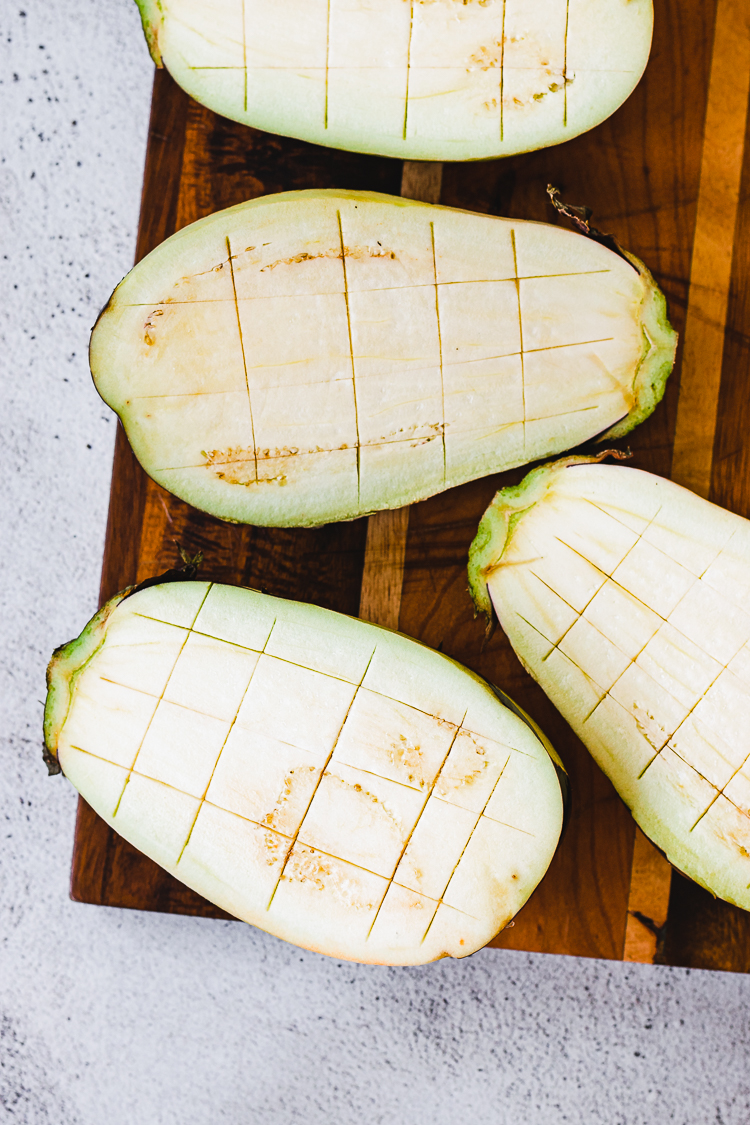 SWEAT THE EGGPLANTS
This helps draw moisture out of the cells and into the air pockets, so not as much oil can enter. Sweating eggplants also cuts back on their bitterness. To do this, cut the eggplants in half (I like to also peel some of the skin) and make slits in the flesh, as shown in the photos above. Don't cut all the way through the eggplant. Then sprinkle salt over the surface and let the eggplants sit at least 10 minutes. During this time, liquid should start to come out of the eggplant and rest on the surface. Wipe off the liquid that forms.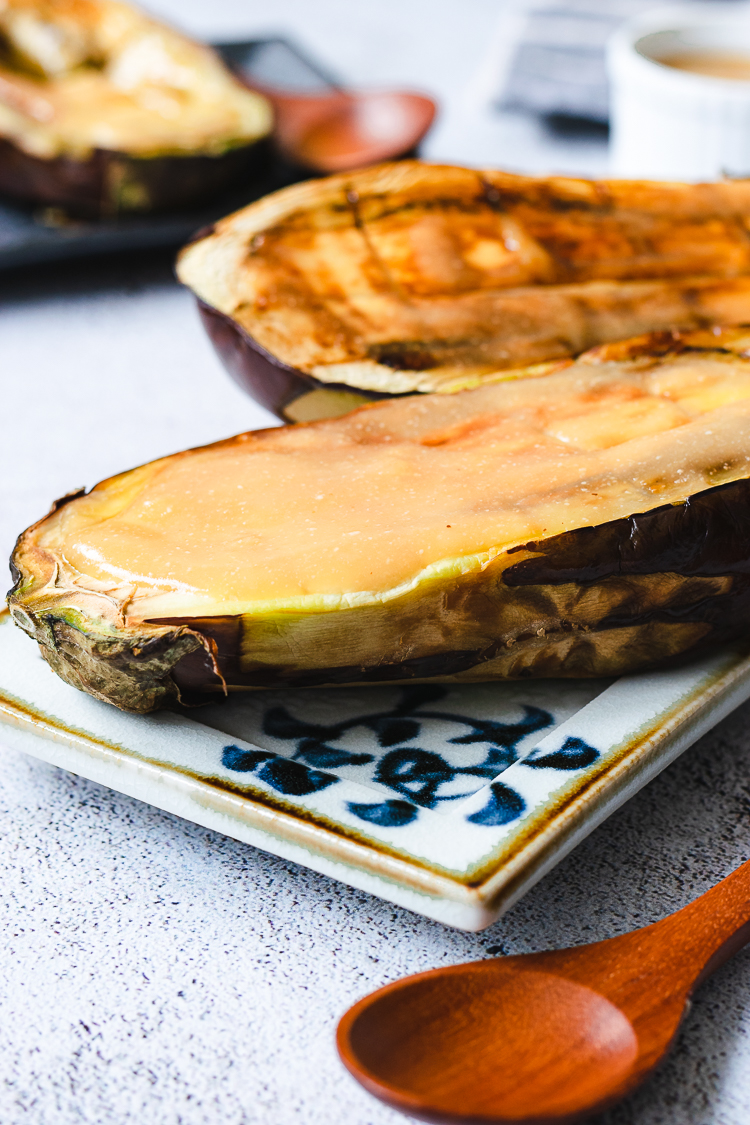 PRECOOK IN MICROWAVE
Next, microwave the eggplants until soft, about 5 minutes. Flip halfway through. You can spray some oil over them if you want — it will tenderize the eggplants more and give them a richer flavor.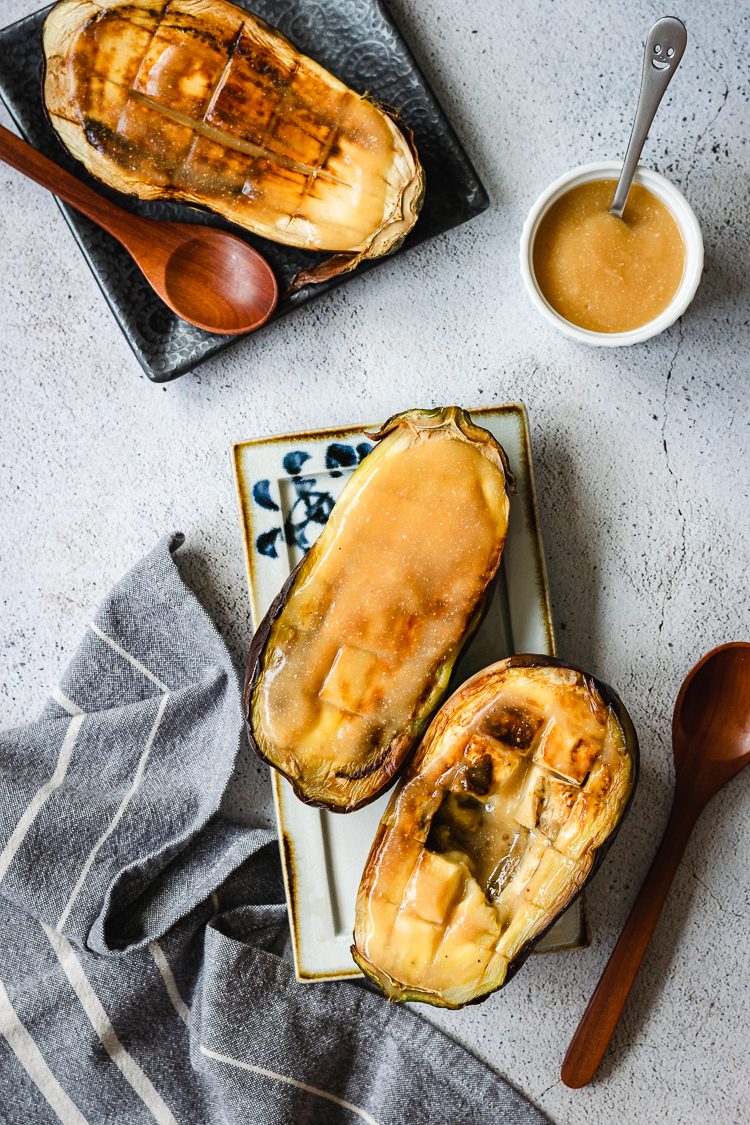 BRUSH OIL OVER THE SURFACE
One last trick to using less oil is to brush the oil on top of the eggplant before cooking, rather than pouring oil into a pan. This way you have more control over how much oil you use, and the oil will be distributed more evenly resulting in a more evenly tender eggplant.
With all that being said, don't be afraid to consume some oil! Sure it may not fit the strict confines of a "whole foods plant-based diet", but it's tasty and (in my opinion) can easily be included in moderation in a healthy diet. Life's no fun if you don't break some rules.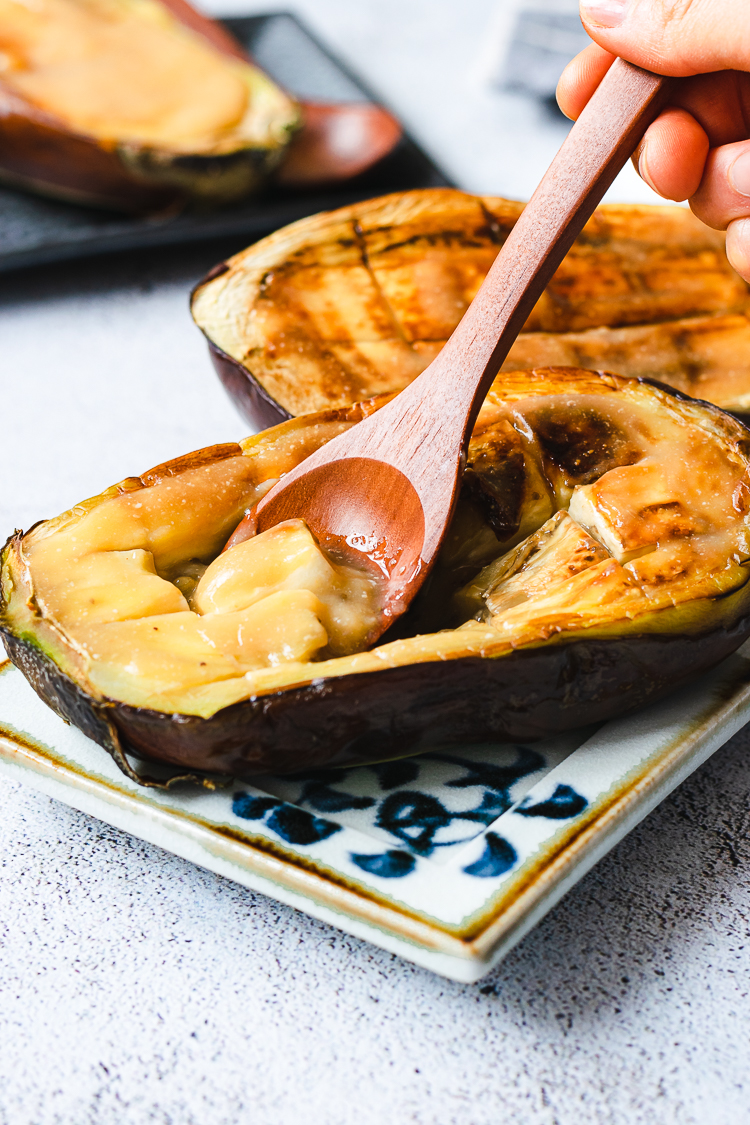 STILL HUNGRY?
Check out these other miso-infused dishes!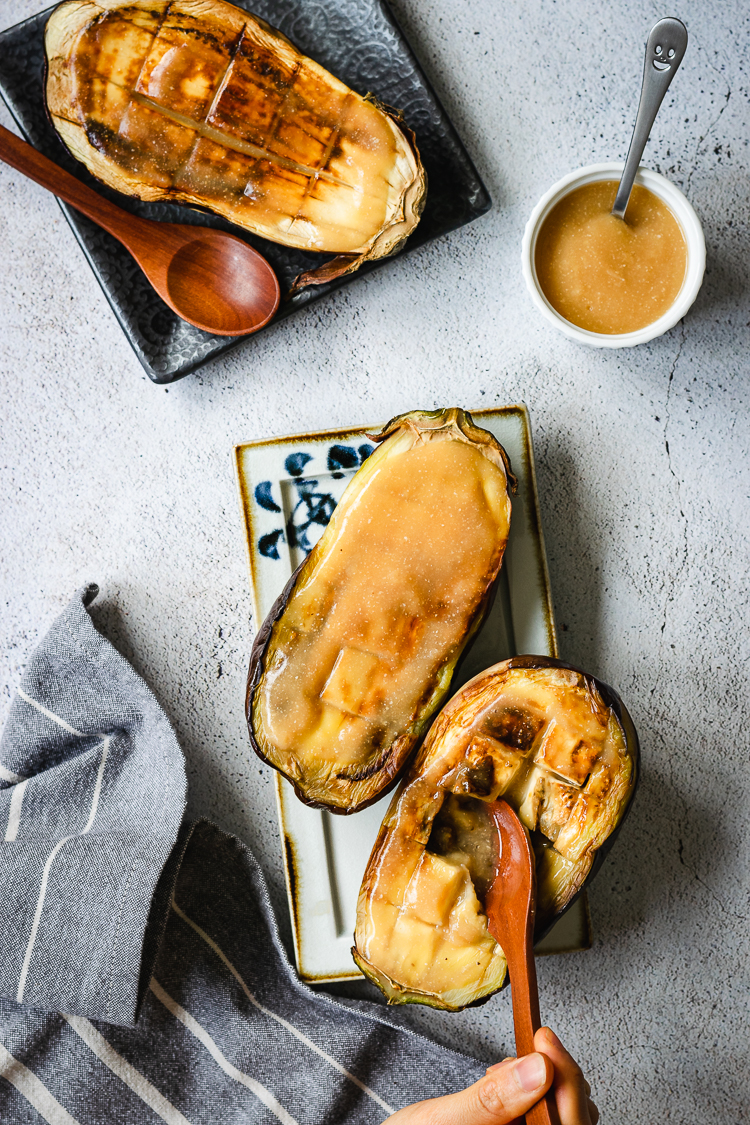 If you try out this recipe, please don't forget to tag me in your recreations on instagram @ellielikes.cooking and/or leave a comment down below and let me know how you liked it! I love seeing your recreations and am always open to feedback of any kind 🙂 Happy cooking!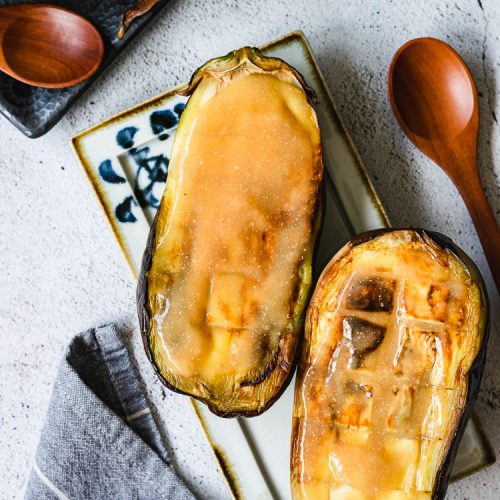 Miso Glazed Eggplant
Soft, tender eggplant generously coated with an umami-packed miso glaze. A healthy, delicious side dish ready in under 20 minutes!
Ingredients
2

large American eggplants

½

tsp

salt

2

tbsp

red miso

1

tbsp

sake

1

tbsp

mirin

1/2

cup

kombu dashi*

1

tbsp

maple syrup

1

tbsp

corn starch + 1/4c water

2

tbsp

olive or canola oil

add more as needed
Instructions
Peel the eggplant skin in stripes (you don't have to peel all of the skin off). Cut each eggplant in half vertically. Make slits over the surface but don't cut through the skin. Sprinkle salt over the eggplant surfaces and let them sweat for at least 10 minutes.

Meanwhile, mix together the corn starch and water to make a slurry. Set aside.

Make the miso glaze by combining miso, sake, mirin, dashi, and maple syrup in a small saucepan over medium low heat. Stir continuously. When the miso mixture starts boiling, add the corn starch slurry and continue to mix until the glaze has thickened. Turn off the heat and let sit while you prepare the eggplants.

Wipe off the liquid that comes out on the surface of the eggplants. Spray/brush oil over the surface of the eggplants. Microwave until soft, about 5 minutes. Flip halfway through.

Heat a pan over medium heat. Brush oil over the cut sides of the eggplants. Place the eggplants cut side down on the frying pan and cook until soft and browned. Brush remaining oil on the other side of the eggplants and flip eggplants over. Cook till browned and soft. Pour miso glaze over top and serve while still warm.
**Notes
*If using dashi powder, mix 1/2 tsp dashi with 1/2 cup water.
Disclosure: This page may contain affiliate links. As an Amazon Associate I earn from qualifying purchases, but the price remains the same to you. Thank you for supporting Ellie Likes Cooking!
Save for later!