This page may contain affiliate links. As an Amazon associate I earn from qualifying purchases. Please read our
disclosure
for more info.
Inspired by Japanese dessert parfaits, this strawberry chocolate parfait is layered high with cereal, fruit, chocolate mousse, brownies, and ice cream. But it's healthier, homemade, and 100% plant-based!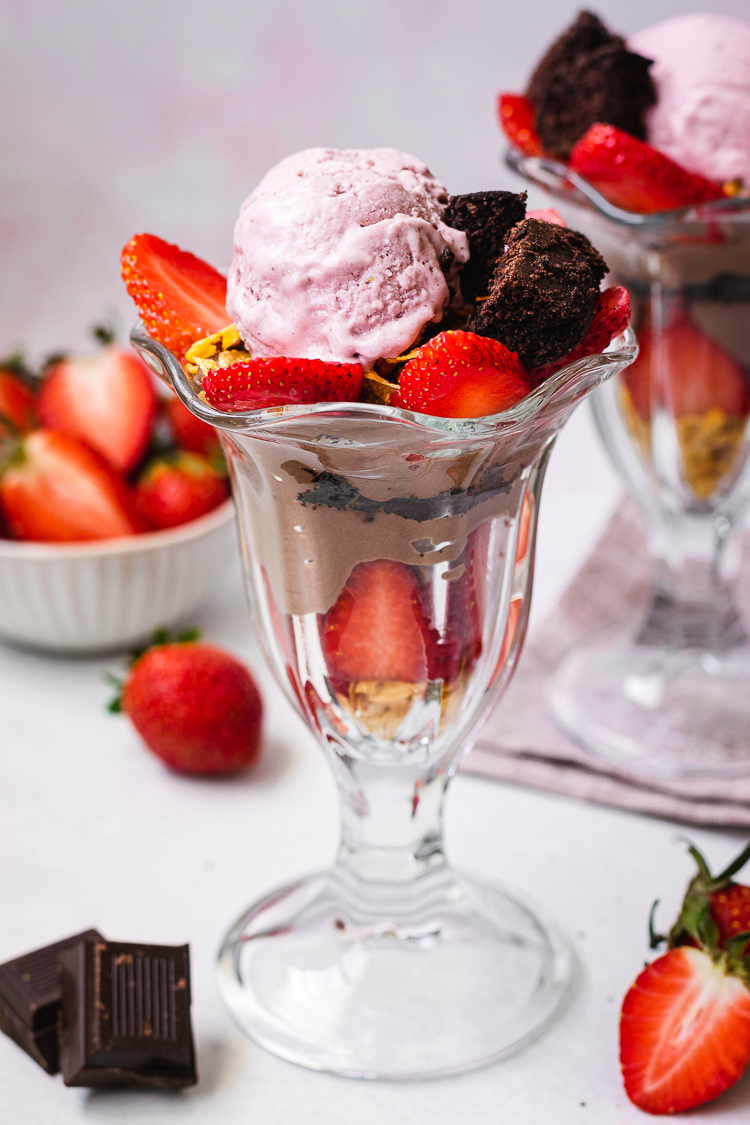 What do you think of when you imagine a parfait? Maybe a glass layered with some fruit, yogurt, and granola that you'd eat for breakfast? Or maybe something more indulgent with ice cream, custard, or cake involved? When I think of a parfait, I'm transported back to the summers I spent in Japan eating out of tall, thin glasses layered with cornflakes, fruit, ice cream, and whipped cream. While parfaits are not a typical dessert at restaurants in America, they are very popular at family restaurants and cafes in Japan. But they're also really simple to make yourself, so whenever I'm feeling nostalgic I can whip these up and have a little taste of Japan at home. ♡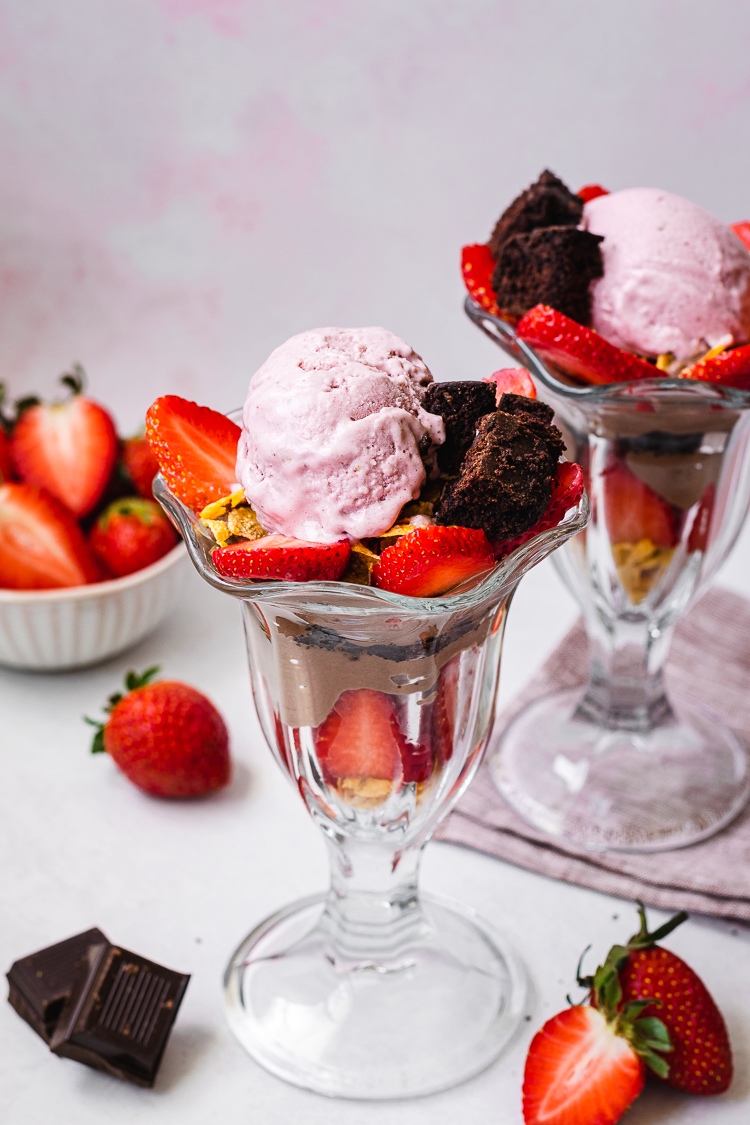 Ingredients for Japanese Parfaits
Japanese parfaits contain a variety of ingredients, but there are some basic components to constructing a good parfait:
Cornflakes ⟶ or some other kind of crunchy cereal, but cornflakes is most common
Fruit ⟶ strawberries, blueberries, bananas, melon, and mango are very common
Ice Cream ⟶ This elevates the parfait from a breakfast fruit & yogurt parfait to an indulgent dessert parfait.
Whipped Cream ⟶ Yes, whipped cream and ice cream are often both included — kind of like an ice cream sundae. I used my chocolate tofu mousse since I don't like whipped cream, but you can use coconut whipped cream if you prefer.
Sponge Cake ⟶ It's also common to add some pieces of sponge cake or brownies. I chopped up some brownie cookies for mine.
additional fillings ⟶ granola or chopped nuts may also be added for crunch; mochi, cookies, or poky can be added on top.
There really aren't any strict guidelines for how to build a Japanese parfait, so add in whatever you like!
How to Assemble a Japanese Parfait
Parfait Glass ⟶ First, you'll need some tall parfait glasses. I found mine at a thrift store, but these parfait glasses on Amazon are similar. Of course you can also just use a tall drinking glass, but I find it more fun to eat out of a parfait glass.
[If you're using the no churn strawberry ice cream recipe below, take it out of the freezer and let it thaw on the counter for 15 minutes until scoopable.]
Cereal on the Bottom ⟶ Place cornflakes on the bottom of the glass. This ensures a nice crunchiness till the last bite. It also soaks up the ice cream as it melts.
Fruit on the Inside of the Glass ⟶ Arrange the strawberries vertically around the inside of the glass, on top of the cornflakes. This is mainly done for visual appeal, so if you're not trying to make it look nice you can just throw some chopped strawberries on top of the cornflakes.
Chocolate Mousse/Whipped Cream ⟶ Dollop some mousse/whipped cream on top of the cereal. If you don't have or like whipped cream, you can replace with more ice cream.
Cake/Brownie Pieces ⟶ Top the mousse/whipped cream with cake or brownie pieces, then cover with another layer of mousse/whipped cream.
Repeat layers until you reach the top of the glass ⟶ With my parfait glass I was able to add another layer of cereal and strawberries.
Top with ice cream + cake/brownies ⟶ Top the parfait with a scoop of ice cream and a few more cake or brownie pieces. You can also add cookies, poky, mochi, or whatever else you desire!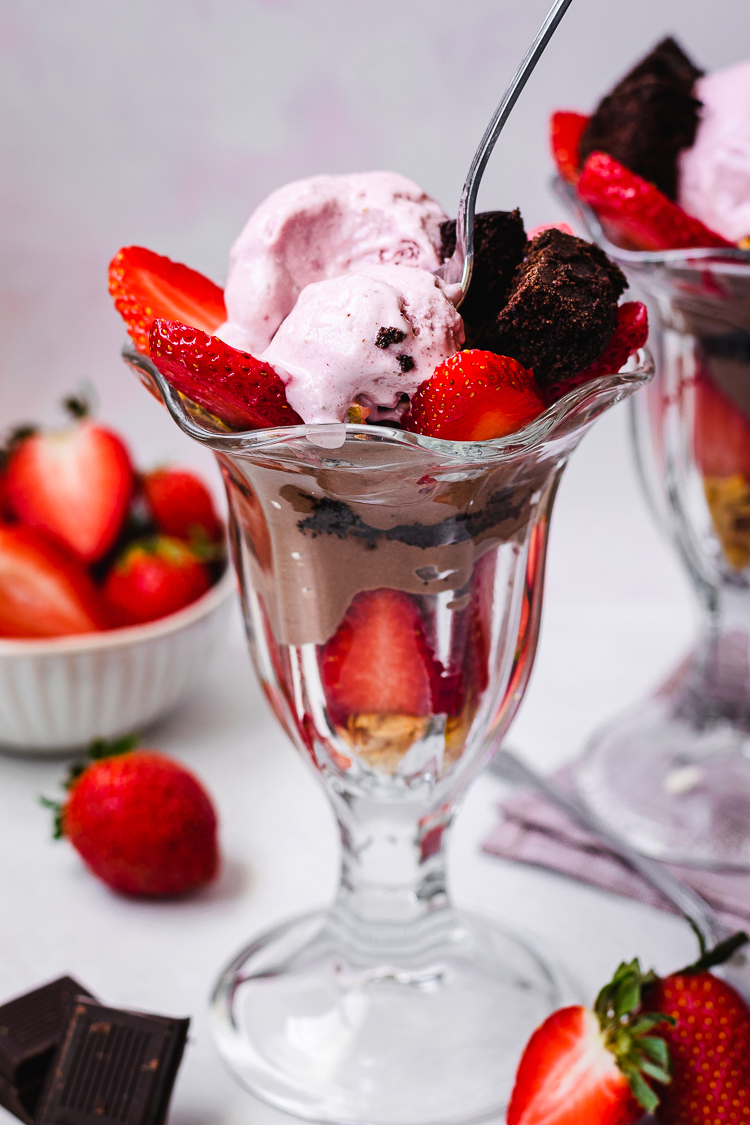 Helpful Kitchen Tools
More Vegan Japanese-Inspired Sweets!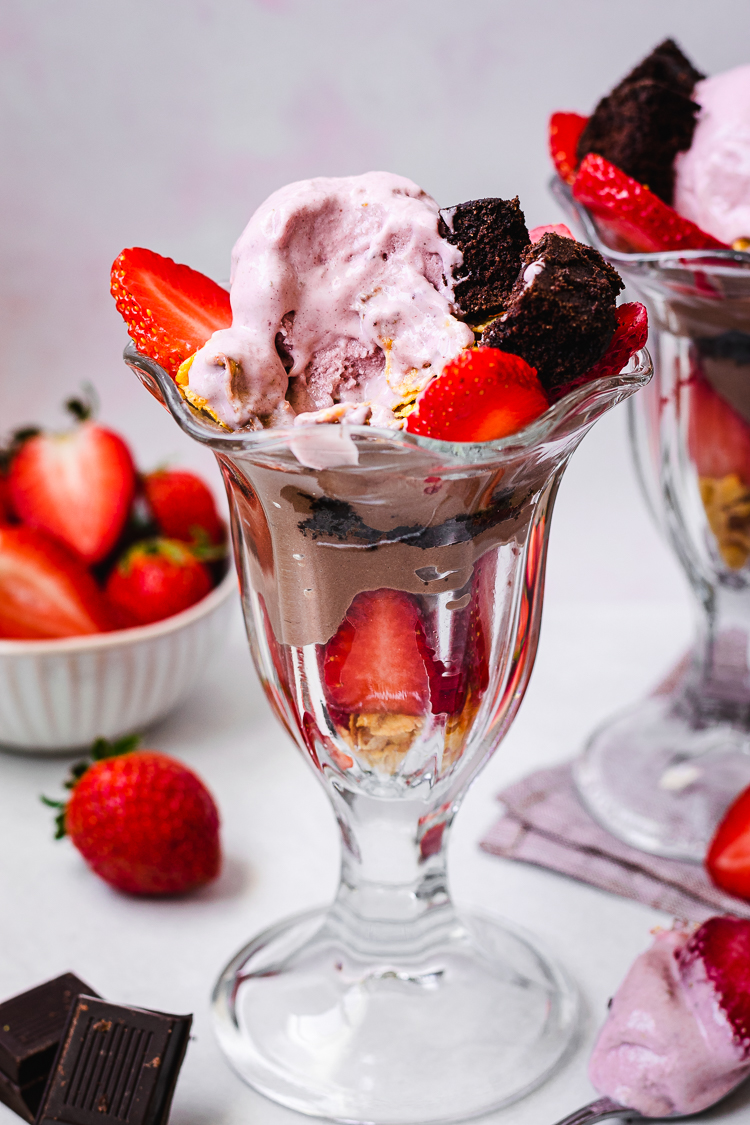 I hope I've inspired you to try making your own Japanese strawberry chocolate parfait! It's super fun to make and eat! If you do try it out, don't forget to tag me in your recreations on instagram @ellielikes.cooking and leave a comment/rating down below and let me know how you liked it! I always love seeing your beautiful recreations ♡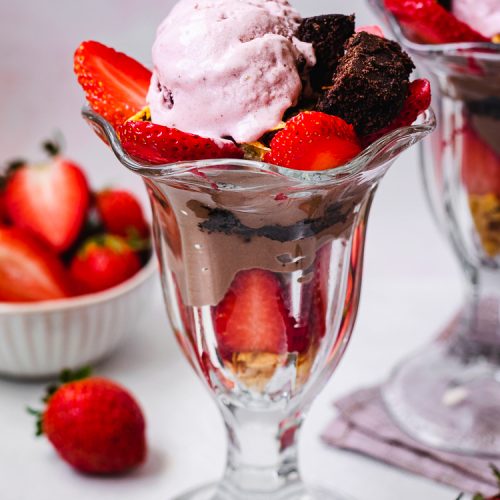 Japanese-Style Strawberry Chocolate Parfait (Vegan, Gluten-Free)
Inspired by Japanese dessert parfaits, this strawberry chocolate parfait is layered high with cereal, fruit, chocolate mousse, brownies, and ice cream. But it's healthier and homemade from plants!
Ingredients
No Churn Vegan Strawberry Ice Cream
1

lb

frozen strawberries

2

frozen bananas

½

cup

raw cashew butter

or 1 cup soaked raw cashews

2-4

tbsp

soy milk

or coconut milk

1

tbsp

lime juice

optional
Instructions
No Churn Vegan Strawberry Ice Cream
Place a loaf pan in the freezer.

Add all ingredients to a food processor and blend until smooth. Add more soy milk as needed to help blend.

Add ice cream mixture to loaf pan, cover, and place back into the freezer. For best results, mix every 30 minutes for the first 2 hours. Freeze 6 hours or until firm. Let thaw for 15 minutes on the counter before scooping.
Assemble Parfait
Put cornflakes on the bottom of the glass.

Place strawberry slices vertically around the inner side of the glass.

Place a few dollops of chocolate mousse in the center.

Add brownie pieces and cover with more chocolate mousse.

Add another layer of cornflakes and strawberry slices.

Top with a scoop of ice cream and more brownie pieces.


Disclosure: This page may contain affiliate links. As an Amazon Associate I earn from qualifying purchases, but the price remains the same to you. Thank you for supporting Ellie Likes Cooking!
Save for later!