This page may contain affiliate links. As an Amazon associate I earn from qualifying purchases. Please read our
disclosure
for more info.
Spinach gomaae is a classic Japanese side dish of blanched spinach tossed in a sweet and savory sesame sauce.
What is Spinach Goma-ae?
Goma-ae is a common type of side dish in Japanese cuisine. Goma (胡麻)means sesame seed and ae (和え, pronounced ah-eh) refers to a dish mixed with a dressing. This technique can be used with a variety of ingredients, such as broccoli and green beans, though spinach gomaae is arguably the most popular (especially in the West). The sauce is made with just 3 Japanese staple ingredients – sesame seeds, sugar, and soy sauce! For a soy-free option, you'll need just 2 ingredients – sesame seeds and coconut aminos. It's such a simple dish to make but so tasty and nutritious!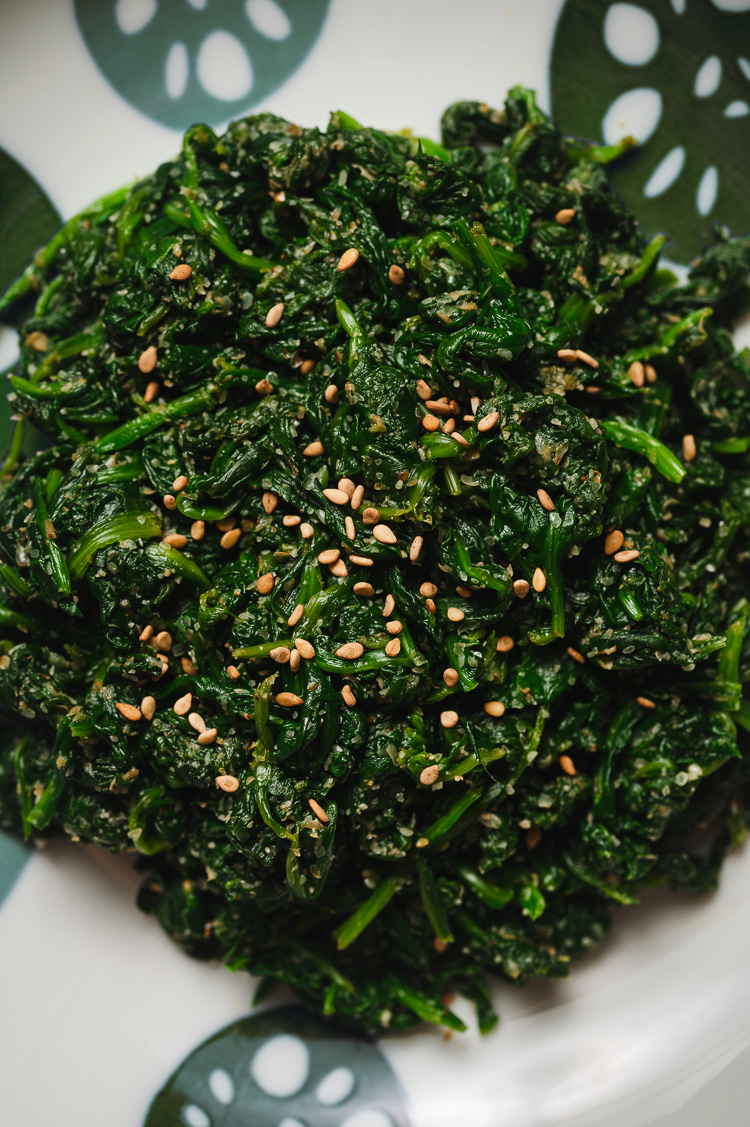 Spinach Goma-ae Cooking Tips
Quickly blanch spinach ⟶ Spinach cooks quickly, just 30 seconds in boiling water should do the trick. If you overcook spinach, it will get too soft and lose its tender, slightly crunchy texture.

You can eat the stems too! ⟶ If you're using spinach with the long stems still attached, use the stems too! Submerge the stems in the boiling water first for 30 seconds, then submerge the leaves as well and boil another 30 seconds.
More Japanese Sides!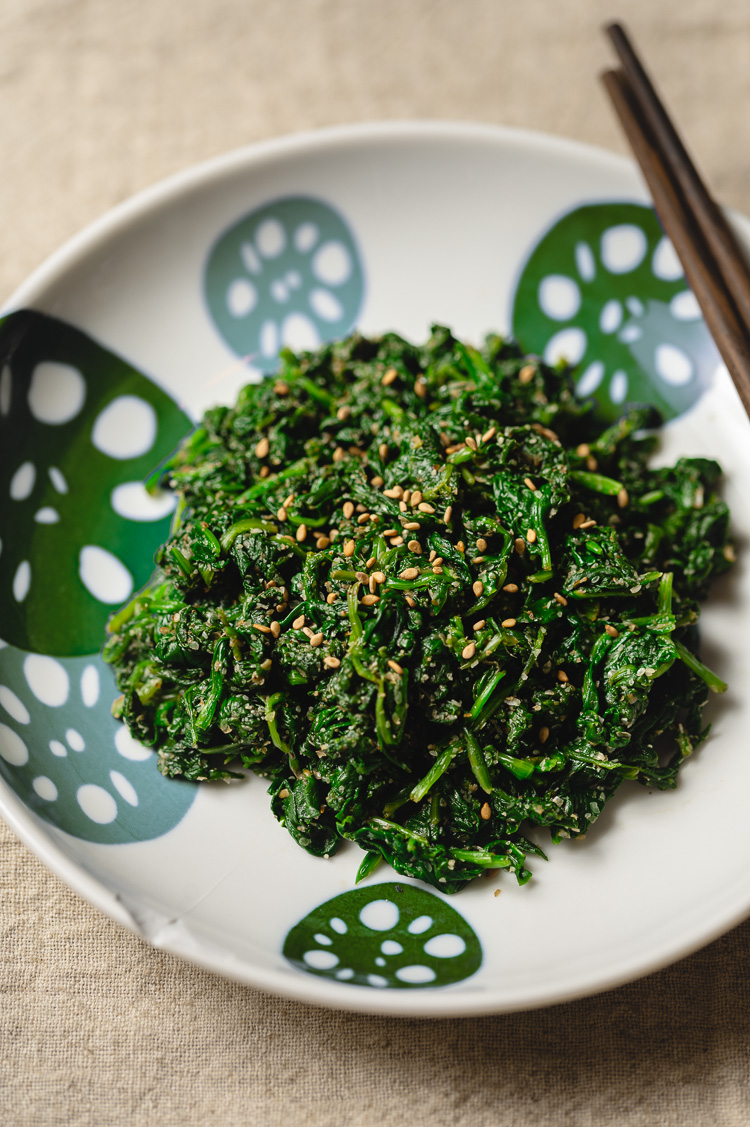 If you try out this spinach gomaae, don't forget to leave a comment/rating down below and tag me in your photos on instagram @ellielikes.cooking. I love seeing all of your tasty recreations!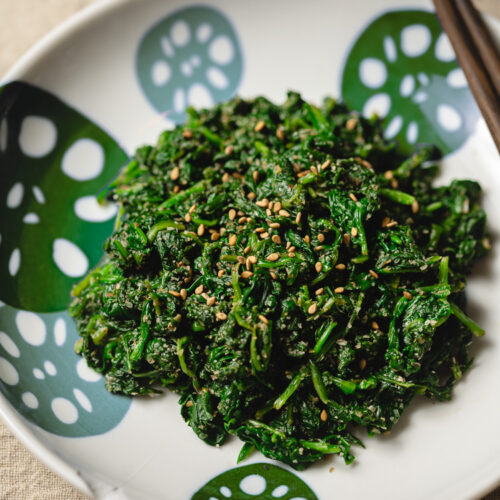 Spinach Goma-ae (Japanese Sesame Spinach) | ほうれん草の胡麻和え
Spinach gomaae is a classic Japanese side dish of blanched spinach tossed in a sweet and savory sesame sauce.
Ingredients
8

oz

raw spinach

3

tbsp

toasted sesame seeds*

1 ½

tsp

sugar**

1 ½

tsp

soy sauce**

2-3

tsp

water

as needed
Instructions
Blanch spinach: Bring a pot of water to a boil. Add spinach and cook for 30 seconds. Immediately add to a bowl of ice water, or drain and rinse under cold water to prevent further cooking.

Remove excess water: Once the spinach has cooled, gather spinach in handfuls and squeeze out excess water.

Chop: Roughly chop the spinach into 1-inch segments and place in a bowl.

Grind sesame seeds: Grind the toasted sesame seeds. (Typically with a pestle and mortar, but you can try using a coffee/spice grinder, food processor, or blender. You may need to double or triple the quantity.) It doesn't need to be finely ground, some whole seeds are fine.

Make sauce: Add sugar and soy sauce (or coconut aminos) and mix in with the ground sesame seeds.

Thin sauce: Add water as needed to make the sauce easier to mix with the spinach.

Toss: Add sesame sauce to spinach and mix well until spinach is evenly coated.
**Notes
Soy-Free/Whole30 Option: Replace sugar and soy sauce with 1 tbsp coconut aminos*.
figure class="wp-block-image size-large is-resized">


*Disclosure: This page may contain affiliate links. As an Amazon Associate I earn from qualifying purchases, but the price remains the same to you. Thank you for supporting Ellie Likes Cooking!
Save for later!