This page may contain affiliate links. As an Amazon associate I earn from qualifying purchases. Please read our
disclosure
for more info.
Soft, creamy eggplant baked in a sweet and savory miso sauce. This nasu dengaku is a classic Japanese side dish made with just 6 ingredients!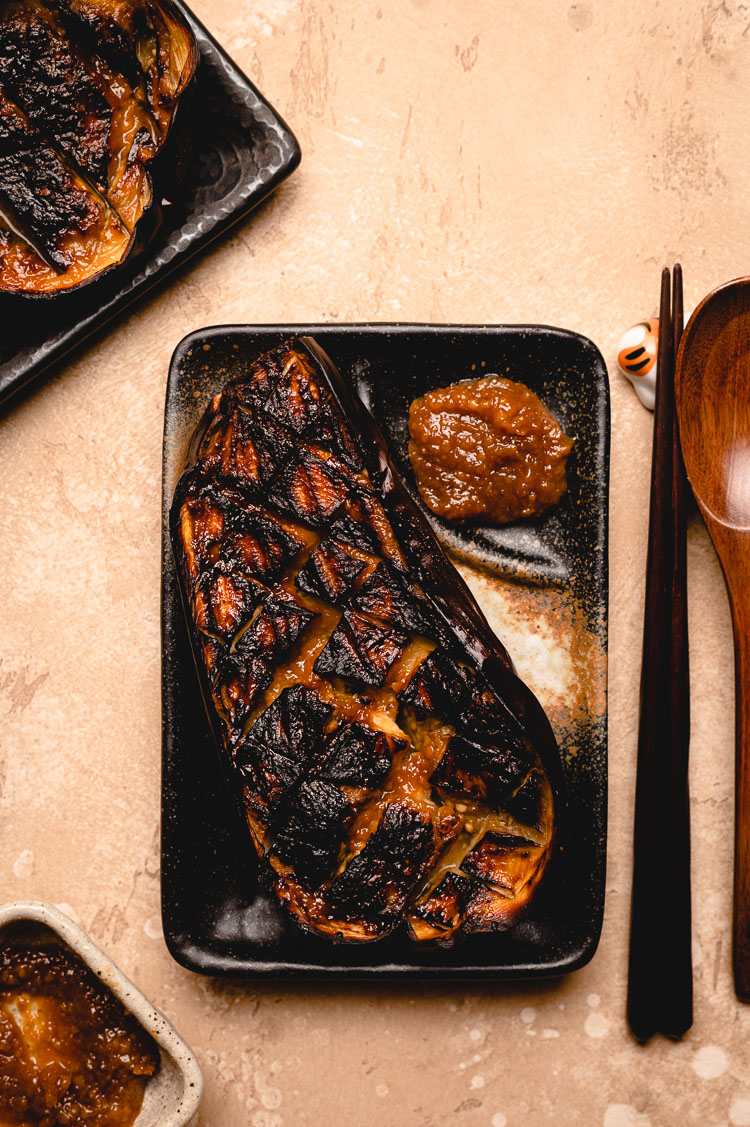 What is Nasu Dengaku?
Nasu means eggplant in Japanese and dengaku refers to a miso sauce that is brushed on food (commonly tofu, daikon, eggplant, konjac, and taro). Dengaku is actually a Japanese ritual dance celebrating rice planting and harvesting. Performers dressed in white hakama (trousers) and danced on bamboo stilts, similar to the appearance of tofu on bamboo skewers (tofu dengaku). So it's believed that dengaku as a cooking method originated with tofu and soon grew to include variations with vegetables and fish.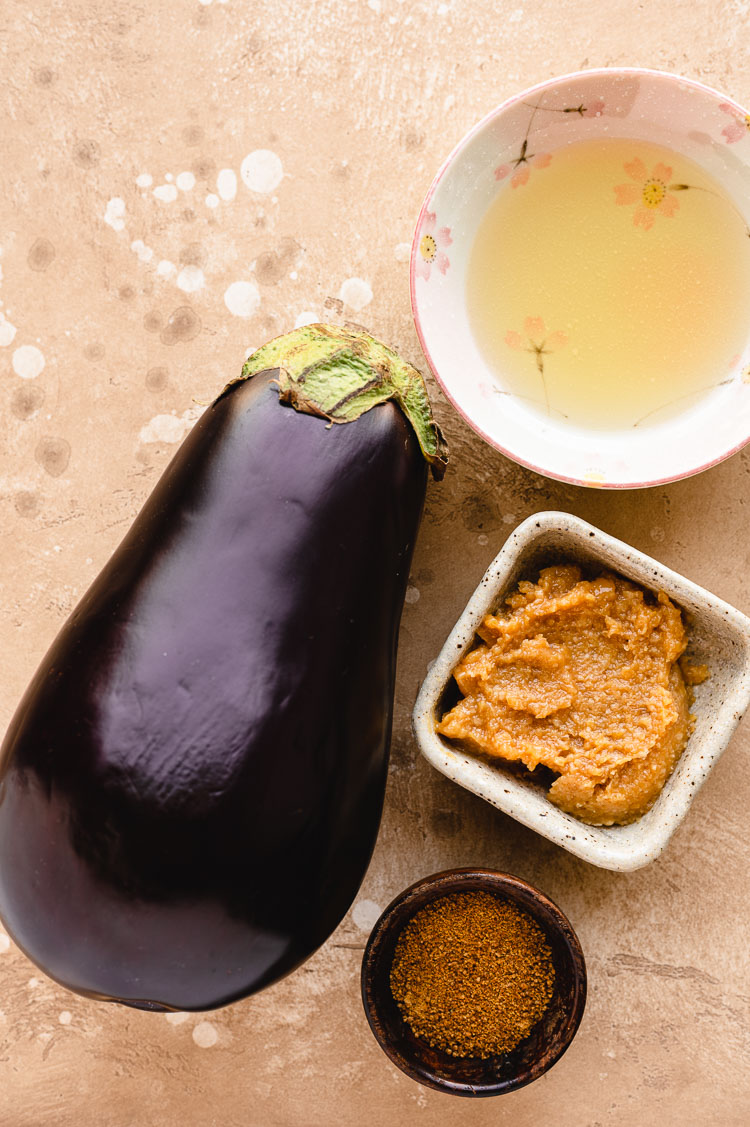 How to Make
I like making nasu dengaku in my air fryer as a quick & convenient method — eggplant cooks a lot more quickly in an air fryer vs oven! But you can also use an oven, your cooking time will just be longer.
Cut eggplant in half and make slits in a crosswise pattern across the surface. Don't cut all the way through the eggplant, but cut deep enough to allow room for the sauce to seep through.
Cook until soft and tender and the top starts to brown (it will brown more in an air fryer).
Make the miso sauce while the eggplant is cooking. Combine all sauce ingredients in a saucepan on the stove and simmer about 3 minutes until thickened and sugar dissolves.
Brush eggplant with miso sauce. Make sure you get sauce in between all the slits so the miso flavor seeps through.
Air fry/bake for another minute or two until the sauce is bubbly — it burns quickly so be careful.
Nasu Dengaku FAQ
What kind of eggplant should I use?
Since this is a Japanese dish, it is traditionally made with Japanese eggplants. However, I love making nasu dengaku with globe eggplants since they're bigger = more creamy eggplant miso goodness. You can treat the eggplant half like a "boat" and scoop out the flesh. Just be sure to really brush the eggplant crevices with a good amount of oil to ensure the eggplant is soft and creamy all the way through!

Can I use white miso?
Dengaku is typically made with red miso, but you can use white miso if it's all you have. White miso is sweeter while red miso is more salty/savory.

What should I serve nasu dengaku with?
The miso sauce is very strong in flavor, so pair it with some plain steamed rice to balance out the saltiness! Also be sure to include a main protein, like this air fryer karaage, sesame crusted tofu, or hoisin peanut tempeh!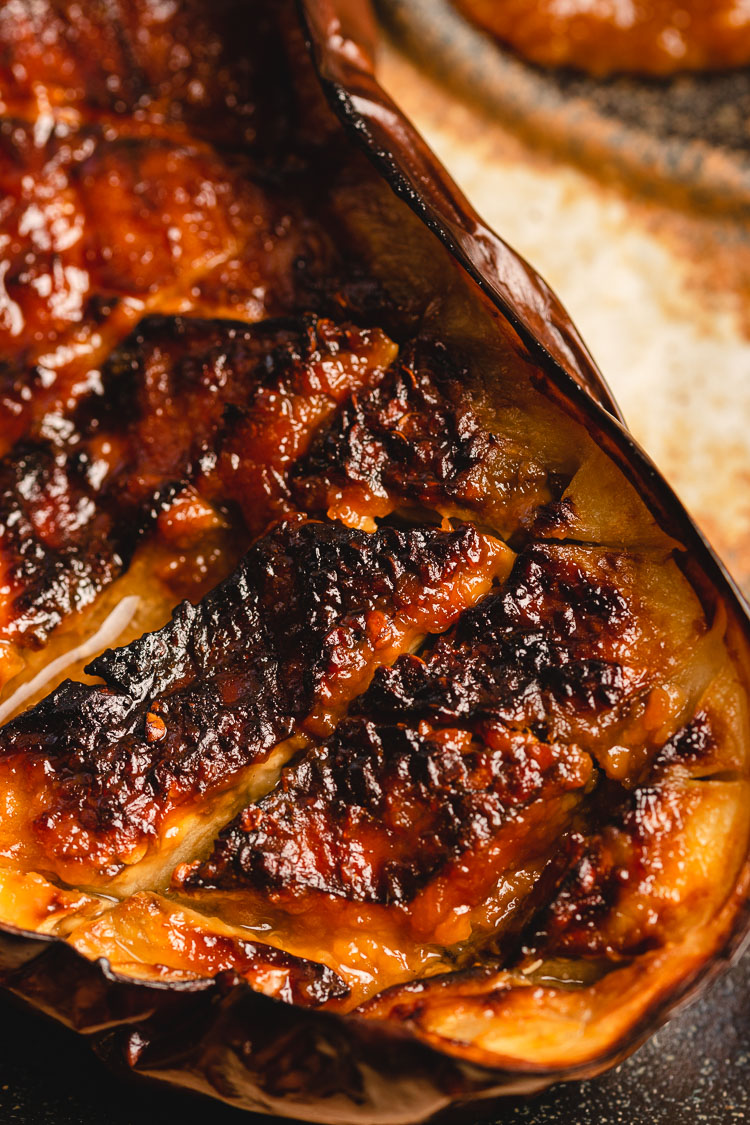 More Japanese Sides!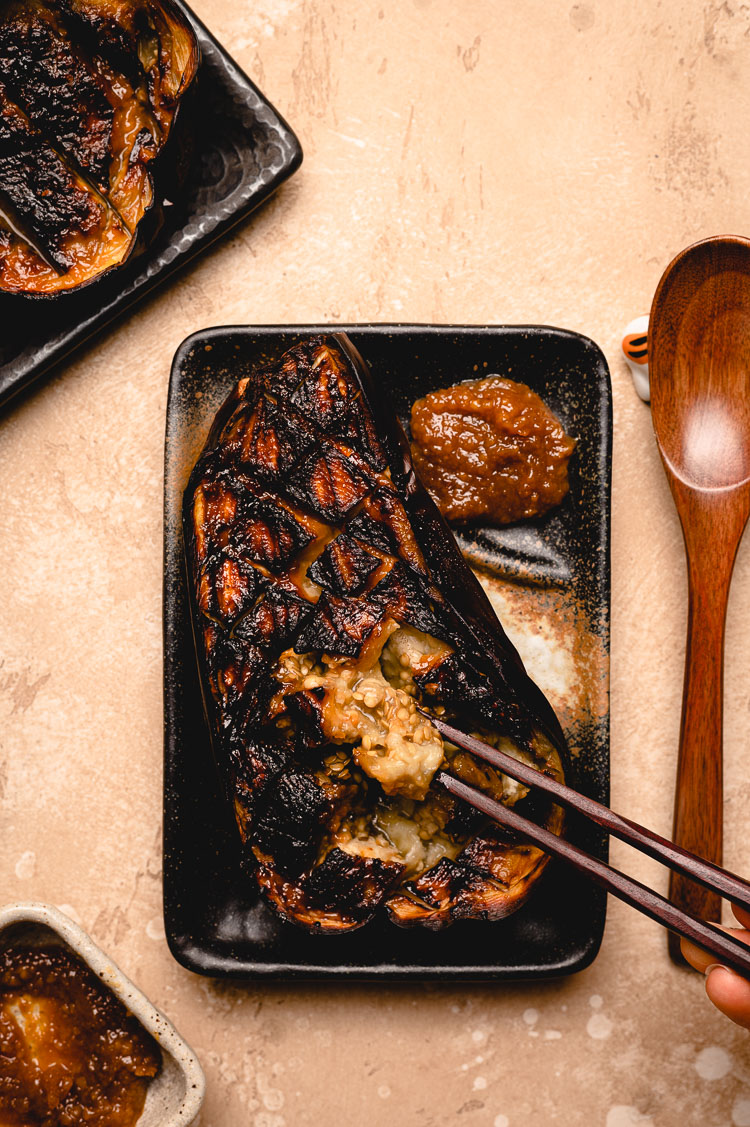 If you try out this nasu dengaku, don't forget to leave a comment/rating down below and tag me in your photos on instagram @ellielikes.cooking. I love seeing all of your tasty recreations!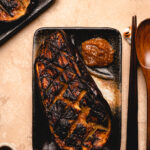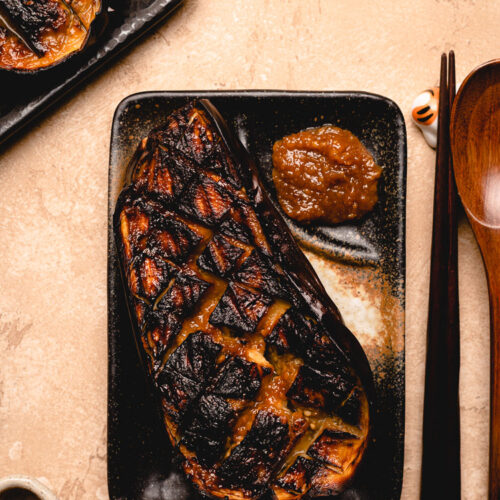 Print Recipe
Nasu Dengaku (Japanese Miso Eggplant) | なすの田楽
Soft, creamy eggplant baked in a sweet and savory miso sauce. This nasu dengaku is a classic Japanese side dish made with just 6 ingredients!
Ingredients
1

globe eggplant or 2 Japanese eggplants

2

tbsp

oil

(choose a neutral flavored oil like avocado oil, light olive oil, grapeseed oil, vegetable oil, canola oil)

2

tbsp

sake

2

tbsp

mirin

1

tbsp

sugar

3

tbsp

red miso*
Instructions
Preheat air fryer to 375°F or oven to 425°F.

Cut eggplant in half, then cut slits in a crosswise pattern across the surface. Do not cut all the way through the eggplant.

Brush oil onto the surface of each eggplant half.

Place eggplants in air fryer basket or on a baking sheet for the oven.

Cook until soft and tender, 15-20 minutes in the air fryer or 30-40 minutes in the oven.

While the eggplant is cooking, make the miso sauce. Combine sake, mirin, sugar, and miso in a saucepan and heat over medium low. Bring to a simmer, stirring frequently, and simmer until sauce thickens and the alcohol flavor cooks off, about 3 minutes.

When the eggplant is soft, brush miso sauce on top, ensuring the sauce seeps into the slits on the eggplant (you may not need all the sauce). Air fry/bake another 1-2 minutes until slightly charred to your liking (be careful not to burn the miso completely).

Store any remaining sauce in a covered container in the fridge (lasts about a month in the fridge).


*Disclosure: This page may contain affiliate links. As an Amazon Associate I earn from qualifying purchases, but the price remains the same to you. Thank you for supporting Ellie Likes Cooking!
Save for later!