This page may contain affiliate links. As an Amazon associate I earn from qualifying purchases. Please read our
disclosure
for more info.
Soft, fluffy pillows of bread hugged by a crunchy, sweet cookie top. A classic Japanese bakery bread made undetectably vegan.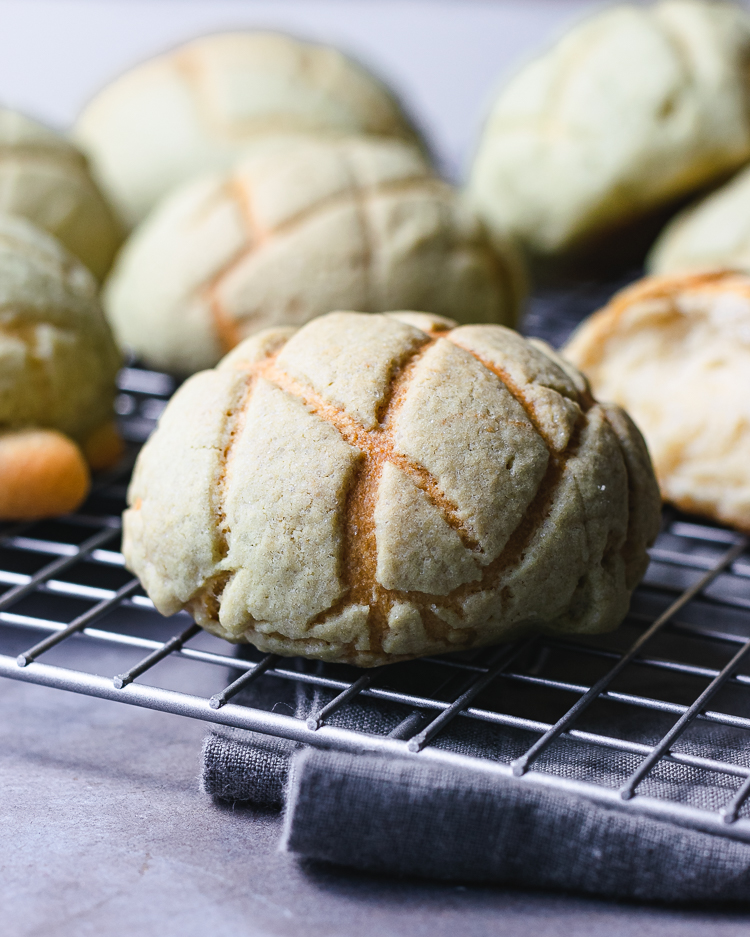 What is Melon Pan?
Japanese melon pan (メロンパン) was my favorite sweet bread as a kid. Whenever we went to a Japanese bakery I would always go for the melon pan. It's basically sweet bread covered in a cookie! What could be better?? Don't be fooled by its name though — it doesn't actually have melon in it (a fact I was not aware of until last year when I first started making my own). It's called melon pan simply because the cookie on top of the bread is cut in such a way that it makes the bread look like a melon. Misleading huh, like why didn't they just add a little bit of melon flavor in the bread too?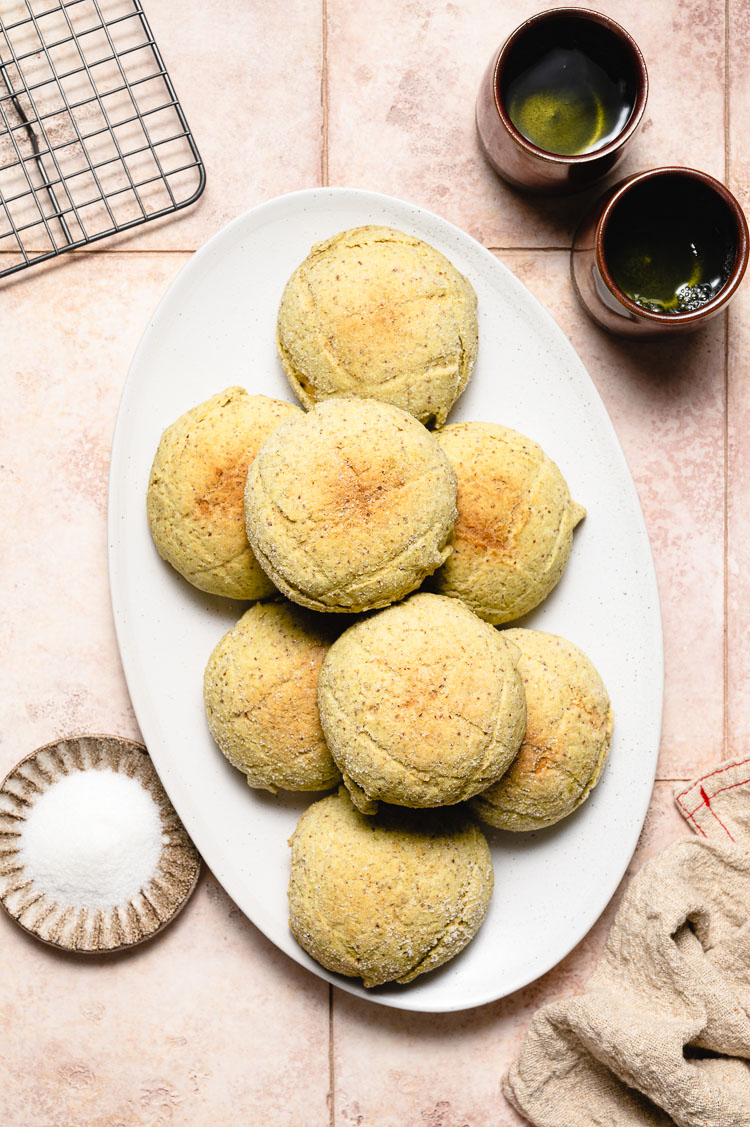 Ingredients
So if there's not actually melon in it, what is melon pan made from? Well, it can actually be made quite easily from just 9 plant-based ingredients:
Bread Flour* or All Purpose Flour ⟶ Bread flour is recommended for best results.
Granulated Sugar
Salt
Instant Yeast* ⟶ You can also use active dry yeast, but increase the amount by ⅛ tsp and add the yeast to warmed soy milk first, letting it sit for a few minutes until foamy.
Soy Milk ⟶ You can sub another plant-based milk, but I prefer soy milk since it's most similar to regular dairy milk.
Coconut Oil and/or Vegan Butter⟶ Use refined coconut oil* for the buttery mouthfeel without the coconut flavor. You can use either coconut oil or vegan butter in the bread, but I highly recommend using coconut oil in the cookie crust for the crunchiest result. Vegan butter has more moisture than coconut oil so results in a slightly softer cookie top.
Ground Chia* or Flax Seeds* ⟶ act as an egg replacement to hold the cookie dough together
Baking Powder
Matcha Powder ⟶ optional for a greener color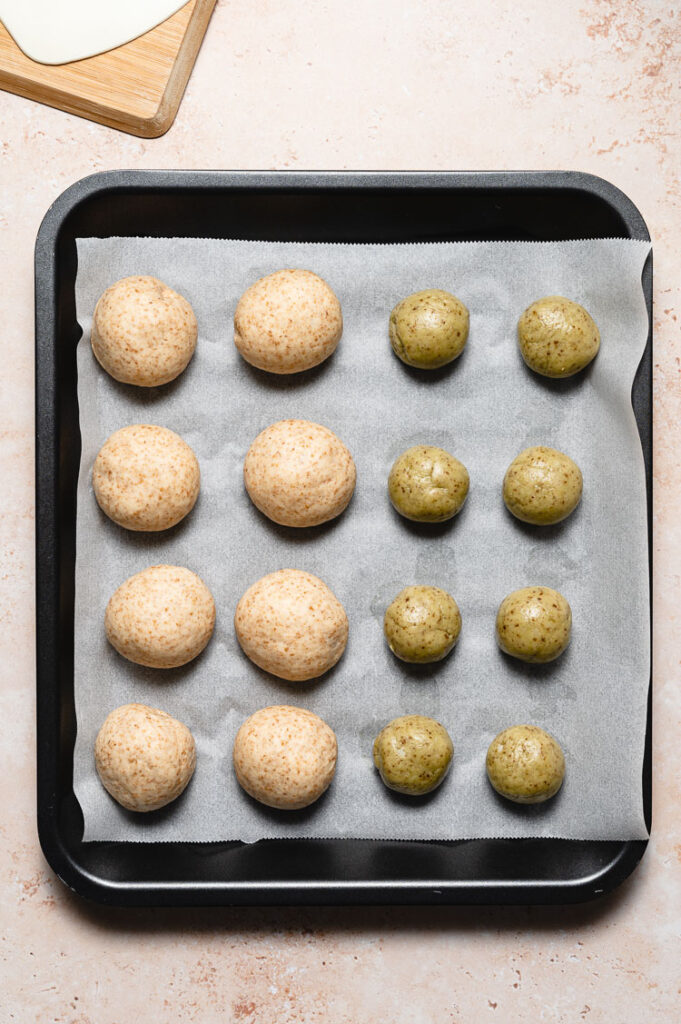 How to Make Melon Pan
Here's a brief overview of each step for making melon pan. For detailed steps see the recipe card below.
The dough comes together like any basic sweet bread dough. I recommend using a stand mixer if you have one – this is most convenient and will produce the fluffiest results. However, you can also knead by hand or use the "dough" setting on a bread maker.
Once the dough has proofed, divide it into 8 portions. Also divide the cookie dough into 8 portions, roll these into balls.
Flatten the cookie dough balls into disks. You can do this by hand, with a rolling pin, or with the flat bottom of a round glass.
Place one bread dough ball in the center of the cookie dough. Wrap the cookie dough around the bread so it covers most of the surface (but leave the bottom exposed).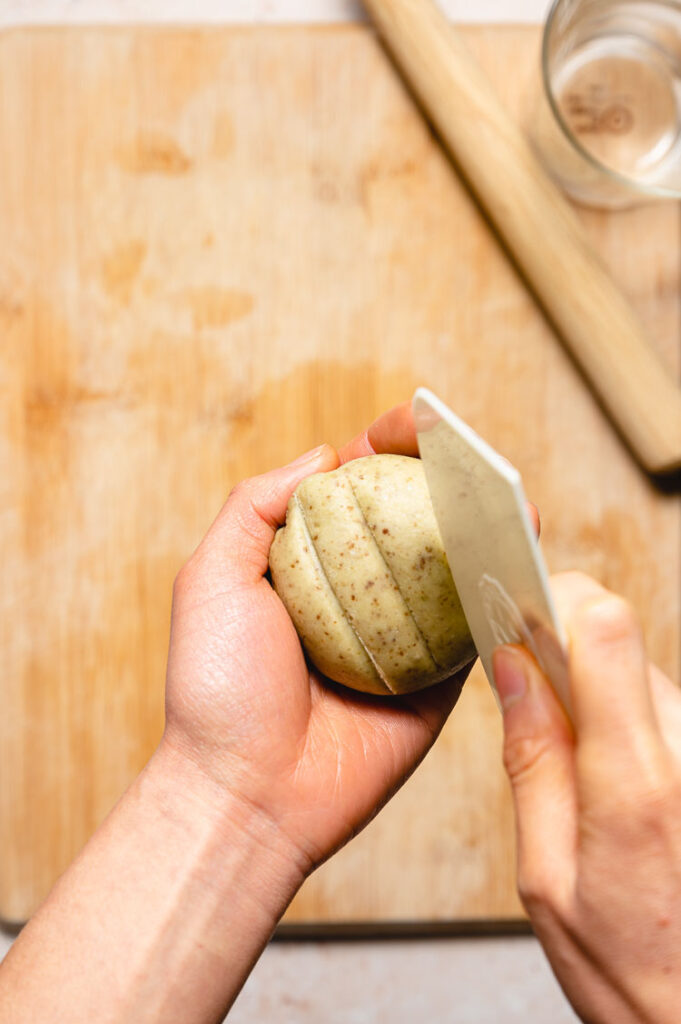 Create the melon pattern by making 3-4 shallow cuts across the top of the cookie dough, then make 3-4 more cuts in the opposite direction.
Roll the cookie part in sugar for a crunchier top.
Bake at 350°F for 15 minutes. The bottoms of the buns should be lightly browned.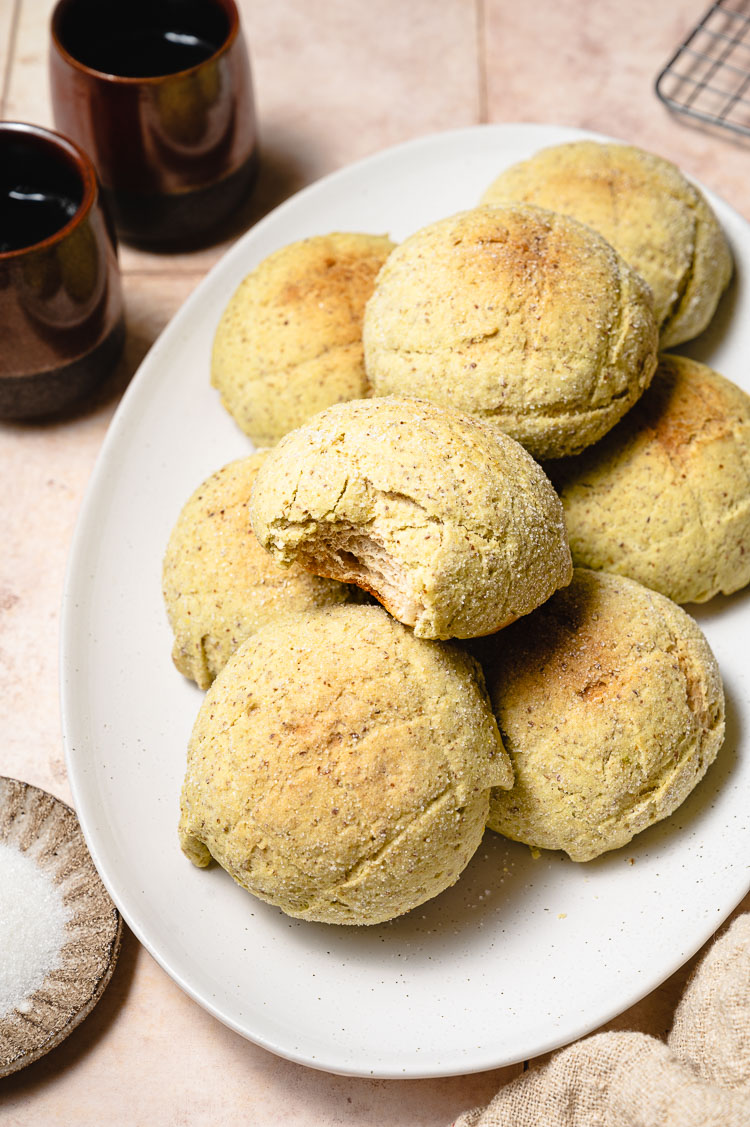 Helpful Baking Tools
More Tasty Breakfast Treats!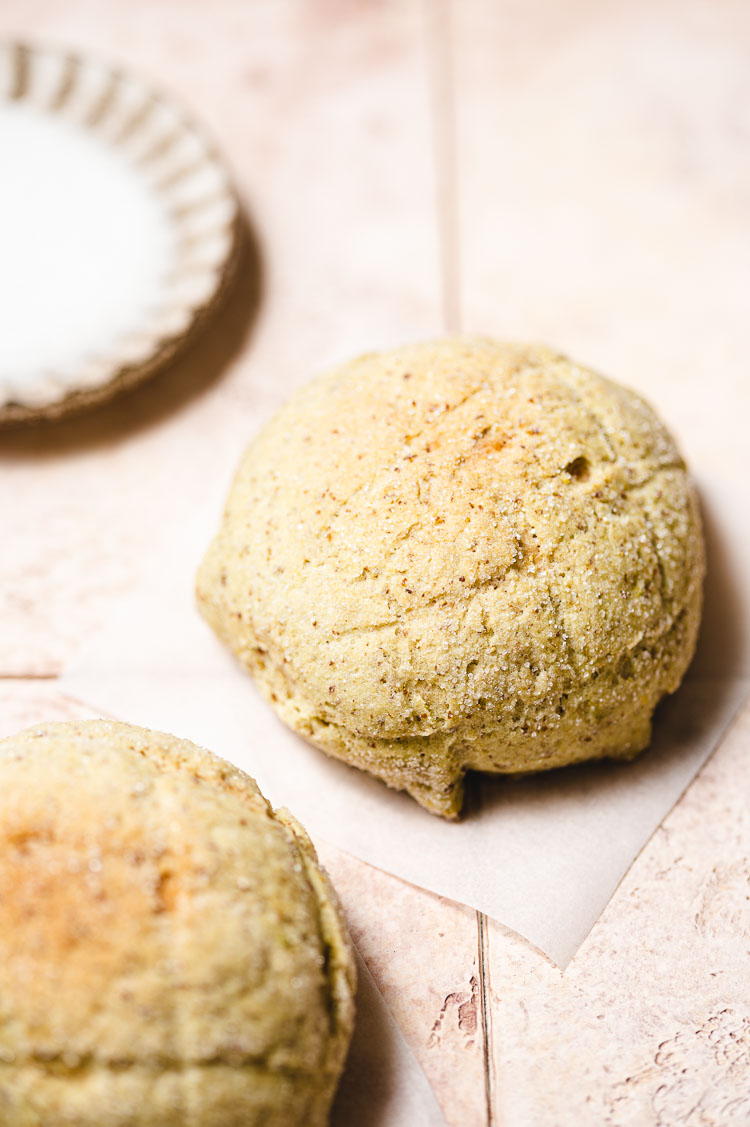 I hope you love this Vegan Melon Pan as much as I do! If you do make it, don't forget to tag me in your photos on instagram @ellielikes.cooking, leave a comment/rating below, and let me know how you liked it! I love seeing your tasty recreations 🙂 Happy baking ♡
Recipe updated February 7, 2022 with modified cookie dough.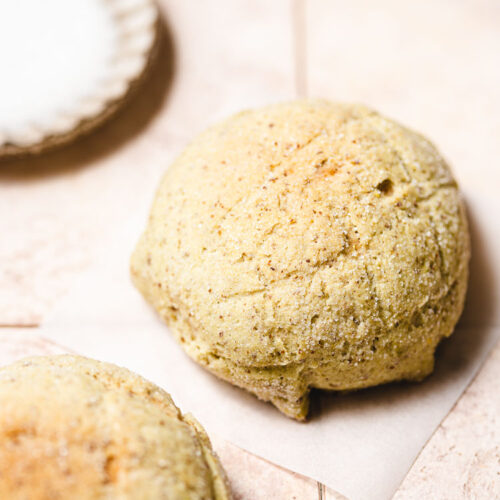 Japanese Melon Pan (Vegan)
Soft, fluffy pillows of bread hugged by a crunchy, sweet cookie top. A classic Japanese bakery bread made undetectably vegan.
Ingredients
Bread
2

cups (240g)

bread flour or all purpose flour

2

tbsp (24g)

granulated sugar*

½

tsp (3g)

salt

reduce by ⅛ tsp if butter is salted

1

tsp (3g)

instant yeast*

½

cup + 2 tbsp (150ml)

soy milk

2

tbsp (28g)

vegan butter or melted coconut oil
Cookie Topping
1

tbsp

ground flax seeds or chia seeds*

3

tbsp

soy milk

room temperature

3

tbsp (40g)

refined coconut oil*

softened

¼

cup (48g)

sugar

1

cup (120g)

all purpose flour

¼

tsp

baking powder

½

tsp

matcha powder*

optional
Instructions
Make flax egg: Mix together ground flax/chia and soy milk. Set aside to gel.

Prepare bread dough: In a large bowl, mix together flour, sugar, salt, and instant yeast. Stir in milk and oil (if using) until combined, then turn out dough onto a lightly floured surface.

Knead: Knead (with your hands or a stand mixer) until the dough comes together and becomes slightly elastic (about 5 minutes). If using butter, stretch the dough out into a small log and place small cubes of butter on top (or add directly to stand mixer). Roll up the dough and continue kneading. It will be very greasy at first, but just continue kneading and the dough will absorb the butter and become smooth.

When ready, the dough should be smooth and just slightly sticky, but it shouldn't stick to your hands. (You can use the Windowpane Test to see if enough gluten has developed. You can also test the elasticity by poking the dough — it should bounce back.) This should take about 15-20 minutes of kneading by hand, or about 10 minutes in a stand mixer. If using a stand mixer, check the dough often since it is possible to over-mix the dough.

Proof: Roll your dough into a ball and place in a large greased bowl. Place a tea towel or plastic wrap over the bowl and let the dough rest until doubled in size. You can place the bowl in the oven if your oven has a "proof" setting, or just turn the oven light on. You can also leave it out at room temperature, but your rise may take longer. The warmer the environment, the faster it will rise. (Don't rush it though. Flavors deepen as the dough proofs.) 

Prepare cookie dough: While your dough is rising, prepare your cookie dough. Cream together coconut oil and sugar, then beat in flax mixture until well combined. Sift in flour, baking powder, and matcha powder. Mix until a uniform dough forms. Form dough into a ball and keep covered. You can leave it on the counter if your environment is below 68°F, otherwise the coconut oil will start to melt. If you're in a warm environment, place cookie dough in the fridge. Take the cookie dough out of the fridge about 10-15 minutes before you assemble the melon pan. This will give it time to come to room temperature and soften. You want your cookie dough to be rollable but not completely loose.

Check bread dough: My dough usually takes about 1 ½ – 2 hours to proof on the kitchen counter. To test if it is done, poke a hole in the center of the dough with your finger. If the hole doesn't close back up, it's ready. 

Deflate: Punch down your dough and flip onto a non-stick surface. Divide the bread dough into 8 pieces and roll each into a ball.

Assemble melon pan: Divide the cookie dough into 8 pieces. Roll each out into a flat disk shape. Place one bread dough ball in the center of one disk. Wrap the cookie dough around the bread dough so that it covers most of the surface. Repeat with remaining dough. 

Create melon pattern: To make the "melon" pattern on the breads, make 3-4 shallow cuts across the top of the cookie dough, then make 3-4 more cuts in the opposite direction to create the melon pattern. At this point you can also roll the cookie part in some sugar (preferably coarse sugar) for a crunchier top.

2nd proof: Place the buns on a lined baking sheet and loosely cover with plastic wrap or a tea towel. Place in a warm environment and let rise for about 20 minutes. It should increase in size during this second proof. 

Preheat & bake: While the dough is proofing, preheat the oven to 350°F/180°C. Bake for 15 minutes, until the cookie crust is firm and the bottoms are lightly browned. The bread should feel slightly firm but still soft inside. Transfer to a cooling rack and let the buns cool completely. 
**Notes
MATCHA POWDER: This is purely for color and adds no flavor to the bread, so feel free to omit.


*Disclosure: This page may contain affiliate links. As an Amazon Associate I earn from qualifying purchases, but the price remains the same to you. Thank you for supporting Ellie Likes Cooking!
Save for later!