This page may contain affiliate links. As an Amazon associate I earn from qualifying purchases. Please read our
disclosure
for more info.
Chewy, hearty black bean patties cooked to crispy perfection in a waffle maker. Fun to eat and perfect for meal prepping! Vegan, gluten-free, and ready in under 30 minutes.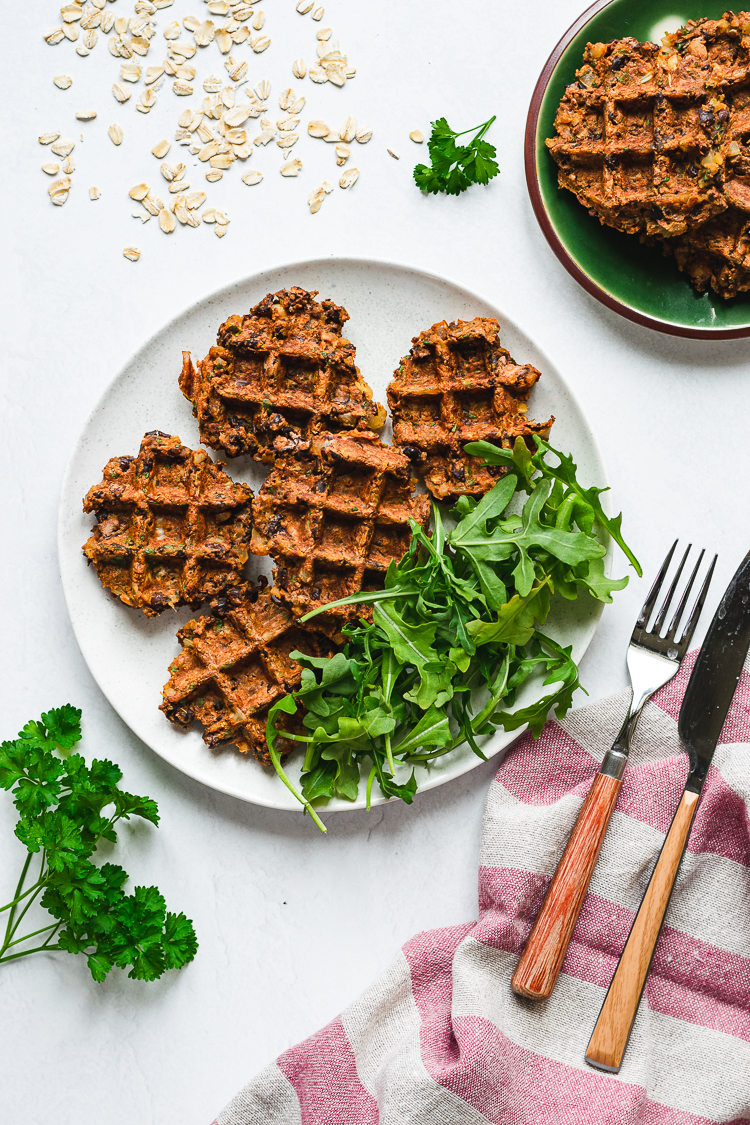 I've been struggling to find new ways to eat beans other than in stews and veggie burgers. I want to be more creative with my cooking but I feel pretty limited when it comes to beans. With tofu you can marinate, braise, fry, roast, bake, crumble, or just put it in stews. But there's so many different flavorings and cooking techniques that it doesn't get boring. Beans, however, can get boring if you're always throwing them in chili or burrito bowls or curry. Not saying those things aren't delicious, because they are when you add the right seasonings. But sometimes you just wanna change things up a bit, you know? Different spices, different cooking method, different texture…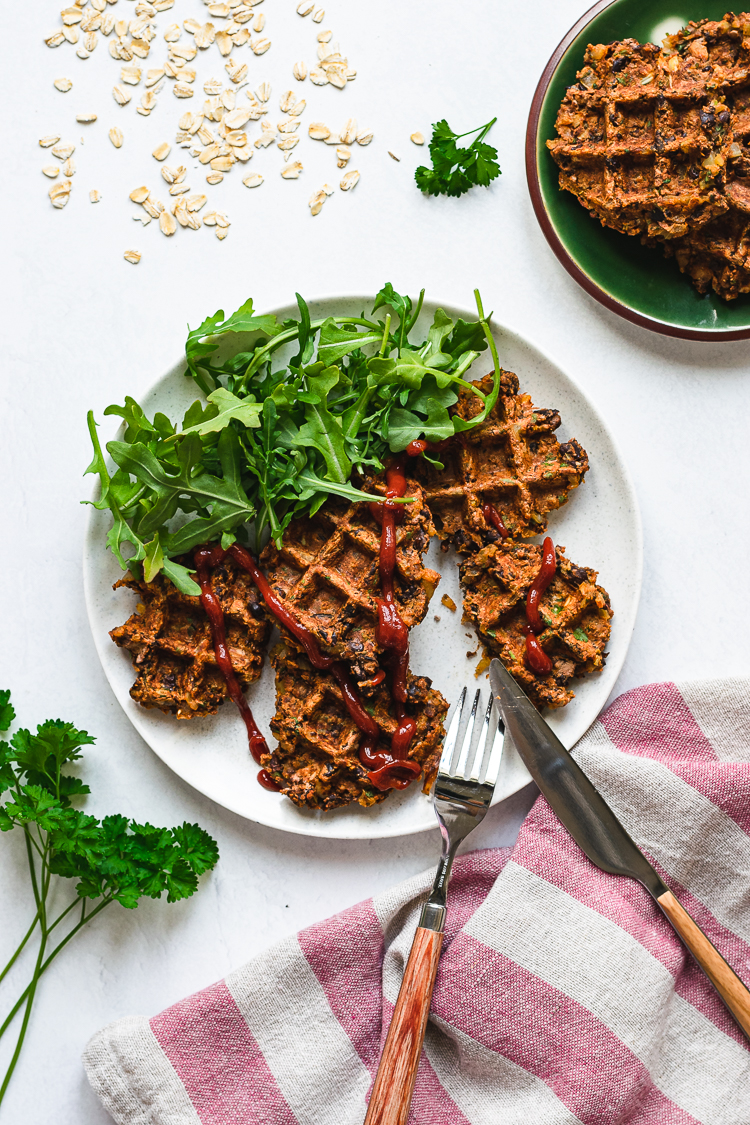 So I started with black beans (because I had been eating a lot of chickpeas recently) and thought, what can I make with black beans? First the usuals: chili, burrito bowl, veggie burgers. Okay, I already have a chili recipe on my site (which needs updated photos, I know, I'm getting to it) and there are tons of other vegan chili recipes on the internet. No, I wanna be more creative. Next. Burrito bowls. Hmm, I could come up with a tasty way to cook black beans for burrito bowls, but let's be honest. If you're eating a burrito bowl it's usually because it's quick (and tasty) to throw together. So no one really wants to spend time making their own beans, and even just cooking them with some onions and spices can take a little too long. So, next.
Veggie burgers. Okay, veggie burgers are good and there's a lot of different ways you can make them. But I still felt it wasn't a creative enough recipe, since again, there are so many veggie burger recipes on the internet already. So how can I be more unique? Enter the brilliant idea…black bean waffles! Making a normal black bean patty but cooking it in a waffle maker makes it 10 times cuter and more fun to eat!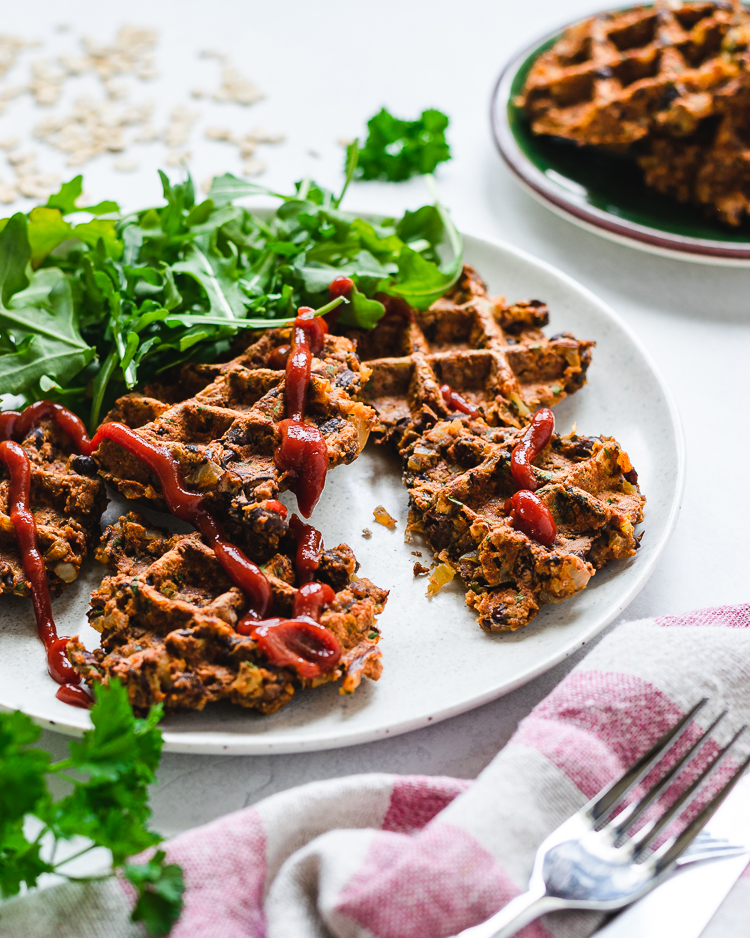 INGREDIENTS
These black bean waffles require 13 plant-based ingredients:
black beans: or sub with another kind of bean (chickpea, pinto, lentils)
onion
celery
garlic
parsley
paprika
cumin
chili powder
nutritional yeast
oat flour
ground flaxseed: or sub with ground chia seeds
ketchup
vegan Worcestershire sauce: or sub the ketchup and Worcestershire sauce with BBQ sauce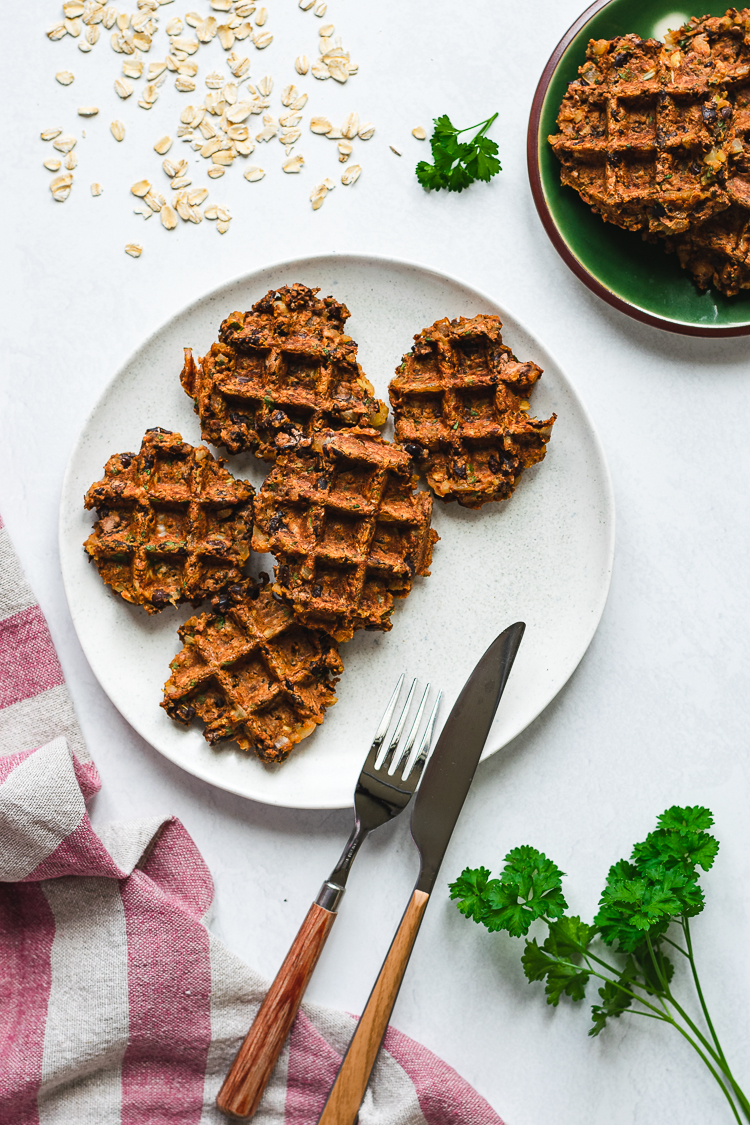 STILL HUNGRY?
Check out these other savory dishes!
I hope you love these waffles as much as I do! Don't forget to tag me in your recreations on instagram @ellielikes.cooking and leave a comment down below letting me know how you liked it! 🙂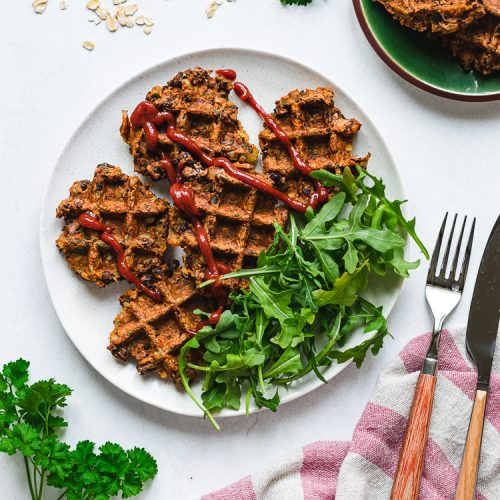 Black Bean Waffles (Vegan)
Chewy, hearty black bean patties cooked to crispy perfection in a waffle maker. Vegan, gluten-free, and ready in 30 minutes!
Ingredients
1

15 oz can

black beans

drained and rinsed

1

tbsp

ground flaxseed + 3 tbsp water

1/2

small onion

chopped

1

rib of celery

chopped

2

garlic cloves

minced

1

handful

fresh parsley

chopped

salt & pepper

to taste

1/2

tsp

paprika

1/2

tsp

cumin

pinch of cayenne pepper

2

tbsp

nutritional yeast

1/4

cup

oat flour

2

tbsp

ketchup

2

tbsp

vegan worcestershire sauce

1

tsp

chili powder
Instructions
Preheat oven to 325°F. Arrange black beans on a baking sheet lined with parchment paper and bake for 10-15 minutes. The beans should be slightly dried out and not wet.

Mix together ground flax and water and set aside to gel.

Meanwhile, cook onion, celery, and garlic in oil or water in a pan over medium heat for about 5 minutes, or until onion turns translucent. Remove from heat and let cool as you prepare the next step. 

Once the beans have dried out slightly, take out of the oven and briefly cool. Place in a mixing bowl and mash beans with a fork, leaving about half the beans whole. 

Once you've mashed the beans, add in the cooked veggies and remaining ingredients. Mix until combined. Let sit for a few minutes as you heat up the waffle iron. 

Lightly oil both sides of your waffle iron so the black bean mixture does not stick. When your waffle iron is heated, add a big spoonful of the mixture into each section of your waffle iron (as opposed to one spoonful in the center, as this mixture will not spread like a typical waffle batter). Close your waffle iron and let your waffles cook. They will be firm and browned on the outsides when they are ready (about 3 minutes, depending on your waffle maker). 
Save for later!