This page may contain affiliate links. As an Amazon associate I earn from qualifying purchases. Please read our
disclosure
for more info.
Learn how to make healthy & delicious jam at home with just 2 ingredients – fruit and chia seeds! Super easy to make and great with toast, oatmeal, yogurt, or in baked goods.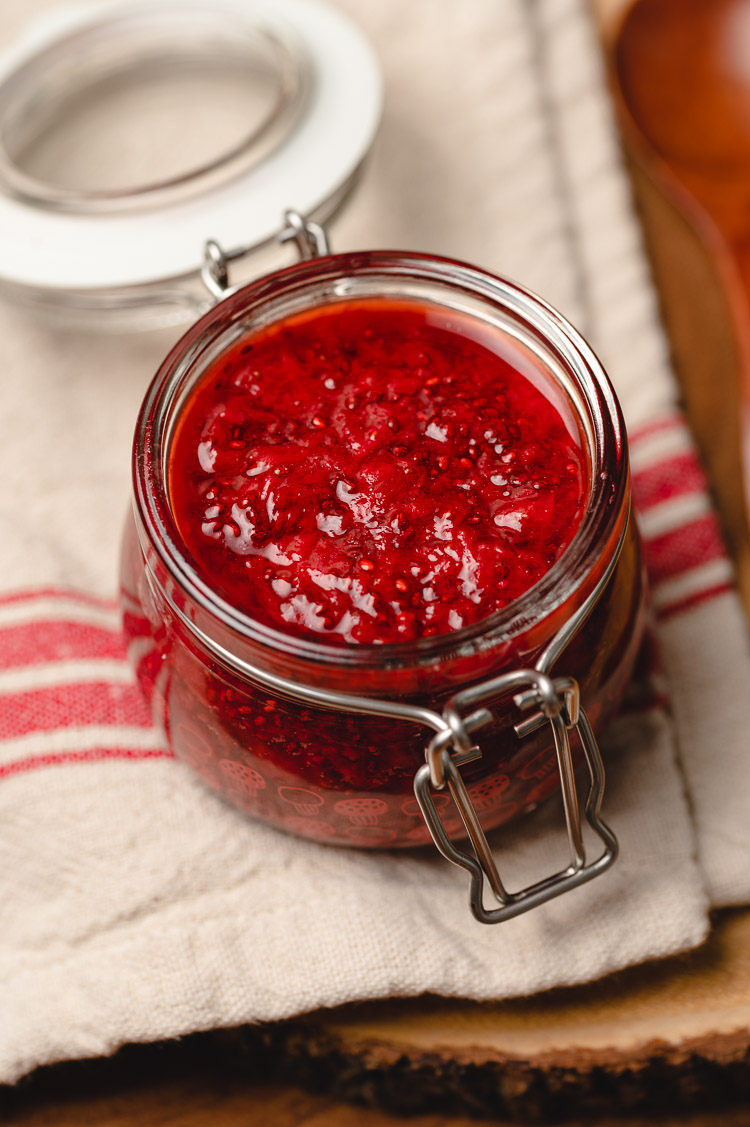 I've been making a batch of chia jam every week and using it in my oatmeal bowls, on zucchini bread (with a little vegan butter, too), and toast with peanut butter. I've even made pb&j thumbprint cookies with it. It's so tasty and easy to make! Plus a great way to get in some extra fiber, nutrients, and healthy fats. All you need are fruit and chia seeds (or ground flaxseeds)!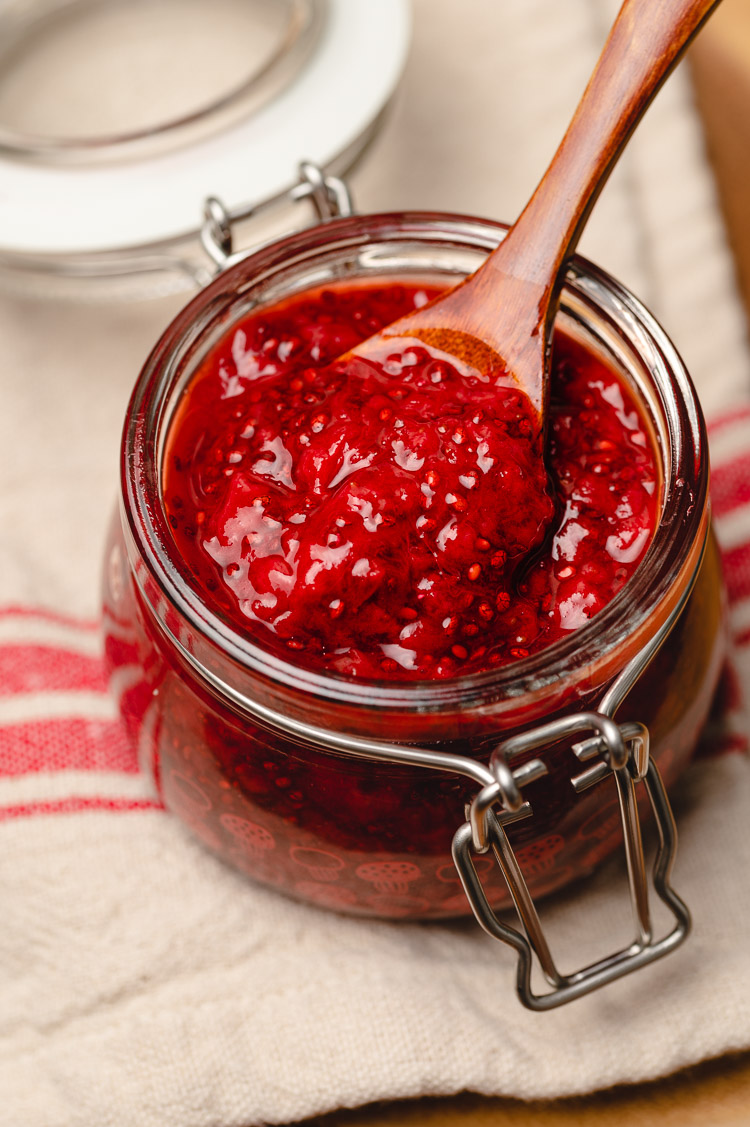 Homemade Chia Jam FAQ
Can I use fresh fruit?
Yes, though I prefer frozen fruit as they are easier to mash up once they've thawed.

What kind of fruit should I use?
I love making chia jam with frozen berries (strawberries, blackberries, blueberries, raspberries, or a mix), but frozen cherries, peaches, or even mango would probably be delicious too!

I don't like the texture of chia seeds. Can I use something else?
Use ground chia seeds or ground flax seeds.

What else can I do with chia seeds?
Chia seeds are a great way to get in a little plant protein, omega 3's, and fiber! You can add them to smoothies, baked goods (use them as an egg replacement – 1 tbsp ground chia seeds + 3 tbsp water), chia pudding (like this Snickers chia pudding), oatmeal, or even rice!
*Storage tip: Store chia seeds in the fridge or freezer to make them last longer.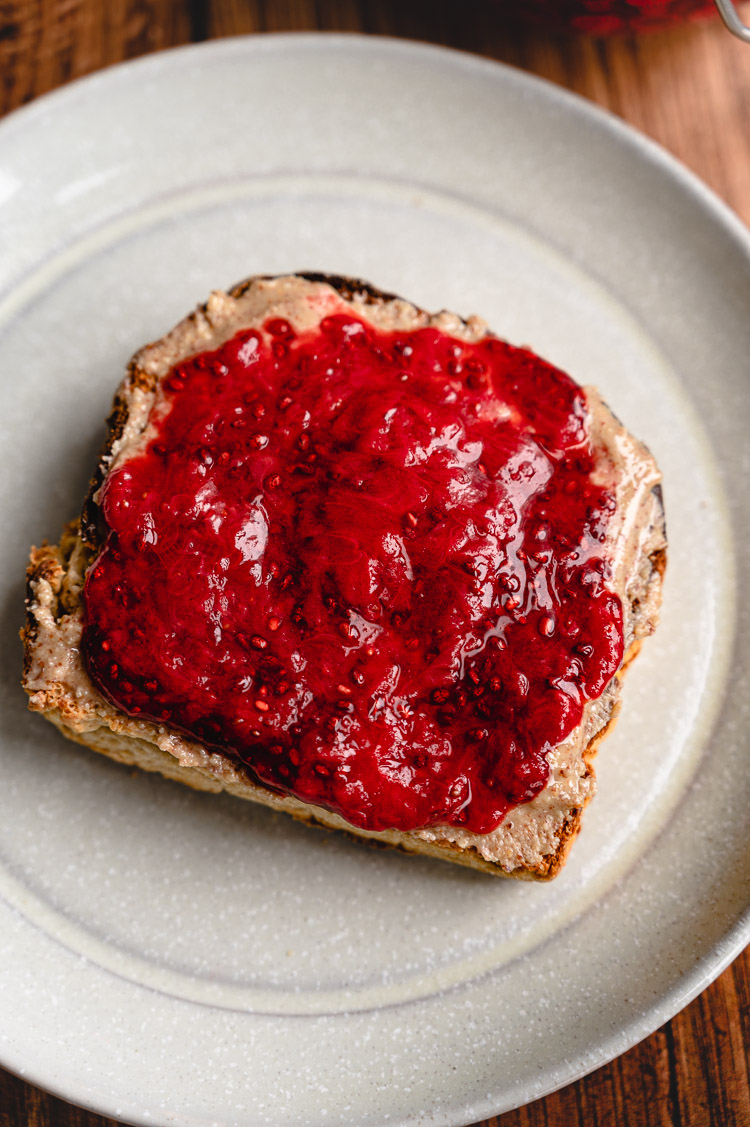 How to Use Chia Jam
Chia jam is great to use anyway you would use regular jam.
on toast with butter or nut butter
on pancakes or french toast
as a filling for crepes
in oatmeal bowls
in yogurt bowls or parfaits
in baked goods like cookies, fruit bars, or hand pies
swirled into cakes
with scones
on ice cream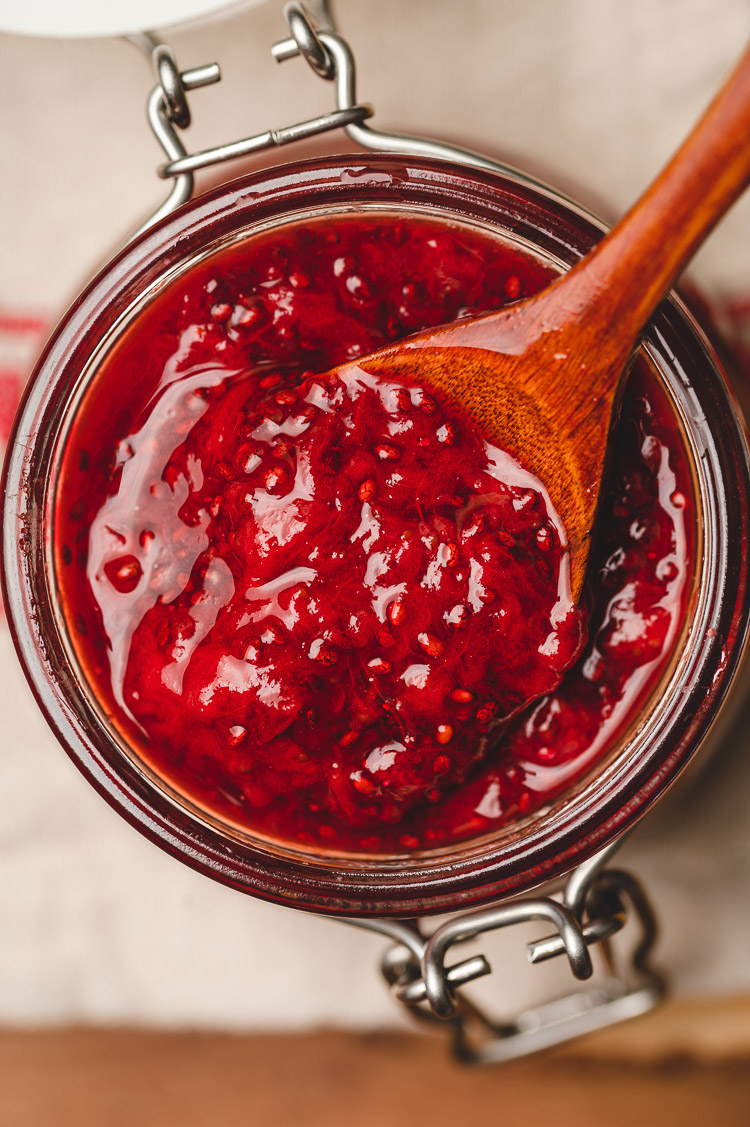 If you make this chia jam, don't forget to leave a comment/rating down below and tag me in your photos on instagram @ellielikes.cooking. I love seeing all of your tasty recreations!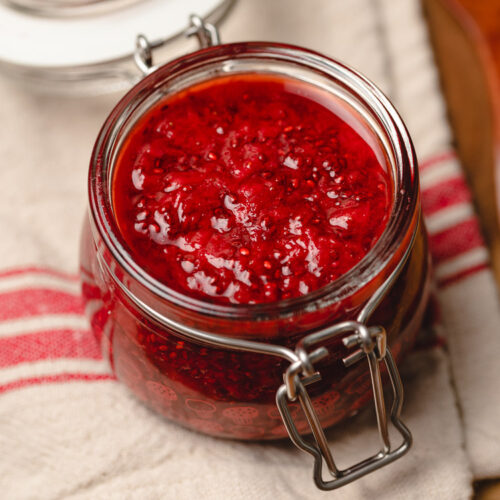 2 Ingredient Chia Jam
Learn how to make healthy & delicious jam at home with just 2 ingredients – fruit and chia seeds! Super easy to make and great with toast, oatmeal, yogurt, or in baked goods.
Ingredients
Optional
1

tbsp

lemon juice

1

tsp

lemon zest

1-2

tbsp

sweetener (maple syrup, agave, sugar)
Instructions
Add frozen fruit to a saucepan over medium heat. Cover for a few minutes to let the fruit thaw and break down. Stir occasionally so the fruit doesn't stick to the pan.

Once the fruit has thawed and released liquid, uncover the pan. Use the back of a spoon or a potato masher and mash the fruit until there are no large chunks left. Let the mixture simmer for a few minutes to thicken.

If using lemon and sweetener, add them in now and stir until sugar dissolves. I suggest tasting the jam first though, as your fruit may be sweet and/or tart enough as is. Adjust lemon juice and sweetener to taste.

Turn off heat and stir in chia seeds (use 2 tbsp if you added lemon/sweetener). Set aside for 5-10 minutes to allow the chia seeds to soak up liquid. Chia jam will thicken more in the fridge, but you can eat it now if you'd like. (If the chia jam doesn't thicken enough to your liking, add another 1-2 tsp of chia seeds and let it sit another 10 minutes.)

Store in an airtight container in the fridge for up to a week.
**Notes
Frozen Fruit: You can swap for fresh fruit and cook uncovered. Once soft, proceed from step 2.


*Disclosure: This page may contain affiliate links. As an Amazon Associate I earn from qualifying purchases, but the price remains the same to you. Thank you for supporting Ellie Likes Cooking!
Save for later!