This page may contain affiliate links. As an Amazon associate we earn from qualifying purchases. Please read our
disclosure
for more info.
Crunchy, chocolatey, protein-packed granola perfect for breakfast or snacking throughout the day. Gluten-free, oil-free, and just 9 plant-based ingredients!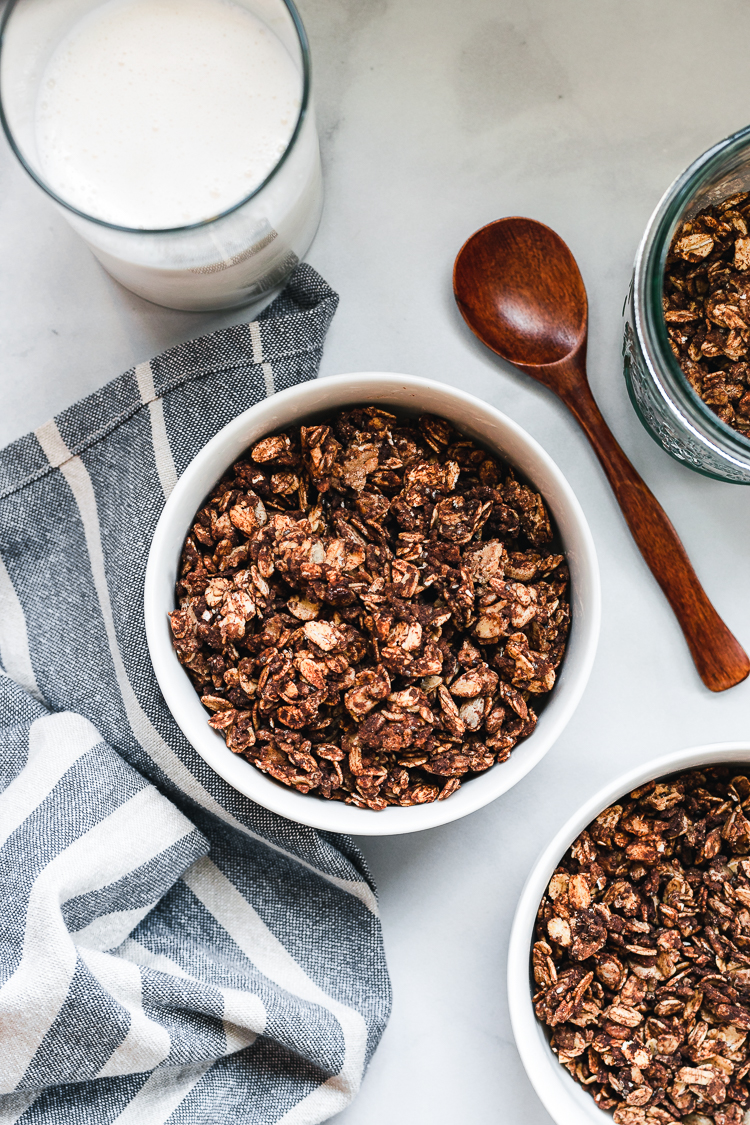 Granola is, without a doubt, one of my all-time favorite breakfasts/snacks/desserts. It's so addicting and dangerously easy to eat an entire batch in one sitting (I've done that more times than I would like to admit.) With store-bought granola I often don't feel great after doing that, since a lot of brands (especially the more affordable store brands) tend to include a lot of added sugars and oils that, while delicious, aren't necessary imo to making a good granola. That's why I'm a huge proponent of homemade granola — it's healthier, budget-friendly, and so easy to make!
The Ingredients
You can really add as little or as much variety as you want to your granola. I like to break it down into 4 components:
The base
This is the bulk of the granola and can consist of various grains (unless you're going grain-free, then bulk up on the nuts/seeds):
Nuts/Seeds
This is where that extra health comes in. Nuts and seeds are chock full of healthy plant-based fats and various micronutrients. They're also more calorically dense than grains so they'll help you feel more satisfied from a smaller serving. My favorites for granola are: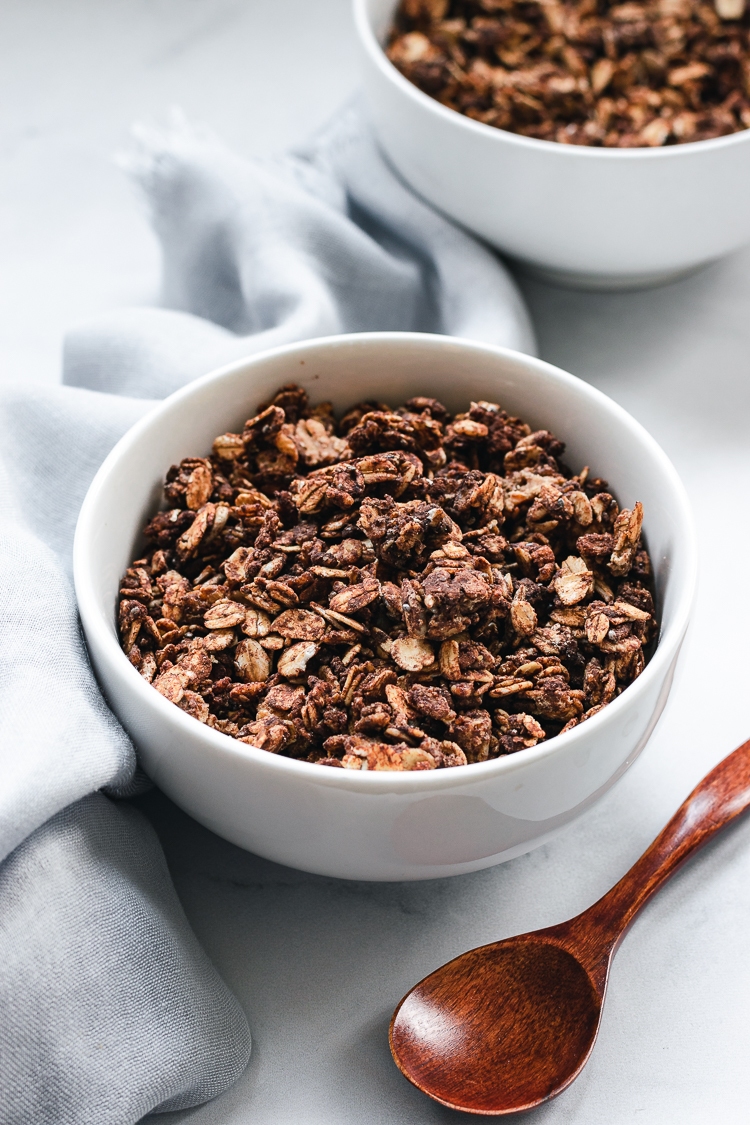 Sweetener
Unless you're making savory granola, a good sweetener is key to making delicious granola. I love using liquid sweetener, particularly maple syrup, since it binds the granola better than dry sugar. You can also use agave, honey (if you're not vegan), or regular sugar. Applesauce can also work to substitute half the sweetener, to cut back on the added sugars.
The fat — to create crunchy, clustery granola
Typically oil is added to granola to create those crunchy clusters everybody loves. But if you're making your own at home, nut/seed butters work perfectly as an oil-free alternative. You can still create crunchy granola while also reaping the benefits of those extra nutrients from the nut/seed butter.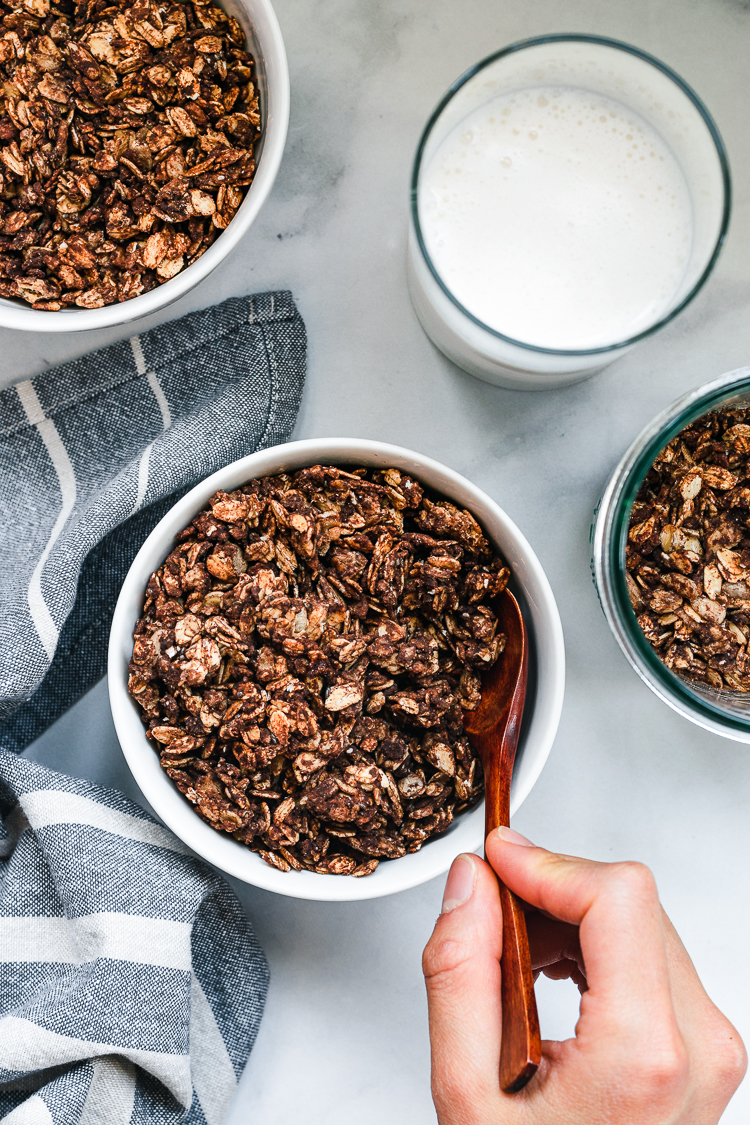 Tips & Tricks to Making the Best Granola
Make sure the nut/seed butter is runny, not solid or clumpy. If it's hard, heat it in the microwave for 30 seconds and mix until it becomes runny and pourable.
The fat from the nut/seed butter will help make the granola crunchy, but baking on a lower heat for longer time is also a great method for achieving crunchy granola clusters.
To create clusters, press the granola down into the pan before baking. It should be tightly packed.
Gently flip the granola halfway through baking. Don't mix it too much or you will break up the clusters before they've fully baked together. Just gently turn the granola over so the bottom doesn't burn.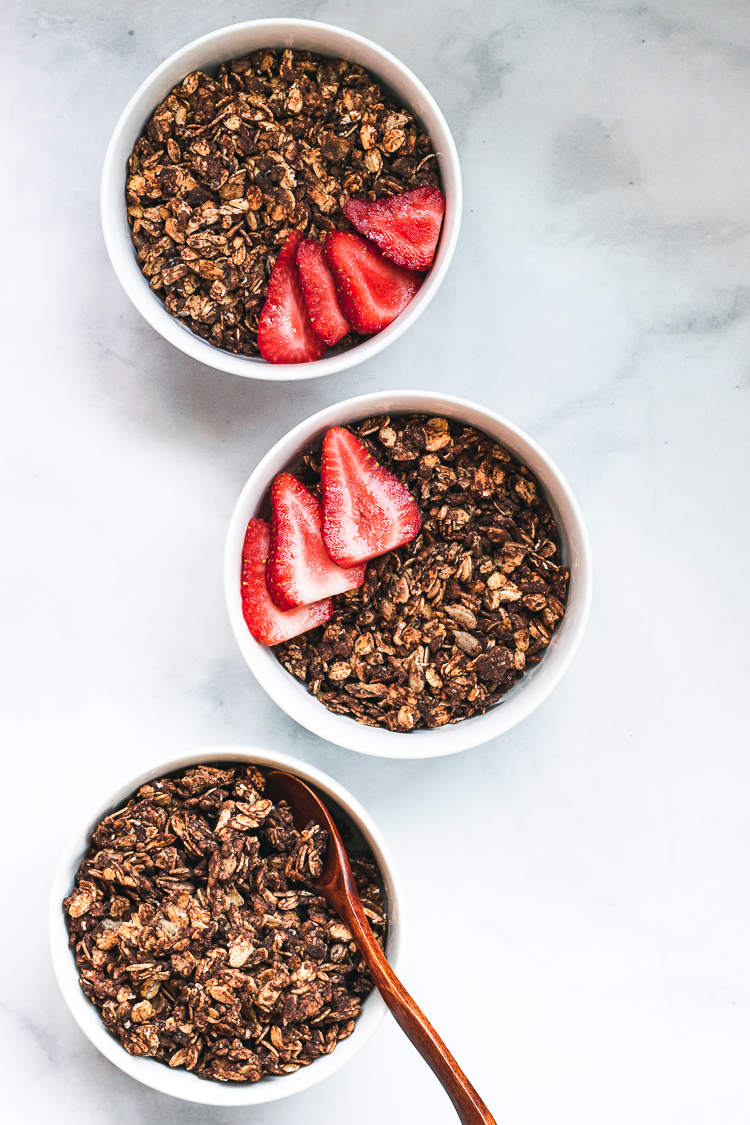 Still hungry?
Check out these other great snack options!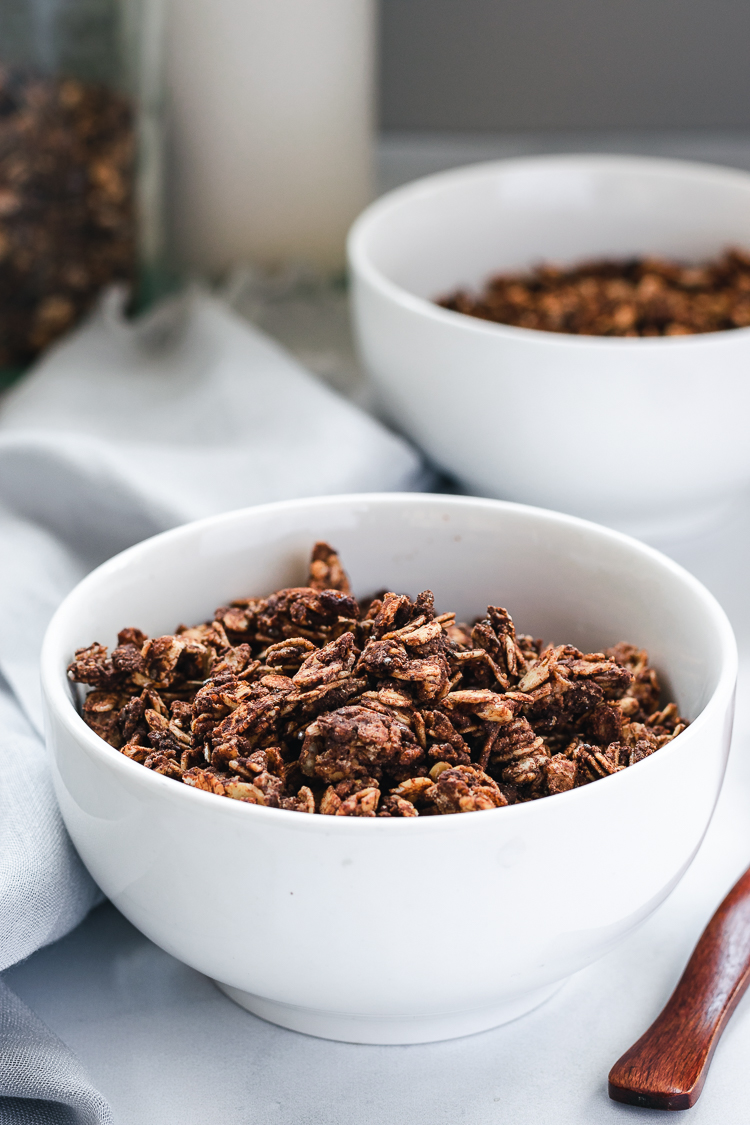 If you try out this recipe, don't forget to tag me in your photos on instagram @ellielikes.cooking and/or leave a comment down below and let me know what you think! I love seeing your tasty recreations 🙂 You can also follow me on pinterest for more yummy vegan food inspo. Happy cooking!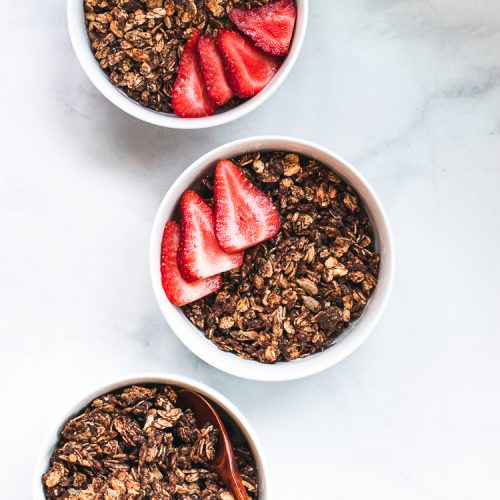 Chocolate Peanut Butter Granola (Oil-Free)
Crunchy, chocolatey, protein-packed granola perfect for breakfast or snacking throughout the day. Gluten-free, oil-free, and just 9 plant-based ingredients!
Ingredients
2

cups

rolled oats

2

cups

crispy rice cereal

1

scoop

vegan chocolate protein powder

3

tbsp

cocoa powder

2

tbsp

chia seeds*

2

tbsp

sunflower seeds*

¼

cup

applesauce

¼

cup

maple syrup

¼

cup

peanut butter
Instructions
Add all ingredients to a big bowl and mix until well combined. Spread on a lined baking sheet and bake 30 min, turning halfway through to prevent burning. Remove from oven and let cool completely before eating. Store in an airtight container at room temp for up to 5 days.
**Notes
*Can sub other nuts/seeds of choice (almonds, walnuts, flax, etc.).
Disclosure: This page may contain affiliate links. As an Amazon Associate I earn from qualifying purchases, but the price remains the same to you. Thank you for supporting Ellie Likes Cooking!
Save for later!