This page may contain affiliate links. As an Amazon associate I earn from qualifying purchases. Please read our
disclosure
for more info.
These vegan nachos are piled high with meaty tofu crumbles, crispy lettuce, roasted bell peppers, salsa, creamy guac and a vegan cheese sauce. Gluten-free and oil-free, yet so satisfying and delicious!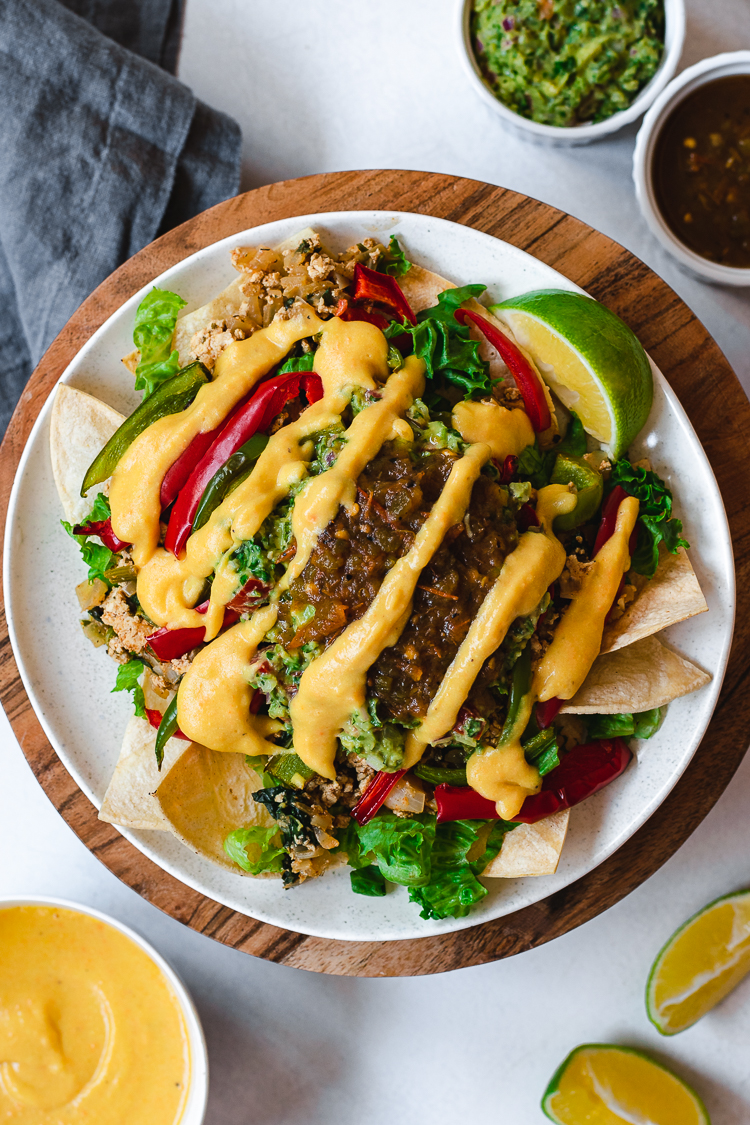 Do you ever just crave something super hearty, fatty, cheesy, and all-around delicious, but know that if you got (plant-based) fast food it would probably leave you feeling lethargic and unmotivated to tackle further tasks that day? Don't get me wrong, there's a time and place for fast food/"junk" food and it's not something to feel guilty about. But sometimes you just want to satisfy your cravings without too much excess sodium and oil. Don't worry, I got you.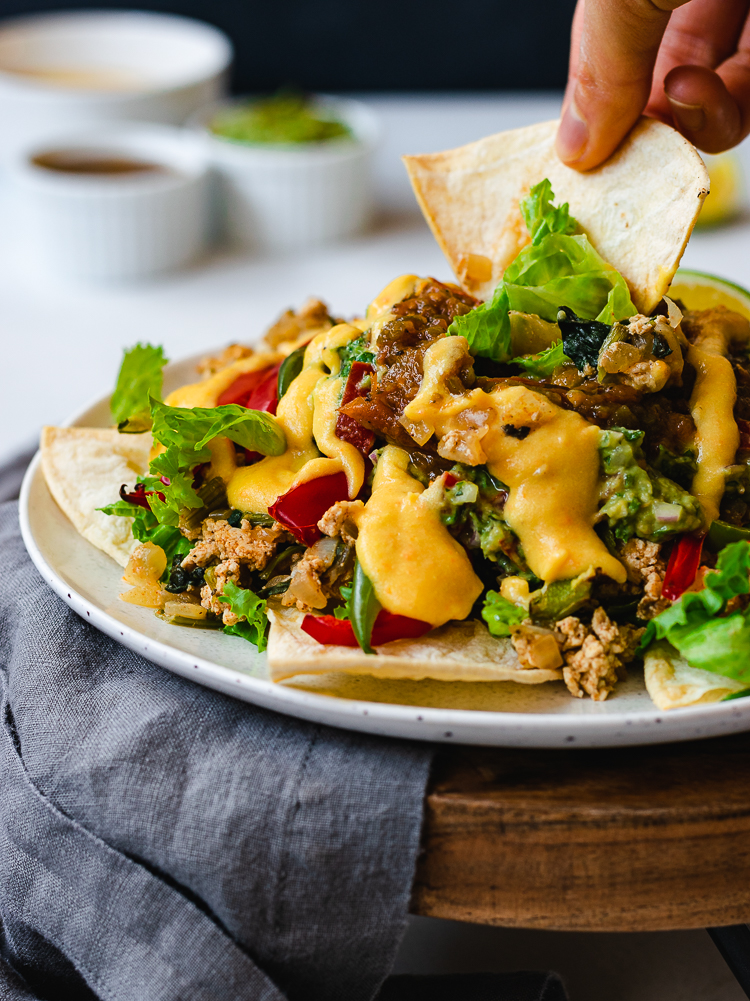 These nachos are the perfect easy "junk" food — but they're actually really healthy with homemade tortilla chips, tofu crumbles, lettuce, guac, salsa, grilled veggies, and a homemade vegan cheese sauce! They are so satisfying though and everything is quick and simple to make. Healthier, tastier, cheaper, and, imo, more convenient than fast food (because you don't even have to leave your house). Honestly, what could be better? If you haven't tried making your own nachos at home before, then this is your sign to do that. right now. Don't worry, I'll walk you through it. Just keep scrolling!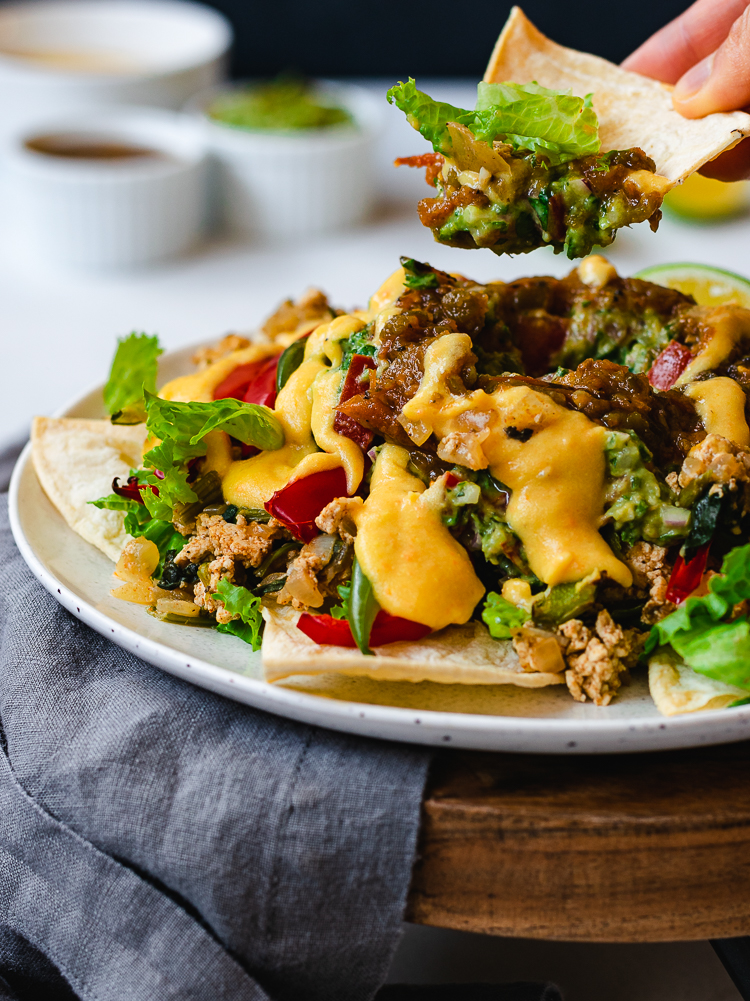 LOADED VEGAN NACHOS INGREDIENTS
There are 7 components to building this nacho tower:
tortilla chips ⟶ to make these healthier you can air-fry or bake cut up corn tortillas
meaty tofu crumbles ⟶ crumbled tofu marinated in spices and cooked to hearty perfection
roasted/grilled veggies ⟶ to get in some extra veg — I recommend bell peppers, onions, or zucchini
lettuce ⟶ to add that crispy texture
guac ⟶ to make it creamy and give you all those healthy fats
salsa ⟶ for spicy, salty goodness
vegan cheese sauce ⟶ made from cashews, potatoes, carrots, and spices — this sauce is cheesy, creamy, and just perfect on these nachos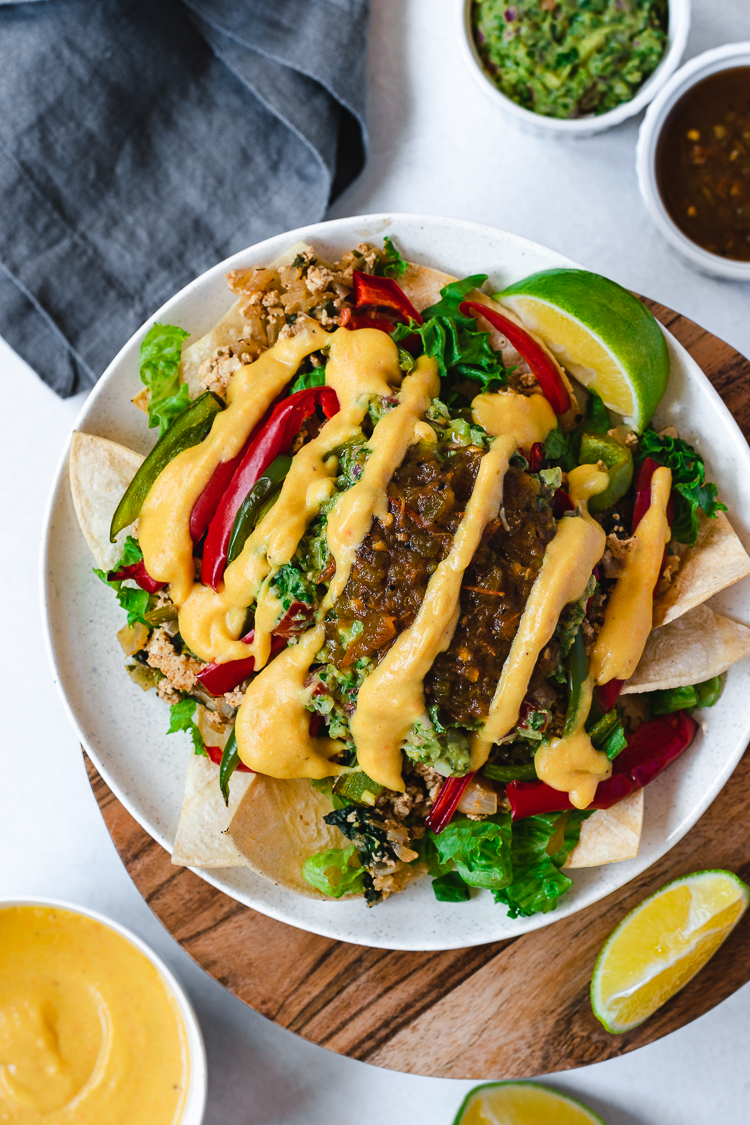 GREAT FOR MEAL PREP
You can prep most of these ingredients ahead of time, making it the perfect quick weeknight meal. The homemade tortilla chips will get very hard over time though, so that is the one ingredient that must be made right before you are ready to eat. If you want to bring this on the go with you for lunch at work/school, I recommend not toasting the tortillas and instead you can eat them like tacos. Or you can use store-bought chips, but keep in mind they do contain more sodium and oil.
STILL HUNGRY?
Check out these other hearty plant-based dishes!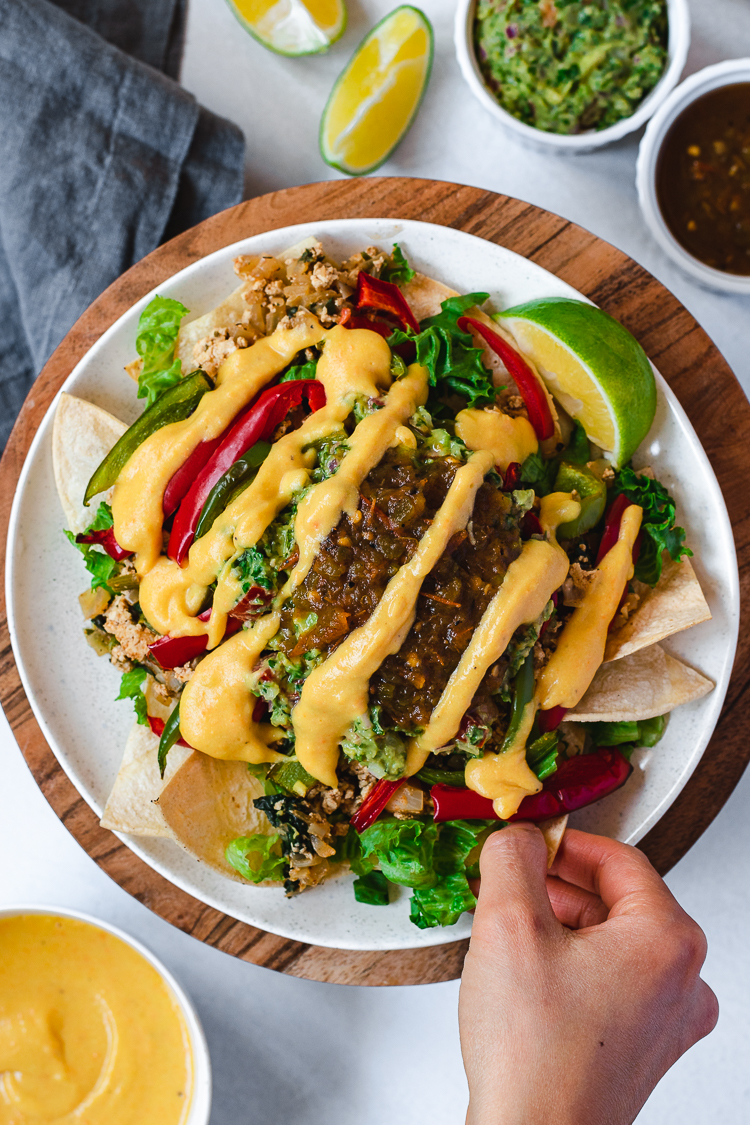 If you do try out this recipe, don't forget to tag me in your recreations on instagram @ellielikes.cooking and/or leave a comment down below and let me know how you liked it! And thank you for trying it if you do 🙂 It makes me so happy to know that my voice is actually being heard by someone, and if just one of my recipes can help you eat better, I am doing my job! So thank you, even if you don't try it, thank you for reading this and being here. Happy cooking!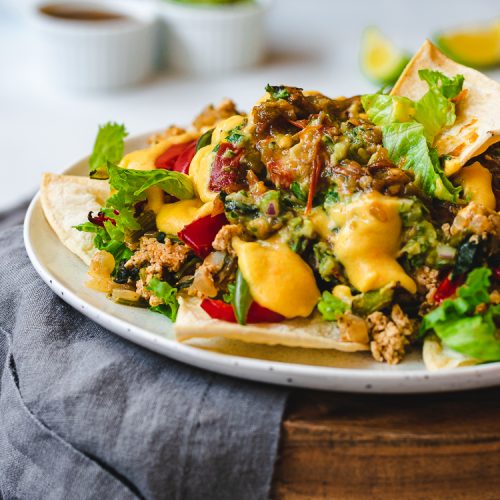 Loaded Vegan Nachos
These vegan nachos are piled high with meaty tofu crumbles, crispy lettuce, roasted bell peppers, salsa, creamy guac and a vegan cheese sauce. Gluten-free and oil-free, yet so satisfying and delicious!
Ingredients
Tofu Crumbles
1

14oz block

firm tofu

crumbled

1

tsp

paprika

1

tsp

chili powder

1/2

tsp

cumin

1/2

tsp

oregano

2

tbsp

nutritional yeast

1/4

tsp

salt

1/4

tsp

pepper

1/2

onion

chopped

2

garlic cloves

minced
Vegan Cheese Sauce
1/2

cup

cashews

soaked overnight or in hot water for 1-2 hours

1

tbsp

soy sauce or ½ tsp salt

1/4

cup

nutritional yeast

2

tsp

lemon juice

¼

tsp

garlic powder

1/2

tsp

paprika

1/4

tsp

turmeric

1

cup

soy milk (or other plant-based milk)

1

large russet potato

peeled, cubed, and steamed

1

carrot

chopped and steamed
Guacamole
1

avocado

2

tbsp

red onion

finely chopped

1

small tomato

chopped

2

tbsp

chopped cilantro

1/2

lemon or lime, juiced

salt & pepper to taste
Remaining Ingredients
2

bell peppers (or vegetable of choice — onions and zucchinis are also good)

sliced

1

tbsp

oil

2

cups

shredded lettuce

1/4

cup

salsa

6

corn tortillas
Instructions
Tofu Crumbles
Crumble tofu into a bowl. Add in spices and mix. Let the tofu marinate in the spices for at least 30 minutes.

When ready to cook the tofu, heat a pan over medium heat. Add onions, garlic, and a splash of water. Cook until onions start to turn translucent, then add in tofu and mix well. Continue to cook for a few more minutes until tofu is heated. Remove from heat, cover, and set aside while you prepare the rest of the ingredients.
Vegan Cheese Sauce
Make sure the potatoes and carrots are fully cooked and soft. Combine all ingredients in a blender and blend until completely smooth. Add more plant milk if needed to thin. Taste and add more salt if needed.
Guacamole
Mash avocado in a bowl. Add in remaining ingredients and mix until combined. Taste and adjust seasonings as needed.
Roasted/Grilled Veggies
Slice bell peppers (or vegetable of choice). Toss with oil and a pinch of salt and pepper. Then either cook in air fryer at 375°F for about 10 minutes, or roast in the oven at 400°F for about 20 minutes (cooking time may vary for different vegetables, so keep an eye on them and flip halfway to prevent the bottoms from burning).
Tortilla Chips (or use store-bought chips)
Cut tortillas into 1/6ths. Spray or brush with a bit of oil on both sides.

Place cut tortillas into an air fryer at 350°F for about 10 minutes, checking after 5 minutes and shaking the basket to move the tortillas around. Continue to heat until crispy. OR bake in the oven at 350°F for about 20 minutes, flipping halfway through.
Nacho Assembly
Place tortilla chips on a large plate. Top with lettuce, tofu crumbles, roasted veg, guacamole, salsa, and drizzle with cheese sauce. Dig in and enjoy!
Save for later!


Disclaimer: This page may contain affiliate links. As an Amazon Associate I earn a small commission if you purchase something through one of my links, but the price remains the same to you. Thank you for supporting Ellie Likes Cooking!