This page may contain affiliate links. As an Amazon associate I earn from qualifying purchases. Please read our
disclosure
for more info.
Think of rice cakes as a vehicle for your favorite spreads, toppings, and flavors. This list includes 6 different variations of rice cakes, but the possibilities are endless!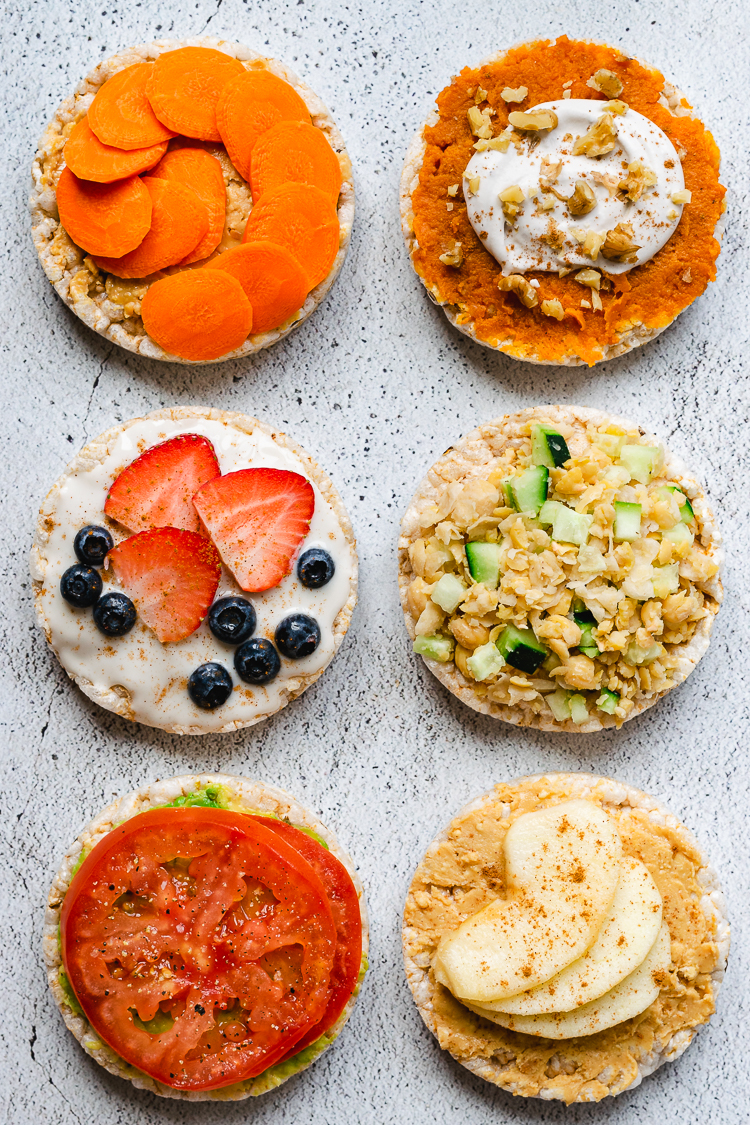 Do rice cakes even taste good?
I was pretty skeptical of rice cakes at first. They look and sound like plain せんべい (Japanese rice crackers) — which they kind of are — and that just wasn't appealing to me. I mean peanut butter on rice? Uh, no thanks. Needless to say, it was a few years after the rice cake craze hit that I finally tried one (i.e. like a month ago). But now I can honestly say, I'm hooked. This stuff is good. I don't know why, it doesn't even really taste like anything (especially if you get the unsalted ones like I do). But it's light, crunchy, and oddly satisfying. On its own it's kinda very meh, but use it as a vehicle for your favorite spreads and toppings and it's a total game changer. Like bread but lighter and without all the preservatives — and gluten and oil-free too!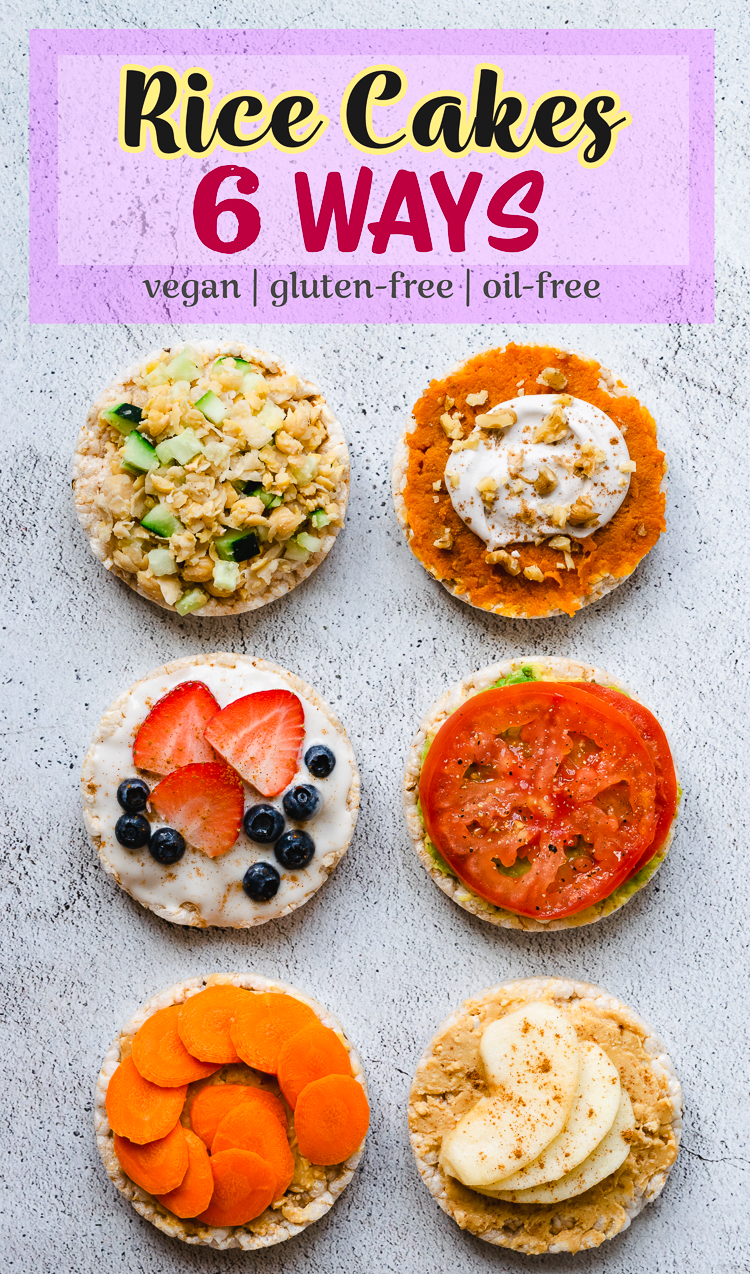 Although I'm only sharing 6 variations today, there's honestly so much you can do with rice cakes. They can be sweet or savory — the magic of the plainness of them. Build mini sandwiches with them or eat them like toast, make mini pizzas, crumble them in your salads like croutons?? I don't know man, just get creative! But if you're a rice cake virgin, it's all good. Just start out with these 6 simple yet delicious rice cake variations and experience the magic that is these crunchy, airy little cakes.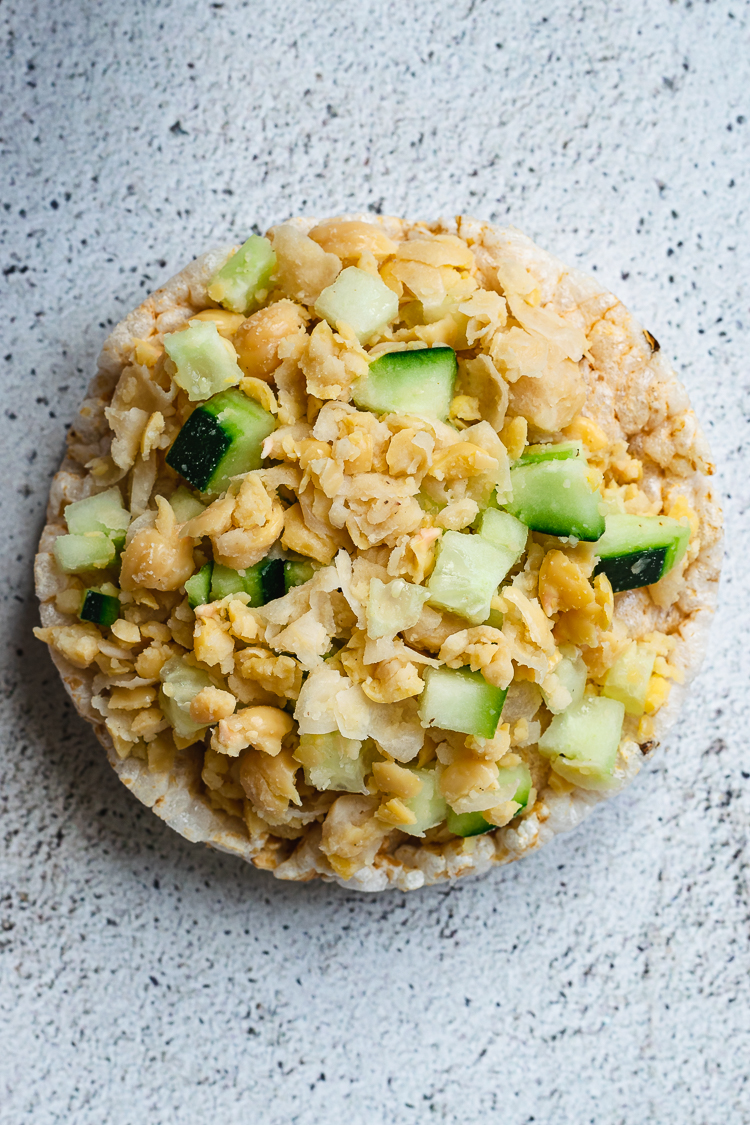 Chickpea Salad
We'll start off with the savory variations. First up is a protein-packed chickpea salad! You can either use your favorite chickpea salad recipe, or make a super quick one by mixing together the following:
1/4c chickpeas, mashed
1 tbsp tahini or vegan mayo
1 tsp mustard
chopped cucumbers/pickles/celery
a dash of paprika
salt & pepper to taste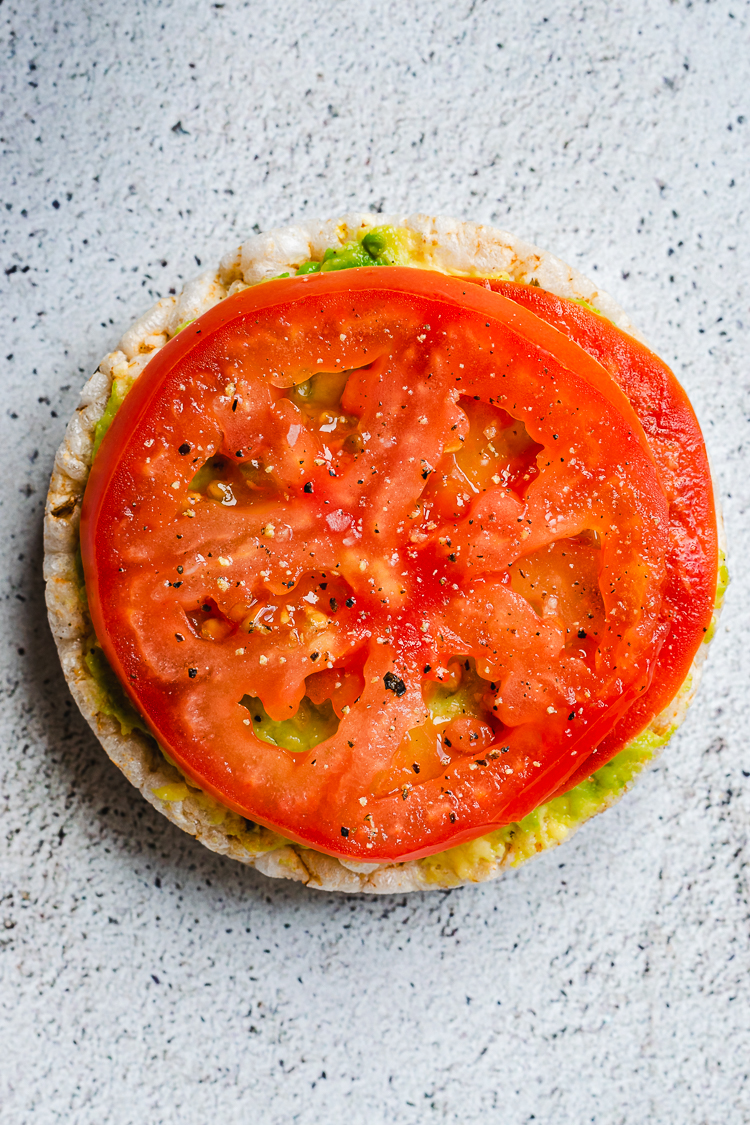 Avocado and Tomato
Basically avocado toast but on a rice cake. Need I say more? Do you really need a recipe? I doubt it, but I'll leave a super simple one for any avo toast virgins out there:
1/2 avocado, mashed
1 tomato, sliced (it's also really good if you grill/pan fry the tomato slices for a bit, just saying)
squeeze of lemon
salt (I love using garlic salt) and pepper to taste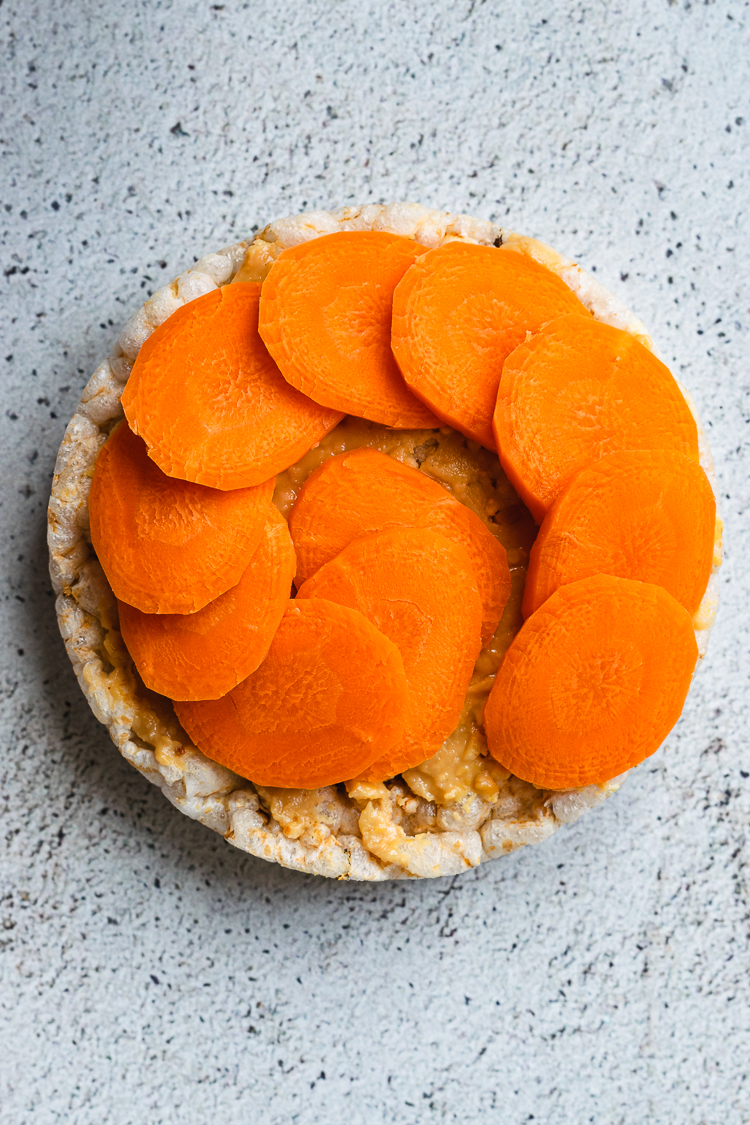 Carrots and Peanut Butter
If you've never heard of the wondrous combination that is carrots and peanut butter, where have you been?? I love snacking on peanut butter and carrots when I'm craving peanut butter but don't feel like having fruit. The slight sweetness of the carrots complements the peanut butter so well without leaving a sugary aftertaste.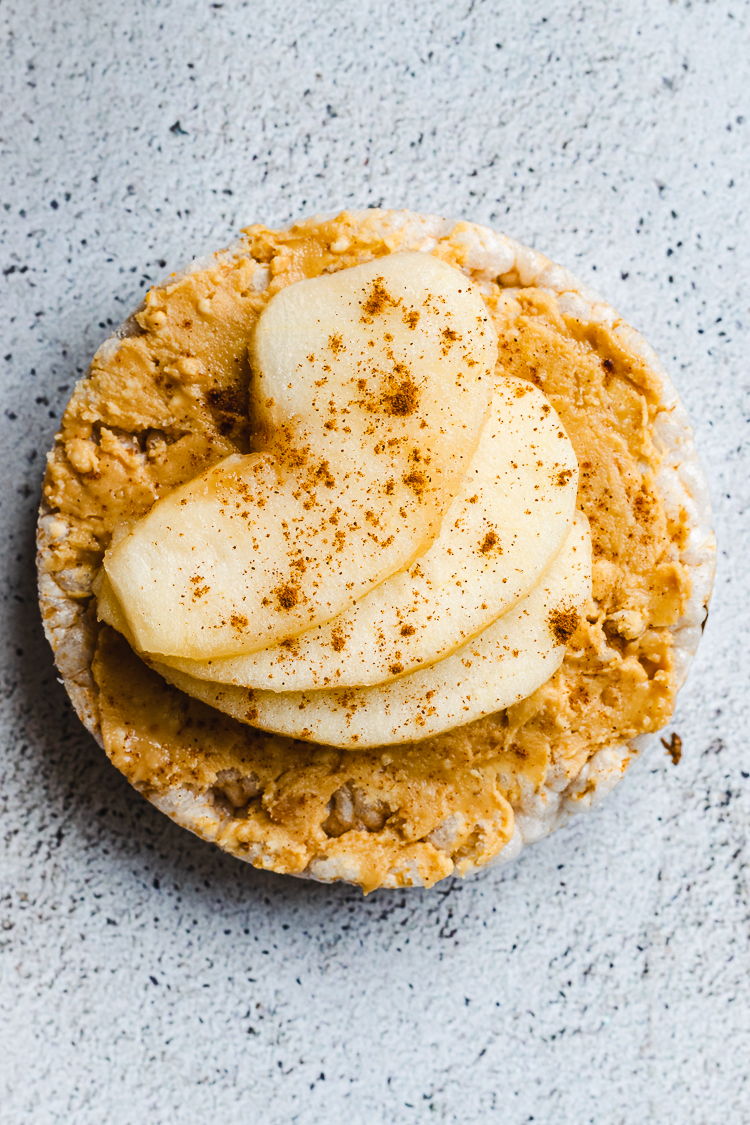 Apples and Peanut Butter
The sweet sister to the carrots & pb previously mentioned. Everyone already knows apples and peanut butter are a match made in heaven, so this combo shouldn't surprise anyone. It's also really good with banana slices. Or you can get crazy and add both. Or all three including the carrots???
2 tbsp peanut butter
1 apple, thinly sliced (if you're feeling extra adventurous, you can cook the apples in a saucepan until soft and tender)
sprinkle of cinnamon, optional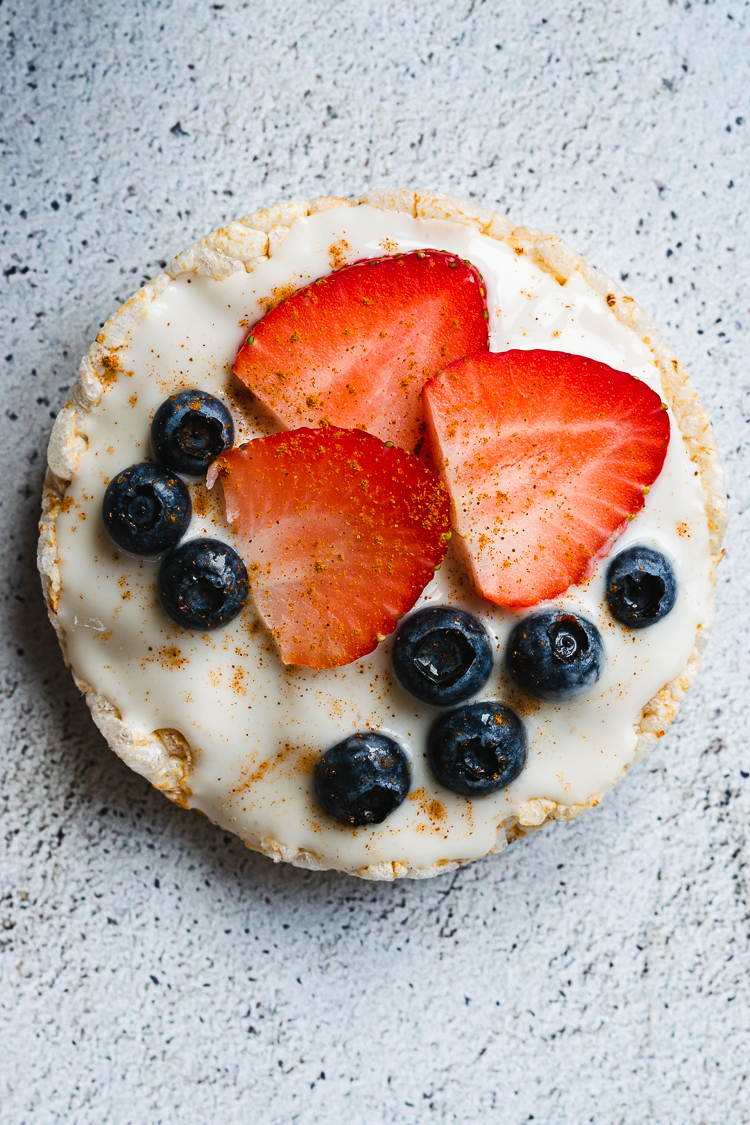 Yogurt and Berries
Like a parfait…just assembled differently. The rice cake acts as the crunch factor, but feel free to add some granola too. Use whatever berries you have, or try other fruits too — banana, mango, pineapple, kiwi — these recipes are very easily customizable.
1/4c non-dairy yogurt of choice (I use plain cashewgurt as it's thick enough that it doesn't just slide right off the rice cake)
berries/fruit of choice
sprinkle of cinnamon, optional
drizzle of maple syrup, optional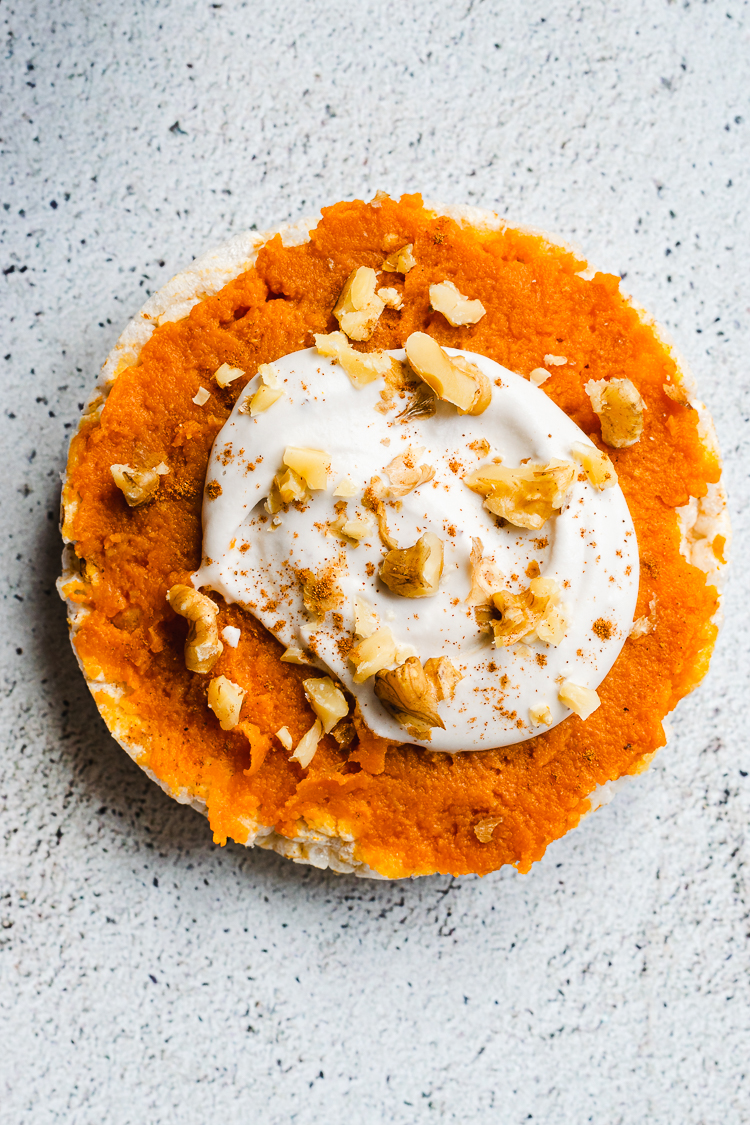 Pumpkin Pie
And last but not least, but personal new favorite: pumpkin pie! Perfect for when you have a sudden pumpkin pie craving in the middle of summer but don't want to bake an entire pie. And you need to satisfy your craving now. You gotta have the coco whip though, that's what really ties it all together.
And there you have it! 6 super simple but totally delicious ways to enjoy rice cakes. I hope this inspires some of you to jump on the rice cake bandwagon too, or at least help you finish that bag of rice cakes that you bought and have no idea what to do with. And please share in the comments how you eat your rice cakes! There are so many possibilities and I would love to try out more variations 🙂
STILL HUNGRY?
Check out some more sweet & savory bites!

Save for later!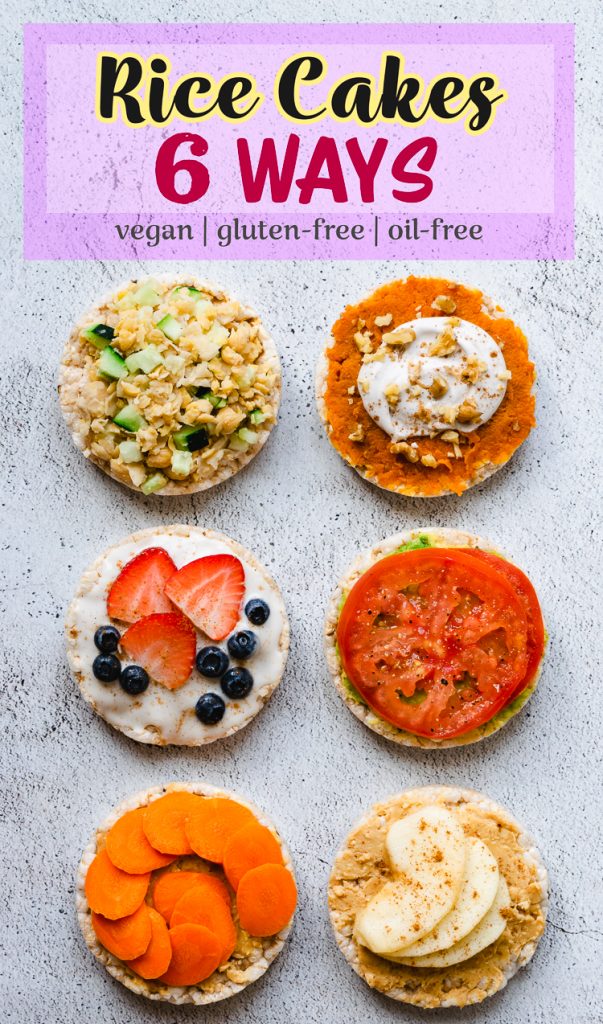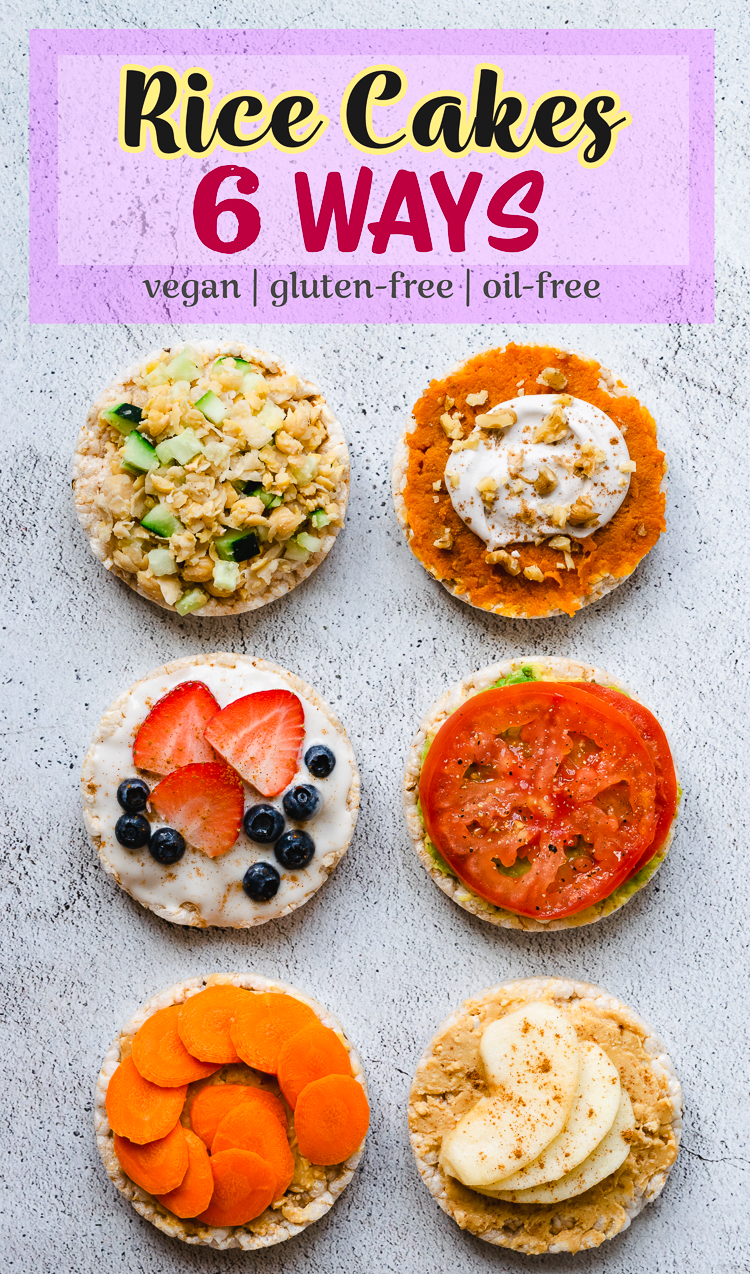 Disclosure: This page may contain affiliate links. As an Amazon Associate I earn from qualifying purchases, but the price remains the same to you. Thank you for supporting Ellie Likes Cooking!