This page may contain affiliate links. As an Amazon associate we earn from qualifying purchases. Please read our
disclosure
for more info.
A creamy, comforting, veggie-packed twist on miso soup. Simple ingredients and less than 30 minutes required for a filling and healthy plant-based meal.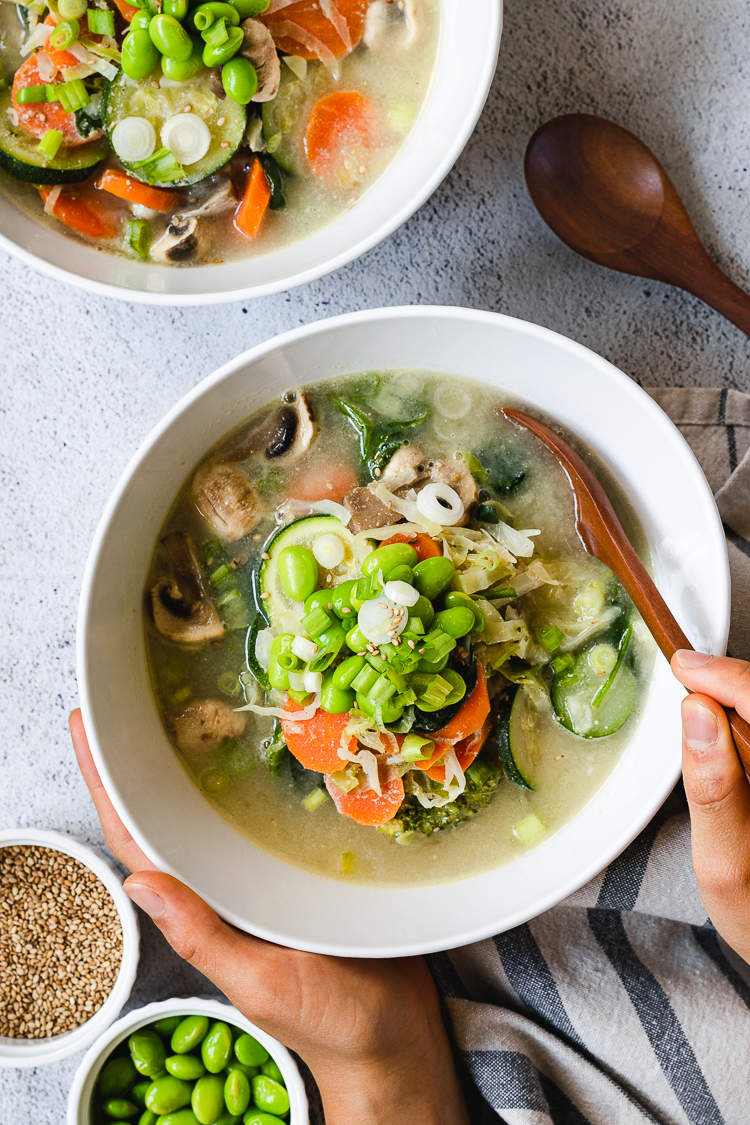 Miso soup is a staple in the Japanese diet and is something I grew up eating every night. It was such a regular part of my diet that I never even thought about it, nor did I realize how much I would miss it when I went off to college. Freshmen year in the dorms made for a huge shift in my diet, from Japanese home-cooked meals to chicken breast and salad (every. single. night.). How I went an entire year without homemade miso soup and fresh Japanese rice I don't know, nor do I remember much of the food I ate that year. But once I moved out of the dorms and had access to a kitchen again, I started making giant pots of miso soup loaded with tofu and veggies. Not exactly traditional either, since miso soup is usually drunk out of a small bowl as a side, and I was making it as a main dish. But it definitely satisfied my miso soup craving, and now I love having huge bowls of veggie-filled miso soup with noodles for dinner!
INGREDIENTS TO MAKE SESAME MISO SOUP
The base of this soup requires just 5 ingredients, then you can add in whatever veggies you like in soup. I've included my favorites here, but feel free to switch it up with what you have in your fridge!
kombu dashi: you can make your own with kombu and water (here's an informative post by Nami of Just One Cookbook) OR use kombu dashi powder if you're short on time
white miso: red miso can be substituted, but I prefer white as it has a slightly sweeter flavor
sesame seeds: toast them to bring out their nutty flavor, then grind into a powder to release more of their flavor into the soup
tahini: makes the soup more rich and creamy
mirin: Japanese sweet rice wine
plant-based protein of choice: edamame and tofu work well in this soup
veggies of choice: carrots, cabbage, broccoli, zucchini, mushrooms, green onions, spinach, wakame, bok choy are my favorites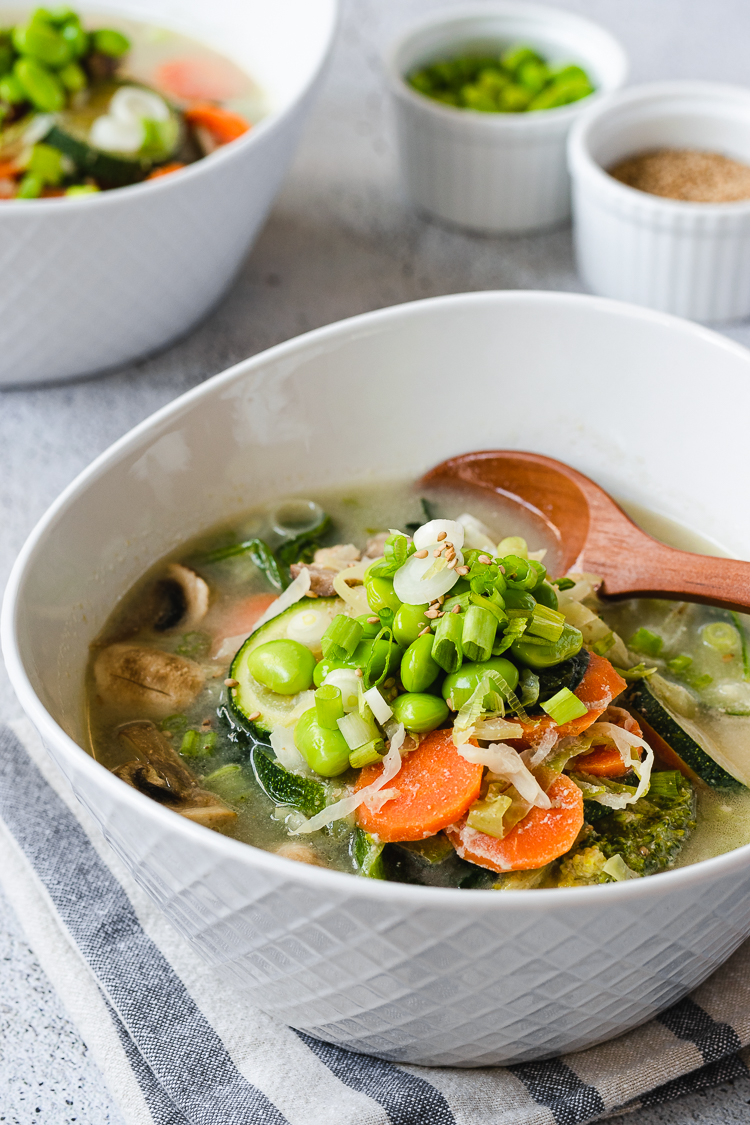 TIPS & TRICKS FOR THE BEST CREAMY MISO SOUP
Soup is one of the easiest things anyone can make. Basically just throw a bunch of veggies and protein (and maybe some starch) into a pot, and with the right seasoning you'll have a super delicious and easy meal. There's really no way you could mess up this soup, but here are a few tips to keep in mind so you end up with a perfectly rich and satisfying miso soup every time:
kombu dashi ⟶ Dashi powder can usually be found in Japanese/Asian grocery stores, or online. If you can't find the powder you can make your own dashi from kombu and water (follow this guide from Just One Cookbook) and usie this liquid to replace the water + dashi powder called for in the recipe. If all else fails, you can omit and just use water and add more miso to taste — but I highly recommend using dashi as it will bring out more of the umami flavor.
use toasted sesame seeds! ⟶ This brings out so much of its nutty flavor. If you don't toast them you may find your soup to be a little bitter. To toast, place sesame seeds in a small pan over medium low heat and stir frequently as they will burn easily. Once fragrant and lightly browned, turn off the heat and cool briefly. Then use a pestle and mortar to grind the sesame seeds.
stir in the miso at the end of cooking ⟶ Adding miso to boiling water will kill the probiotics and lose some of the nutrients, fragrance, and flavor of the miso.
completely dissolve the miso ⟶ Miso can get clumpy. In order to ensure the miso is evenly dissolved in the soup, add miso to a mesh skimmer or strainer and place on the surface of the soup, using chopsticks to dissolve the miso with the liquid. OR, fill a small bowl with some of the liquid from the soup and add the miso, mixing until dissolved. Then add the liquid back to the soup.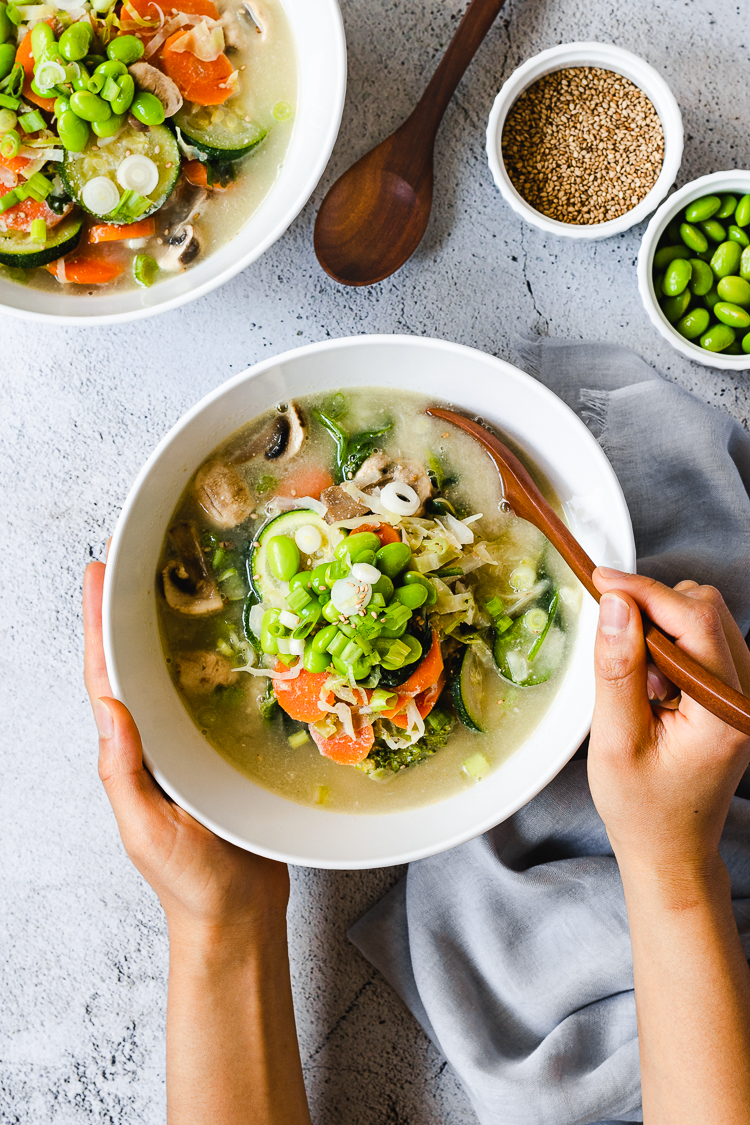 STILL HUNGRY?
Check out these other tasty miso-infused recipes!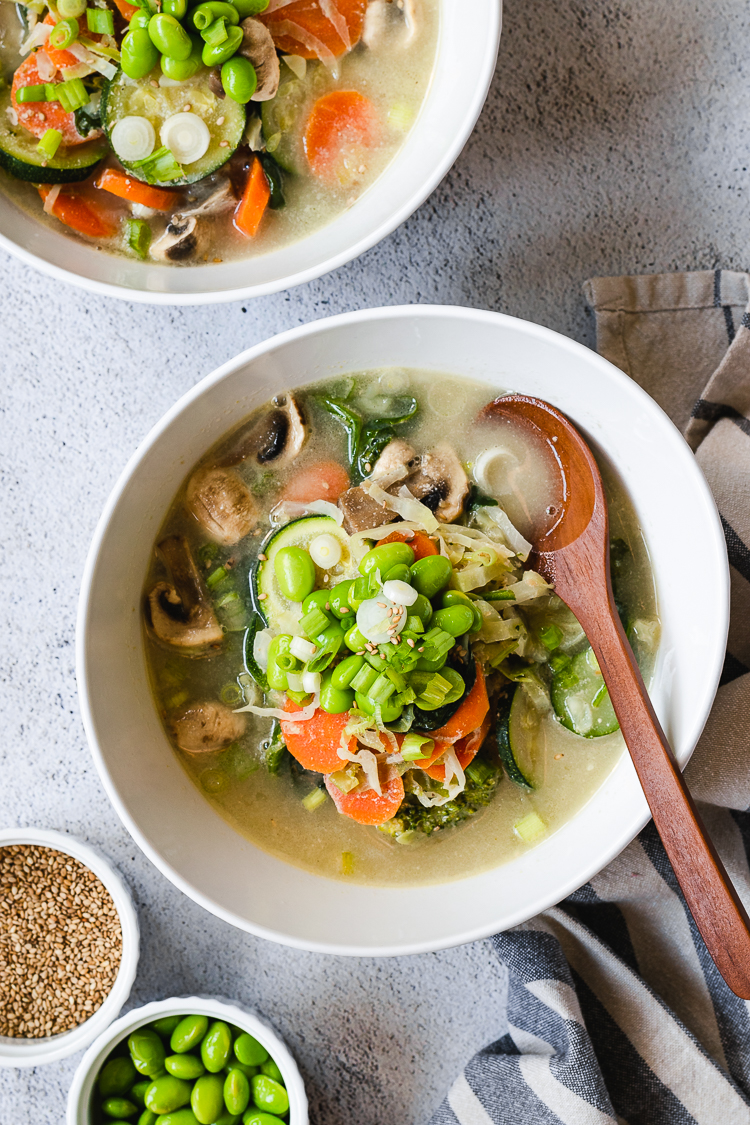 If you try out this recipe, don't forget to tag me in your photos on instagram @ellielikes.cooking and/or leave a comment down below and let me know how you liked it! I love seeing your tasty recreations 🙂 Happy cooking!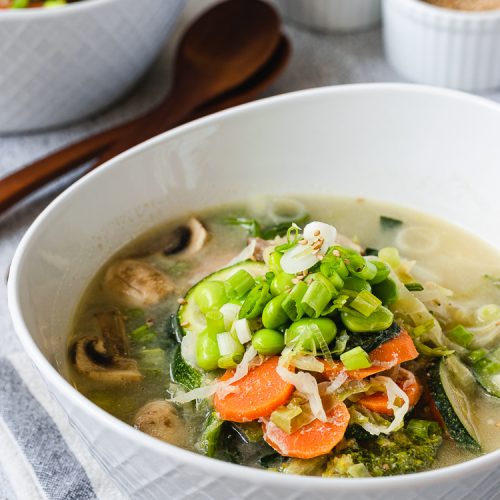 Vegetable Sesame Miso Soup
A creamy, comforting, veggie-packed twist on miso soup. Toasted and ground sesame seeds add a wonderfully rich, nutty flavor to this light yet filling plant-based dish.
Ingredients
3

cups

water

1

tsp

kombu dashi powder

3

tbsp

white miso

3

tbsp

white sesame seeds

toasted and ground

3

tbsp

tahini

1

tbsp

mirin

2

small carrots

peeled and sliced

1

cup

mushrooms

sliced

1

zucchini

sliced

1

head of broccoli

cut into florets

1

cup

spinach

1 ½

cups

shelled edamame

2

green onions

sliced
Instructions
Add water and dashi powder to a large pot and bring to a boil. Add the carrots and cook for a few minutes until carrots are tender. Add broccoli, zucchini, and mushrooms.

Mix in sesame seeds, mirin, and tahini and continue to cook until broccoli and zucchini are tender. Once all the veggies are cooked, add in the spinach, edamame and green onions. Cook until spinach has wilted, then turn off the heat and mix in miso until evenly dispersed.

Serve with noodles or rice as desired and garnish with extra sesame seeds.
Disclosure: This page may contain affiliate links. As an Amazon Associate I earn from qualifying purchases, but the price remains the same to you. Thank you for supporting Ellie Likes Cooking!
Save for later!