This page may contain affiliate links. As an Amazon associate we earn from qualifying purchases. Please read our
disclosure
for more info.
Okonomiyaki is a delicious Japanese savory cabbage pancake. This vegan version uses no egg or meat and can be made without nagaimo.
What is Okonomiyaki?
Okonomiyaki is a popular Japanese street food that is basically a savory cabbage pancake. "Okonomi" translates to "how you like" and "yaki" means "grilled" – it's a dish that you can tailor to your preferences by deciding what you want to add to it. The base recipe typically includes cabbage, wheat flour, egg, and nagaimo. It also often includes thinly sliced pork. However, at most restaurants you can pick and choose from a variety of ingredients to add – cheese, mochi, kimchi, shiso, natto, shrimp, squid, mentaiko, corn…you can really add anything you like! Going out to eat okonomiyaki is really an event since it's often cooked at your table, so you and your friends can cook it together (or you can have your server cook it for you) and you can get a bunch of different kinds to try. It's also common in home cooking since it's filling and easy to make. Restaurant okonomiyaki is very rarely vegan-friendly, but with this recipe you can make your own at home!
Osaka vs Hiroshima Style Okonomiyaki
It's important to be aware that there are two main styles of okonomiyaki in Japan. This recipe is Osaka style where everything is mixed into one batter. Hiroshima style uses similar ingredients, but they are layered rather than being mixed into a batter, and it is often topped with yakisoba (or udon) and fried egg.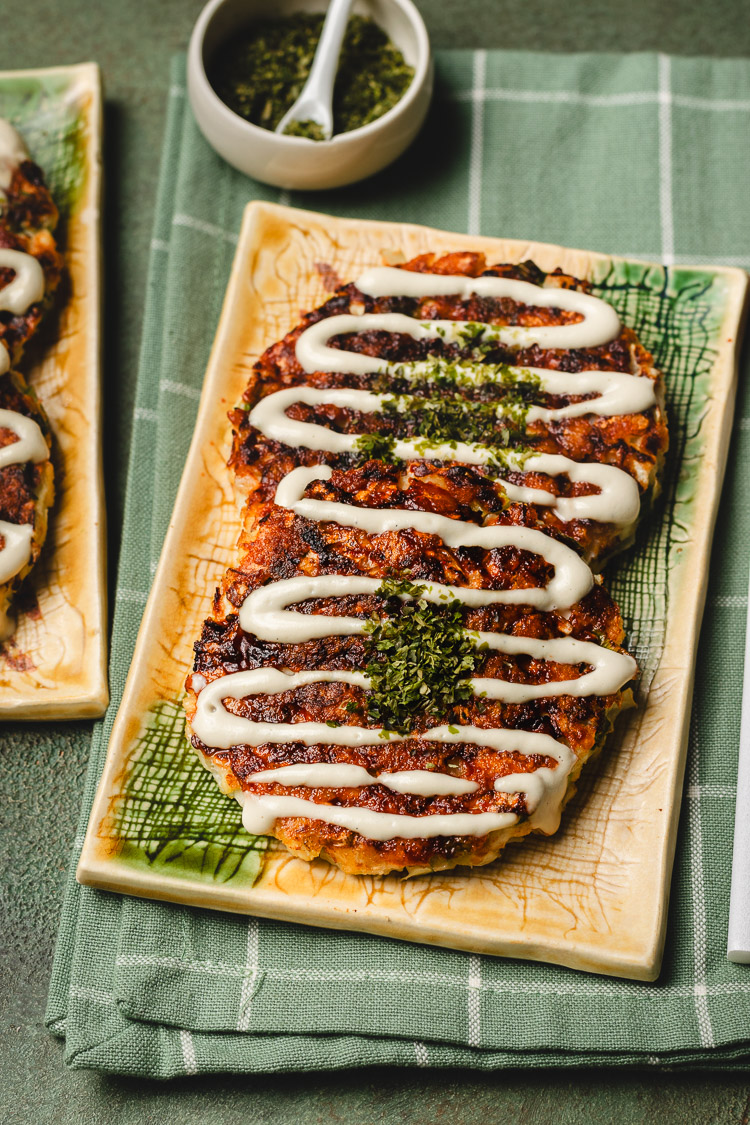 Tips for Success
Finely chop cabbage ⟶ Some recipes call for shredded cabbage, but I like to finely chop the cabbage since I find shredded cabbage to make the okonomiyaki fall apart more easily. It also makes it easier to cut into the okonomiyaki when eating.

Make mini okonomiyaki or use two spatulas to flip ⟶ Okonomiyaki is usually cooked as one large pancake with special spatulas used to flip it. It can be hard to flip since it's so big, so I recommend making them smaller or using two spatulas if you really want a big okonomiyaki.

Wear gloves for sensitive hands ⟶ If using nagaimo, you may want to wear gloves when you handle it as some people can experience itchiness.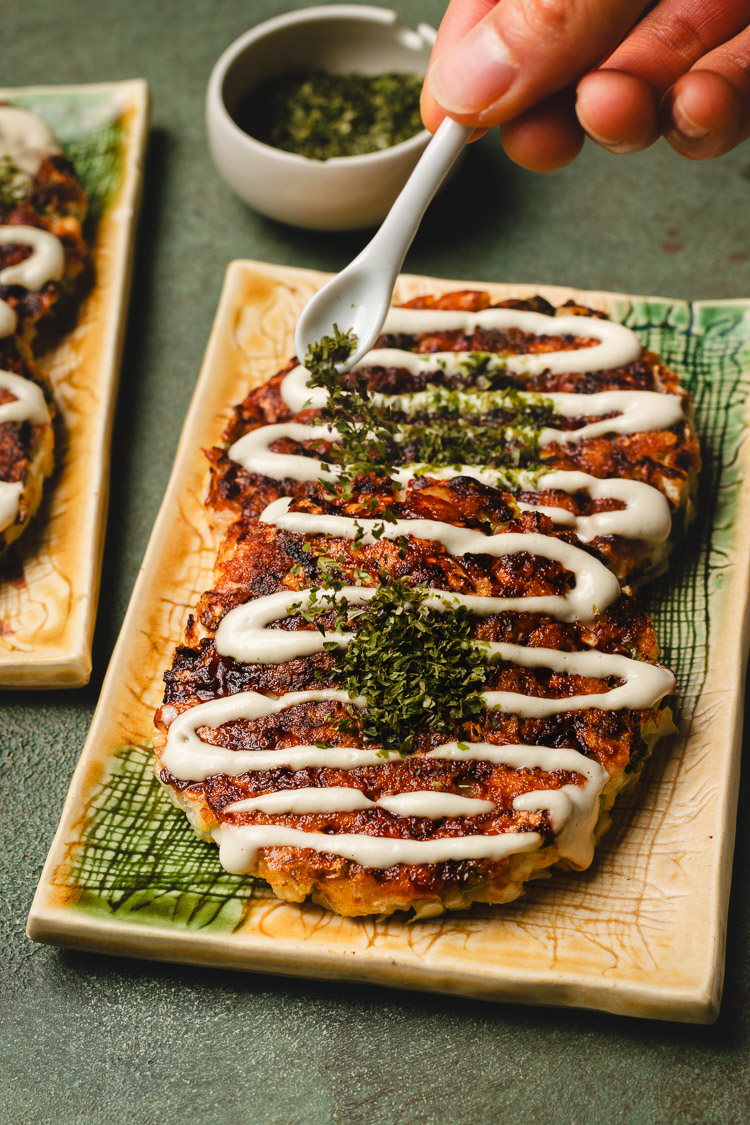 Vegan Okonomiyaki FAQ
What is nagaimo and where do I buy it?
Nagaimo (長芋) is often referred to as Chinese Yam in English. It's long and slender with pale yellow skin, white hairy roots, and white flesh. It can be eaten raw or cooked and has a slimy texture when grated. You can find it at most Japanese, Chinese, or Korean grocers.

Can I make okonomiyaki without nagaimo?
Nagaimo makes okonomiyaki light and fluffy, and it also helps bind our egg-free version together. However, I have included a version that uses potato starch instead. It's not as fluffy as the nagaimo version, but I make this one a lot since nagaimo can be hard to find.

Can I use a different starch?
Potato starch results in a chewy, mochi-like texture that I don't think other starches will provide, so unfortunately I can't recommend a substitute.

Is okonomiyaki gluten-free?
Traditional okonomiyaki is made with wheat flour, so it's not naturally gluten-free. However, this version is gluten-free!

Is okonomiyaki vegan?
Traditional okonomiyaki contains egg, though there are a few shops in Japan that offer vegan okonomiyaki.

Is okonomiyaki Whole30 compliant?
Traditionally no, but my version below is Plant-Based Whole30 friendly!
How to Serve Okonomiyaki
Okonomiyaki is typically served with okonomiyaki sauce (a sweet and savory sauce similar to Japanese Worcestershire sauce), Japanese mayonnaise, aonori (a type of dried seaweed that comes in small flakes), and bonito flakes. To keep it vegan, check to make sure your sauce doesn't contain anchovy or other fish extracts (or you can use the sauce in the recipe card), use my vegan kewpie mayo, and skip the bonito flakes. If you can't find aonori, you can use shredded nori or just omit and it will still be delicious!
Round Out Your Meal
Serve okonomiyaki with one or multiple dishes below for a complete meal: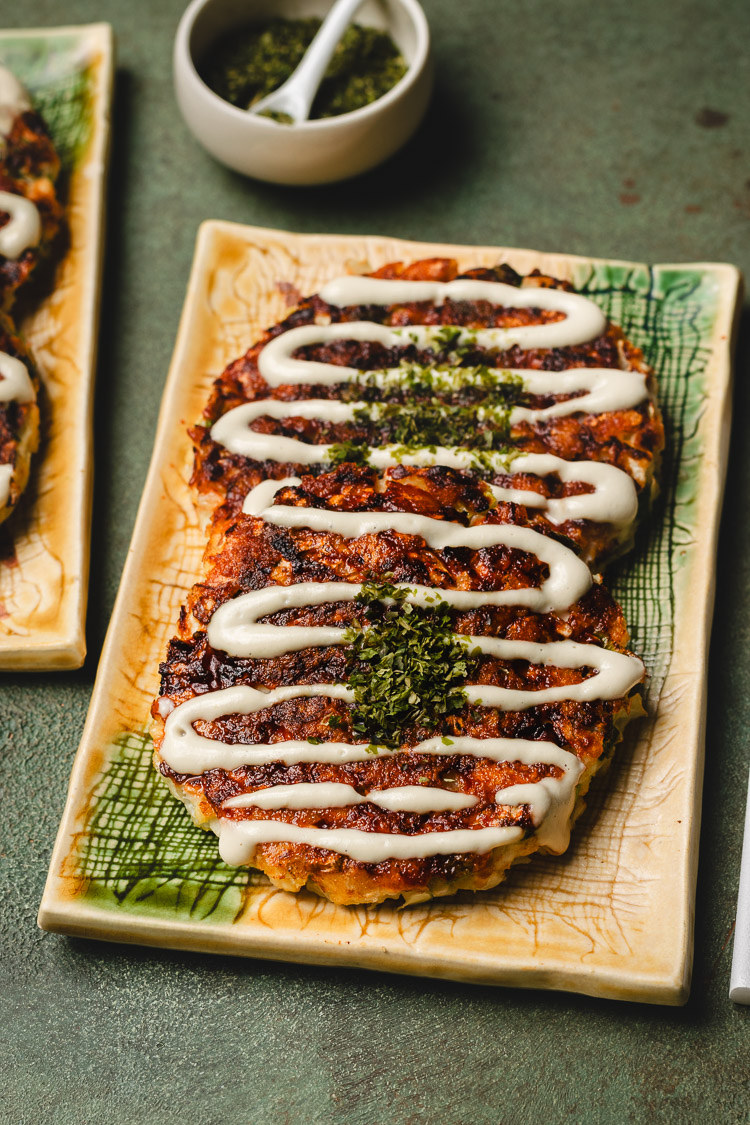 If you make this vegan okonomiyaki, don't forget to leave a comment/rating down below and tag me in your photos on instagram @ellielikes.cooking. I love seeing all of your tasty recreations!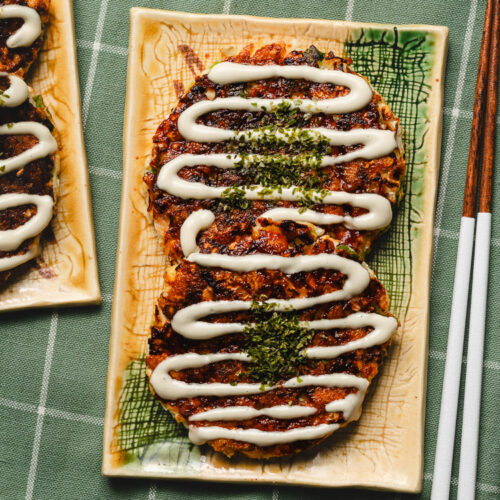 Easy Vegan Okonomiyaki
Okonomiyaki is a delicious Japanese savory cabbage pancake. This vegan version uses no egg or meat and can be made without nagaimo.
Ingredients
4

oz

firm tofu

drained

125

grams

cabbage

chopped

1

tsp

ginger

thinly sliced (omit if using beni shoga)

¼

tsp

salt
Nagaimo Version
125

grams

nagaimo

peeled and grated

3

tbsp

flour (chickpea, almond, rice, or all purpose wheat if not gluten-free)
Potato Starch Version
2 ½

tbsp

potato starch

2

tbsp

water
Optional Add-ins
⅛

tsp

baking powder

1

tbsp

beni shoga (red pickled ginger)

use instead of regular ginger

1

green onion

chopped

1

dried shiitake mushroom

rehydrated and sliced

1

tbsp

tenkasu (tempura scraps)

¼

tsp

kombu dashi powder*
Instructions
Place tofu in a mixing bowl and crumble into small pieces with your hands or a fork. Add nagaimo or water (depending on which version you are making), mix, then add cabbage and ginger, Mix in any other add-ins you want.

Sprinkle in salt, baking powder, and flour/potato starch. Mix until well combined and everything is coated in batter.

Heat some oil in a pan over medium low heat, just enough to lightly coat the pan. Scoop some of the batter into the pan and tightly pack it into a circle. The batter will be loose at first, so pack it tightly and it will stick together once cooked. Make small pancakes for easier flipping.

Cook until browned on bottom and the edges start to dry, about 5 minutes (adjust heat if necessary). Then carefully flip the pancake over and cook another 5 minutes. Transfer to a plate and repeat until you use up the batter (you can cook multiple at once if you have a large pan).

Mix together the sauce ingredients (if making your own) and brush each okonomiyaki with sauce. Drizzle with mayonnaise and sprinkle aonori on top to serve.


*Disclosure: This page may contain affiliate links. As an Amazon Associate I earn from qualifying purchases, but the price remains the same to you. Thank you for supporting Ellie Likes Cooking!
Save for later!