This page may contain affiliate links. As an Amazon associate we earn from qualifying purchases. Please read our
disclosure
for more info.
For this tofu isobeyaki, chewy "mochi" made with tofu and potato starch are pan-fried, glazed in a sweet & savory sauce, then wrapped in nori.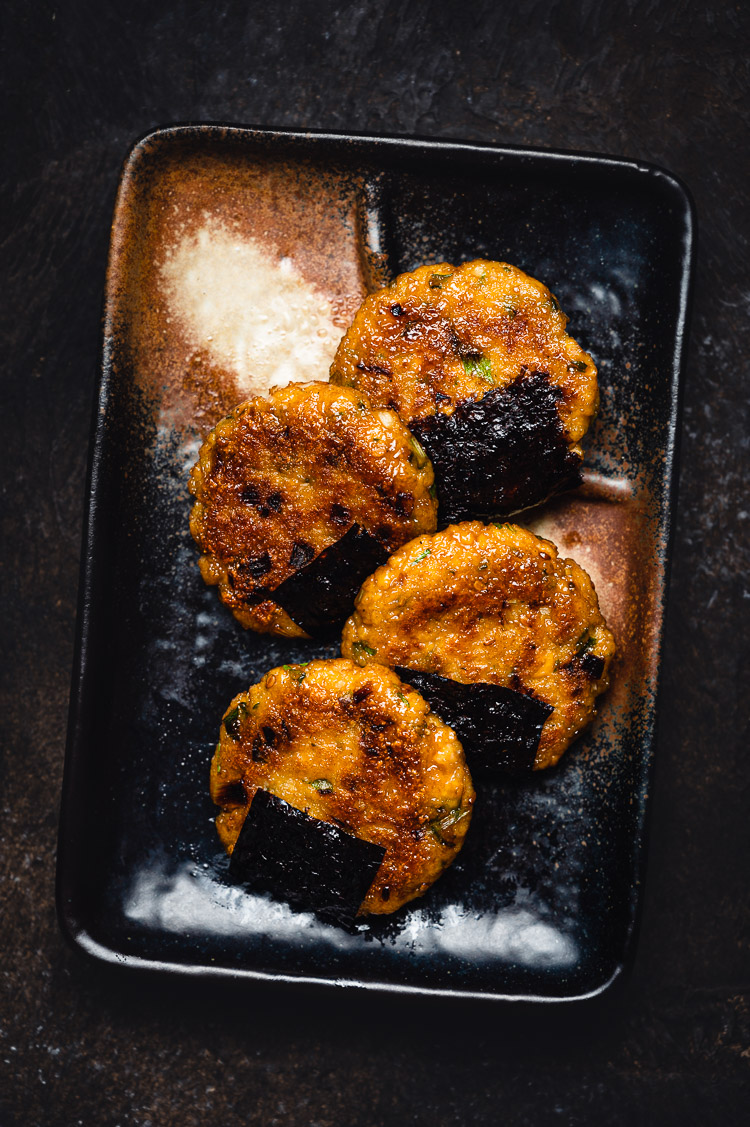 What is Isobeyaki 磯辺焼き?
"Isobe" 磯辺 means seashore in Japanese, while "yaki" 焼き means to cook (usually baked, grilled, or stir-fried). Essentially, in Japanese cooking "isobe" refers to any dish that uses seaweed, particularly nori. There are many versions of isobeyaki using ingredients like chikuwa, hanpen, scallops, fish, chicken, tofu – you can basically wrap anything in nori and call it isobeyaki. But unless otherwise specified, isobeyaki typically refers to grilled/toasted mochi coated in a sweet soy glaze and wrapped in nori. It's an addictively tasty snack and super easy to make at home! In this version, I'll show you how to make isobeyaki with tofu "mochi". There are versions of tofu isobeyaki that use slices of tofu coated in aonori, but I like this mochi version because it's chewier (and it's cuter 😙).
Key Ingredients
Medium Firm Tofu ⟶ I used medium firm tofu for this as it's what is accessible to me, but I think any kind of tofu can work.

Silken/soft tofu would be good to create a smooth, more mochi-like texture.
You will need to adjust the amount of potato starch depending on the water content of your tofu. You need just enough potato starch to hold the mixture together, but the mixture should still be wet.

Potato Starch* ⟶ This holds the tofu mixture together and creates a chewy texture. I don't recommend subbing other starches as they won't be as chewy.
Coconut Aminos* + Rice Vinegar ⟶ For that sweet, savory umami flavor. I like to cut the sweetness of coconut aminos with a little bit of vinegar for more balanced flavor.

Typically soy sauce + mirin are the seasonings, but I developed this recipe to be Plant-Based Whole30 compliant. See the ingredients card for the soy sauce + mirin option.

Nori* ⟶ It's not isobeyaki without nori! We only use a few small pieces of yaki nori (roasted nori), but it adds such great flavor!
Isobeyaki Cooking Tips
Adjust potato starch amount as needed ⟶ The water content of tofu varies depending on the type (soft, firm, extra firm, etc) and brand, so you may need to add more potato starch if your mixture is too loose.

Use soft or medium firm tofu if available ⟶ Technically I think any kind of tofu will work, but the texture will be better with a softer tofu. I would avoid extra firm/super firm tofu. I used Trader Joe's regular Organic Tofu (not firm), the one with the pink packaging.

Try mochiko instead of potato starch ⟶ If you don't have potato starch, you can try using mochiko (sweet rice flour). Since this flour is used to make mochi, it should result in a similar mochi-like texture. (Note, mochiko is not Whole30-compliant).
More Easy Snacks & Sides!
If you try out this tofu mochi isobeyaki, don't forget to leave a comment/rating down below and tag me in your photos on instagram @ellielikes.cooking. I love seeing all of your tasty recreations!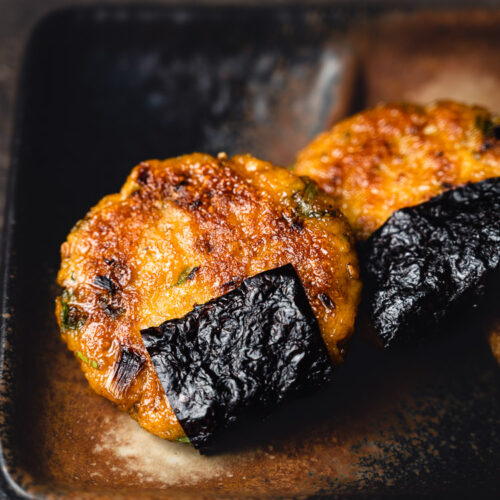 Tofu Mochi Isobeyaki | 豆腐餅の磯辺焼き
For this tofu isobeyaki, chewy "mochi" made with tofu and potato starch are pan-fried, glazed in a sweet & savory sauce, then wrapped in nori.
Ingredients
200

grams

medium firm tofu

2

tbsp

potato starch*

1

green onion

minced

½

tsp

toasted sesame seeds

pinch of

salt and pepper

1

tbsp

avocado oil

roasted nori*

cut into 8 strips (can be wide or thin, whatever you like)
Instructions
Mix sauce: Mix the sauce ingredients together in a small bowl and set aside.

Remove water from tofu: Drain tofu from its package and place in a microwave-safe bowl. Microwave 2 minutes, then cool for 10 minutes. The tofu will release more water as it cools. (I ended up with about 180g of tofu after draining).

Mash tofu: Drain the excess water from the tofu, then use a fork or your hands to mash the tofu, breaking up any large clumps.

Add potato starch: Add the potato starch and mix well to combine. Scoop some of the mixture into your hand and gently squeeze – the mixture should be able to hold together. If not, add more starch 1 tsp at a time.

Add green onions and sesame: Mix in green onions, sesame seeds, salt, and pepper.

Shape: Divide the mixture into 8 portions. Take one portion and toss back and forth between your hands a few times to remove air bubbles. Shape into a round patty and place on a plate. Repeat with remaining mixture.

Cook: Heat oil in a nonstick pan over medium high heat. Add the tofu patties and cook 3-5 minutes per side to brown both sides. Lower the heat if your patties brown too quickly.

Add sauce: Reduce heat to medium low and pour in the sauce. Swirl to coat the patties and flip that patties to coat the other side.

Wrap with nori: Once the sauce has reduced and the tofu patties are well coated, turn off the heat. Wrap each patty with nori (be careful not to burn your fingers as the patties are hot!) and serve immediately.
**Notes
Soy Sauce + Mirin Option: If you don't have coconut aminos, use this for the sauce instead: 2 tsp soy sauce + 2 tsp mirin + 1 tsp water.


*Disclosure: This page may contain affiliate links. As an Amazon Associate I earn from qualifying purchases, but the price remains the same to you. Thank you for supporting Ellie Likes Cooking!
Save for later!