This page may contain affiliate links. As an Amazon associate we earn from qualifying purchases. Please read our
disclosure
for more info.
Make your own egg-free Japanese-style mayo at home with this easy vegan recipe! A rich, creamy, oil-free pantry staple.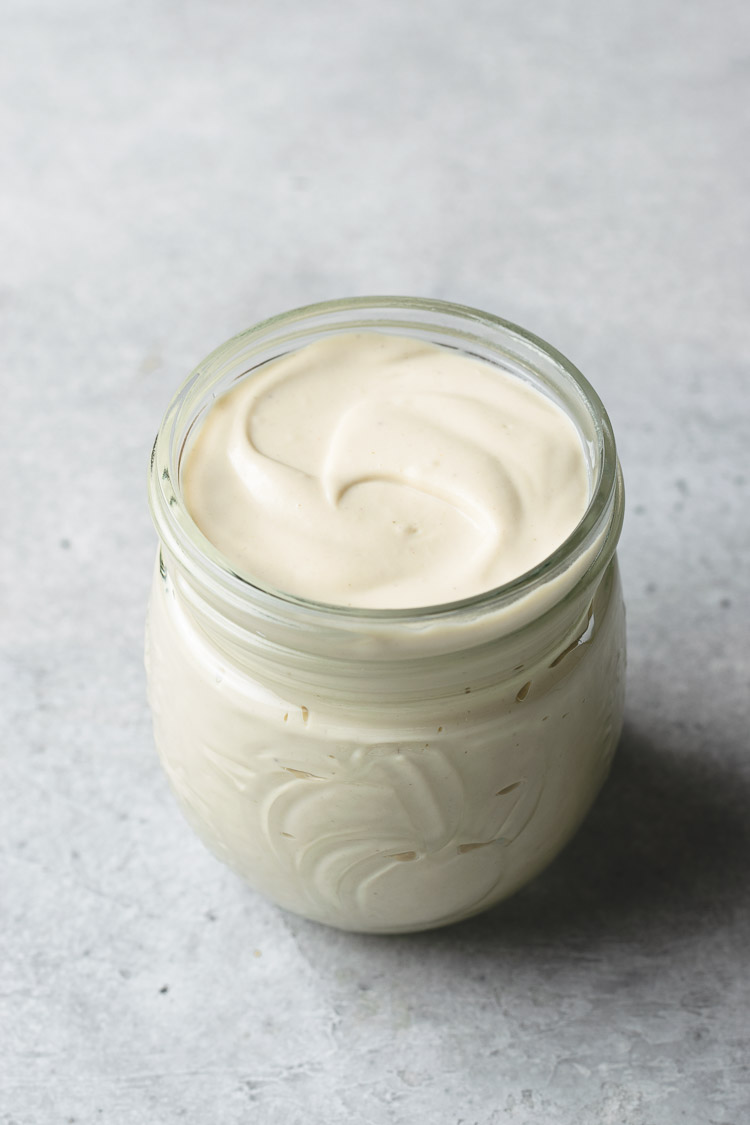 What is Japanese Mayo?
Japanese mayo (also known as Kewpie mayo – Kewpie is a popular mayo brand in Japan) uses similar ingredients as American mayonnaise, but Japanese mayo is more thick, rich, tangy, slightly sweet, and high in umami. Japanese mayo uses only the egg yolk, not the whole egg, resulting in a richer mayo. Kewpie mayo also often contains MSG which adds to the umami factor. It's sold in a plastic squeeze bottle, since the mayo is thick enough that it retains its shape after being squeezed out. Kewpie mayo has become more popular in the West in recent years (Costco often sells a two-pack) and it's no wonder why – Japanese mayo is by far superior in my opinion 🙂 That being said, it's obviously not vegan (though Kewpie does have an egg-free mayo now, but it's harder to find) but with this recipe, I can still enjoy all my favorite mayo-based dishes!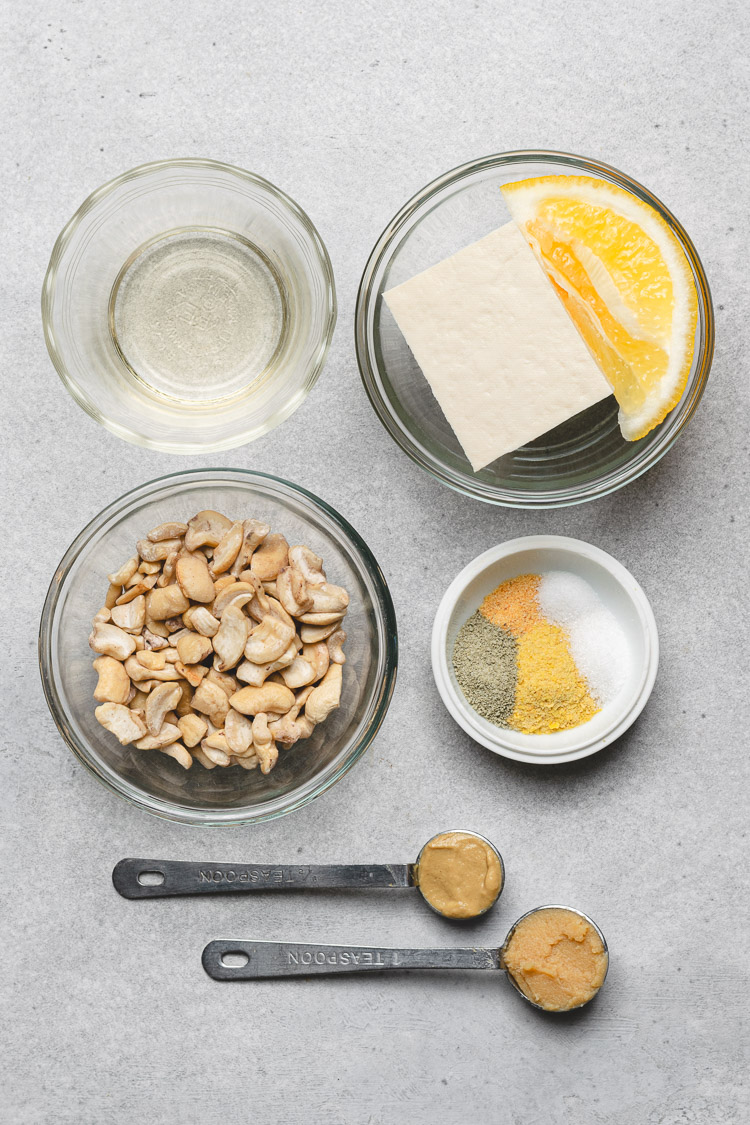 Tips for Success
Make it Plant-Based Whole30 friendly ⟶ Omit the dashi powder and sugar.

Soak cashews or use cashew butter ⟶ For the smoothest, silkiest mayo, soak the cashews in hot water for 10 minutes or use half the amount of raw cashew butter.

Use black salt ⟶ Use black salt for the most "eggy" flavor. If you can't find black salt, table salt or sea salt work just fine too.

Use soft tofu* or silken firm tofu* ⟶ Soft tofu and silken firm tofu are just slightly more firm than regular silken tofu. They still have that smooth, creamy texture, but they don't fall apart as easily as silken tofu since they don't contain as much water. Soft/silken firm tofu will produce a creamy, silky mayo. If you only have access to regular silken tofu, drain the tofu well and you can even microwave it for a minute to release some extra liquid.
You can also use medium firm tofu if it's all you can find, but this will produce a thicker mayo.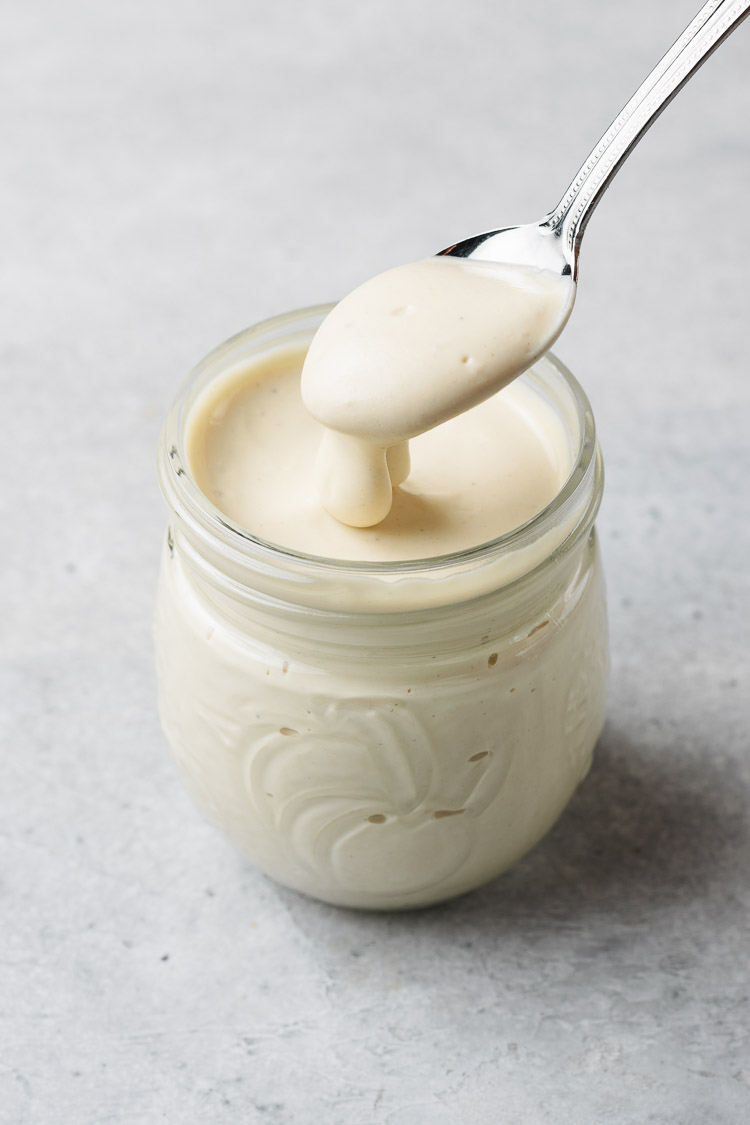 Vegan Japanese Mayo FAQ
How long does homemade vegan mayo last?
This mayo will last about a week in the fridge. Be sure to use a clean spoon each time you take some out, or put it in a squeeze bottle for the true kewpie mayo experience.

Can I substitute the cashews?
Cashews result in the most creamy, neutral-flavored mayo, but for an affordable, nut-free option you can use raw sunflower seeds.

Can I omit the dashi powder?
Technically you can, but dashi powder adds umami which Japanese mayo is known for, so without it the mayo won't taste as good. You can also try substituting with MSG.

Is kewpie mayo vegan?
Regular kewpie mayo is not vegan as it contains egg. However, they do sell an egg-free mayo that is vegan!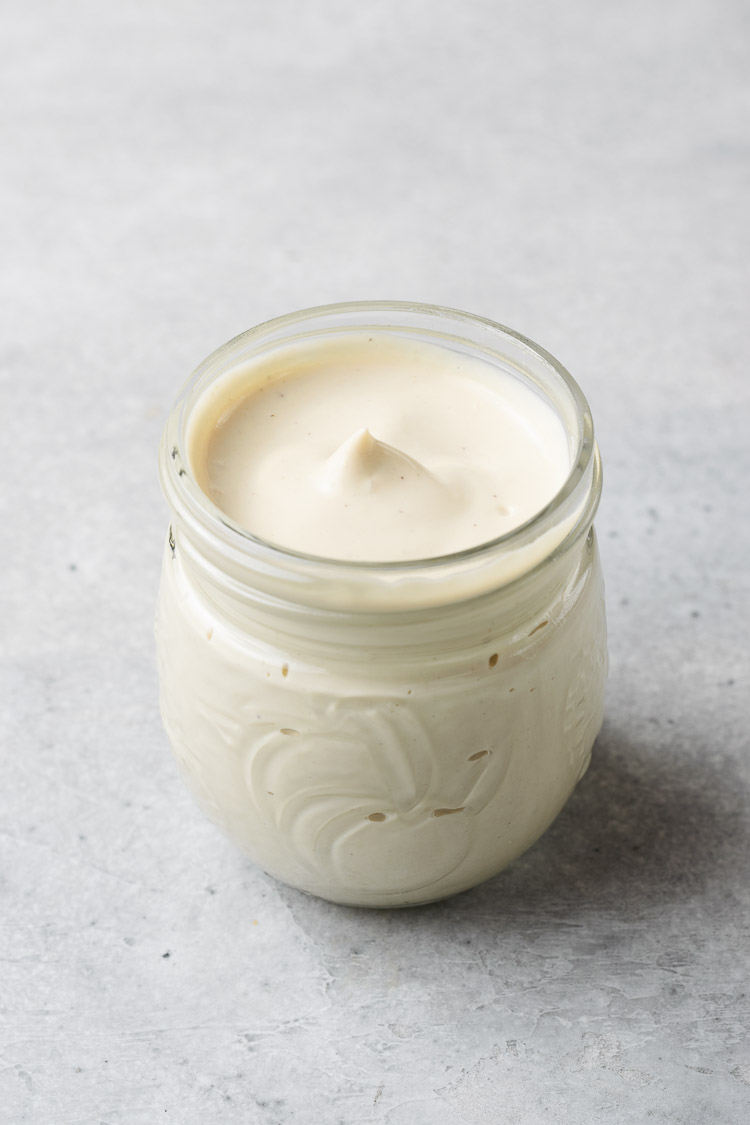 How to Use Japanese Mayo
on okonomiyaki
in pasta salad
in potato salad
in sandwiches
as a dip for veggies
in marinades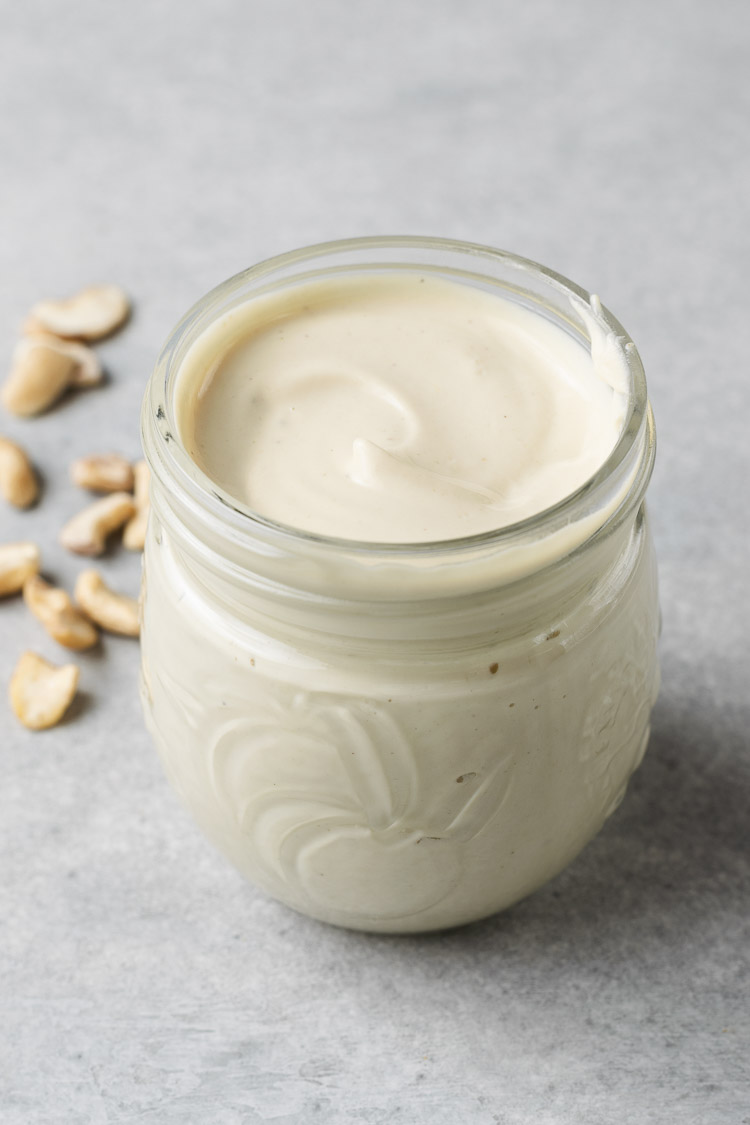 If you make this vegan Japanese mayo, don't forget to leave a comment/rating down below and tag me in your photos on instagram @ellielikes.cooking. I love seeing all of your tasty recreations!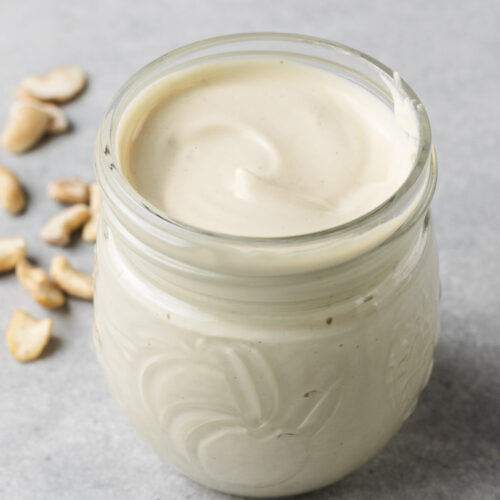 Vegan Japanese Mayo
Make your own egg-free Japanese-style mayo at home with this easy vegan recipe! A rich, creamy, oil-free pantry staple.
Ingredients
4

oz

soft tofu*, silken firm tofu*, or medium firm tofu**1

drained

60

grams (½ cup)

raw cashews*

soaked in hot water for 10 minutes

1

tsp

lemon juice or apple cider vinegar

1

tbsp

rice vinegar

1

tsp

white miso*

½

tsp

dijon mustard

1

tsp

nutritional yeast

⅛

tsp

garlic powder

⅛

tsp

salt

or to taste

½

tsp

kombu dashi powder*

¼

tsp

sugar
Instructions
Add all ingredients to a blender and blend until smooth. Add water if needed to help blend.

Transfer to a jar and store covered in the fridge for up to a week. Mayo will thicken more in the fridge.
**Notes
1) Amount of water needed will differ depending on the type of tofu used. For soft/silken firm tofu I usually don't need to add extra water. For medium firm tofu I add about 3 tbsp water.


*Disclosure: This page may contain affiliate links. As an Amazon Associate I earn from qualifying purchases, but the price remains the same to you. Thank you for supporting Ellie Likes Cooking!
Save for later!