This page may contain affiliate links. As an Amazon associate I earn from qualifying purchases. Please read our
disclosure
for more info.
This Japanese mushroom pasta is flavored with soy sauce, vegan butter, and tons of umami-rich mushrooms. It's so flavorful and easy to make!
Japanese Italian is one of my favorite fusion cuisines. There are lots of Japanese Italian restaurants all over Japan, and while it may not be what you think about eating when you go to Japan, it is definitely worth trying! In addition to tomato and olive oil-based pasta, there is wafu 和風 pasta which means Japanese-style. These include Japanese elements like soy sauce, dashi, mentaiko, nori, or natto. Japanese Italian food isn't usually vegan, however, as many will contain fish, butter, or cheese. But you can easily make your own at home. This Japanese-Style Mushroom Pasta is packed with umami and is perfect for mushroom lovers!
Key Ingredients
Mushrooms ⟶ Use a variety of mushrooms for best flavor. See my recommendations in the FAQ below.
Soy Sauce ⟶ Adds salty, umami flavor. Essential in Japanese cooking!
Vegan Butter ⟶ Butter and soy sauce (butter shoyu) is a common Japanese Western flavor pairing. The richness of the butter with the umami, saltiness of soy sauce is just too good!

That being said, you can replace with olive oil if desired.

Pasta ⟶ Japanese pasta is usually made with spaghetti. The spaghetti is a bit thinner than the American kind and is cooked to al dente so it retains a nice bite. But feel free to use whatever pasta you like (my boyfriend doesn't like spaghetti so I used some spirals).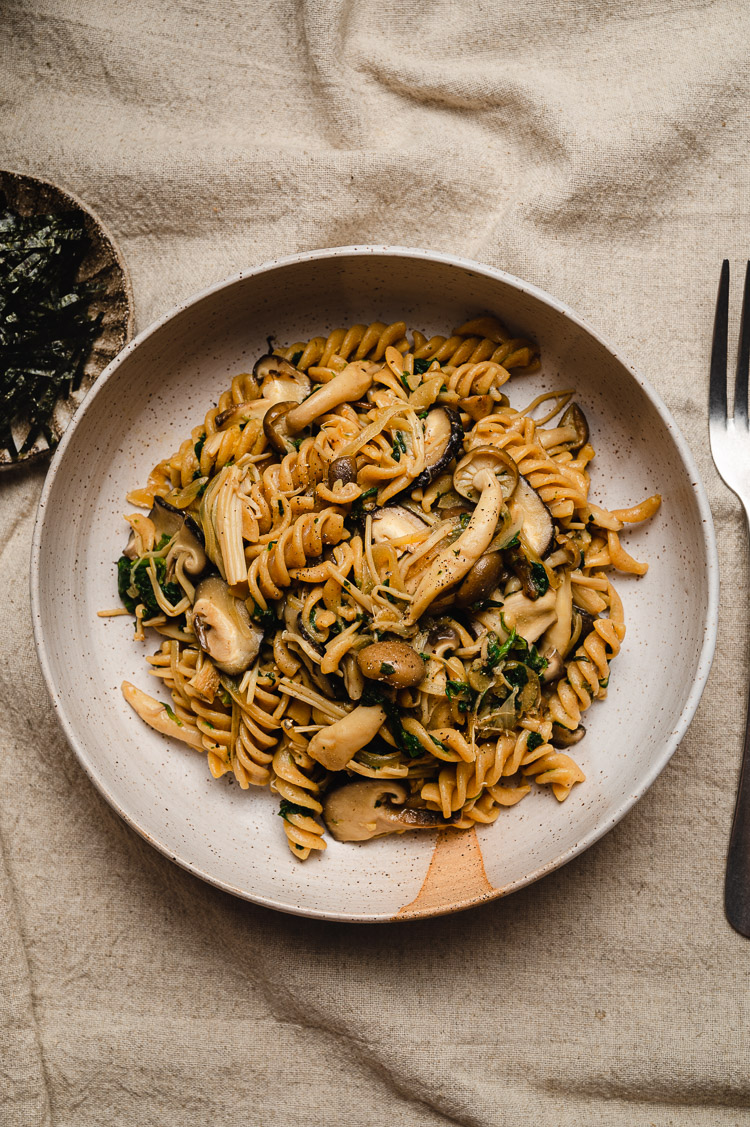 Japanese Mushroom Pasta FAQ
What mushrooms should I use?
I recommend using Asian mushrooms if you can find them, such as enoki, shimeji, shiitake, maitake, oyster, or king oyster mushrooms. My favorites for this mushroom pasta are shimeji, shiitake, and enoki. If you can't find Asian mushrooms, my next go-to would be crimini/baby bella mushrooms which are a bit more flavorful than white button mushrooms. Use a variety of mushrooms for best flavor.

How can I make this gluten-free?
Use a gluten-free pasta and swap soy sauce for tamari.
Tips for Success
Don't forget to add some protein! ⟶ Be sure to serve this mushroom pasta with a protein source such as baked/pan fried tofu (herbed tofu recipe coming soon!), crispy chickpeas, or even just throw some cooked chickpeas/lentils into the pasta. You could also use a bean-based pasta. Or have a bowl of edamame on the side (my current lazy go-to protein).

Save some of the pasta water ⟶ The pasta water contains starch from cooking, so it helps to thicken the sauce and cling to the pasta so you don't end up with dry pasta.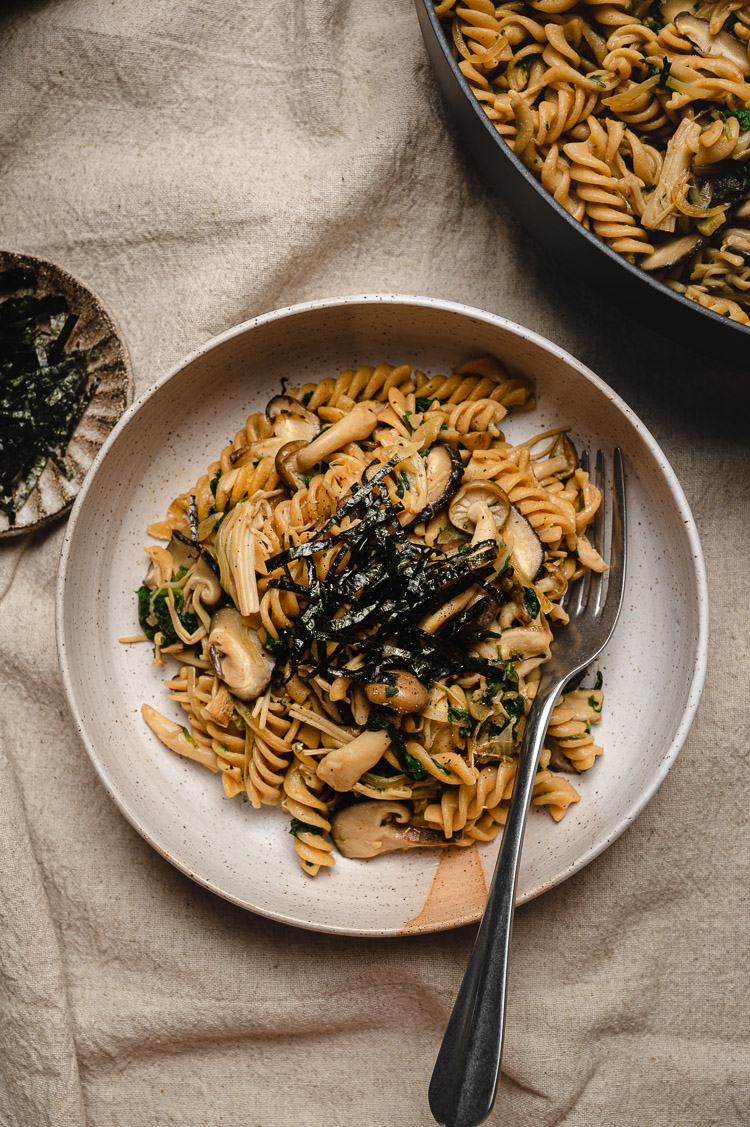 More Japanese-Inspired Mains!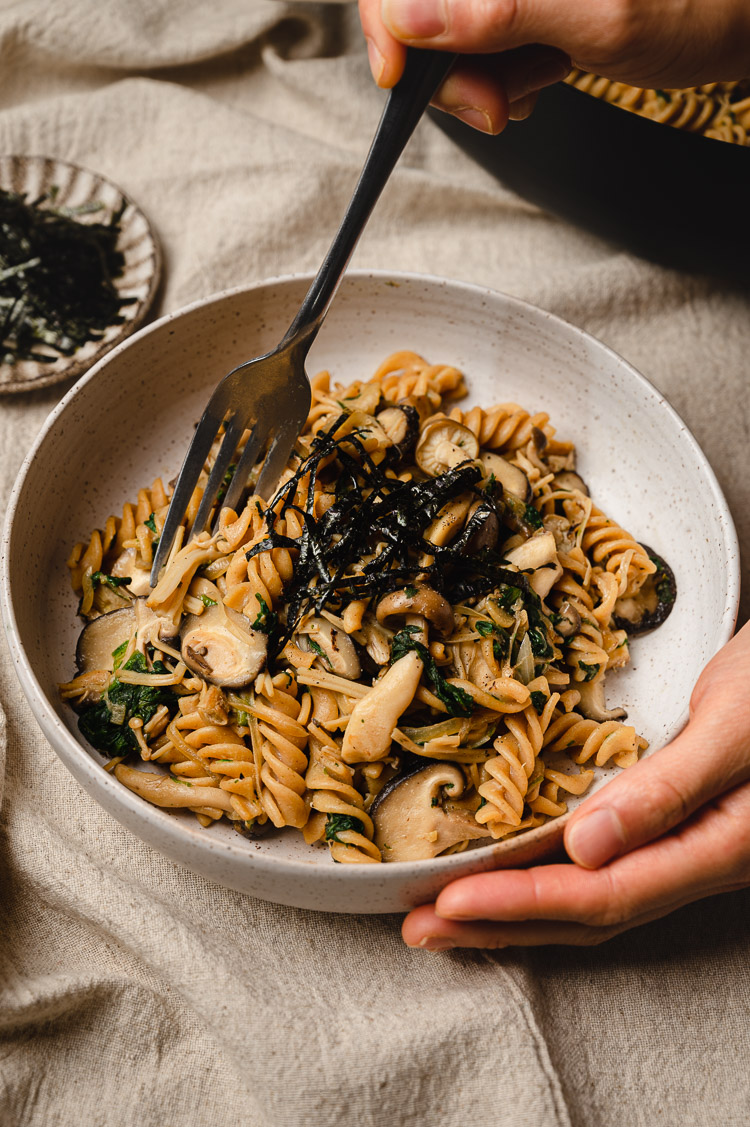 If you try out this Japanese-Style Mushroom Pasta, don't forget to leave a comment/rating down below and tag me in your photos on instagram @ellielikes.cooking. I love seeing all of your tasty recreations!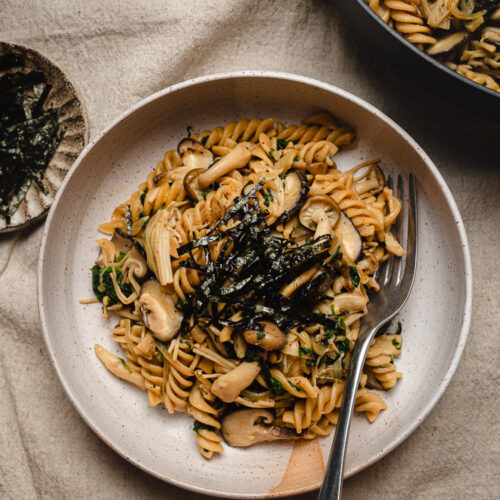 Japanese-Style Mushroom Pasta 和風きのこパスタ
This Japanese mushroom pasta is flavored with soy sauce, vegan butter, and tons of umami-rich mushrooms. It's so flavorful and easy to make!
Ingredients
6

oz

pasta

20

grams

vegan butter or olive oil

½

onion

thinly sliced

2

cloves

garlic

thinly sliced or minced

350

grams

mushrooms**

handful of spinach

optional

2-3

tbsp

soy sauce

2

tbsp

nutritional yeast*

pinch of black pepper

1

tbsp

lemon juice

optional

nori strips for garnish
Instructions
Cook Pasta: Bring a pot of water to a boil and cook pasta according to package instructions for al dente**. Reserve about ½ cup of the pasta water, then drain the pasta and rinse under cold water. Set aside.

Cook Onions: Heat butter in a pan over medium heat. Once the pan is hot and butter melts, add onions and cook until onions start to brown, about 4 minutes. Stir occasionally so the onions don't stick to the pan.

Add Garlic: Add garlic and stir for 30-60 seconds until fragrant.

Add Mushrooms: Add mushrooms and cook until tender, stirring occasionally.

Add Spinach (optional): If using spinach, add it in now and stir until wilted (or thawed if using frozen spinach).

Add Pasta and Soy Sauce: Stir in cooked pasta, then drizzle soy sauce over and stir well to combine.

Add nutritional yeast: Stir in nutritional yeast.

Add Pasta Water: Add in about ¼ cup pasta water and toss to combine. If pasta still looks dry, add in more pasta water. The pasta water should just lightly coat the pasta so it's not dry.

Season: Turn off heat. Sprinkle with pepper and lemon juice (if using). Taste and add salt/pepper/lemon juice to taste. Garnish with nori strips right before serving.
**Notes
Mushrooms: Use a mix of mushrooms for best flavor. I recommend Asian mushrooms like shimeji, shiitake, maitake, enoki, oyster, and king oyster mushrooms. My favorites to use in this pasta are shimeji, enoki, and shiitake.  Cooking Pasta: Use the lower amount of time indicated on your pasta packaging. For example, if it says to cook for 8-10 minutes, cook for 8 minutes since the pasta will cook a bit more in the pan with the rest of the ingredients.


*Disclosure: This page may contain affiliate links. As an Amazon Associate I earn from qualifying purchases, but the price remains the same to you. Thank you for supporting Ellie Likes Cooking!
Save for later!