This page may contain affiliate links. As an Amazon associate I earn from qualifying purchases. Please read our
disclosure
for more info.
Sweet, salty, nutty, and packed with umami, these sesame miso potatoes are a flavor explosion in every fluffy bite. Oven and air-fryer options!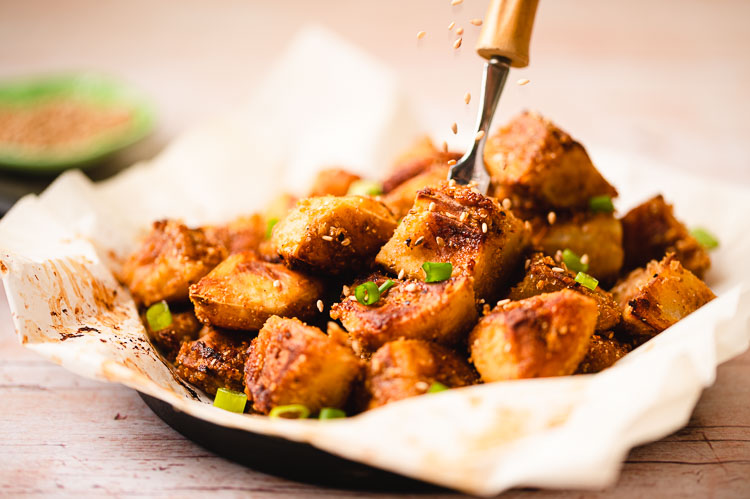 Sesame and miso are a match made in heaven. Nutty, toasted sesame combined with salty, umami miso is the perfect flavor pairing for just about anything — tofu, tempeh, eggplant, broccoli, and of course potatoes! Today I'm showing you how to make these simple but highly addictive sesame miso roasted potatoes. Move over french fries, your more sophisticated and even tastier potato cousin is here.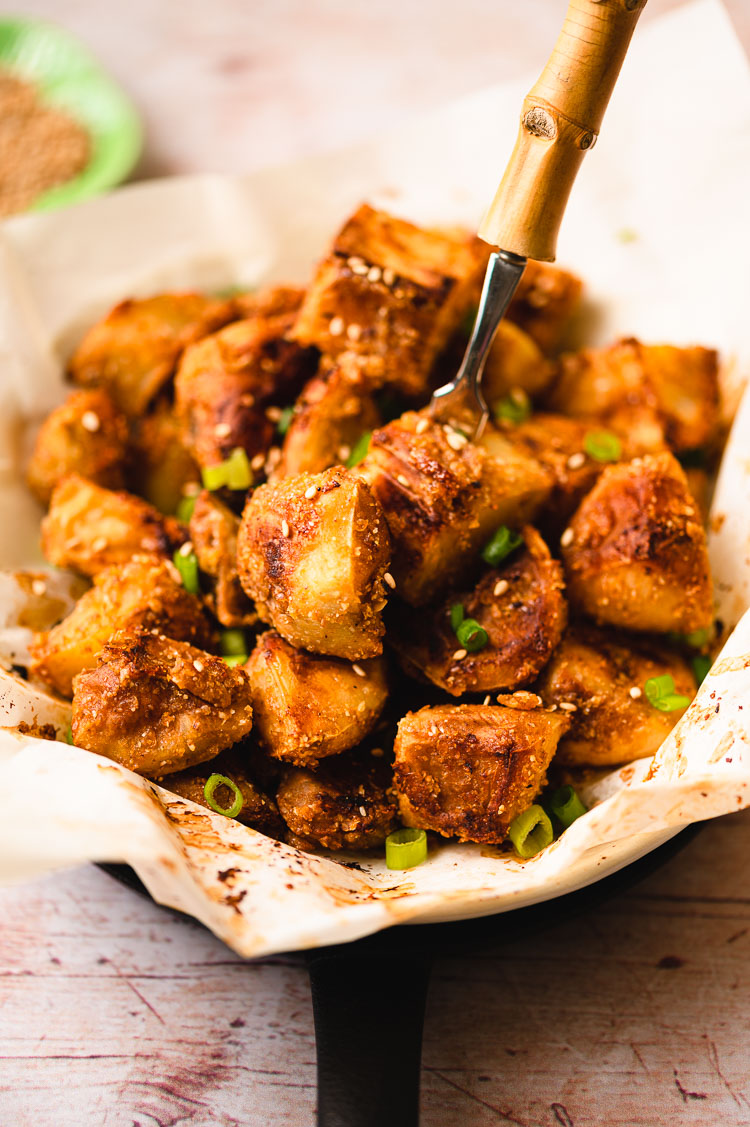 Tips for Perfect Miso Roasted Potatoes
Soak the potatoes!
Ever bite into a potato that looks deceivingly crispy but turns out to be soggy? Soaking potatoes before cooking removes excess starch, making sure your potatoes bake up crispy on the outside.

Use red miso!
Red miso is fermented longer than white miso, resulting in a salty, umami-packed miso. It's more flavorful than white miso, so I recommend using red when miso is the star of your sauce.
For things like vegan cheese sauces where miso is just there to add umami and you don't really taste the miso, white miso is good as it won't overpower the sauce.

Use good miso.
In general, buy miso that is sold in tubs not bags. The bagged miso tends to be cheaper and lower quality. My favorite brand of miso is Marukome's Ryotei no Aji, but if you have a hard time finding miso, Amazon sells Hikari Miso* which is also good.

You can grind freshly toasted sesame seeds yourself, or buy them pre-ground.
Japanese stores sell pre-ground toasted sesame seeds (called surigoma). This is not necessary to have since you can grind your own fairly easily, but it is convenient so I keep some in my fridge for when I'm short on time. Of course, freshly ground has the best flavor.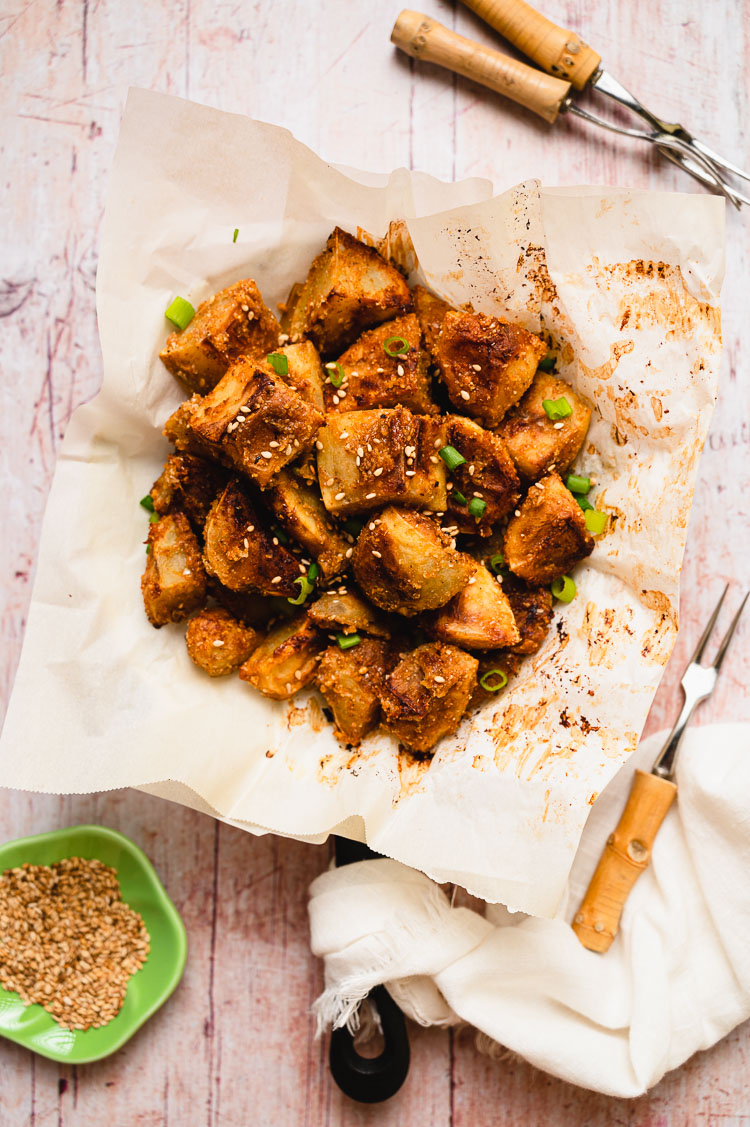 More Japanese-Inspired Sides!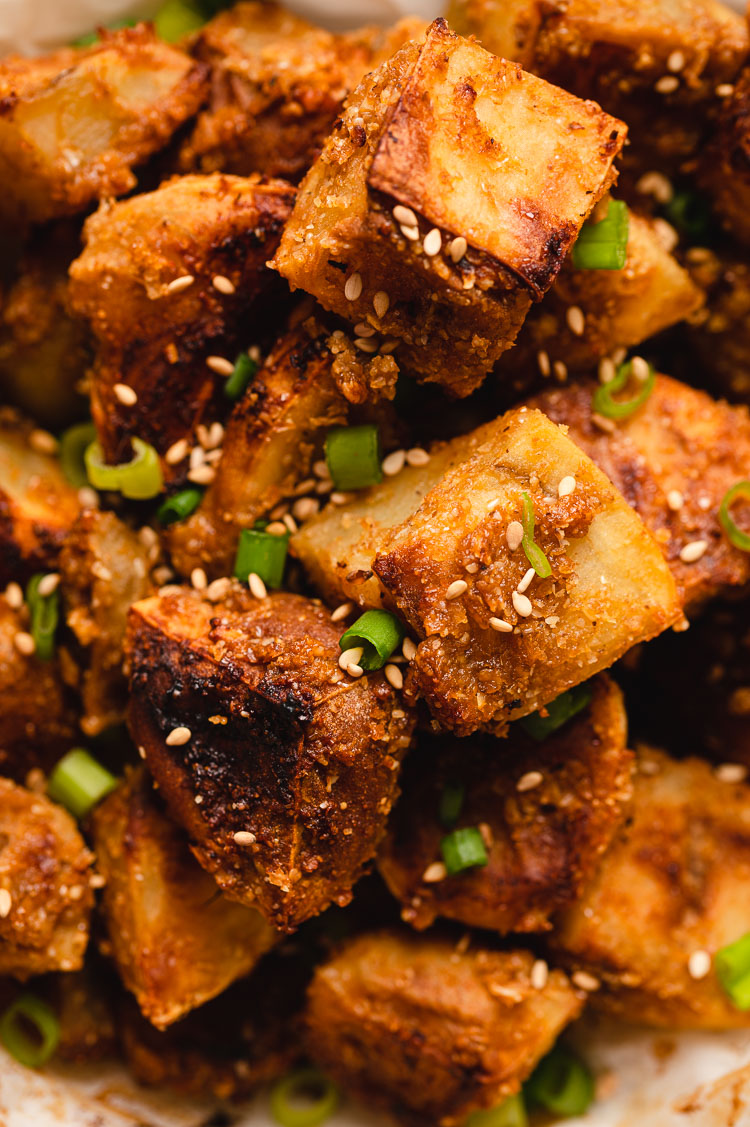 If you try out these sesame miso roasted potatoes, don't forget to leave a comment/rating down below and tag me in your photos on instagram @ellielikes.cooking. I love seeing all of your tasty recreations!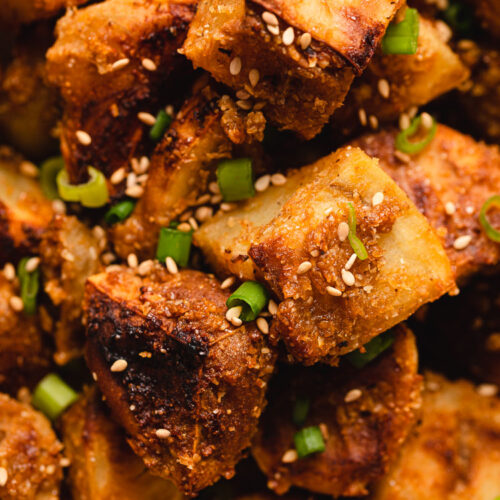 Sesame Miso Roasted Potatoes
Sweet, salty, nutty, and packed with umami, these sesame miso potatoes are a flavor explosion in every fluffy bite. Oven and air-fryer options!
Ingredients
1 ½

lb

russet or Yukon Gold potatoes

cubed

4

tsp

avocado oil

1

clove

garlic

minced

1

tsp

ginger

minced

2

tbsp

ground toasted sesame seeds (surigoma)

1 ½

tbsp

red miso*

2

tsp

sugar

1

tsp

mirin

1

tsp

sake

1

tsp

toasted sesame oil

2

tbsp

water
Instructions
Add cubed potatoes to a bowl filled with cold water and soak for at least 10 minutes.

Preheat oven to 400°F or air fryer to 375°F. If using the oven, grease or line a baking sheet for roasting.

Drain soaked potatoes and pat each cube dry with a towel. Toss with oil and place on baking sheet/air fryer basket. Roast for 30-35 minutes in the oven, or about 20 minutes in the air fryer.

When the potatoes are about 5 minutes from being done, add the remaining ingredients to a saucepan and bring to a simmer over medium low heat. When the sugar is dissolved and the sauce has reduced, turn off the heat and add potatoes. Mix until the potatoes are evenly coated.

Add potatoes back to baking sheet/air fryer basket and roast an additional 2-4 minutes until browned and crisp. The sauce burns easily so keep a close eye on them.

Garnish with toasted sesame seeds and chopped green onions if desired.


*Disclosure: This page may contain affiliate links. As an Amazon Associate I earn from qualifying purchases, but the price remains the same to you. Thank you for supporting Ellie Likes Cooking!
Save for later!