This page may contain affiliate links. As an Amazon associate I earn from qualifying purchases. Please read our
disclosure
for more info.
Thin, crispy edges with a chewy bite, these are my favorite oatmeal raisin cookies. Undetectably vegan and gluten-free, they're just so good!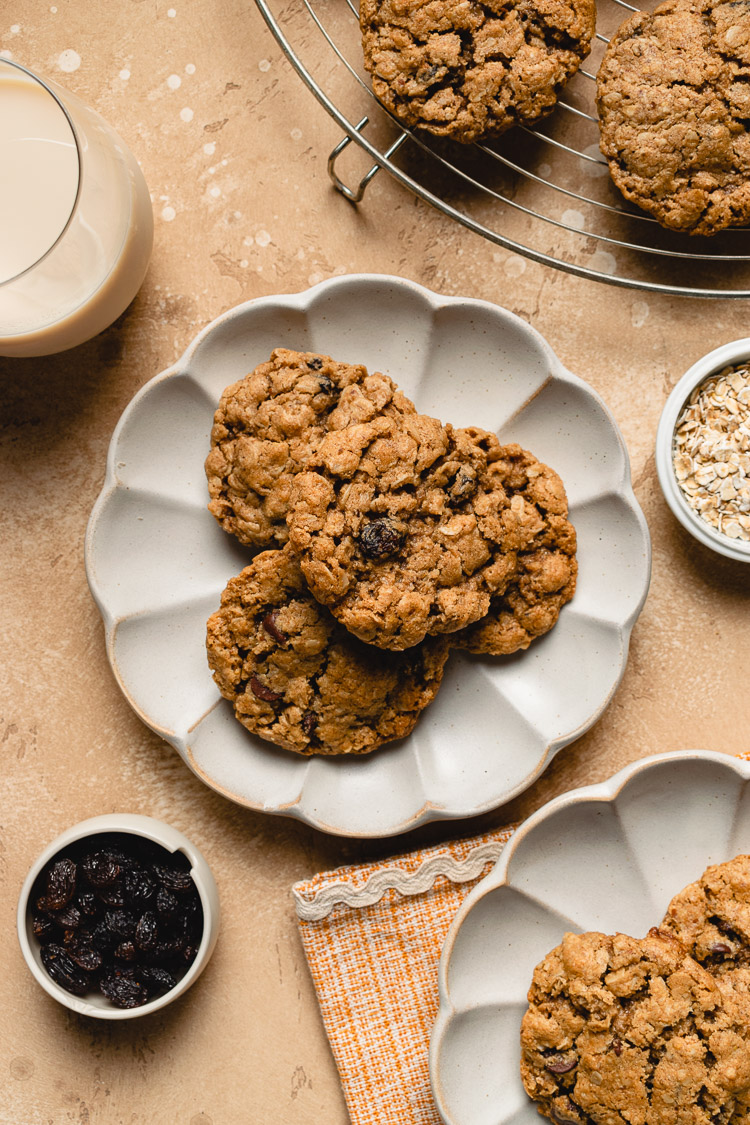 These are, hands down, my favorite oatmeal raisin cookies – vegan or not! They're crispy on the edges, chewy inside, just sweet enough, and packed with cozy, nutty flavor. I've gone through quite a few cookie trials over the years trying to achieve my *perfect* oatmeal raisin cookies, so I'm so excited to finally get to share these! Obviously everyone has their own taste preference, so these may not be everyone's perfect cookie – but my boyfriend and family also really like these, so it's not just me! Give them a try and let me know what you think 🤎
Key Ingredients
Along with the usual cookie ingredients, we are adding a few other elements to create a balanced flavor and texture:
Walnut Butter ⟶ Adds buttery, nutty flavor that vegan butter alone doesn't have.

See the FAQ below for substitutions.

Oat Flour ⟶ Provides more nuttiness especially as the flour gets cooked and toasted during baking.
Ground Flaxseed ⟶ Binds the cookie together. Oat flour spreads very quickly compared to other gluten-filled flours (or gluten-free flours that have binders added). Combining ground flaxseed and plant milk creates a vegan "egg" that will help prevent the cookies from overspreading.
Cinnamon ⟶ Technically optional, but I love the combination of cinnamon and raisins.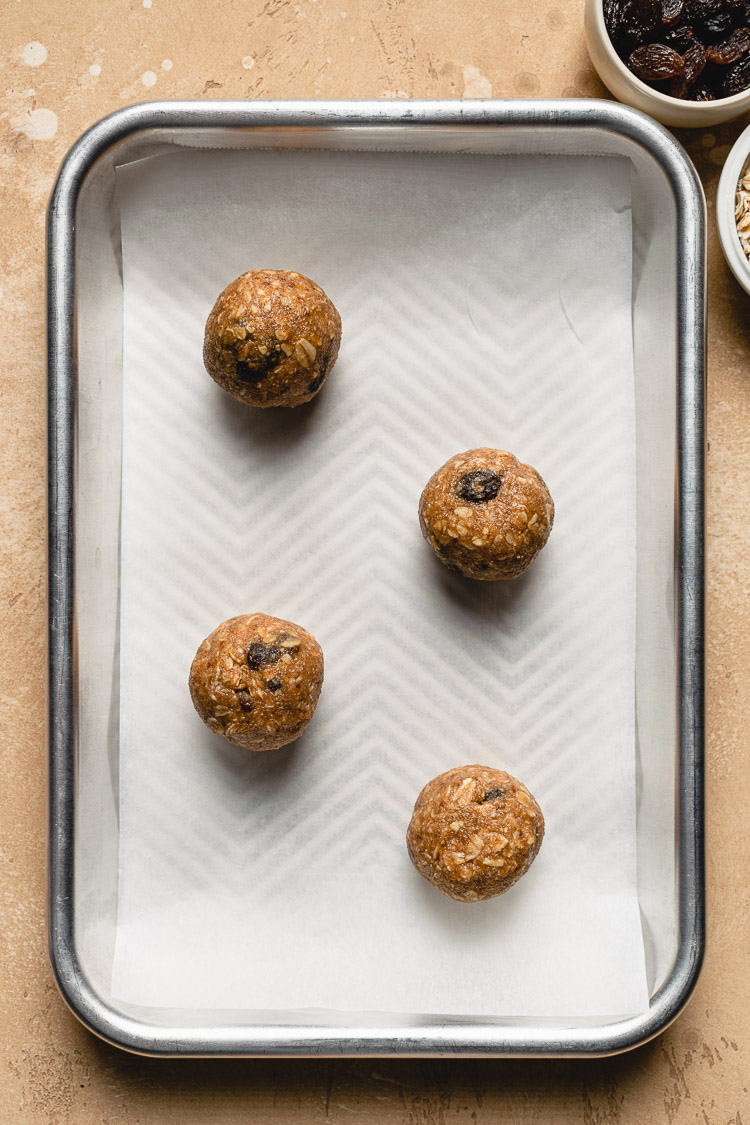 Vegan Oatmeal Raisin Cookie FAQ
Can I substitute the oat flour?
You can use all purpose flour (or a gluten-free all purpose flour) and omit the flaxseed. The cookies will be thicker and softer but still tasty!

What if I don't have walnut butter?
There are a few options:
1) If you have walnuts, you can make your own walnut butter! Toast walnuts at 350°F for 8-10 minutes, then blend into walnut butter.
2) Use a different nut/seed butter, but note the flavor of the cookies will change slightly depending on the nut/seed butter you use. Pecan butter would be phenomenal (albeit pricey), almond or cashew butter would be my next choice for more neutral flavor, sunflower seed butter would be good taste-wise but may turn the cookies green, tahini can work if you don't mind the slight bitterness, and peanut butter would be most affordable (pb oatmeal raisin cookies do sound delicious).
3) Omit and double the amount of vegan butter. Originally I made these cookies with just vegan butter, but I love the subtle buttery, nutty flavor the walnut butter adds.

Why did my cookies turn out dry?
Likely because you over-baked them. Oat flour dries out quickly so pay close attention to the bake time. I recommend just baking one or two as a test batch first, since all ovens vary. If your cookies come out dry, reduce the bake time by a minute. If your dough feels particularly dry, add extra milk one teaspoon at a time.
Tips for Success
Use melted butter ⟶ Melted butter makes for chewier cookies. Softened butter gets aerated when creaming with sugar and thus will result in a more cake-like texture.

Cool the melted butter before using ⟶ Let the butter sit at room temperature for a few minutes so it's not hot when you add the flours.

Chill dough ⟶ This allows the flour to hydrate and break down into sugars, resulting in a more flavorful cookie with better browning. The dough will also thicken more so the cookies don't overspread in the oven.

Tap pan on counter after baking ⟶ The cookies will puff up in the oven, so when you take them out be sure to tap the pan on the counter once or twice to deflate them. This will create flatter cookies with those lovely cracks on top.

Use gram measurements! ⟶ I highly recommend weighing your ingredients (mainly flour, sugar, and butter) with a kitchen scale*.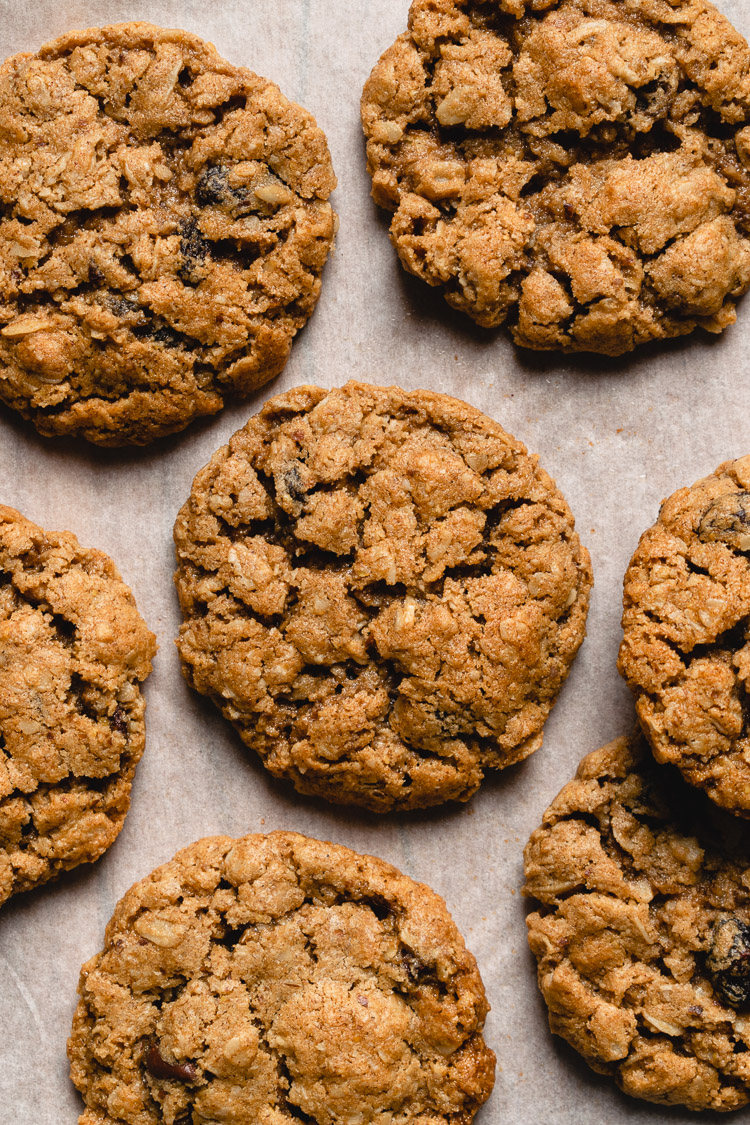 More Vegan Cookies!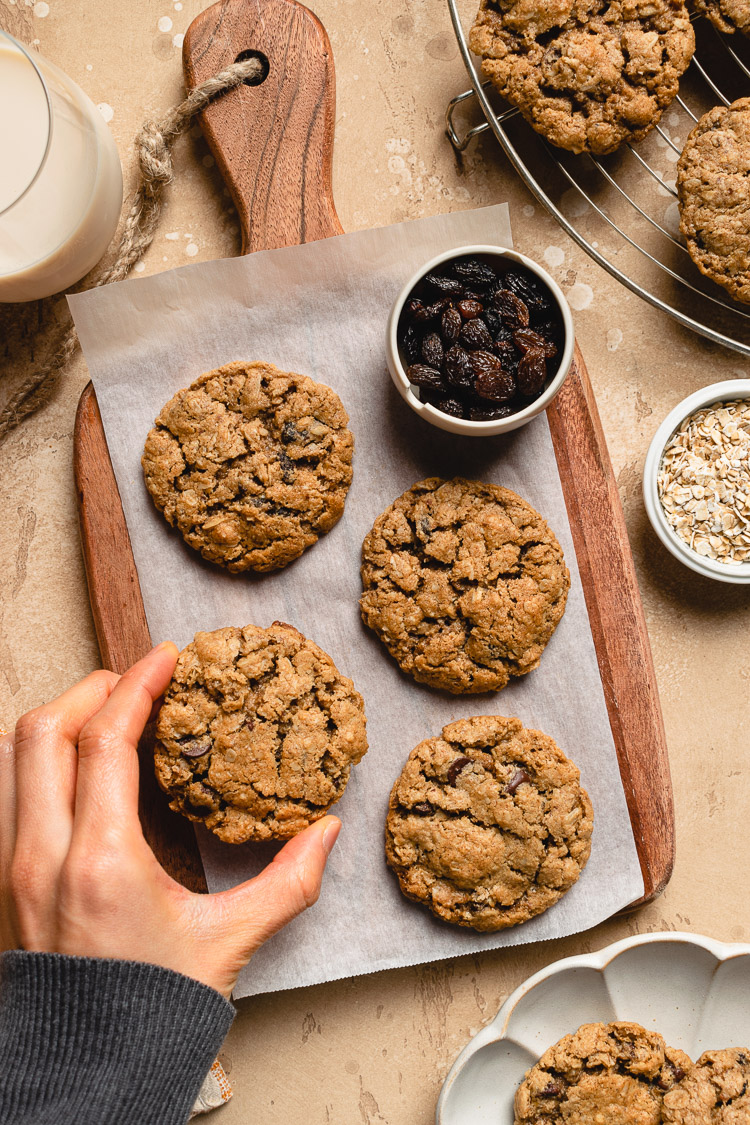 If you try out these vegan oatmeal raisin cookies, don't forget to leave a comment/rating down below and tag me in your photos on instagram @ellielikes.cooking. I love seeing all of your tasty recreations!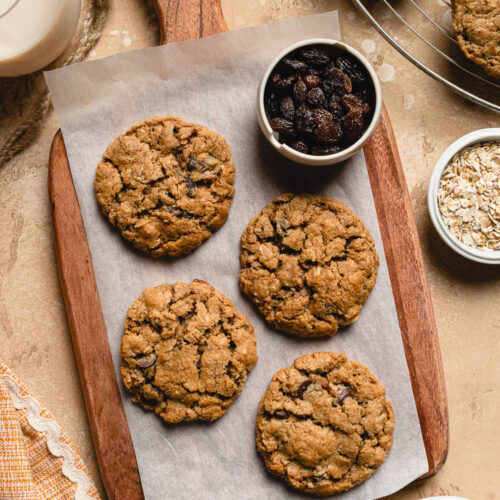 Thin & Crispy Vegan Oatmeal Raisin Cookies
Thin, crispy edges with a chewy bite, these are my favorite oatmeal raisin cookies. Undetectably vegan and gluten-free, they're just so good!
Ingredients
2

tbsp

soy milk

2

tsp

ground flaxseed

52

grams (¼ cup)

melted vegan butter

60

grams (¼ cup)

walnut butter

60

grams (5 tbsp)

sugar

60

grams (5 tbsp)

brown sugar

1

tsp

vanilla extract

90

grams (¾ cup)

oat flour**

120

grams (1 ½ cups)

rolled oats**

½

tsp

baking soda

½

tsp

baking powder

½

tsp

cinnamon

pinch of salt if butter is unsalted

½

cup

raisins
Instructions
Bring all ingredients to room temperature before mixing.

Mix soy milk and ground flaxseed in a small bowl. Set aside for 5 minutes to gel.

To a large mixing bowl, combine melted butter and walnut butter.

Add sugars and beat until combined. Stir in flax mixture and vanilla.

Add flour, oats, baking soda, baking powder, cinnamon, and salt (if using). Mix until a dough forms and no dry flour is left.

Cover and transfer the dough to the fridge to chill for at least 30 minutes (up to 24 hours).

Take the dough out of the fridge and preheat the oven to 350°F.

Scoop about 2 tbsp of dough and roll into balls. Place 2-inches apart on a baking sheet.

When the oven is ready, place the cookies in the oven and bake 10 minutes. The edges should be just set but the center still soft when you remove them from the oven. They will look underdone but they continue cooking on the pan.

Drop the pan on the counter once after baking to flatten the cookies. Cool on the baking sheet for 3 minutes, then transfer cookies to a wire rack to finish cooling.
**Notes
Gluten-Free: Use gluten-free oats and oat flour.
Nutrition per serving: 145 kcal | 6g fat | 1g sat fat | 23g carb | 2g fiber | 12g sugar | 2.6g protein | 66mg sodium
Hide


*Disclosure: This page may contain affiliate links. As an Amazon Associate I earn from qualifying purchases, but the price remains the same to you. Thank you for supporting Ellie Likes Cooking!
Save for later!