This page may contain affiliate links. As an Amazon associate I earn from qualifying purchases. Please read our
disclosure
for more info.
Thick, crusty slices of sourdough bread dipped in a savory tomato sauce then pan-fried to golden brown perfection. Five ingredients, 20 minutes, and 100% plant-based brunch perfection.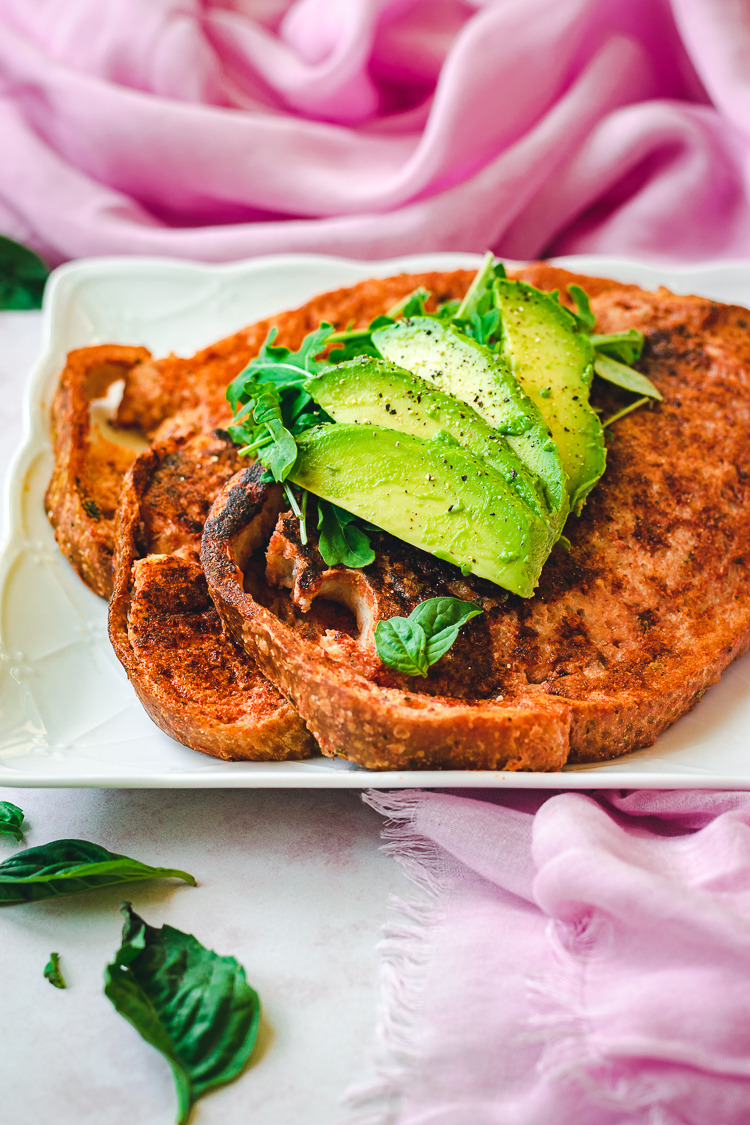 I'll be honest here, I have a huge sweet tooth. Like, I eat something sweet with every meal. I've always loved dessert, and I definitely believe I have a second stomach for dessert. If I want something sweet, I let myself eat it because I know that if I try to suppress the craving, it'll just hit me twice as hard next time. Luckily I've trained my taste buds to be more sensitive to sugar, so a little bit goes a long way for me. I also usually bake my own treats, so I can control how much sugar goes into it. So even if I'm eating a sweet treat every day, I'm not consuming quite as much sugar as if I were eating oreos or store-bought cakes every day. So it's acceptable, right?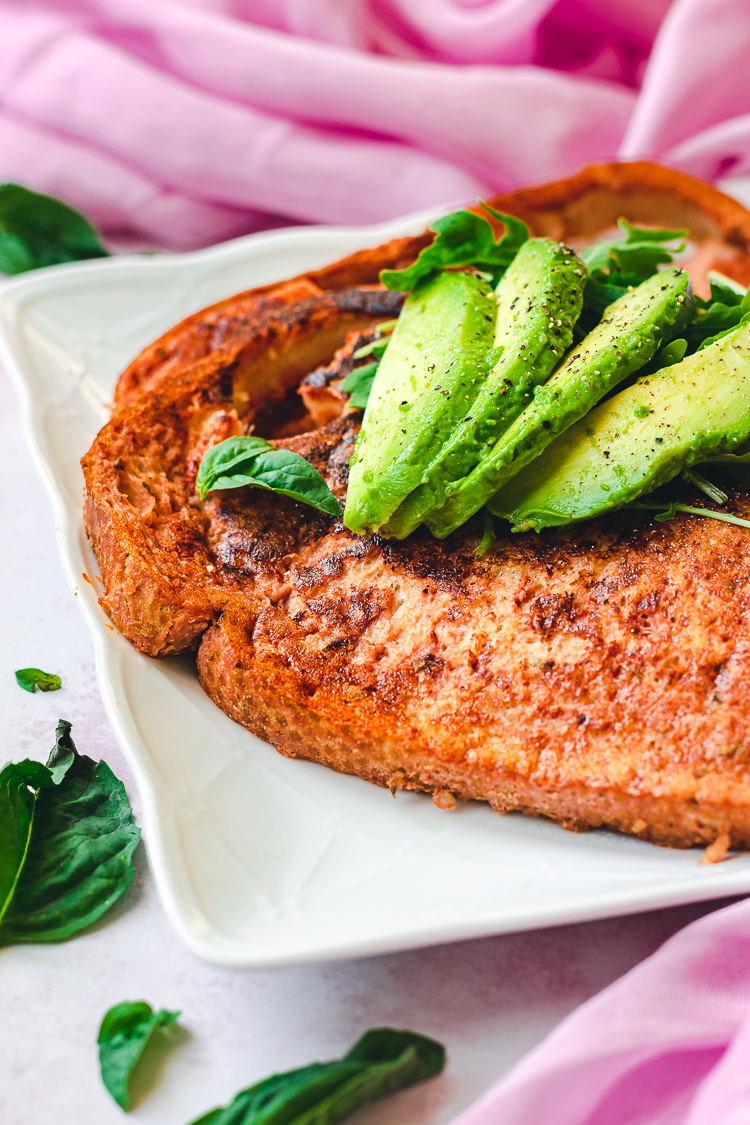 Anyway, this post isn't about sweets. I just wanted you to know that even though the majority of my recipes have been savory meal ideas, I'm actually a huge dessert-lover. I'm just not the best baker, especially when it comes to vegan baking, so those recipes take longer to make and lots more testing goes into them. Back to breakfast though.
Savory Breakfast Options
I used to eat oatmeal with fruit and peanut butter for breakfast every single day for the past 5-ish years. Don't get me wrong, I still love oatmeal and I think it's a great quick, cheap, filling, and healthy breakfast. But recently I've been tackling more savory breakfasts, since that's what my boyfriend likes (he likes oatmeal too, but after about an hour he's starving). So I've been making lots of scrambles and loving it! Basically just tofu, vegan sausage, veggies, avocado, and hot sauce, paired with toast or corn tortillas. So good, filling, and a great way to get in a good amount of veggies and protein at the start of your day!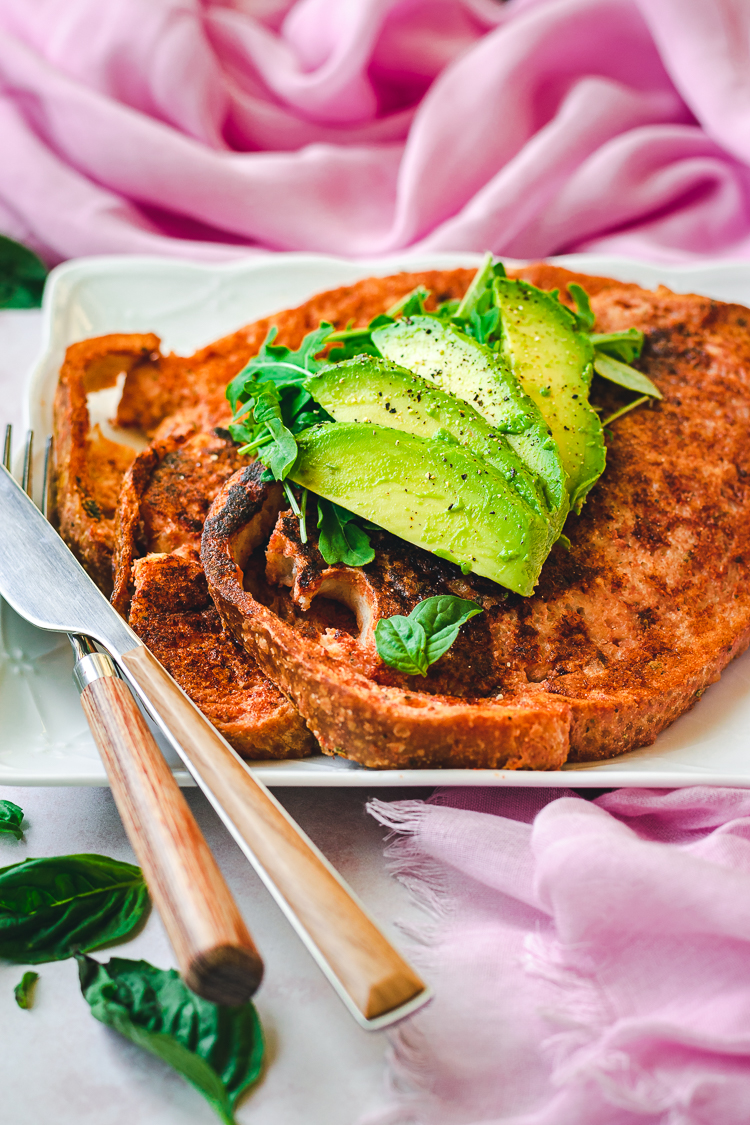 But having the same scramble every morning can get really repetitive and boring, so it was time to test out some new savory breakfast recipes. I had lots of sourdough bread leftover and tomato paste in the fridge, and somehow it hit me: savory French toast! So I mixed the tomato paste with some soy milk and herbs, dipped the bread in, flopped it on a pan and hoped for the best. And it did not disappoint! The result: soft yet crusty savory bread with an umami-packed tomato flavor.
Ingredients
This vegan tomato French toast requires just 5 ingredients:
On its own this tomato French toast is good, but melting on some vegan cheese or spreading with avocado takes it to the next level. I even thought about making a grilled cheese French toast, but we'll save that for another time. This would also make a great addition to a tofu scramble for a full vegan brunch!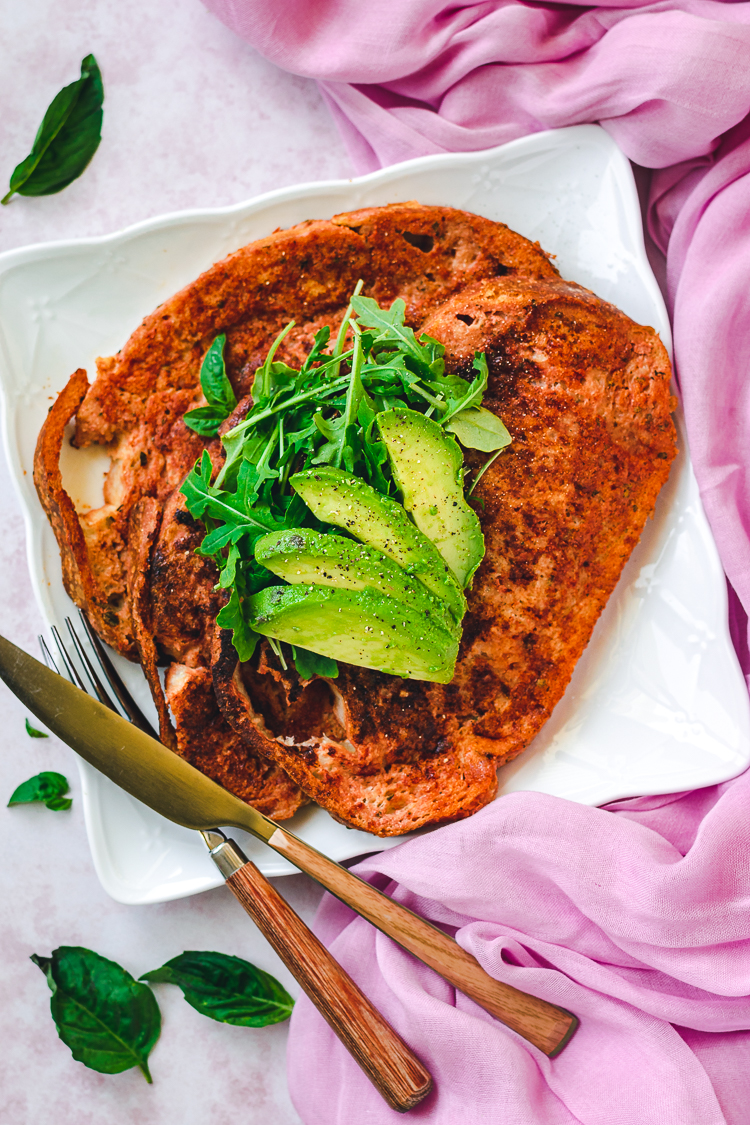 MORE TASTY VEGAN BREAKFASTS
And if you're looking for more breakfast inspiration, check these out too!
If you do try out this recipe, don't forget to tag me in your recreations on instagram @ellielikes.cooking and/or leave a comment down below and let me know how you liked them. I'm always eager for feedback and love hearing from you!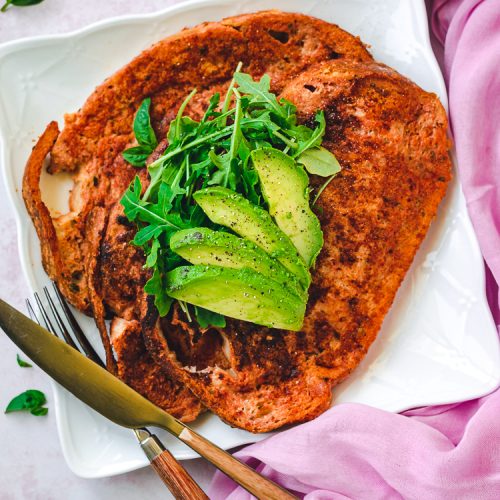 Vegan Tomato French Toast
Thick, crusty slices of sourdough bread dipped in a savory tomato sauce then pan-fried to golden brown perfection. Five ingredients, 20 minutes, and 100% plant-based brunch perfection.
Ingredients
5

slices

sourdough bread**

2

tbsp

tomato paste

1

cup

unsweetened soy milk

1

tsp

dried oregano

1

tbsp

nutritional yeast

¼

tsp

salt

pinch of pepper
Instructions
In a bowl, mix together tomato paste, soy milk, oregano, nutritional yeast, salt, and pepper. The mixture should be runny and easily pourable.

Pour about half the mixture (or as much as needed to cover the bottom) into a shallow baking dish big enough to fit some of the bread slices.

Lay as many bread slices as can fit into the dish and let sit for about 30 seconds to soak up some of the sauce. Pick up bread slices and pour some more of the tomato sauce in to cover the bottom of the dish. Place bread back down on the opposite side to soak.

Spray a non-stick pan and heat to medium heat. When hot, lay the soaked bread slices down on the pan and cook for 2-3 minutes on each side, until browned. Check to make sure it's not burning. Repeat until all the bread is used up.

Top with avocado, basil, vegan cheese, or any other topping of choice. Enjoy while still warm and store leftovers in the fridge.
**Notes
BREAD: You may need more or less bread depending on the size. Use as many slices as needed until all the tomato sauce is used up.
Disclosure: This page may contain affiliate links. As an Amazon Associate I earn from qualifying purchases, but the price remains the same to you. Thank you for supporting Ellie Likes Cooking!
Save for later!