This page may contain affiliate links. As an Amazon associate I earn from qualifying purchases. Please read our
disclosure
for more info.
Take your chili to the next level with spicy, sweet, umami-packed gochujang. This plant-based chickpea chili is quick, easy, and so flavorful!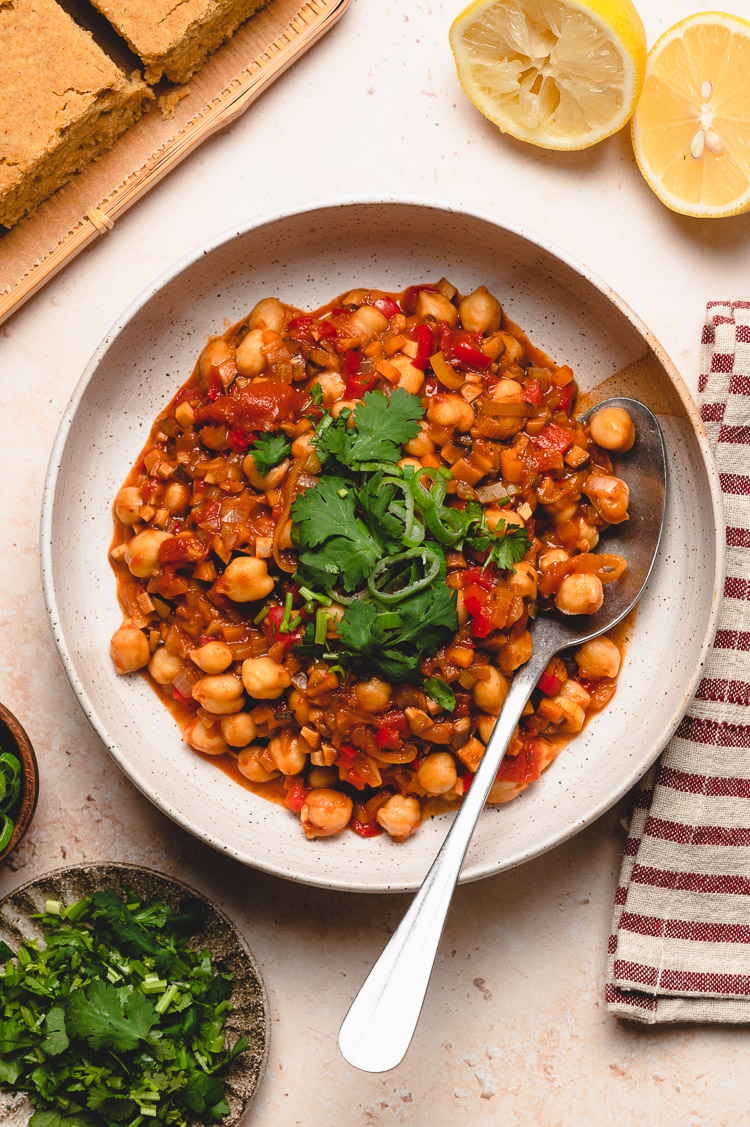 What is Gochujang?
Gochujang is a Korean fermented red chili paste made from gochugaru (red chili peppers), rice, fermented soy beans, salt, and sometimes sweeteners. It's a thick, sticky, dark red paste often sold in small tubs at grocery stores now. Gochujang packs a ton of spicy, sweet, salty, and savory flavors, making it a perfect condiment to season soups, stews, sauces, and stir fries. Do note that it's not meant to be consumed as a condiment as-is but rather used as a base ingredient for sauces, etc.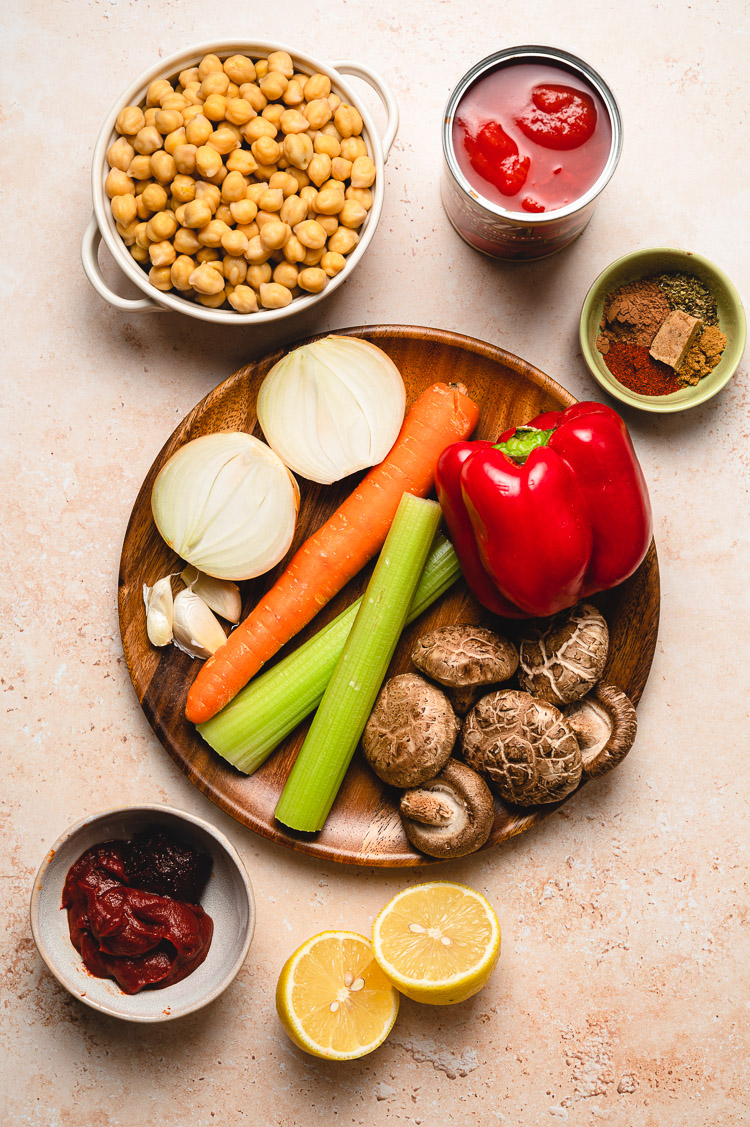 Key Ingredients
Gochujang* ⟶ Instead of the typical chili powder often used in chili, this recipe uses gochujang to add spicy, sweet, and savory notes all in one.
Tomatoes/Tomato Paste ⟶ Gochujang and tomatoes are the perfect flavor pair!
Chickpeas ⟶ You can also use other beans/protein of choice (see FAQ below).
Spices ⟶ Cumin, smoked paprika, oregano, and cocoa powder (trust me).
Veggies ⟶ Onions, carrots, celery, bell peppers, and mushrooms.

Mushrooms add umami and a chewy, "meatier" texture. I highly recommend shiitake mushrooms if you can find them, otherwise crimini mushrooms are second best.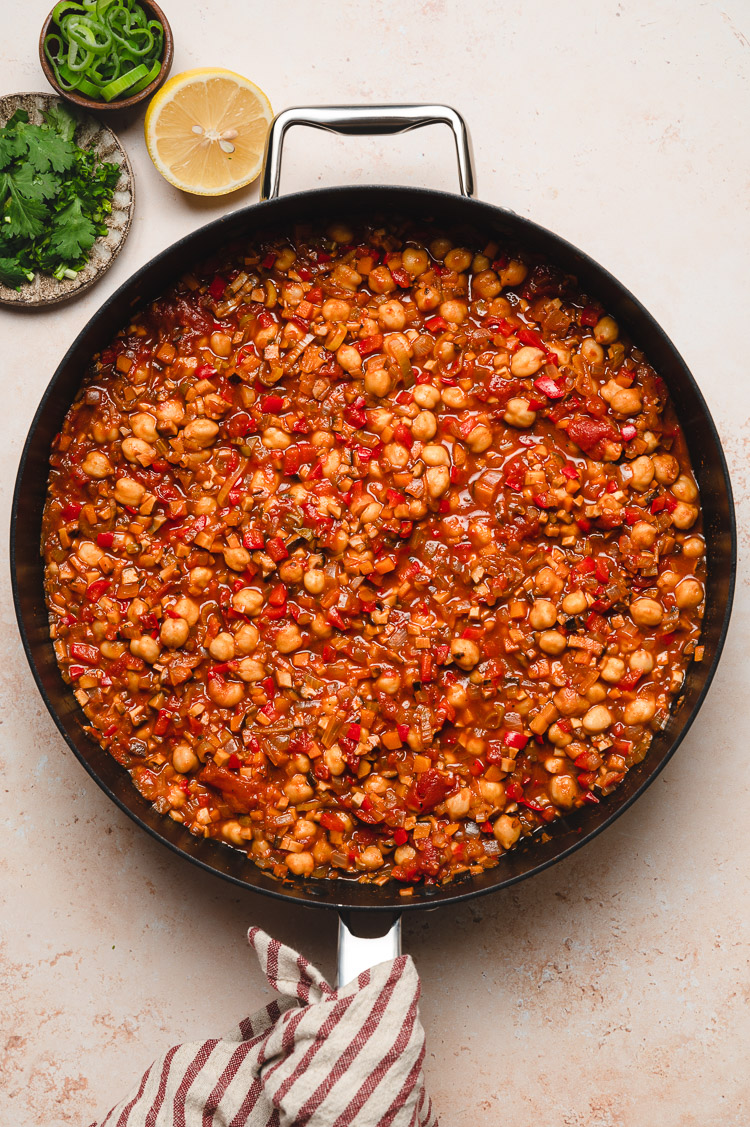 What to Serve with Gochujang Chili
This chili is delicious paired with rice, bread, or cornbread. I recommend garnishing the chili with cilantro, green onions, (vegan) sour cream, (vegan) cheese, avocado, pickled jalapeños, or pickled onions. You can also serve it with a side salad or steamed/roasted veggies for extra nutrients and fiber.
Gochujang Chili FAQ
Is gochujang gluten-free?
Gochujang is often made with wheat so be sure to purchase a gluten-free gochujang* if this is an issue for you.

How do I make this chili gluten-free?
Simply use a gluten-free gochujang and gluten-free soy sauce alternative such as tamari.

Can I swap chickpeas for another bean/protein?
Of course! Lentils, cubed or crumbled tofu/tempeh, or a combination of your favorite proteins would all be good. Finely chopped walnuts also sound delicious (and would add heart healthy fats!).
Cooking Tips
Use a food processor to chop veggies ⟶ If you want to save 10 minutes of prep time, pulse the veggies in a food processor to finely chop them. Of course you can chop by hand, but it does take a bit of time.

For a crunchy texture, add bell peppers near the end ⟶ The recipe card says to sauté all the veggies first. I wrote it like this because if you are using a food processor, it's just easier to pulse all the veggies together. But if you want a little crunchy texture in your chili, chop/pulse the bell peppers separately and add them in the last 5 minutes of simmering. This way they will cook to a crisp-tender texture rather than soft. You can also add crunchy texture with garnishes like green onions, pickled onions, jalapeños, or crushed tortilla chips!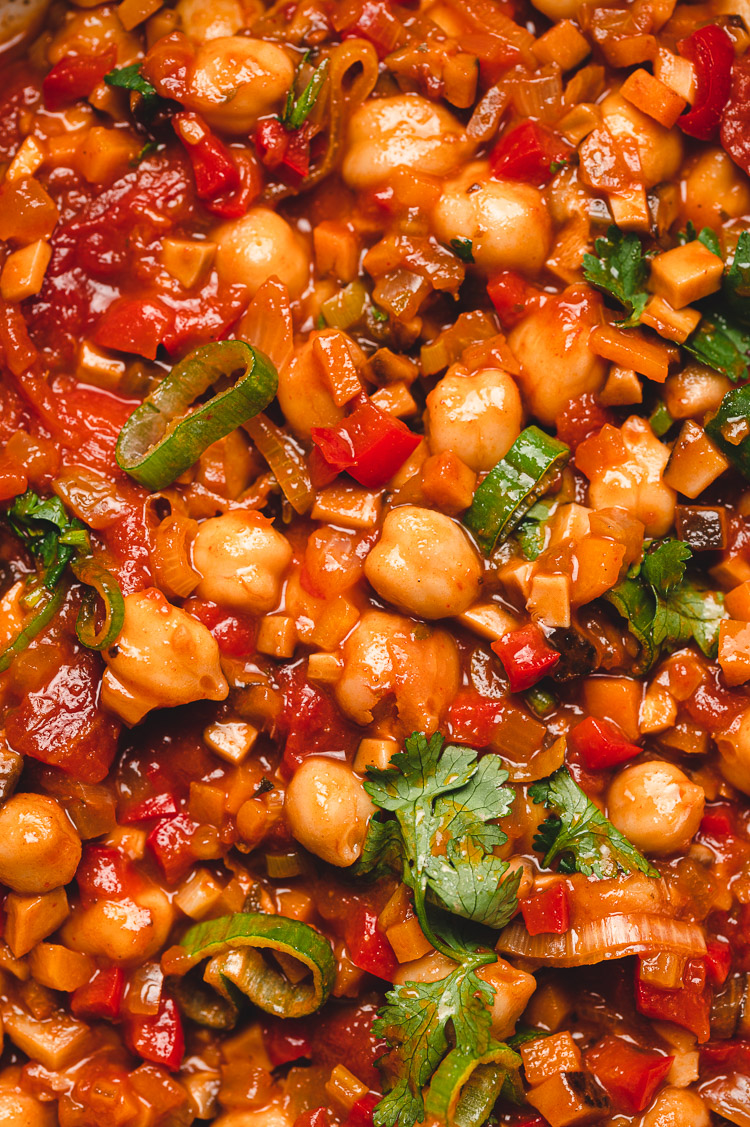 More Gochujang Recipes!
If you try out this gochujang chickpea chili, don't forget to leave a comment/rating down below and tag me in your photos on instagram @ellielikes.cooking. I love seeing all of your tasty recreations!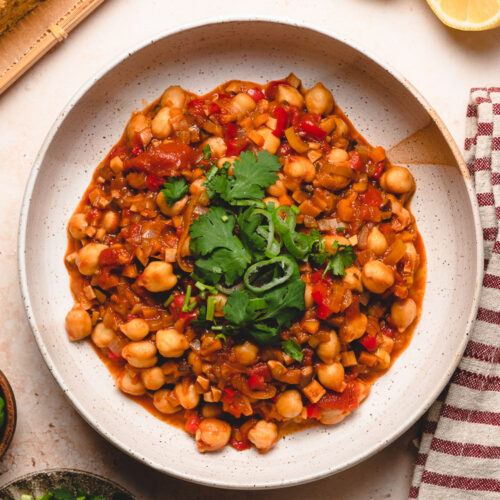 Gochujang Chickpea Chili
Take your chili to the next level with spicy, sweet, umami-packed gochujang. This plant-based chickpea chili is quick, easy, and so flavorful!
Ingredients
Spices
1

tsp

ground cumin

1

tsp

smoked paprika

1

tsp

dried oregano

1

tsp

cocoa powder
Chili
1

small onion

1

carrot

1

celery

6

shiitake mushrooms

1

bell pepper

1-2

tbsp

olive oil

3

cloves

garlic

minced

1

tbsp

gochujang*

3

tbsp

tomato paste

14

oz can

whole peeled tomatoes

1

cup

vegetable broth

3

cups (2 cans)

chickpeas

drained and rinsed

2

tsp

soy sauce

1

tbsp

lemon juice

1-2

green onions

sliced

½

cup

cilantro

chopped
Instructions
Add spices to a small bowl and set aside.

Roughly chop onions, carrots, celery, mushrooms, and bell peppers. Place in a food processor and pulse a few times until finely chopped. OR you can finely chop the veggies by hand but this will take longer.

Heat olive oil in a deep pan or pot over medium high heat. Add finely chopped veggies and garlic and cook about 5 minutes until lightly browned. Stir frequently.

Add gochujang and stir for 30 seconds.

Add tomato paste and stir another 30 seconds to combine.

Pour in tomatoes, including the liquid in the can. Use the back of a large spoon to crush the tomatoes into chunks.

Pour in vegetable broth and chickpeas and stir well. Cover and simmer 15 minutes, stirring occasionally to make sure nothing is sticking on the bottom.

Once the chili has thickened, turn off the heat. Stir in soy sauce and lemon juice.

Garnish with green onions and cilantro just before serving.


*Disclosure: This page may contain affiliate links. As an Amazon Associate I earn from qualifying purchases, but the price remains the same to you. Thank you for supporting Ellie Likes Cooking!
Save for later!