This page may contain affiliate links. As an Amazon associate I earn from qualifying purchases. Please read our
disclosure
for more info.
The ultimate Japanese comfort food: a creamy, hearty veggie broth infused with miso and sesame for the BEST vegan ramen. So good you won't believe it's completely plant-based, gluten-free, and oil-free!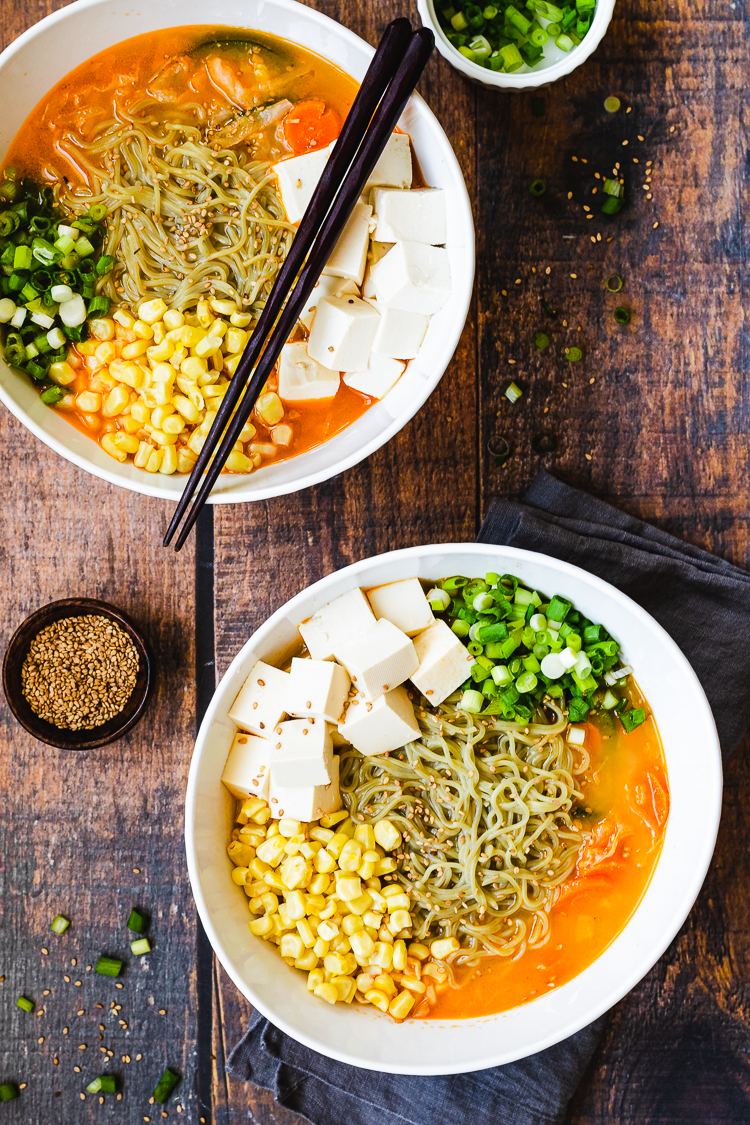 Ramen is probably my favorite comfort meal ever. Anything with noodles is already at the top of my list, and when it's swimming in a rich, creamy broth and filled with veggies and plant-based protein I am the happiest Ellie to ever exist. I love food, and I love when good food leaves me feeling good — emotionally and physically. I've had bowls of ramen that were deliciously salty and oily and the best thing my taste buds had touched — but 10 minutes later the bowl was empty and those delectable feelings were replaced by lethargy and bloating. Don't get me wrong, I'll still go out and indulge in some heavier vegan ramen every now and then. But sometimes I want something a little healthier and cheaper that I can make at home. And here it is! The BEST healthy vegan ramen.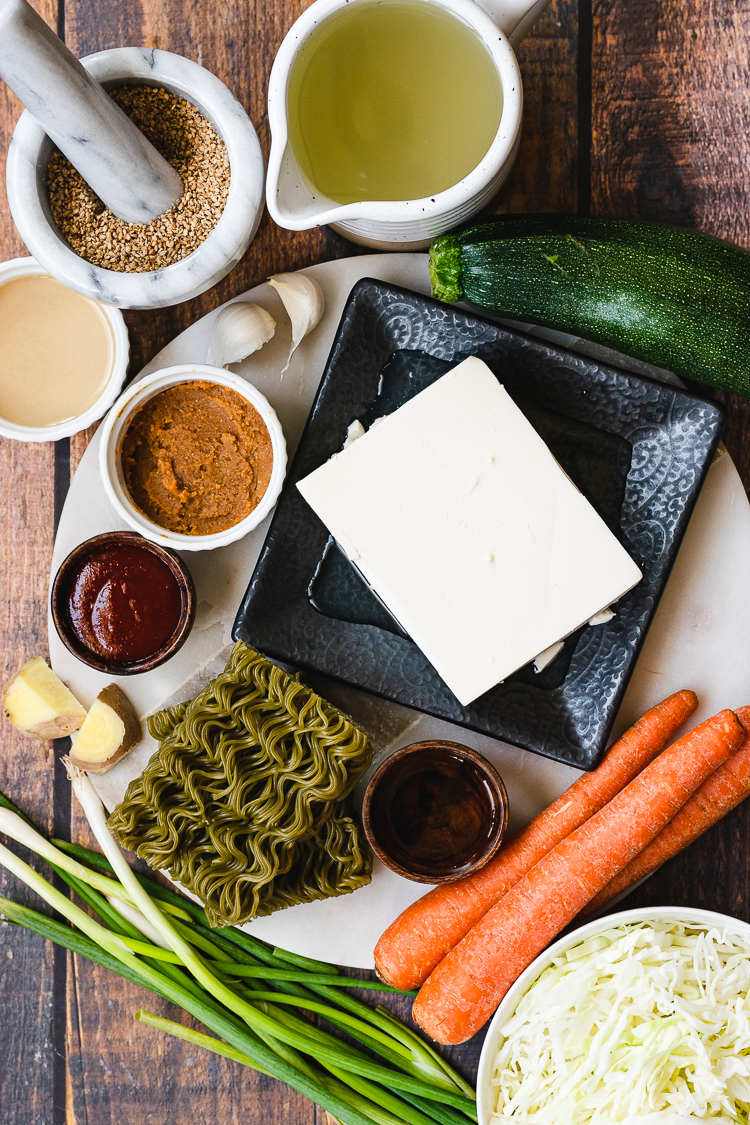 INGREDIENTS FOR SPICY MISO RAMEN
This vegan ramen requires 9 main ingredients:
roasted sesame seeds: Make sure they are roasted/toasted and not raw. If you only have raw sesame seeds, you can toast them yourself in a pan over the stove, just be careful not to burn them.
gochujang: Some gochujang do contain wheat, so if you are gluten-free make sure you read the label. This gochujang by Chung Jung One is gluten-free.
kombu dashi: You can make your own with kombu and water (here's an informative post by Nami of Just One Cookbook) OR use kombu dashi powder if you're short on time
garlic
ginger
ramen noodles: My current favorite is the Rice Ramen by Lotus Foods, but you can also use dry ramen or fresh ramen noodles
For fillings and toppings you can use any veggies and/or protein of choice. My preferred ingredients are:
carrots, zucchini, cabbage, bean sprouts, green onion, mushrooms, corn, wakame
plain soft tofu, marinated firm tofu or tempeh, baked/fried tofu, edamame, etc.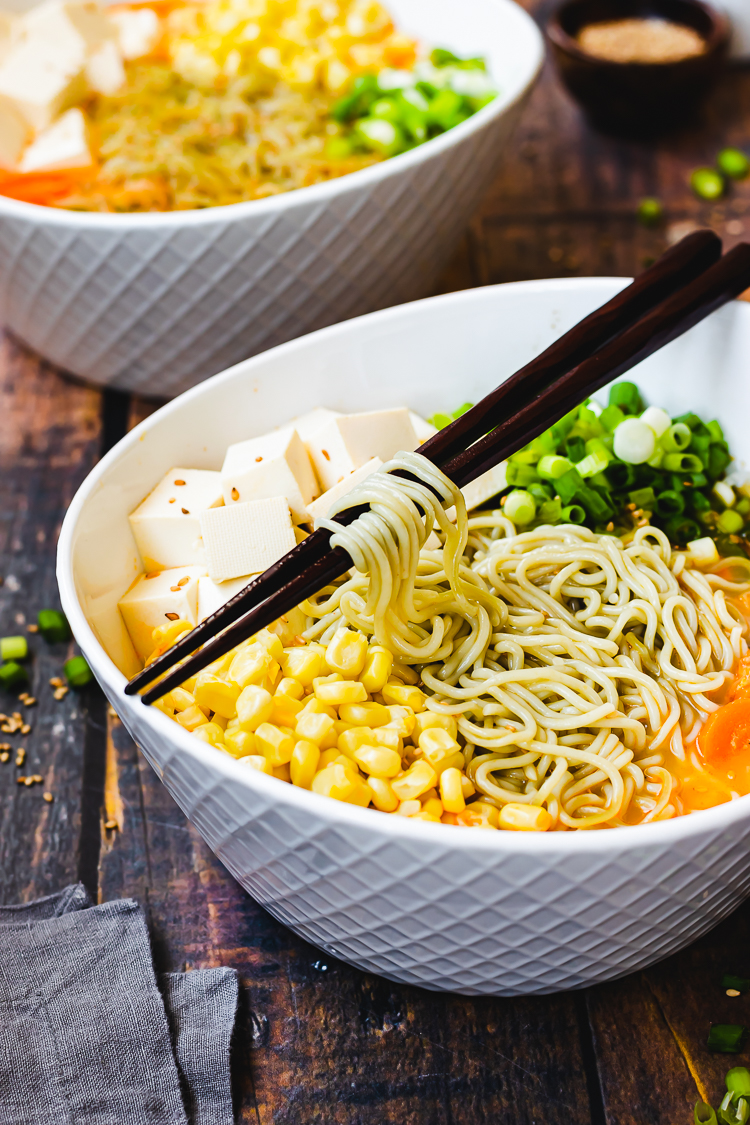 TIPS & TRICKS FOR DELICIOUS VEGAN RAMEN
use dashi ⟶ Kombu dashi powder can usually be found in a Japanese/Asian grocery store, or online. If you can't find the powder you can make your own dashi from kombu and water (follow this guide from Just One Cookbook) and use this liquid to replace the water + dashi powder called for in the recipe. If all else fails, you can omit and just use water and add more miso to taste — but I highly recommend using dashi as it will bring out more of the umami flavor.
use toasted sesame seeds ⟶ Make sure to toast the sesame seeds. If you buy sesame seeds that are already toasted, you can skip this step if you want, but I like to toast them again to bring out the toasted flavor more. Place them in a small pan over medium heat and stir frequently as they will burn easily. Once fragrant and lightly browned, turn off the heat and cool briefly. Then use a pestle and mortar to grind the sesame seeds.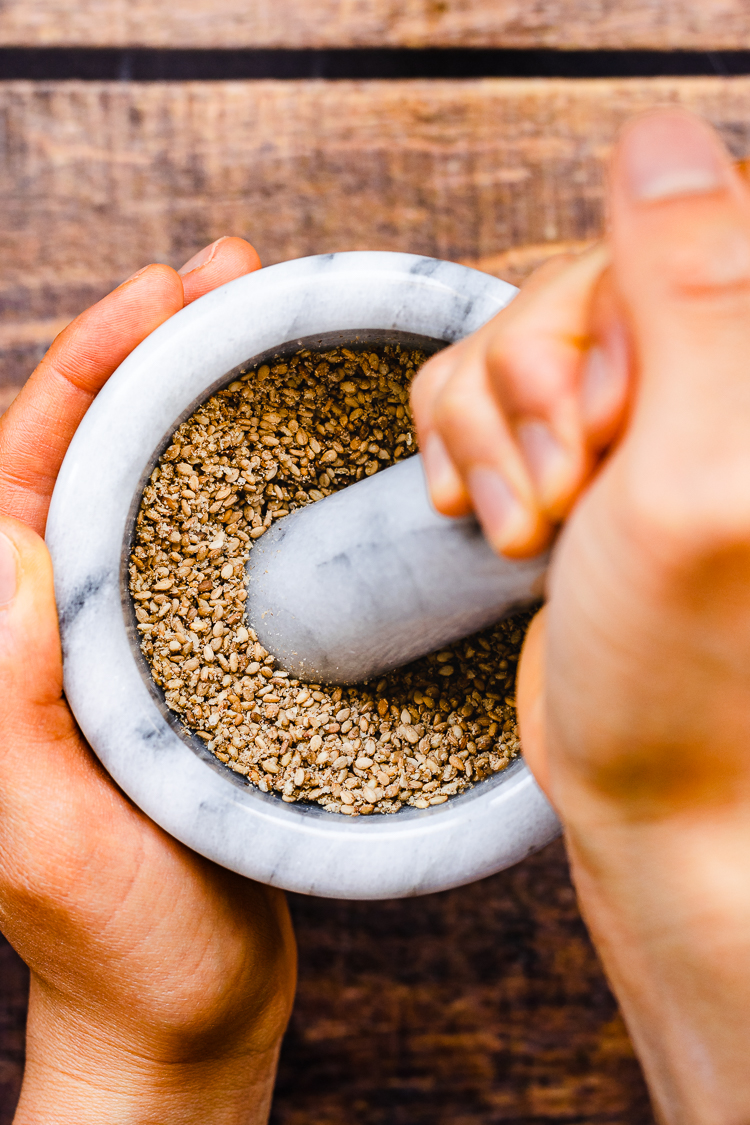 add miso at the end ⟶ Stir in the miso at the end of cooking. Adding miso to boiling water will kill the probiotics and lose some of the nutrients, fragrance, and flavor of the miso.
make sure the miso is completely dissolved ⟶ Miso can get clumpy. In order to ensure the miso is evenly dissolved in the soup, add miso to a mesh skimmer or strainer and place on the surface of the soup, using chopsticks to dissolve the miso with the liquid. OR, fill a small bowl with some of the liquid from the soup and add the miso, mixing until dissolved. Then add the liquid back to the soup.
adjust spice to taste ⟶ If the ramen is not spicy enough for you, add gochugaru or red chili flakes, depending on what you have available, to taste.
be careful not to overcook the veggies ⟶ The flavors will deepen as they heat and meld together, but be careful not to overcook the veggies or they will get mushy. Veggies are usually cooked separately from ramen broth, but to make this quick & easy we're cooking everything in the same pot.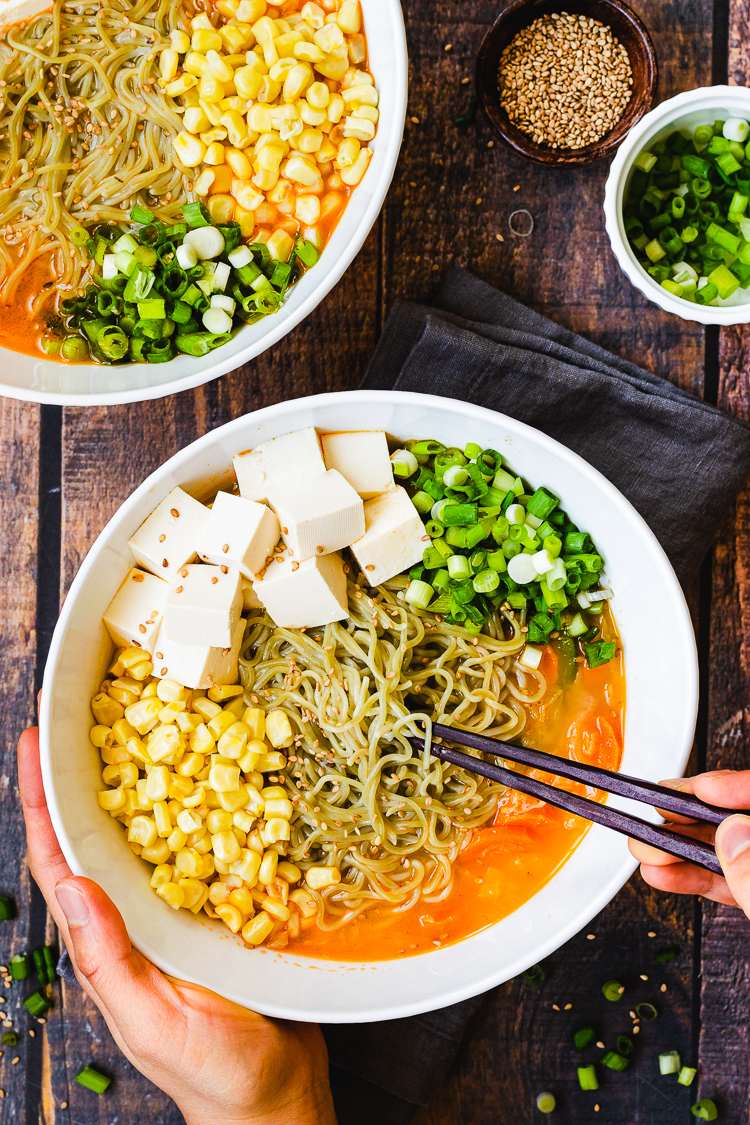 MAKING RAMEN AT HOME VS EATING OUT
I love making my own vegan ramen at home instead of going out to a restaurant. Here's why you should make your own, too!
Affordable
Easy to make
Ready in 30 minutes
Healthy
Filled with veggies and plant-based protein
Customizable
Extremely delicious!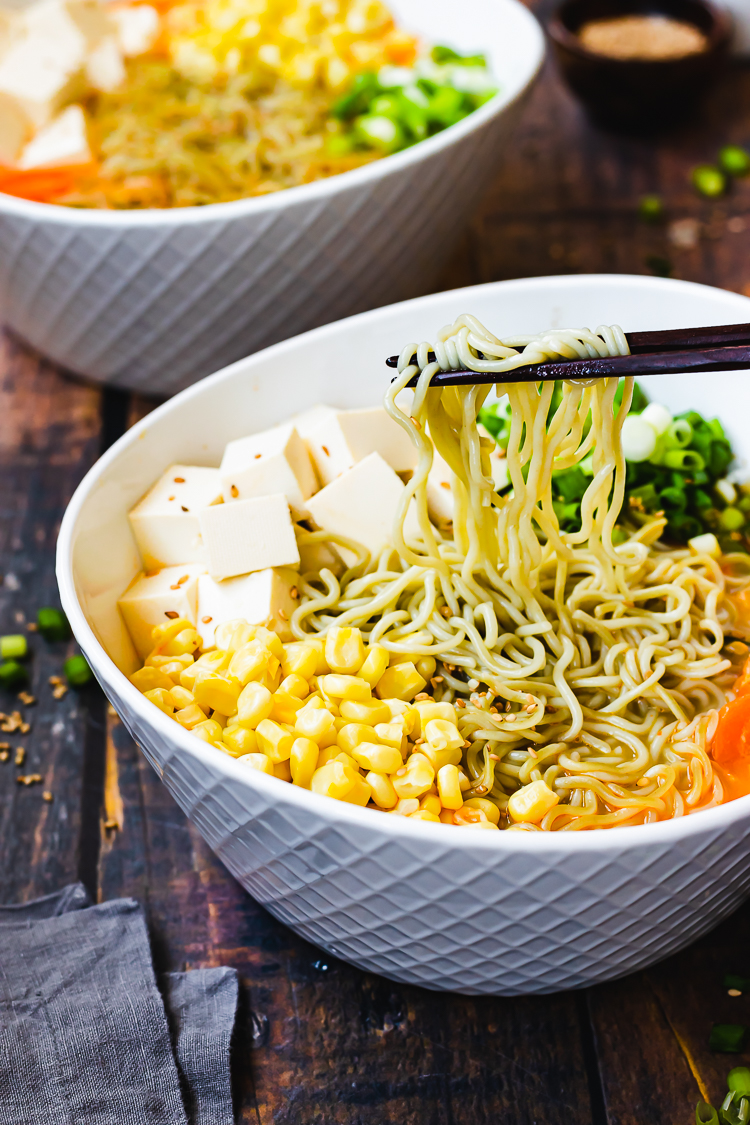 STILL HUNGRY?
Check out these other hearty Japanese dishes!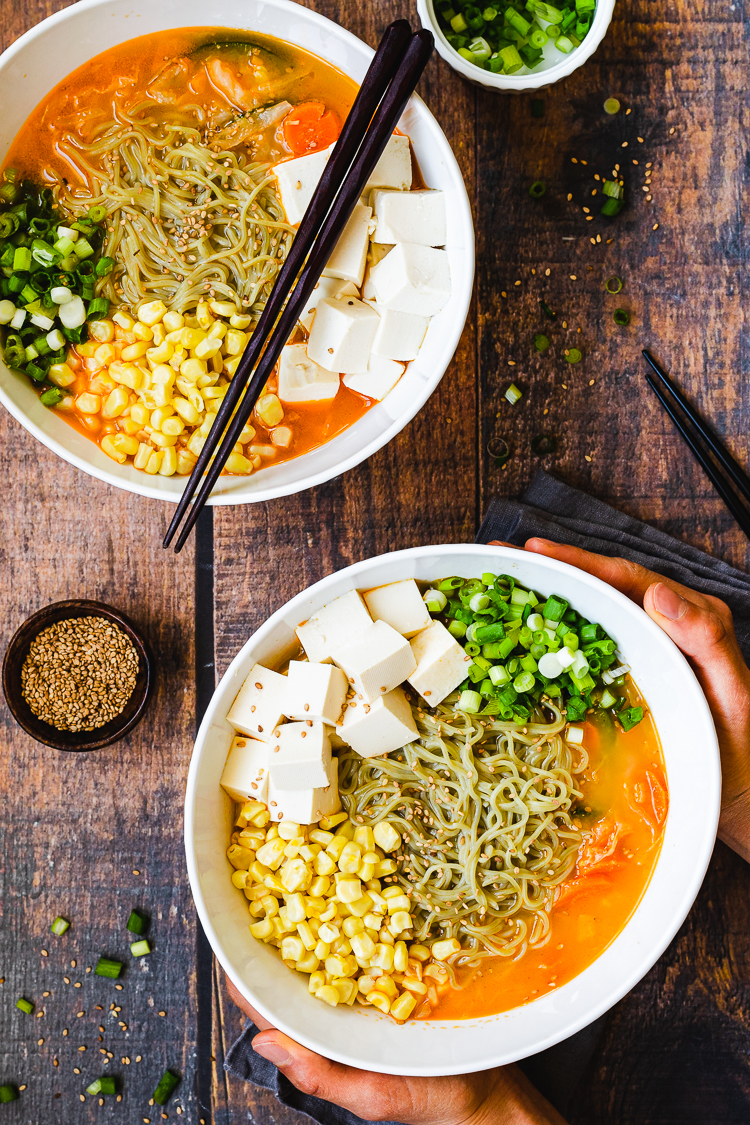 If you try out vegan miso ramen recipe, don't forget to tag me in your photos on instagram @ellielikes.cooking and/or leave a comment down below and let me know how you liked it! It always makes my day to see you recreating my recipes 🙂 Happy cooking!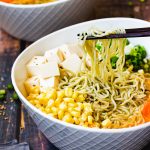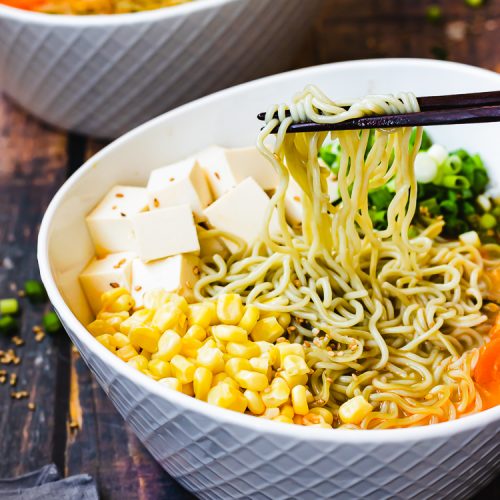 Print Recipe
One-Pot Spicy Veggie Miso Ramen
The ultimate Japanese comfort food: a creamy, hearty veggie broth infused with miso and sesame for the BEST vegan ramen. So good you won't believe it's completely plant-based, gluten-free, and oil-free!
Ingredients
¼

cup

roasted/toasted sesame seeds

¼

cup

tahini

2

tbsp

gochujang

1

tbsp

mirin

4

cups

kombu dashi*

2

garlic cloves

minced

1

tbsp

ginger

minced

3

small carrots**

sliced

1

cup

shredded cabbage**

2

small zucchini**

sliced

3

servings of

ramen noodles

3

tbsp

red or white miso

add more to taste

1

14oz block

soft tofu

cubed

2

green onions

sliced

1

cup

cooked corn kernels**
Instructions
Use a pestle and mortar to grind the toasted sesame seeds. It does not need to be finely ground; some whole seeds leftover are fine.

Add garlic, ginger, and carrots to a large pot and sauté in a bit of sesame oil or water until fragrant, about 1-2 minutes. Add cabbage and kombu dashi and bring to a boil.

Mix in ground sesame seeds, tahini, gochujang, and mirin. Add zucchini and ramen noodles and cook as indicated on package instructions.

Once noodles are cooked, turn off the heat and add tofu and half the green onions and stir to disperse.

Now mix in the miso until evenly dispersed*. Taste and add more miso if needed, or chili flakes if not spicy enough.

Place cooked noodles in a large bowl and pour in soup. Top with corn and remaining green onions. Store leftovers in air-tight containers in the fridge, storing the noodles and soup separately.
Notes
*KOMBU DASHI: See paragraphs above on ingredients and tips & tricks if you don't know what kombu dashi is.
*VEGGIES: You can sub with other veggies of your choice or omit if you don't want as many vegetables in your soup.
*MISO: You can add the miso using a miso muddler. OR take a large ladle and add a tablespoon of miso, spoon up some of the hot broth, and mix the miso into the broth in the ladle first, then mix this into the soup.
* This recipe is based off of my Sesame Miso Soup
Disclosure: This page may contain affiliate links. As an Amazon Associate I earn from qualifying purchases, but the price remains the same to you. Thank you for supporting Ellie Likes Cooking!
Save for later!